A Cat Lady Walks Into a Bar
Katie Czarniecki Hill - art historian, mnartists.org staffer and an organizer of this year's Internet Cat Video Festival at the Walker -- seriously considers Jaime Carrera's recent "Dummies" exhibition of cat prints at Palmer's Bar in Minneapolis.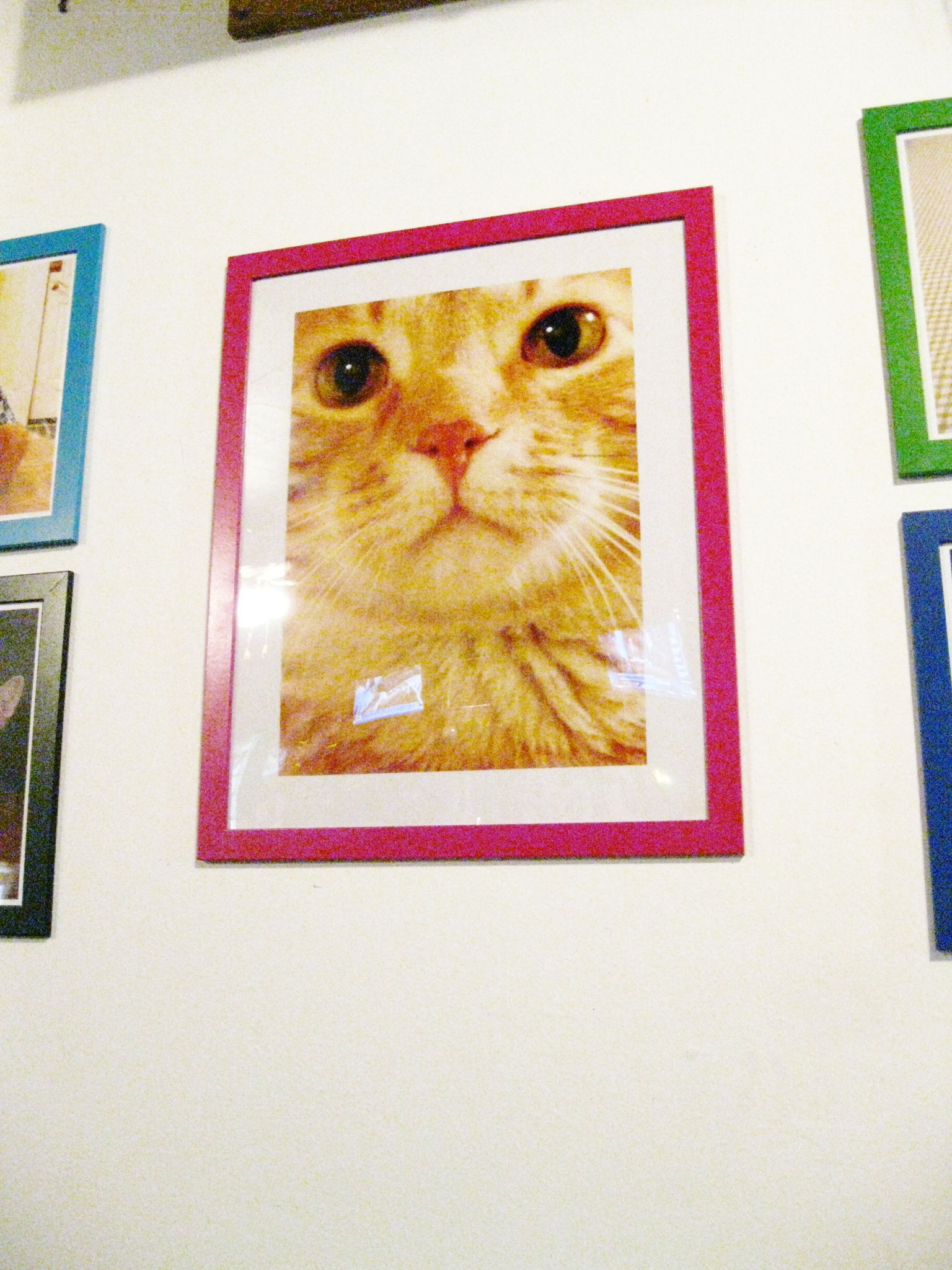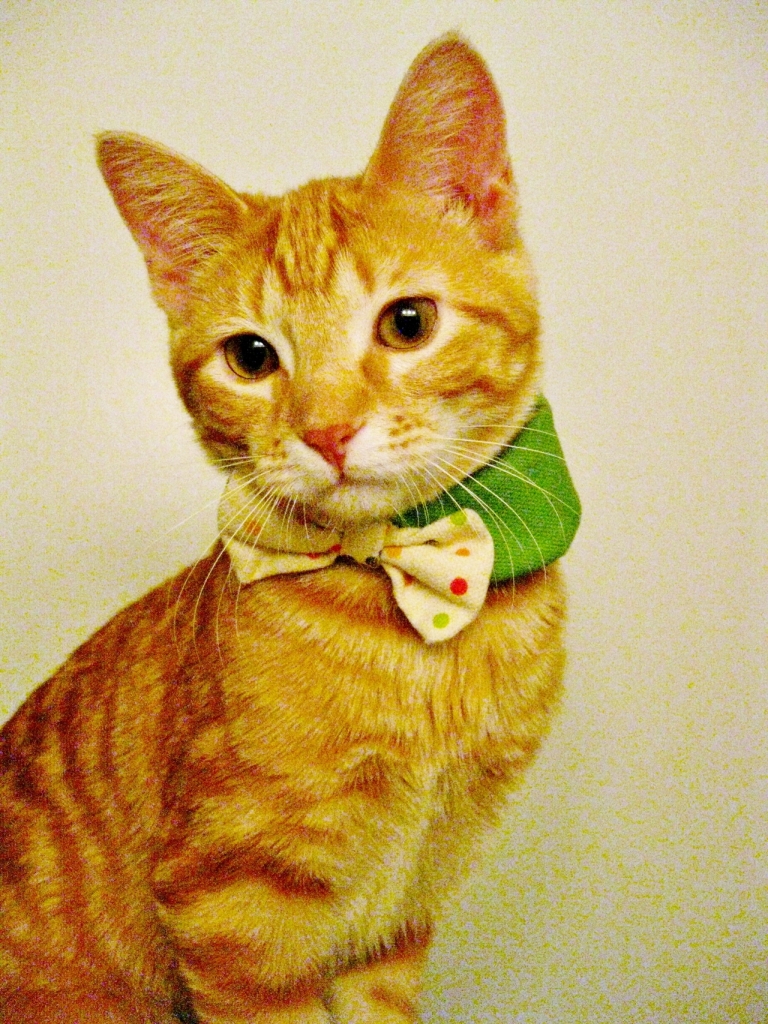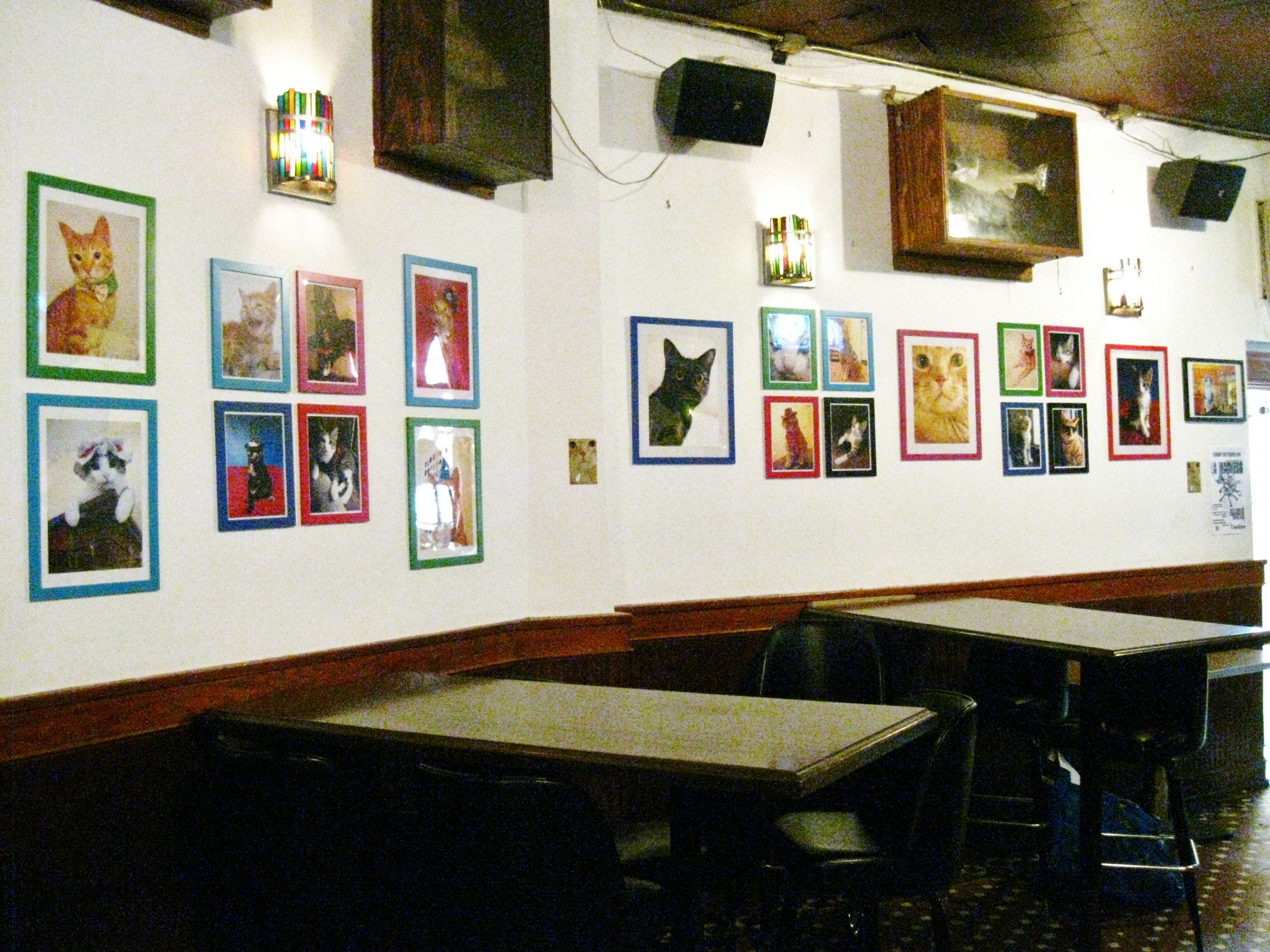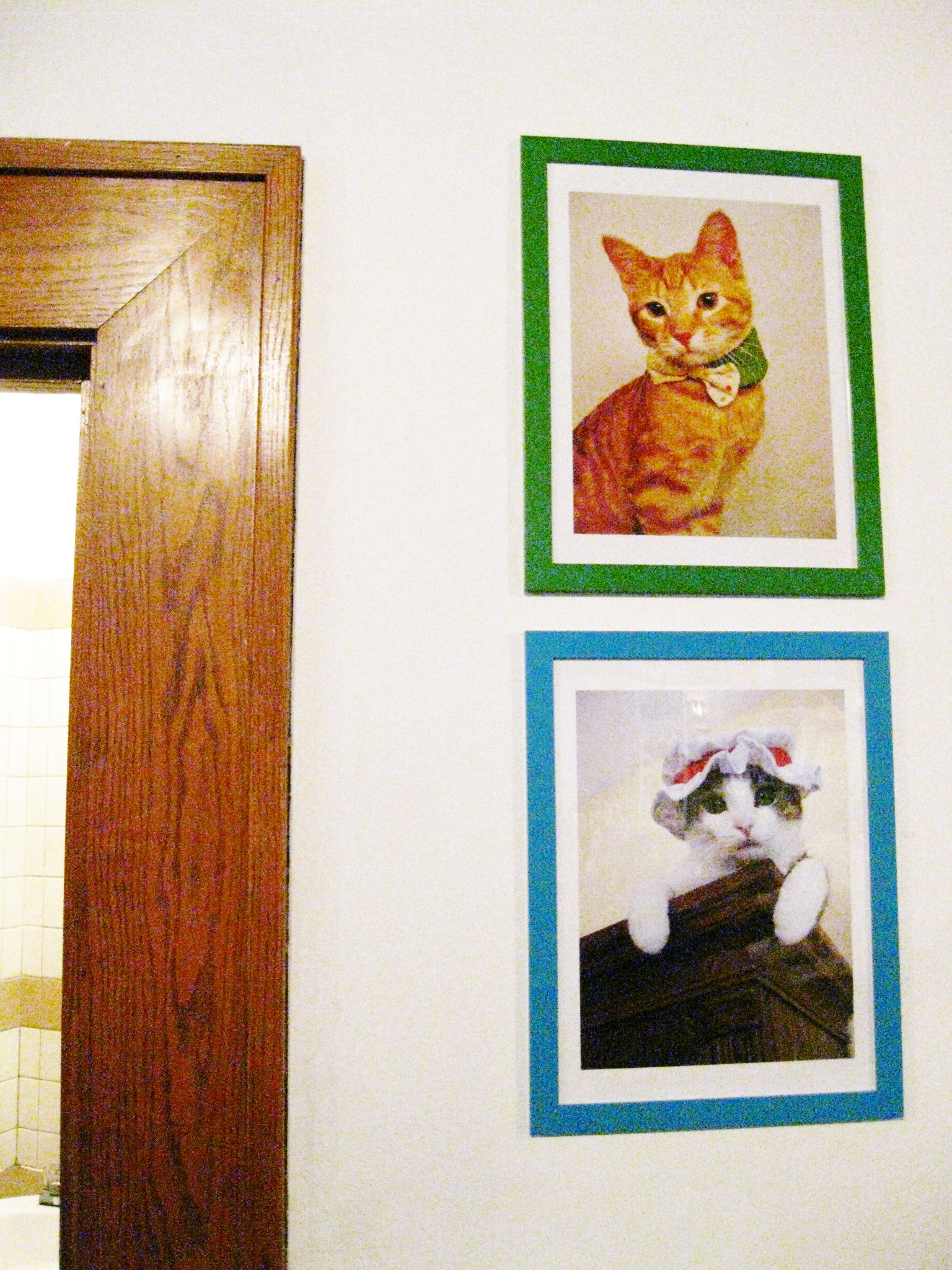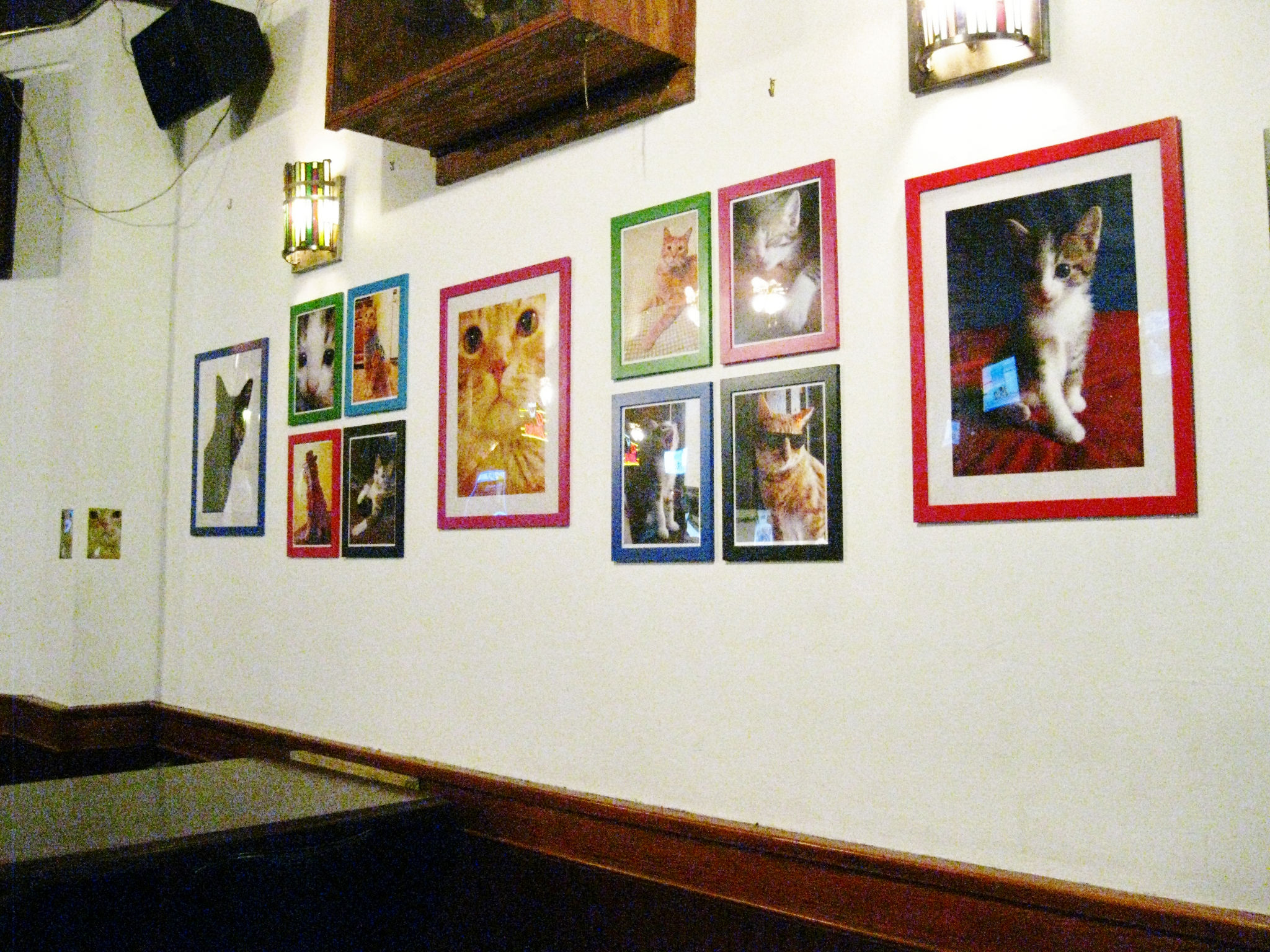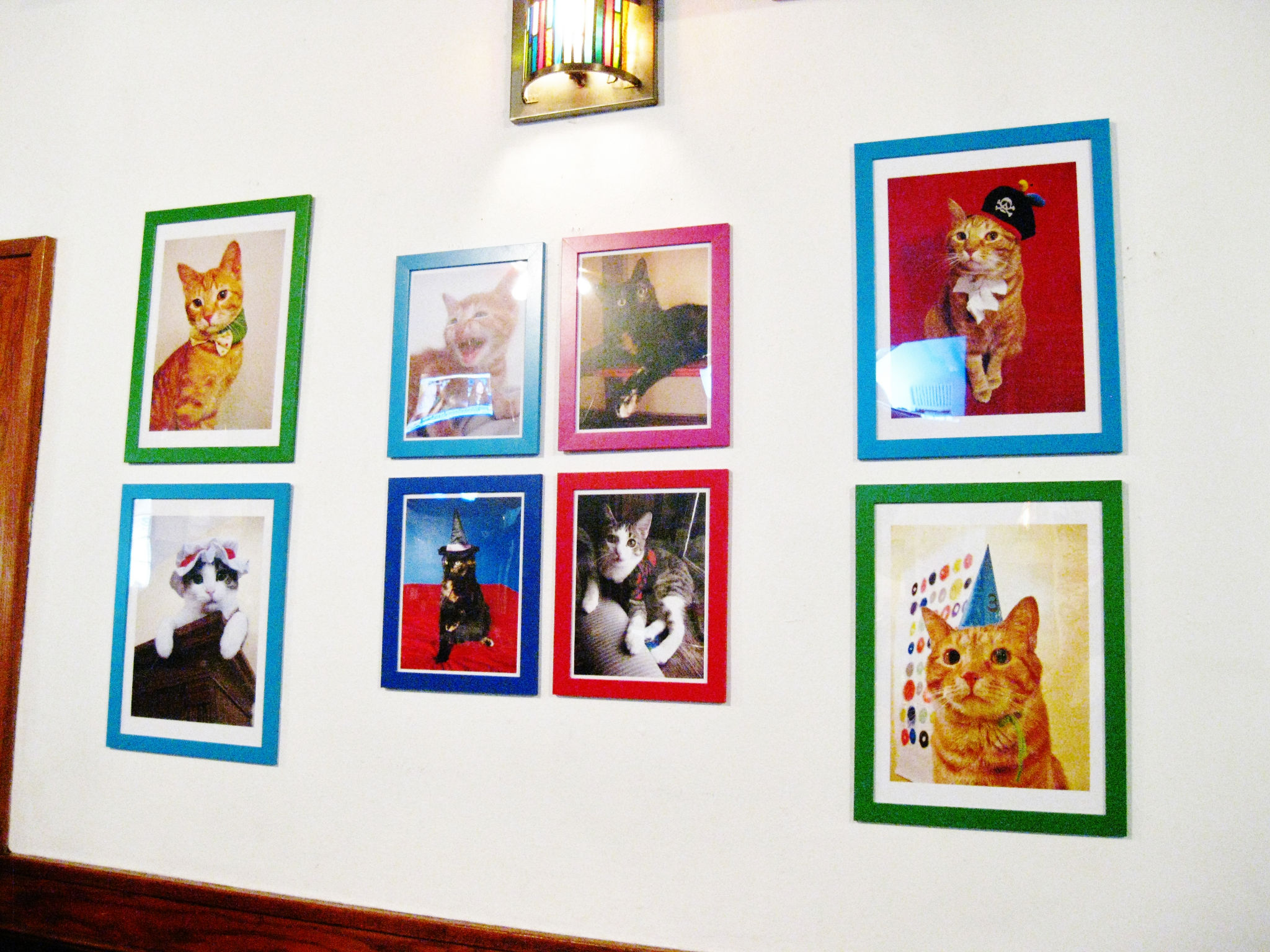 ALL THROUGH OCTOBER AT PALMER'S, a dive bar in Minneapolis's West Bank neighborhood, a delightful smattering of colorful, feline-centric prints hung neatly on the dingy wall facing the bar. As I made my way along the wall to look through Jaime Carrera's Dummies exhibition, I couldn't help but wonder: Is this show intended as a joke? Is it ironic, or maybe subversive? Is it serious?
There were 20 color prints in all on view in the bar — cats dressed up and posed, staring back at you. After looking closely, I'm convinced of the sincerity of the show; it's not just gimmickry. Whoever stood on the other side of the lens obviously loves these furry creatures, and they him. Beautifully lit and arranged in the frame, sometimes costumed, Carrera's kitties are not your average LOLcats: the composition of these bright, saturated prints has all the careful construction of a meticulously designed still life. The centrality of focus and sentimentality in each piece accentuate the stagnant, still-life quality, but the authenticity of that sentiment elevates the images beyond mere kitsch to true kitty love. Had these pieces been printed on higher quality paper, custom-framed in muted neutrals, and hung in line on the walls of a white-cube gallery, then the cheery color, silly subject matter, and sentimentality would have come off as insincere – or worse, ironic. But Palmer's is anything but a formal gallery and, for this show, that alternate context changes everything. And the cats are framed not in neutral tones, but in colors as vivid and ebullient as the hues in the prints. At the show's opening reception, I could hear the artist from across the room, regaling a crowd of friends and onlookers with anecdotes about his sweet feline friends. There's nothing put-on about his affection.
In my role at mnartists.org, I came to know Jaime Carrera through his participation as Pudenda the Fairy in a Free First Saturday program at the Walker Art Center centered on fantasy role-playing (commonly referred to as LARPing). He's an endlessly interesting artist who regularly works across disciplines — photography and film, dance, theater and performance art — known for playing with issues of gender, belonging, and social boundaries. And he's got an excellent sense of humor.
A proud, self-proclaimed "outsider artist," Carrera attended neither college nor art school. But, since his first show of photographs at Chicago's Around the Coyote festival in 1998, a lack of formal education hasn't stopped him from showing and performing his work locally, nationally, and internationally. He says he started taking pictures of his cats on special occasions, dressing them up for birthdays (theirs, not his) and holidays. Halloween, in particular, is very important in his house, and he says he made the cat portraits as a way to document the occasion, intending the pictures as something to share with friends via social media. In fact, it wasn't until some folks from VICE magazine came to his house — they were filming a documentary about celebri-cat Lil Bub and the Internet Cat Video Festival — that Carrera considered these photographs as anything but social media fodder. Seeing the pictures, one of the VICE producers urged the artist to consider his photos as more significant than that, as artful work in the same vein as Carrera's performance pieces. And so it was, with this outside opinion in mind, that Carrera decided his as-yet-unprinted body of cat photographs might be an excellent fit for the show he'd been invited to create for the walls of Palmer's Bar.
I'll admit, before the opening of Dummies I'd never set foot in Palmer's. In fact, when I asked around about the place among my friends, I got a few laughs, some concerned faces, and one "don't go by yourself and don't leave your drink unattended" lecture. And it is a for-real dive bar, more hole-in-the-wall than hipster: the drinks are cheap, the location comes with impossible parking options, and the establishment is cash-only. The delightful mix of folks that came out for Carrera's opening were likely less than typical of the bar's usual clientele, but everyone, regulars included, sure looked like they were having a great time. When I asked Carrera about showing his art in such an unusual venue, he admitted it was a first for him, saying, "I didn't even know Palmer's had art shows!" But, he said, he continually seeks to work from "outside the art world system," so when the invitation came, he hardly hesitated: "I mean, it's Palmer's, and I'm showing pictures of my cats, so why not just go all out?"
______________________________________________________
'The cute' is as important to contemporary art and aesthetics as 'the grotesque' — it's about time we start considering it as such.
______________________________________________________
Positively joyful and possibly garish, depending on your personal taste, there's something absolutely appropriate about the combination of a large photo of a cat wearing birthday hat surrounded by a candy-colored frame – especially in the incongruous surroundings of Palmer's, it just works. But positive public feedback about his prints doesn't really seem to concern the artist. This enfant terrible couldn't care less about critics, really; he says he's much more interested in making sure his work is distinctly and authentically his, that it doesn't look or feel like anything else out there. Even so, at the opening I overheard several people (and not just friends of the artist) asking about prices while trying to decide on their favorite pussy pic in the pack. As it happened, Carrera had not even bothered to price the pieces; when put on the spot, he seemed a bit nonplussed by the idea of having buyers for the work. It's no surprise to me though. Of course there's a commercial interest in the work. The portraits are clever and charming, and they're cats. And if I've learned anything concrete from creating and organizing #catvidfest, it's that people freakin' love cats.
Actually, the current cat-craze is not new, nor is the social and cultural relevance of cats-as-art as strange as it may at first seem. Feline imagery has been present throughout the history of art, sometimes obvious — as in Egyptian cat-god iconography — and sometimes more oblique, as in the symbolic black cat you see in Manet's Olympia. And for an overview of cats in a more contemporary, web-based frame of reference, look no further than this video.
Locally, Carrera's Dummies (so titled after his less-than-flattering nickname for his kitties) issued a challenge to the traditional gallery space as much as it tweaked the usual conception of what real art looks like. It comes down to this: Carrera's cat photographs are made well — artfully and with real craft — and they're made with genuine heart. Some passersby may have found the prints on exhibit in the bar last month silly, others maybe found them provocative; many bar patrons likely didn't really register the colorful gems on Palmer's walls much at all. This cat lady, though, finds Carrera's feline portraits adorable, admirable and, yes, significant. Aesthetically speaking, in the world of the visual, 'the cute' is as important as 'the grotesque' — it's about time we start considering it as such.
______________________________________________________
Related links and information:
Jaime's cats, Henri and Beau, are somewhat famous on the internet:
http://stuffaboutminneapolis.tumblr.com/search/henri
And what's next for Carrera? "I am creating & curating a massive performance festival that will premiere this winter (from December to February.) It's called Outlet & it's based on an idea I've had for many years….[It's part of the] Artists In Storefronts project and will span the gamut from performance art to modern dance to dance theater to live music — all of it happening in a huge underground space in Whittier. Stay tuned for more details…"
The Dummies exhibition at Palmer's closed at the end of October, but Carrera's cat prints will be on view again (and available for purchase) at Soo Visual Arts Center's pop-up holiday shop at 3506 Nicollet Avenue South in Minneapolis, which be open for business from November 17 through December 24.
______________________________________________________
About the author: Katie Czarniecki Hill is a writer, art historian, cat-lady and lover of all things on the internet. She lives in St. Paul with her husband and two cats.