Paradise Lost (or Found)
Camille LeFevre muses on "Heaven," a new dance work by Morgan Thorson and the musicians of Low, recently on stage at the Walker. She finds it an eloquent, if ambivalent meditation on perfection, the sacred, and humanity's tenuous access to the divine.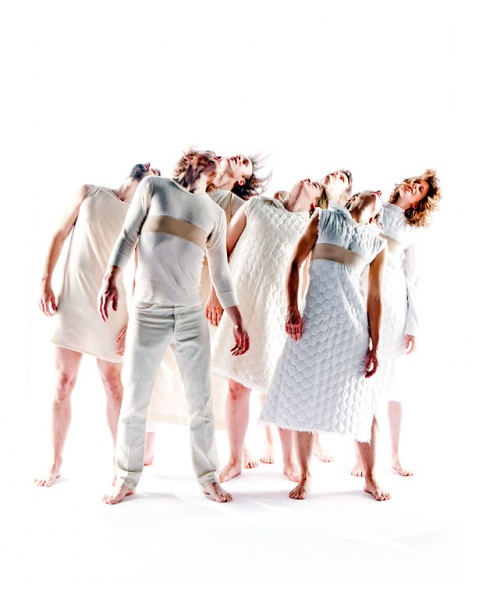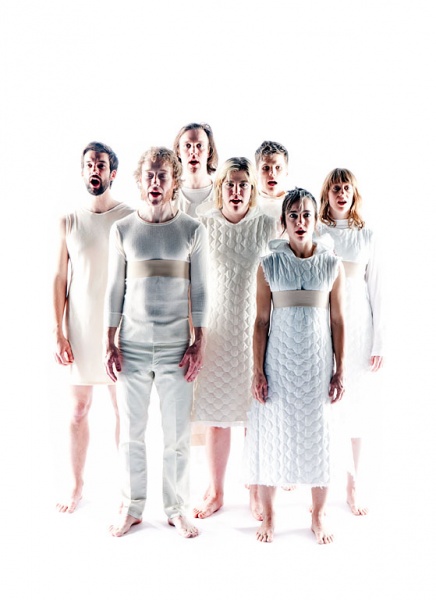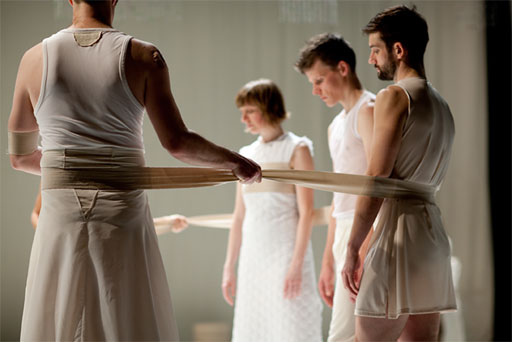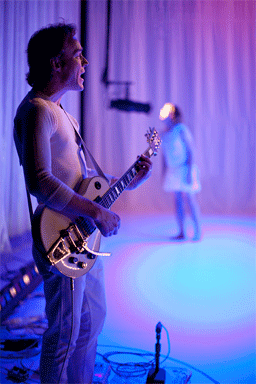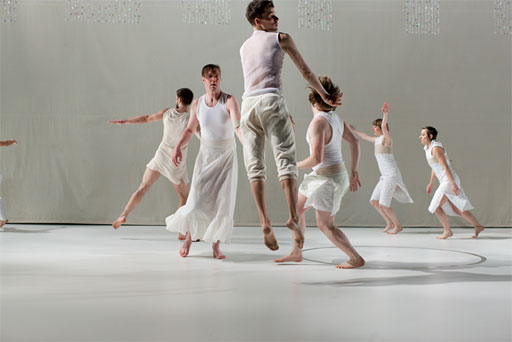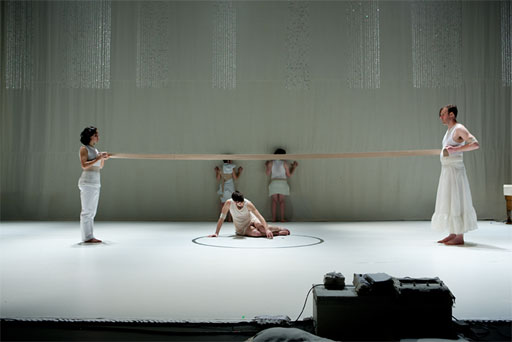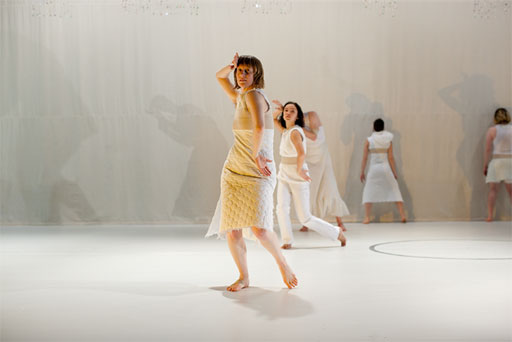 IN A QUESTION-AND-ANSWER SECTION published in the program for last weekend's Heaven at the Walker Art Center, the Walker asked Minneapolis choreographer Morgan Thorson about the intention behind her new 70-minute work. One of her responses to the question was this: "Perfection," the pursuit of and manifestation of perfection, in both the sacred and secular senses of the word. And during Saturday evening's performance, this notion was articulated in the finely honed movement of her dancers, particularly in one of Thorson's choreographic signatures: repeating phrases of loose intensity, in which the body lengthens and torso curves again and again, often with swirling grace.
In the aforementioned interview, Thorson also talked about the religious sources for the piece. These find manifestation in the long, hymn-like chord Mimi Parker plays on the organ at the beginning, and in the shape-note singing (an a cappella choral style, also called Sacred Harp, particularly associated with Southern Protestant churches) that sonically resolves a sonorous cacophony at the work's end. Heaven is also replete with recognizably prayerful movement — bowing from the waist, arms and faces lifted skyward, bent-over walks, slight bends forward and back and side to side, and stillness, often while kneeling on small pillows.
Emmett Ramstad's garb for the dancers convincingly renders them genderless, a choice Thorson attributes to her interest in the "angelic shapeshifters that often play a role in Biblical lore." These garments are also decidedly un-pretty: Chris Schlichting's ruffled empire-waist skirt gives his strapping figure an unsettling bust-line; Elliott Durko Lynch's middle droops over a dropped waistband. Other dancers wear shapeless versions of long-underwear pants, or torn shifts, or skirts constructed from white mattress padding, or off-white muslin, or some other pale material.
They're wan angels in a white, white world of Lenore Doxsee, Ramstad, and Thorson's making. The floor is white, as are the floor-to-ceiling curtains on three sides of the stage. Strings of beads, hung above the dancers, shimmer with a rainbow of colors. Like doilies, ruffled white pieces of cloth adorn the steps and railings in the theater's aisles, and cover the electronic equipment and organ Parker and Alan Sparhawk (of the Duluth slow-core, indie band Low) play on stage.
Bright white light and a spectrum of yellow tones alternately warm and bleach out the dancers in this space of purity and perfection. Together they walk, glacially, around the periphery of the stage (just as Raimund Hoghe did in September). Their movements are often small, precise, and repetitive. Hannah Kramer cleanses her arms and hands with a wet wipe. There are playful, precious little steps, and gestures of prayerfulness and supplication.
As all artists know, once a work is released into the world, a plethora of audience interpretations are sure to follow. The viewer never knows if or when that flash of insight or recognition may strike; the aha! moment which suddenly permits access into the work can be downright capricious. And invariably, the idea that jells in the viewer's mind is not quite what the artist intended. I watch Elliott Durko Lynch and Karen Sherman slam themselves into the rear wall, the fabric rippling under the force of their impact, and Heaven suddenly seems to shift gears. In that moment, rather than prayerful reflection or trance-inducing ecstasy, Heaven feels more like hell.
The fast-blinking eyes, furtive glances, and postures of quiet submission are juxtaposed with violent outbursts. The dancers pummel each other's arms. They beat their arms about their heads or hands about their faces. They roll and thrash on the floor. This isn't paradise; it's a padded cell with no escape. The dancers whisper to themselves, then form a line and begin (beautifully) singing the phrase, "Listen, listen to the still small voice." Then they break apart, separate flailing bodies united only by their discord.
________________________________________________________
The movements feel like a kinetic manifestation of straitjacketed psyches, and the choreography that guides them is a mesmerizing portrait of psychological abstraction.
________________________________________________________
Lynch stands facing a spotlight singing, as if in front of microphone, "Inside your body you're always inside," underscoring the sense of entrapment. The performers wear Ace bandages on their arms, put them into their mouths, and wrap them around their bodies — a metaphor for psychic, spiritual, and physical injury. The movements feel like a kinetic manifestation of straitjacketed psyches. The choreography that guides them is a mesmerizing portrait of psychological abstraction.
The room could be a place of reparation and healing; it could also be a sort of purgatory in which the long, low hum of the organ and electronic soundscape never stops, where the repetitive phrases of movement are only interrupted by tantrum outbursts. "I don't want to be there when you find out," Sparhawk sings while strumming his electric guitar. "I don't want to be there when you break glass." The black void lurking behind unblemished, perfect façade is brilliantly revealed when Jessica Cressey — emerging from a fit of jerks, twists, and screeches — slams herself into the dark, spotlighted wall behind a lifted curtain and slips, covered, into oblivion.
In the distorted soundscape, cacophony ensues as the dancers convey the frustration of stalled momentum, running in place and moving back and forth, with hands pleadingly held aloft. As they re-congregate into a single mass of humanity, a light blue rectangle of light appears on the floor, but none of them step through. Instead, the dancers remain together, pilgrims of a sort on a nameless journey, and sing a shape-note hymn, marked by the phrase, "I know I have another building not made with hands." And the place they inhabit is neither heaven nor hell; it's more tenuous than that, this ambiguous space of the spirit as imagined by Thorson and her collaborators.
________________________________________________________
Noted performance details:
Heaven, presented by Morgan Thorson with the musicians of Low, took place March 4 – 6, performed at and commissioned by the Walker Art Center.
________________________________________________________
About the author: Camille LeFevre is a dance critic, arts journalist, and college professor.