LITERATURE: Magdalena Poised (Portrait of a Young Poet)
TIC founder and writer Alison Morse offers a portrait of an up-and-coming young Palabrista, Magdalena Kaluza. They talk about social justice, her recent splash in the local lit scene, and about the power of poetry to build bridges.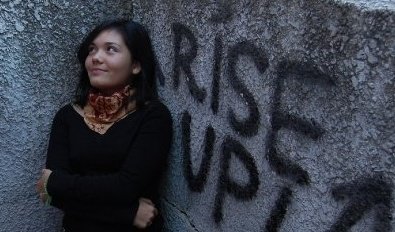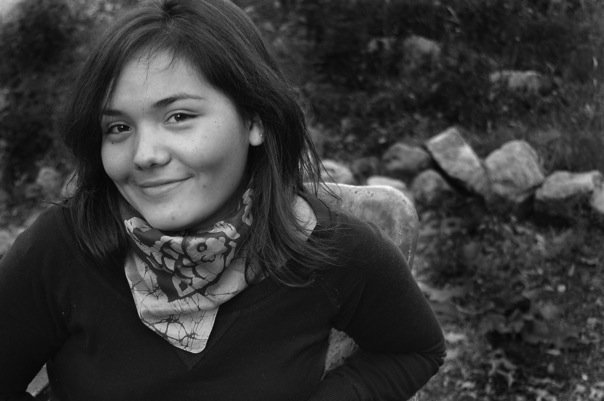 ONE WEEK BEFORE THE PRESIDENTIAL ELECTION, MAGDALENA KALUZA, seventeen years old, walks to the mic at the Target Performance Hall in Minneapolis's Open Book. She is part of a reading called "No Vote, No Voice," created and performed by inkTank, the Loft Literary Center's teen council. These writers, who are all too young to vote, have been reading poems about their hormones, Sarah Palin, getting arrested at the Republican National Convention, Bill Ayers, a high school teacher. Some of the writing is earnest or funny; a few of the readers are natural performers.
Magdalena, tiny and bright-eyed in jeans and a sweater, begins her poem New Today.
Today I fried 120 eggs and made breakfast for 60 people.
Grease splattered fingers
slid plates off to hands
supported by sore wrists, which
delivered the food to tables where it was
gobbled up, bite by bite, yolk and all.
-excerpt from New Today
Stanza after stanza, she braids the lives of immigrant workers in the US with the thankless, indispensable work they do for American citizens. Her language is evocative, empathetic, and eloquent. She reads aloud with clear intensity, too, and is endowed with poise beyond her years. How did this seventeen-year old Minneapolis high school student become such a dynamo?
For starters, Magdalena Kaluza has always served as a bridge between her parents' worlds. Her mother, an activist from Minneapolis, traveled to Guatemala in the 1980s to study Spanish. She fell in love with her Spanish teacher, a Guatemalan musician who wrote songs deemed "offensive to the government" at a time when any politically outspoken Guatemalan was in danger of being "disappeared." Magdalena's parents married and moved to the US to escape Guatemala's brutal repression, but she retains a strong connection to the country. Since the age of four, Magdalena has spent almost every summer in Guatemala with her father's family; she speaks Spanish fluently and holds her experiences in her father's native country close. "You don't drive there. There are no malls. If you're six and have no legs…you can sit outside the zoo asking for coins."
Her parents separated when she was two, but they continued to raise her together. Magda says she learned karate and guitar from her dad and gardening from her mom. She gets her passion for social justice from both parents; but she inherited a particular zeal from her mother, who used to dress her baby girl in black then wheel her in a stroller to anti-war rallies. Magda wears more pink these days, but she is still her mother's daughter. Throughout her young life, Magdalena has been a leader and participant in many social justice organizations, including the Fellowship of Reconciliation Peacemaker's Training Institute, a non-violent collective for youth ages 17-25, and Youth Against War and Racism (YAWR), a group that specializes in anti-war activism and counter-recruitment work.
_________________________________________________
Recalling police treatment of her and other anti-war protesting high school students when they were arrested at a march during September's RNC in Saint Paul, she says: "I'd only seen this [kind of behavior] in movies about Third World dictatorships. It was over the top."
_________________________________________________
When I ask if she considers herself an activist, Magda responds: "I try not to use that word. Other people would prefer 'community organizer,' someone who wants to see change in a specific or broad area at a level that can start locally." She sees herself as someone who is "able to connect with others, to use their relationships wisely" in order to "help the community at large."
She brings the full measure of that activist passion to her writing and reading. "Writing was imposed on me in middle school," says Magdalena. She was in a Gifted and Talented program at Emerson, where she remembers her English teacher, Flory Sommers, facilitated "great discussions" about classics like The Jungle, To Kill a Mockingbird, and Dr Jekyll and Mr. Hyde. She credits Ms. Sommers with teaching her that "everything is interrelated." Magda explains, "She made sure we knew fractions and the capital of every country," and she made reading and writing fun. It was here, too, that Magdalena first garnered praise for her writing. "Yeah, I'm good at it," she says, staring at the floor.
During her first year at South High School, Magda participated in a workshop led by writers/spoken word artists Tatiana Ormaza and Juliana Pegues. The session culminated in a reading at the Loft. "I had no idea you could write about something you care about. They'd [the audience] sit quietly and applaud for you, too."
Tatiana Ormaza, a member of the Latin-American poetry collective, Palabristas, was so impressed with Magdalena, that she asked her to join the group. She is now their youngest member. "This gives me hope for young people, that there are those—like Magda—who are politically engaged and creative," says Lorena Duarte, another Palabrista and a major force in the Twin Cities' Latin-American literary community. "I first met Magda on paper, when we were putting together the Palabristas' chapbook, Outside the Lines. My first impression was—Brilliant! I was impressed with her courage, freedom, and ingenuity as a writer, especially her poem, Mississippi."
m-i-s-s—hey!
That spells miss!
So we've found out that,
according to the invader language,
our hard-to-spell-with-one-eye riva is a SHE!
-excerpt from Mississippi
Magdalena Kaluza is not just courageous on the page, she takes her convictions to the street, too. During the Republican National Convention last September, she was one of over a dozen high school students arrested as they attempted to march in an anti-war rally in downtown Saint Paul. She was taken to the Saint Paul Juvenile Detention Center, questioned, searched, and put in an individual steel cell until noon the next day. "It's important that more people grasp the gravity of how the Saint Paul police reacted that week," says Magdalena. "I'd only seen this [kind of behavior] in movies about Third World dictatorships…It was over the top." Since then, the city's response to the high-schoolers' complaints about mistreatment by police has been unsatisfying: in mid-November she was told by officials that "the case will not continue to be dealt with, but it will not be dropped." Magdalena hasn't dropped the case either. She wrote about her arrest on her college applications. "In the future," she says, "I want to be more involved. This will remind me that there is a lot of work that still needs to be done."
Without a doubt, Magdalena Kaluza, already a poet and outspoken diplomat between multiple worlds, will do what she feels needs to be done. Her words in honor of the Mississippi River just as aptly describe her:
A mighty wave for power
A shake n shimmy she's tough
Knock out and ring out
She'll beat it up.
About the author: Alison Morse's poetry and prose has been published in Water~Stone, Rhino, The Potomac and a bunch of other places. She is currently spit-polishing a novel, The Beethoven Frieze, about animators during Yugoslavia's collapse. For twenty years she animated everything from cigarettes and glass shards to Barbie in 3D computer models and taught at the Minneapolis College of Art and Design and the University of Minnesota. Now she runs TalkingImageConnection, an organization that brings together writers, contemporary visual artists and new audiences.
In just a few weeks, Alison will join Twin Cities writers Patricia Cumbie, Carla Hagen, Alison Morse, Marcia Peck, and Julia Klatt-Singer, for a benefit reading and dinner in support of the Minnesota Emergency Food Shelf Network. It will be an evening of Moroccan tagines, Italian cheeses, libations, the chocolate stylings of Marilynn Taylor, and a reading of food-themed stories and poems.