Beautifully Twisted
Writer and designer Matt Konrad reviews Paper Darts' first foray into book publishing, John Jodzio's collection GET IN IF YOU WANT TO LIVE, calling its marriage of art, fiction and smart layout a "terrific model of a print project for the electronic age."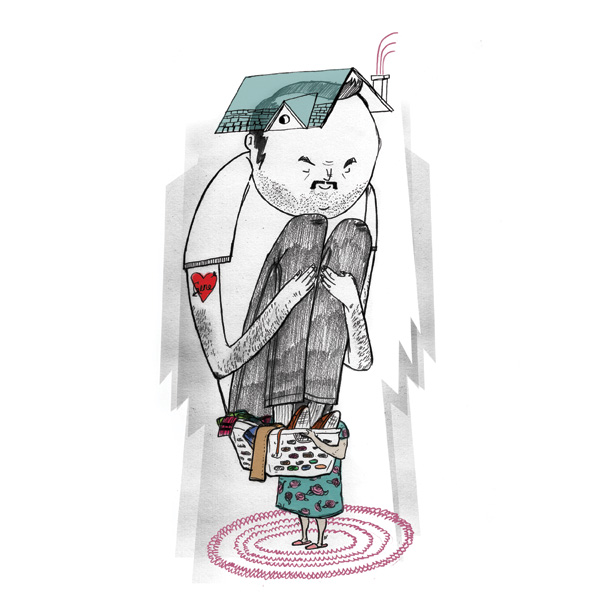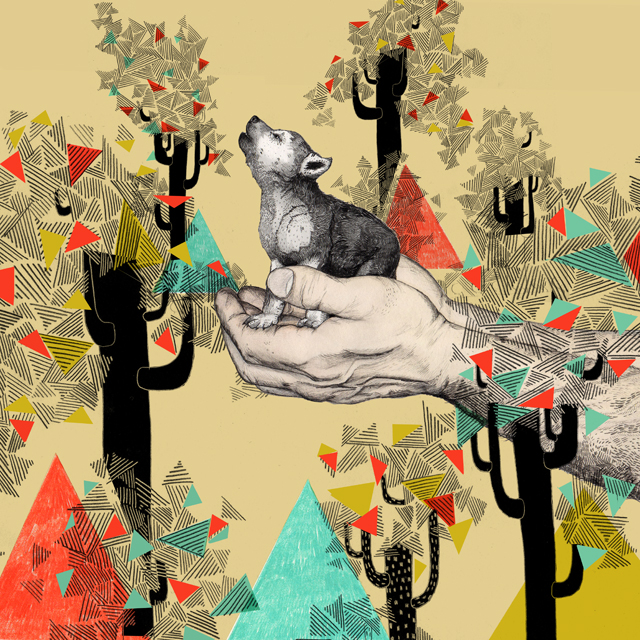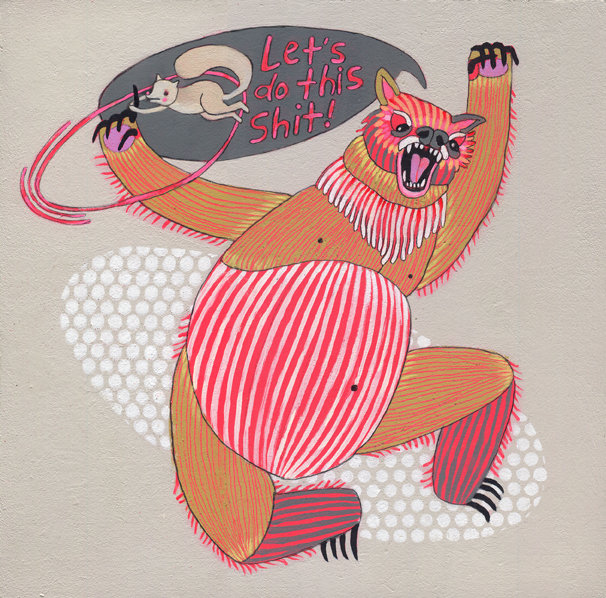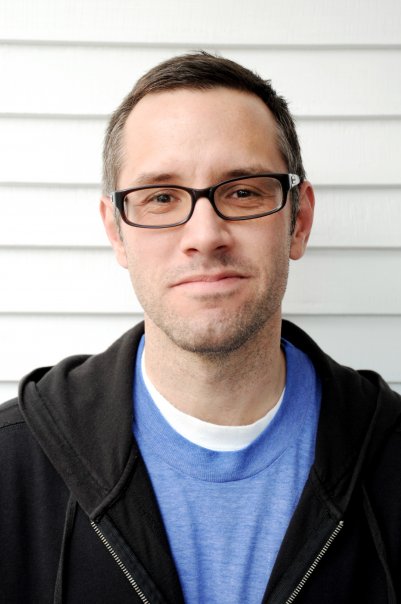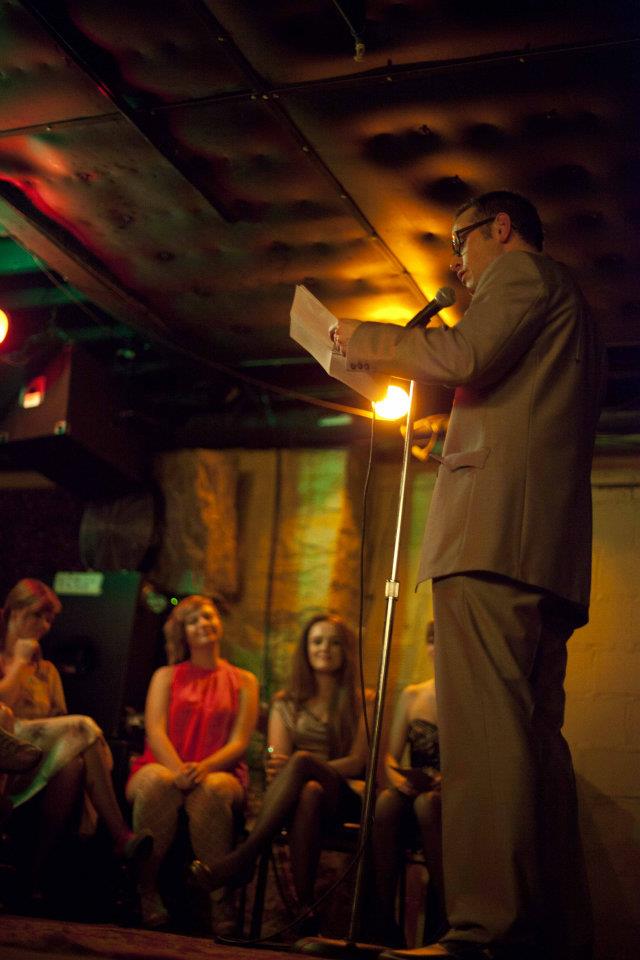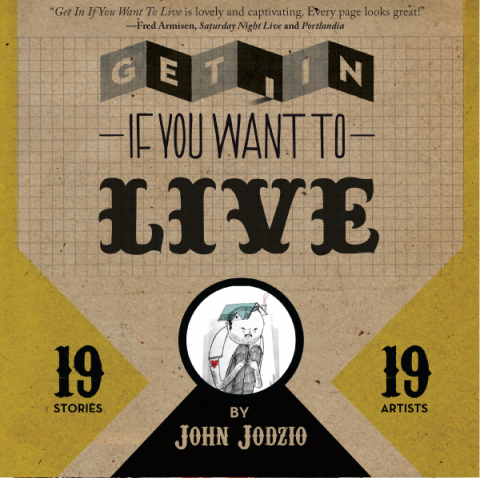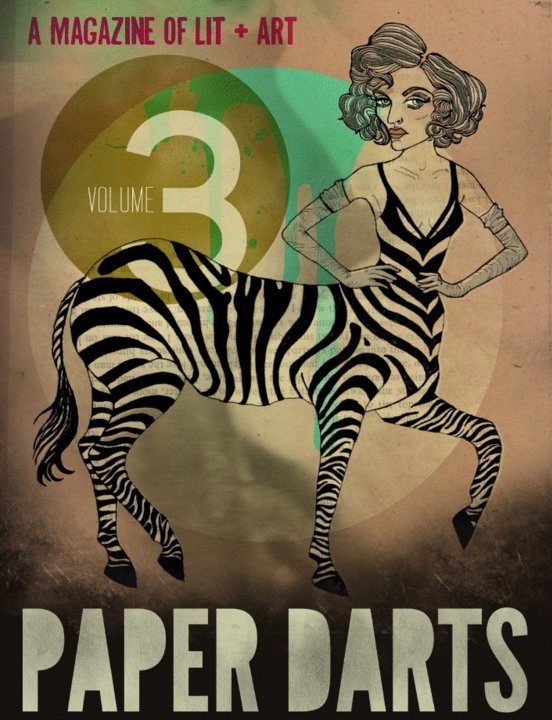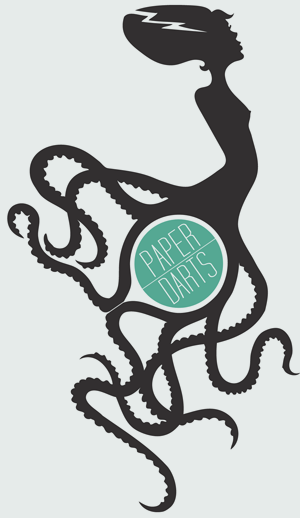 AS A LONGTIME BOOKSELLER, DESIGNER, AND LOVER OF ALL KINDS OF PRINT, I always swore I'd never own an e-reader (not counting a couple of times I wavered while hauling yet another box of books in yet another move). But times and technology, storage space and reading habits change, and just before embarking on a few months of frequent business travel, I finally succumbed to the allure of electronic ink. And it turned out, my carry-on bags and attention span both thanked me immediately. As a fast reader, I'd always had to walk the line between running out of reading material or packing extra books at the expense of, say, extra socks; now, thanks to my little gray tablet with its scientific-miracle black-on-white screen, I no longer have to choose.
However, as thoroughly as I have embraced this advanced technology, it is still incapable of capturing the full, analogue experience of good old books. There are, of course, real limitations about what can be found, read, and owned (and that's a whole article for another time). But there are more ineffable drawbacks of going digital, too — art and texture and shape; the craft of printing and the feel of an object all vanish, smoothed out and standardized and removed from the act of reading.
Fortunately, there are folks out there like the minds behind Minneapolis publishing collective Paper Darts, who remain devoted to just that type of old school hard copy experience — who do great work online while also producing beautiful, interesting, and uniquely print materials.
Paper Darts was started in 2009 as the zine project of recent University of Minnesota grads Jamie Millard, Regan Smith, and Meghan Suszynski. They've since added three more interns and grown — as befits their logo, a cephalopod with the Bride of Frankenstein's head — into a many-tentacled art and literature destination. They've cranked out three issues of their flagship magazine; they operate a must-bookmark blog spotlighting fiction, nonfiction, poetry, art, music and more. And with the publication of John Jodzio's Get In If You Want To Live, they've just made their first foray into the world of book publishing.
I'm pleased to say, it's an excellent start, reflecting exactly what makes Paper Darts unique. The book features 19 of Jodzio's mordant short-short stories, paired with commissioned, full-page illustrations from 19 different local, national, and international artists. The whole thing is a really appealing art object on its own, with a shape and size reminiscent of a punk-rock 7-inch, and a deceptively simple two-color die-cut cover that opens onto one gorgeous layout after another. (The cover blurb, from Portlandia star and alt-comedy superhero Fred Armisen, raves, "Every page looks great," and it is impossible to disagree.)
A bunch of the stories in Get In If You Want To Live were originally published in McSweeney's, and that — not to mention the Fred Armisen blurb — ought to give you a relatively good idea where Jodzio's writing is coming from. His 19 narrators are mostly dudes and mostly kind of warped; there are looters and drug pushers and habitual liars and one guy named Gene who only dates women named Jean because "while I certainly love to hear my name being yelled out during sex, I also think it is dope to call out my own name while I fuck." Jodzio's comedy taps into the same vein of fast and furious absurdism that runs beneath the Kids in the Hall, Mr. Show and Adult Swim's gonzo sitcoms. These are weird, rich worlds distilled down into peep-show slices of life, saturated with details that are unfailingly funny and often even kind of poignant.
______________________________________________________
Jodzio's comedy runs on fast and furious absurdism — weird, rich worlds are distilled down into peep-show slices of life, saturated with details that are unfailingly funny and often even kind of poignant.
______________________________________________________
And I do mean funny. I recommend you read Get In If You Want to Live in close proximity to someone sharing your sense of humor; by the time I got through the 50-or-so pages of stories, I was reading one-liners to my wife at a clip of two or three per page:
"Sometimes I am driven by failure and sometimes I am driven by my driver Carl."

"For starters, the bear was going to stop eating out of the White Castle dumpster. Next, he was going to stop drinking gin. Lastly, no more sex outside his species."

"When I drink, I smoke. When I drink AND smoke, sometimes I light cars on fire. If it's a Wednesday night, I get out my fog machine and invite some friends over to dance. This is a pretty understanding neighborhood unless you wear assless chaps after Labor Day."
I could go on, but I don't want to rob Jodzio of all his good laugh lines (or type out the entire book). Funny as they are, these one-liners are also indicative of one of the book's hidden strengths. Novelists, or even lengthy short-story writers, have plenty of room to expand their fiction, establishing setting and detail and immersing you in the incidental details that make a world real. Ultra-short fiction like these stories doesn't have that luxury — but Jodzio's well-chosen, economical language, consistently oddball tone and detail-laden jokes give you an instant sense of the characters' life off the page. (To borrow a phrase from Achewood's Chris Onstad, these people are From Circumstances.)
Even the deadpan story titles do double-duty, providing both humor and context: "Yes, I Totally Spaced Telling You About That Lair in My Basement"; "A Toast To Randy, The Oldest Son Of My Secret Family"; "Sorry. But I Just Can't Marry A Woman That Doesn't Look Hot On The Jumbotron."
And, of course, it's impossible to ignore the impact of the art accompanying each story. While Get In If You Want To Live isn't a graphic novel in the strictest sense, it's hard to imagine the literature without the art. The Paper Darts team put together a widely varied array of artists — comic illustrators, printmakers, oil painters, you name it — from the U.S. and abroad, and their contributions bring an added layer of content and design richness to the book.
Like Jodzio's writing, the best of the art does the little things right. Andres Guzman's illustration for "Recently I Passed a Kidney Stone That Looks Like A Shark's Tooth" appears, initially, to be a grand and glowing sphere on a planetary scale … until you realize it's a kidney stone. Sandra Dieckmann's "before and after" illustrations of "Javier," a "dapper and sophisticated wolf," are as simultaneously cute and chilling as the story. And Jennifer Davis's painting for "Bear" — a pink-striped totemic bear swinging a squirrel around and shouting "Let's do this shit!" — is one I would be proud to hang in my own house.
From story to art and concept to execution, Get In If You Want To Live is a terrific model of a print project for the electronic age. The book uses a far-flung network of contributors and a tone and humor familiar to the online and lit-savvy, and turns it into a strange, beautiful and tactile art object. I, for one, can't wait to see what comes next from Paper Darts.
______________________________________________________
Related information and links:
Find more information about Paper Darts, keep up with the blog and their offline events, order a current issue of the literary magazine, get links to featured artists' websites and more at www.paperdarts.org.
Read more about and by author John Jodzio on www.johnjodzio.net.
______________________________________________________
About the author: Matt Konrad writes, builds websites and mixes drinks in Minneapolis. He is the host of Overproof Radio, a biweekly podcast of Jamaican music at overproof.podomatic.com.