Winners by any other name: The Ivey Awards
Jaime Kleiman offers a mini-history of the TC theater bash-that-could, the democratic-minded Ivey Awards. This year's "honorees," selected by a pool of 150 avid theatergoers, will be recognized in an awards ceremony September 21 at LaSalle Plaza.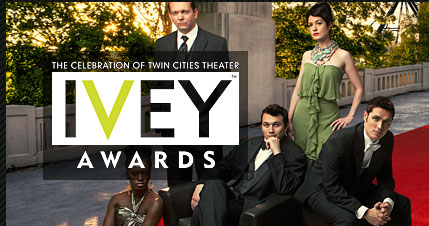 IT'S TIME AGAIN FOR THE ANNUAL SOIRÉE that theater people wait for with bated breath — the Ivey Awards celebrates its fifth anniversary on September 21st at the State Theatre. That's no small feat for an event created by someone whose only previous connection to the theater community was as a ticket-buyer. The now-defunct Twin Cities awards show the Iveys most resemble — the Kudo Awards — barely made it past the two-year mark before shutting down. The truth of the matter is that many people, from actors and directors to newspaper critics, doubted that the Ivey Awards would persevere. It has, though, and its success can largely be attributed to one person, event founder Scott Mayer.
Mayer is the wizard behind the curtain. An avid theatergoer with, he admits, "no theatrical talents whatsoever," he decided that Minneapolis, which is second only to New York in the number of theater seats per capita, needed to have some kind of recognition ceremony to honor its 60+ professional theater companies. Thus, in 2005, the Iveys were born.
Mayer, 52, comes from the world of corporate marketing. While at Target, he frequently traveled for business and wondered why the we had no awards show here. After all, Chicago has the Jeffersons, New York has the Obies and the Tonys, Seattle has the Footlight Awards, Washington, D.C. the Helen Hayes, and Boston the Elliot Norton Awards. "The Ivey Awards," he explains, are "an attempt to raise the visibility of Twin Cities theater," especially when one considers that the vibrant and eclectic theater scene here is a big tourist attraction. What better way to get the Chamber of Commerce to pay attention than to have a splashy awards show?
The Iveys honor all manner of theater artists, from actors to designers to directors and choreographers. The selection process operates on a model that is distinctly Minnesota-nice, for better and for worse. There are no set categories. The statuettes are given for "recognition," not triumph over other nominees. In fact, there are no nominees at all; the winners (let's face it, that's what they really are) are chosen by a democratic coalition of volunteer evaluators, which this year consisted of 150 theatergoers — plebeians, if you will — who have no stake in the thespian game. As for professional critics, they have no say at all.
Pioneer Press theater critic Dominic Papatola thinks that's mostly a good thing, although he has his reservations about the Ivey Awards' voting structure. "I simultaneously like and am wary of the democratic nature of the evaluation process," he opines. "I think it would be a terrible thing if the handful of major critics in town had the power to make that [judgment], but I think [100+] evaluators might be going too far in the other direction. It seems like it's an awful lot of voices to be making those kinds of decisions. I realize artists have fragile egos, but I think they're smart enough to understand that…refusing to call the person who won the winner is disingenuous. If you decide to give out awards, you are by definition [creating winners]. Let them bask in that, in being the best. I think we're all grown up to deal with the concept of there being an award."
______________________________________________________
"One of the things that the Iveys have done is to call attention to smaller companies, putting a spotlight on companies and organizations that otherwise would not have gotten that recognition, because they don't have the marketing capability."
______________________________________________________
There are two awards that aren't chosen by the evaluator pool: the Lifetime Achievement Award and the Emerging Artist Award. Artists from Ivey-member theaters vote for those. Past Lifetime Achievement awards have gone to Lou Bellamy of Penumbra Theatre, Jack Reuler of Mixed Blood Theatre, Guthrie Theater director of education and community programs Sheila Livingston, and Old Log Theater founder Don Stolz. Christiana Clark, Nathan Christopher, Kate Sutton-Johnson, and Matthew Amendt have each taken home trophies as Emerging Artists.
Like most awards show presentations, the Iveys follow a template — MCs (notably film star Justin Kirk and former Theatre Communications Group executive director Ben Cameron, as well as this year's Richard Ooms and Claudia Wilkens) give teleprompted witty banter, and the entertainment consists of song-and-dance numbers from local musical productions; sometimes there's also a stand-up act or a scene from a straight play. Presenters include past Ivey recipients as well as corporate folk whose businesses have helped sponsor the ceremony. The event never goes longer than 90 minutes and is always followed by a free after-party (included with the cost of the $35 ticket price). In an effort to conserve resources, this year's after-party will take place in LaSalle Plaza instead of its previous location at the IDS Center. Mayer expects the glitz and fun factor to remain the same, even with the change of venue.
The Iveys, like every other institution nowadays, is hurting from the recession; in addition to the switch in venue, the ceremony itself will also be pared down. Historically, ticket prices, which Mayer tries to keep affordable, have been subsidized by corporate sponsors, as has the show itself, along with a small amount of grant money coming from the McKnight Foundation. Most of the funds come from the marketing arm, explains Mayer, who admits that this year's fundraising has been "very challenging." He says, "The economy has affected some businesses that have been terrific community partners [for us]. Some corporations have used [the failing economy] as an excuse [not to sponsor the Iveys]. So, we're working with a smaller budget than we have in the past, but hopefully it's not going to affect the quality of the experience. We're asking people to do more for less. When there are economic challenges, you have to be creative." Luckily, creativity, along with an eye for detail, is one of Mayer's strengths.
For the artists, winning an Ivey creates a ripple effect, promoting not only the theater community at large but also the individuals who receive an award. Stacia Rice was one of the first actors to take home a trophy, and she now sits on the Ivey Advisory Board. After she won herself, she benefited greatly from her new marquee value and achieved a lot of press for future productions and her then-fledgling company, Torch Theater. "It gets people's names out there and, as an actor, you want name recognition," she acknowledges. "It's also a nice thing to put on your résumé. I doubt that if I did a crappy audition that someone would hire me because I won an Ivey, but I do think some people are more likely to remember who you are if they've never heard of you before."
Papatola agrees: "I will say that one of the things that the Iveys have done is that they do a really good job of calling attention to smaller groups like Off-Leash Area [who have won multiple times]. It has certainly put a spotlight on some organizations that otherwise would not have gotten that recognition, because they don't have the marketing capability. Has it gotten me in doors I wouldn't have otherwise gone? Probably not, but gives me another reason to try to see them."
"Say what you want about the Iveys," continues Papatola, "But it's an excuse for the theater community to get together and enjoy themselves. Even if the Iveys did nothing else, I would say they [have provided a venue] for artists to get together once a year and feel good about themselves."
Ultimately, that's really what the Iveys are all about. Does it also present an opportunity for people to be self-congratulatory or petty? Possibly. Is it a schmooze-fest? Of course. But it's also the one night of the year when everyone can raise their glasses high and revel in the Cities' thriving theater scene. And that — no matter who takes home a prize — is definitely something worth celebrating.
______________________________________________________
The Ivey Awards were held September 21, 2009 at the Historic State Theatre in Minneapolis.
2009 Ivey Awards Honorees:

PRODUCTIONS

Little Rock, 1957 by Youth Performance Company

Tyrone & Ralph by the History Theatre

Old Wicked Songs by Theatre Latte Da

INDIVIDUAL RECOGNITION

Luverne Seifert, Actor
800 Words: The Transmigration of Philip Dick by Workhaus Theatre Collective

Christina Baldwin and Jennifer Baldwin Peden, Actors
Sister Stories by Nautilus Music-Theater

Greg Banks, Direction
Romeo and Juliet by the Children's Theatre Company

Greta Oglesby, Actor
Caroline or Change by the Guthrie Theater

Sean Healey, Sound Design
Shipwrecked by the Jungle Theater

Sonja Parks, Actor
No Child by Pillsbury House Theatre

Chris Griffith, Props Puppet Design
Herschel and the Hannukah Goblins by Minnesota Jewish Theatre Company

EMERGING ARTIST

Emily Gonyou Halaas

Emily's work has been seen on a number of Twin Cities stages this year in such productions as My Name is Rachel Corrie at Emigrant Theatre, Passage of Dreams at Theatre Latte Da, Dr. Jekyll and Mr Hyde at Park Square, 1001 at Mixed Blood and Vinegar Tom at Frank Theatre. Past theatre credits include Third at the Guthrie Theater, The Deception at Theatre de la Jeune Lune and La Jolla Playhouse; Trying at Park Square; King Lear at Starting Gate Productions; Reservoir Bitches, Patty Red Pants and Messalina at Red Eye; Almost Exactly Like Us at Gremlin Theatre; and House of Yes, Lily's Plastic Purple Purse and Green Eggs and Ham at Children's Theatre Company. In New York she has performed with Unbound Theatre. She received her training at Circle in the Square Theater School.

LIFETIME ACHIEVEMENT

Dudley Riggs, founder of The Brave New Workshop
______________________________________________________
About the author: Jaime Kleiman is a freelance journalist and actor. She has written for Mpls.St.Paul Magazine, The Rake, Twin Cities Luxury + Fashion, Pioneer Press, Minnesota Meetings and Events, mnartists.org, American Theatre, City Pages, and BackStage.com. As an actor, she has performed with Walking Shadow Theatre Company, Minnesota Jewish Theatre Company, Bridge Productions, and Workhouse Theatre Company, among many others. Upcoming: Moonlight and Magnolias at the Minnesota Jewish Theatre Company, Oct. 24-Nov. 15.