Anchovies, Rice, and Beans
A cooking session with transdisciplinary performance artist Marcela Michelle: on the mutability of identity, and how to turn a survival meal into jubilation in a pot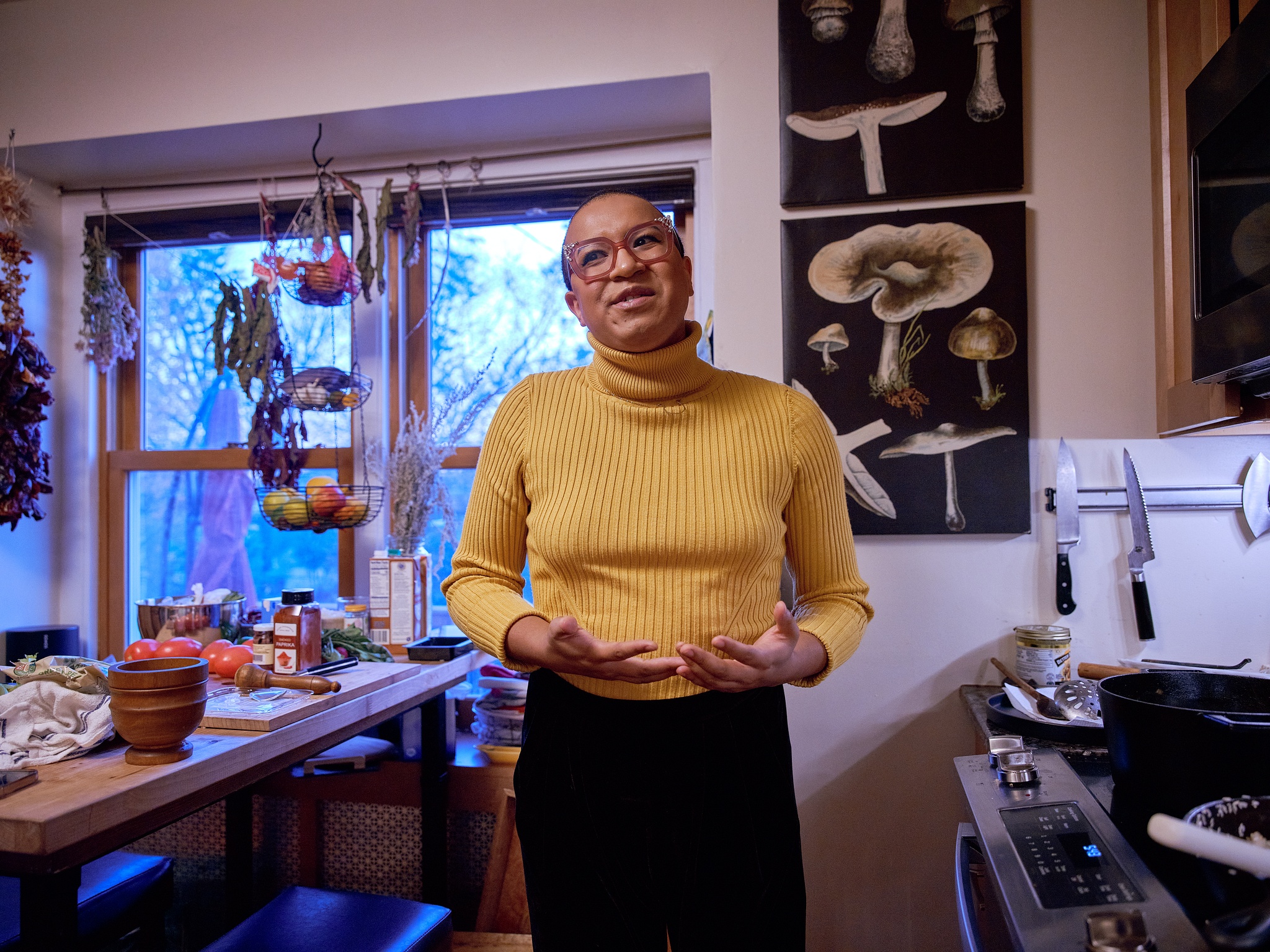 "What if I can't convince you that I'm me?"
Marcela Michelle is grinding anchovies and tomato paste in a small, wooden mortar and pestle. I understand that this means the beans and rice she's making is going to have a ton of umami, and I'm instantly intrigued. These are chef's tricks—a tin of anchovies only costs a couple of dollars but pays dividends far beyond that in flavor punches you won't be able to put your finger on.
It says to me that the woman knows her way around the kitchen.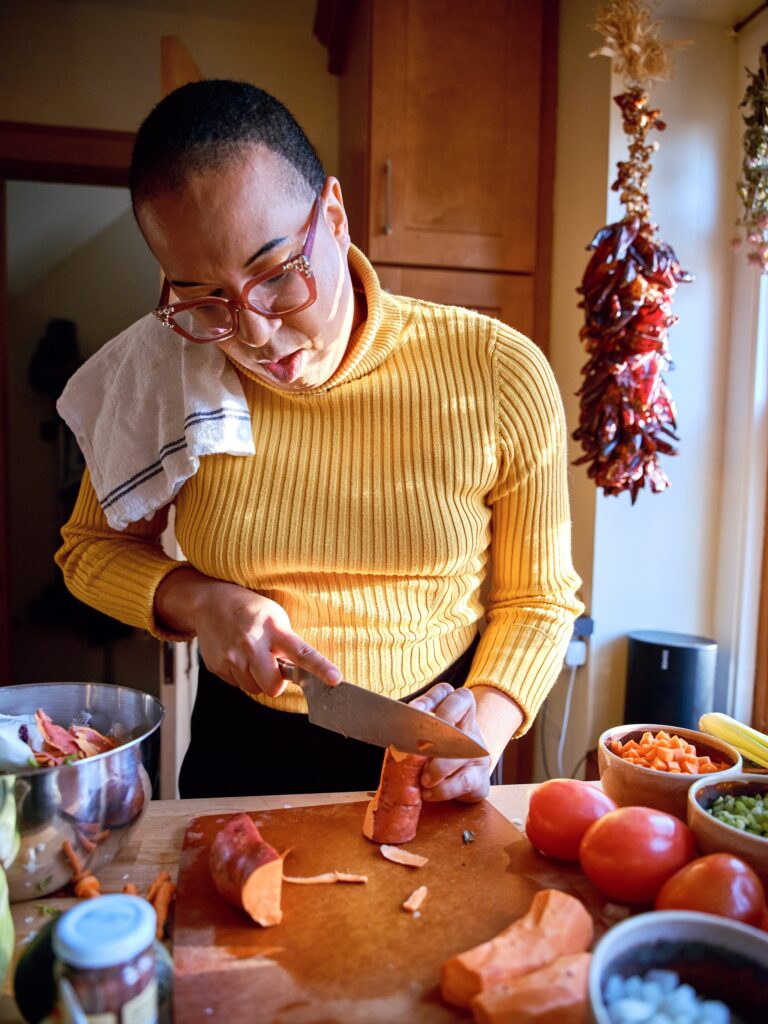 She's both bubbly and thoughtful, pensive yet sunny in a mustard yellow turtleneck. She shines in bejeweled pink eyeglasses. Unflappably confident in her manner while still being at ease, she has the unmistakable air of a survivor who feels just fine in her own skin. As Beyonce might put it, she's cozy.
We're in my home kitchen on a recent, sunny late afternoon cooking this dish that shaped her.
She grew up in San Antonio, Texas, in a family she describes as abusive.
"Sometimes what I was eating was whatever they had in the cafeteria, stuff that teachers would bring me, or I remember times where I was taking other kids' leftovers home to feed my brother and sister. Rice and ketchup, bread and sugar sandwiches. You know, sometimes there was no food."
But her Mexican grandma, she says, always had something in the pantry that could make a meal, and rice and beans was a staple.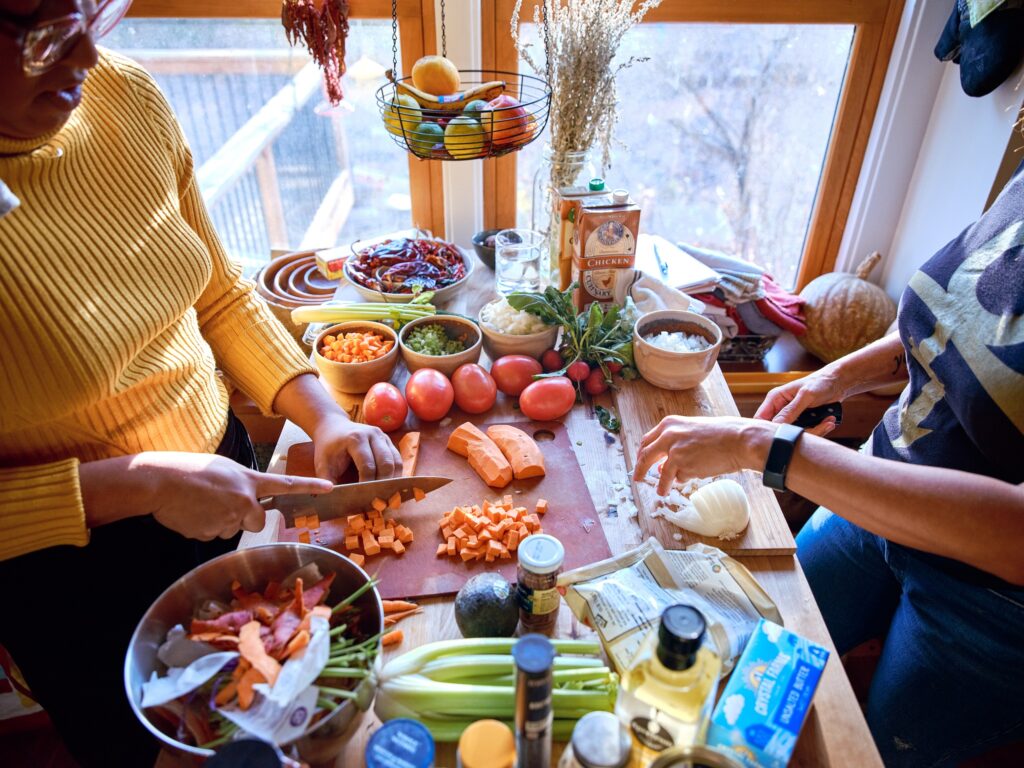 Today, she's brought scads of ingredients to add to the pot—veggies for mirepoix, cilantro, sweet potatoes, butter, lots more. Rice and beans may have been a survival meal, but today it's jubilation in a pot.
"It makes me feel nostalgic without making me sad. It's always comforting, and there's never any sort of regret tied to it," Marcela explains, dicing veg with the precision of a pro.
With a warm smile and ready laugh, she puts two hours' worth of work and love into the pot. There's a sort of passing down from her grandmother's hand—they're estranged now—but that doesn't keep Marcela from feeding cast and crew members rice and beans on the regular.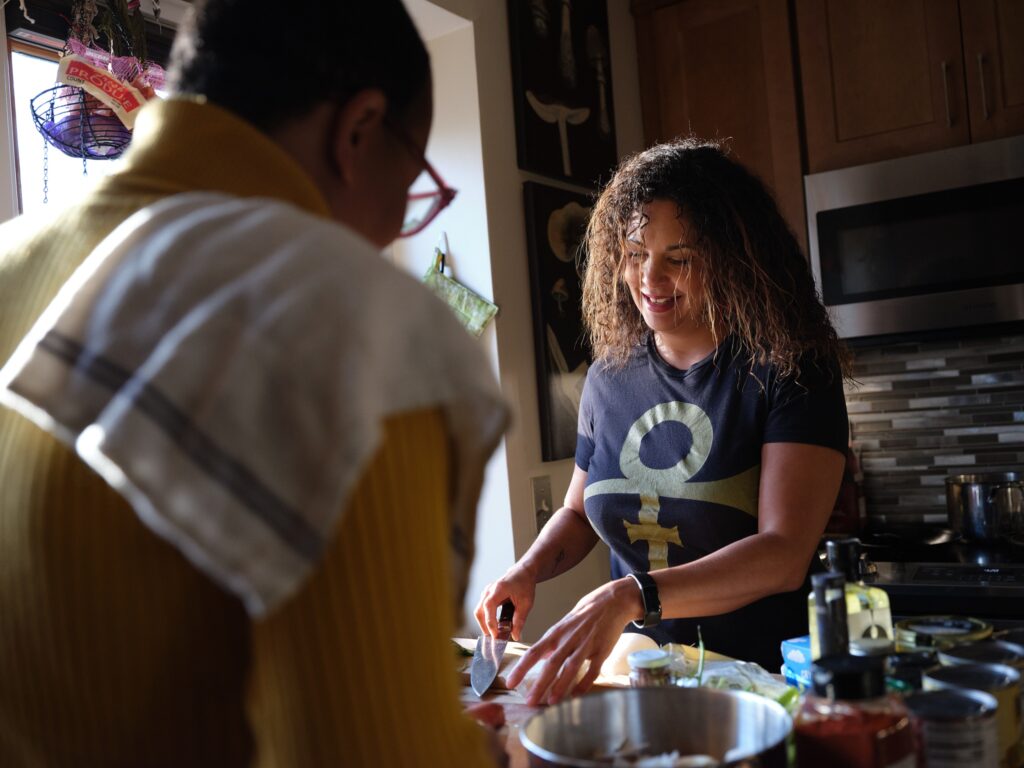 Marcela works with a range of collaborators through Lightning Rod, "a trans-led arts 'organism,'" dedicated to legacy, development, and opportunities for queer and trans artists. As Executive Artistic Director, she does it all: costume design, musical arrangements, makeup, prop building, sound and lighting design. But perhaps most importantly, she works in the intersections of activism, equity, and art.
"I'm kind of a one-woman show." A show she calls the "Marcela Michelle Experience."
And the show, the experience, was pretty much the only path, ever, for Marcela.
"I mean, I could be anybody. I could be other people. I could be recognized and appreciated in a way that I wasn't receiving at home. I could make people laugh, I could make people cry. Because I kind of go away—step out of my own body and my own situation and inhabit the stories of other people."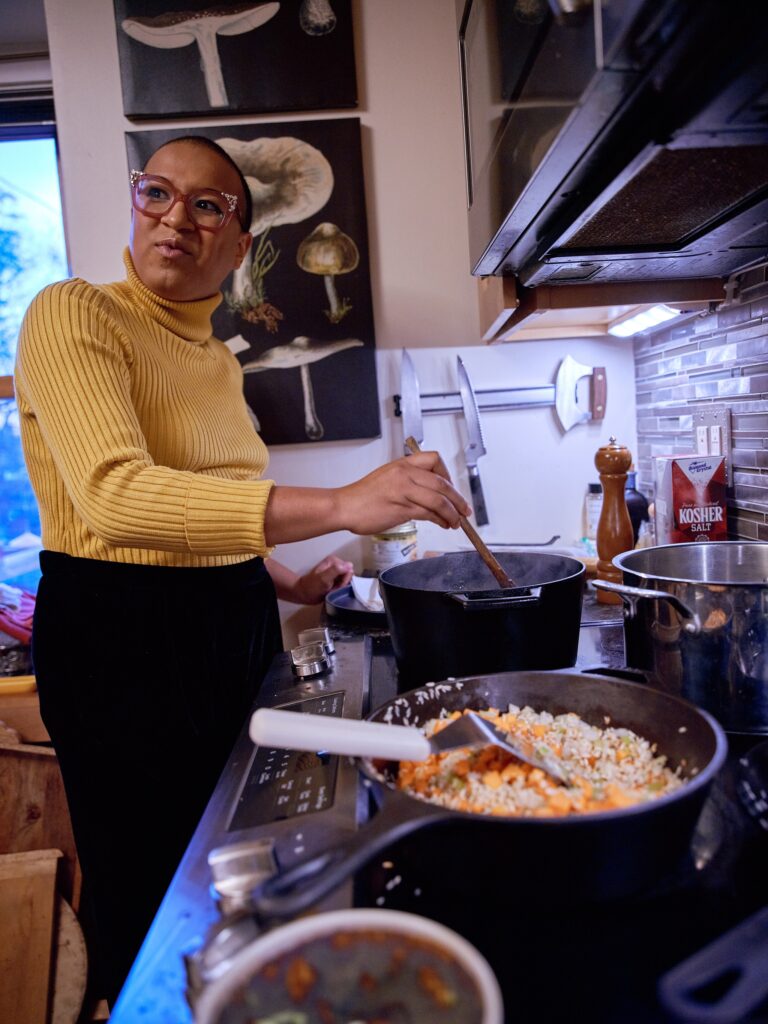 This is a tempting place, as a writer, to try and make a throughline between Marcela's identity as a Black and Mexican trans woman, and her vocation of inhabiting other people's bodies. But that would be a wrongheaded turn. Marcela has always known who she is—a girl. She identified as a girl as early as high school, and though she was "abused for it," at home, that wasn't the case at school.
"Some kids thought it was different, but I didn't get bullied."
She arrived in Minneapolis with an uncle in 2008. "After that didn't work out, I wound up in foster care."
An extremely difficult experience, being shuffled from exurb to exurb in all-white families, from Chaska, to Shakopee, to Waconia, to another place she can't recall the name of.
Still, she says, the relative safety of foster care saved her life.
"Not everything is black and white."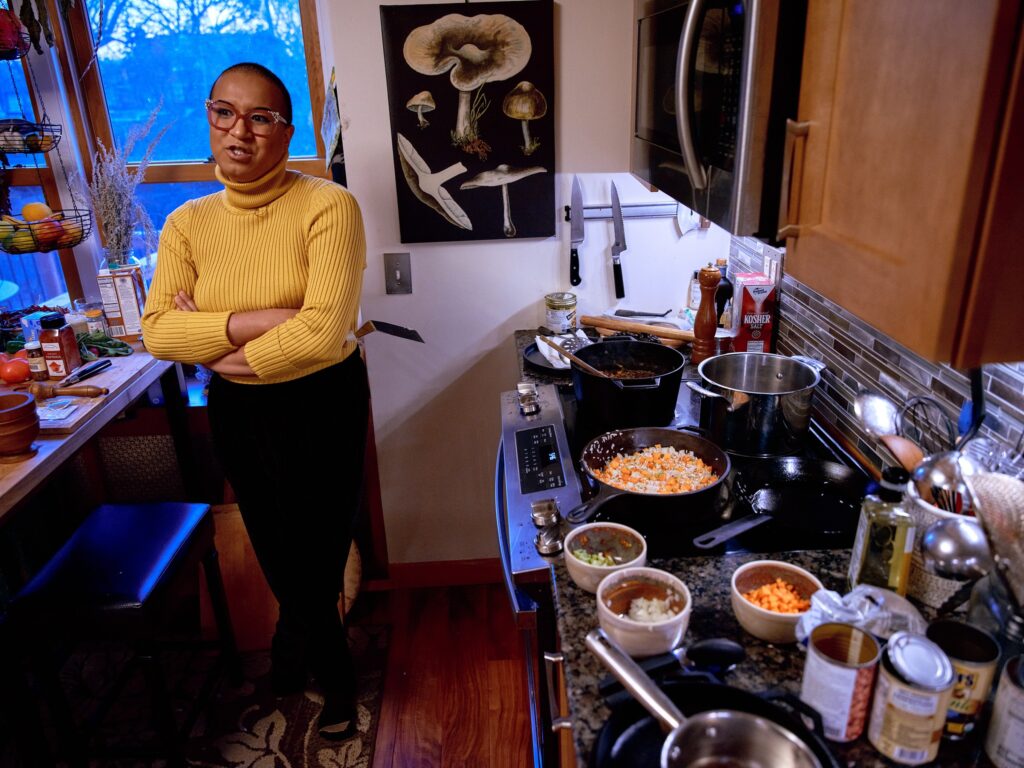 Her work as an interdisciplinary artist, where she's a one-woman show, where she works collaboratively, where she's acting, but also dancing, but also working as a musician and a playwright and administrator—is also never black and white.
And this is perhaps where the output of her work does and does not relate to identity.
"I really resist the idea that you have to share all of my identities to be able to review my work," she says, reaching for a peeler before dicing sweet potatoes.
"Sometimes a balloon is just a balloon—not a metaphor for a deflated womb. Like, honey, it's a balloon. It's falling. There's this expectation that it has to be so sad or so powerful, but like, we all deserve the space to be all the things or none of the things, you know?"
Marcela's current work is about identity, but also not—peeling back the onion skins of identity, or perception of identity, or the stereotypes of identity—and then attempting to realize what a person is really about, when expectations are forcefully stripped away.
In a recent ensemble, she spent over a year with a diverse group of other artists of varying race and gender identities, wherein they all tried to perform one another by taking away the identity markers that were "most obvious."
"What are the essences of this person that I can perform?" they asked.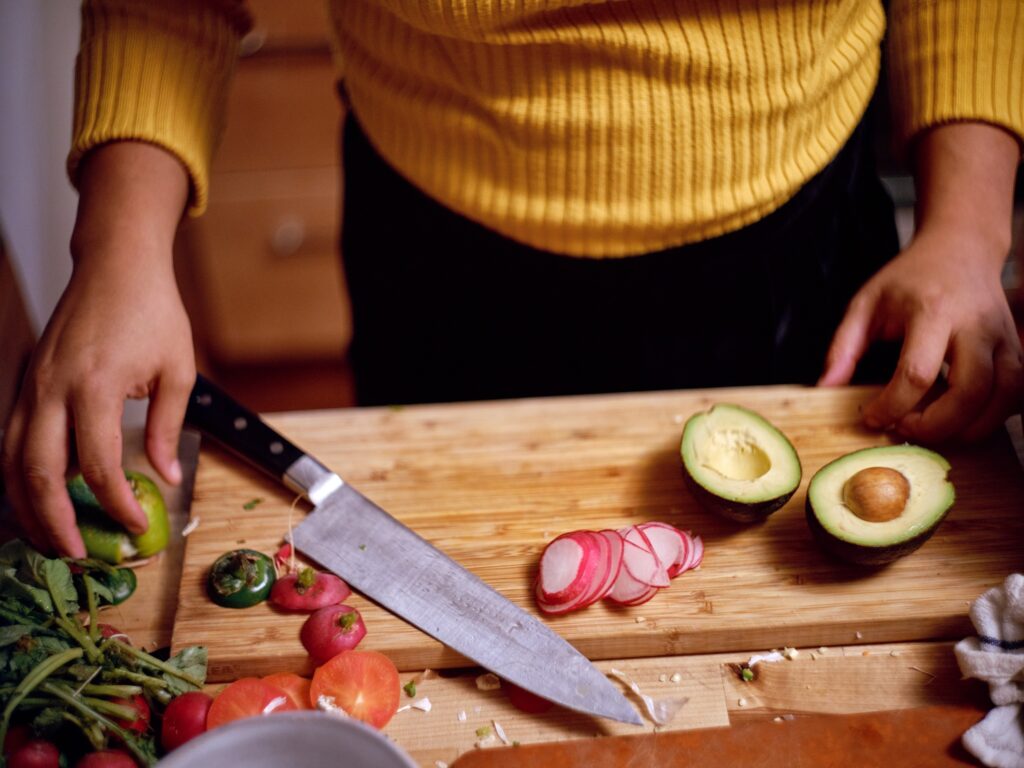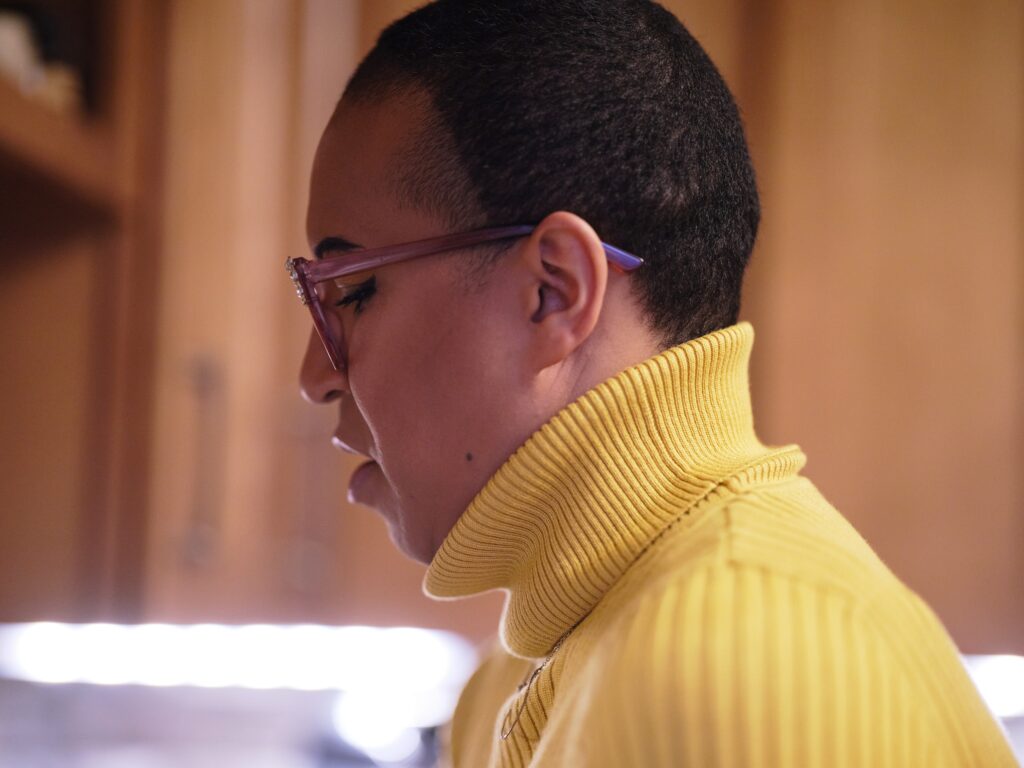 The exercise, Marcela says, magnified the challenge of what she's asking the public at large to do—to really see the person beyond obvious markers of race or gender identity. To really see the person, in other words.
She calls the experience "juicy," and that coalition spaces like it could be powerful enough to be at the core of the fight for liberation, she says.
If it's not your jam, that's fine too—but discovering some way to examine both intersectionality and segregation—that's where it's at, she believes.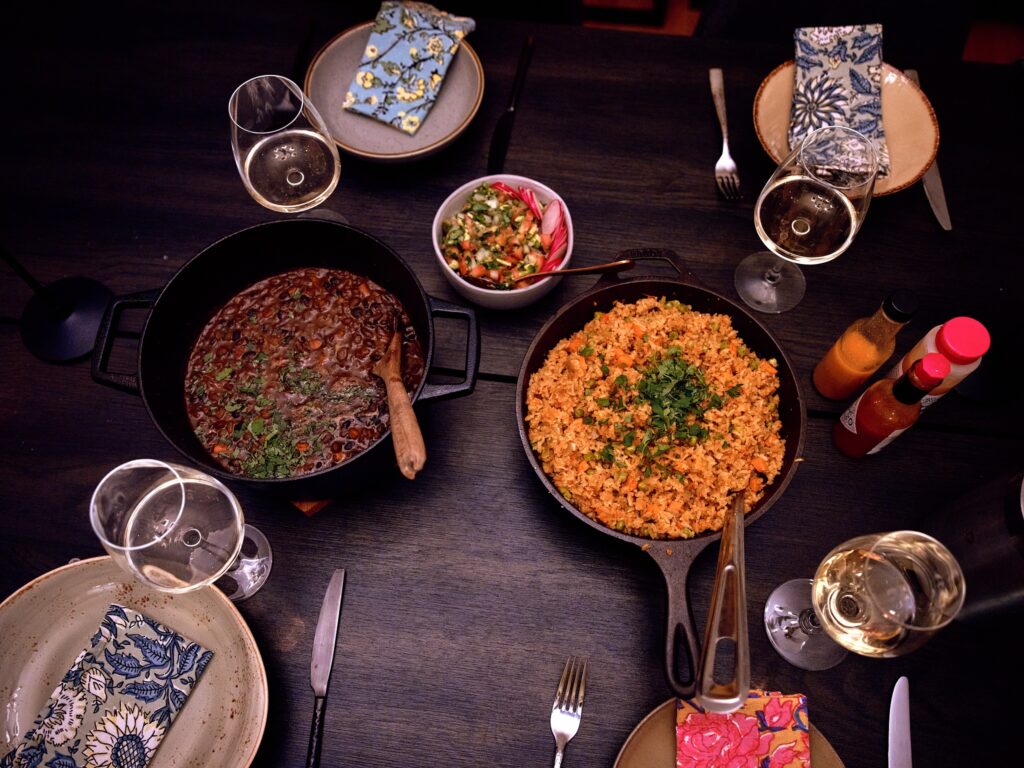 As we sit down to dine on our beans and rice—arguably the most consumed dish across the globe, by the most diverse swaths of human beings (don't forget that beans are nature's most nutrient-rich, and yet perhaps the most affordable food) we begin to consider the limitations of signaling and presentation, as well as the benefits. What if a blazer doesn't signify what we think it does, or a big straw hat? Or what about brown skin, or the label "female"? What if we don't need any of it? What if we do?
"Why do you need the stereotype?" Marcela asks rhetorically.
In theater, she gets to explore all of it—the uses and limitations of costume, spectacle, and presentation—theater being just a magnified version of what we think of as "real."
"How do we move towards the idea of a collective "we," while also embracing and recognizing the specificity of one another?"
This is the question Marcela keeps working towards in her work, in her life.
As she passes the salsa she's made to accompany the beans and rice, she sums up the dish. "Beans and rice. Everybody loves it."
Marcela Michelle Experience "Blaxican" Beans and Rice
"I really didn't know where to begin with measurements. I've been cooking these dishes since I was a small child—cook with your heart and be generous with spices!"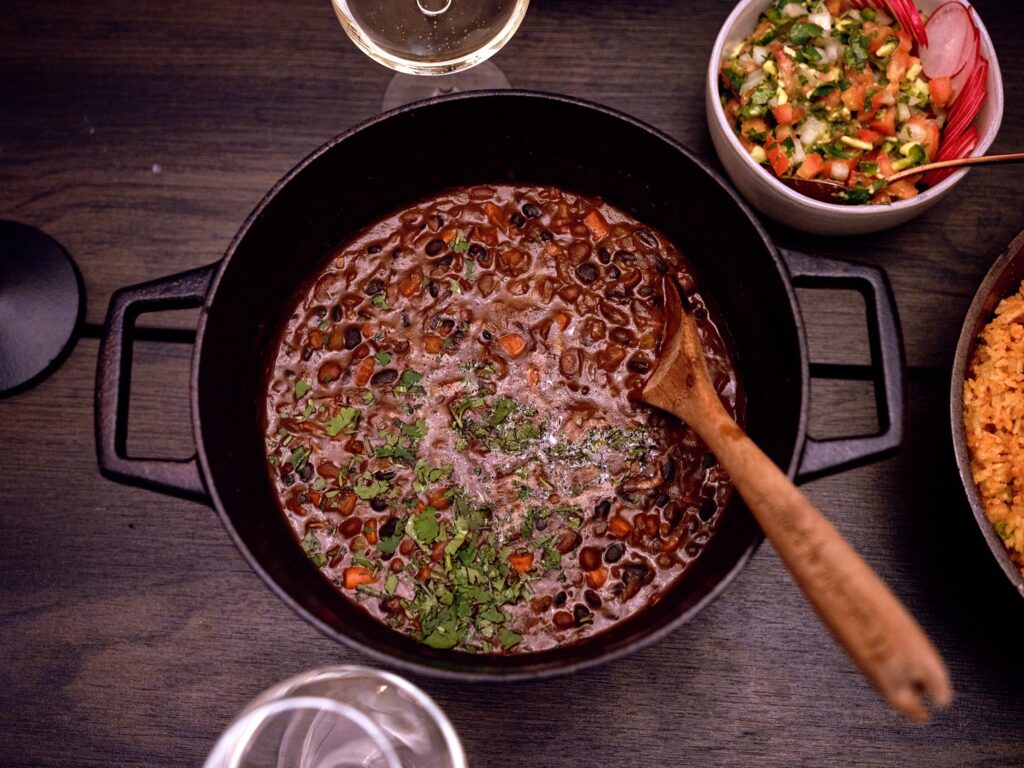 For the beans
Dry beans
Bone broth, stock, or broth
Tomato paste
Bacon, diced 
Better than Bouillon paste 
Anchovies
Garlic 
Bay leaf 
Cumin 
Garlic powder
Chili powder
Mexican oregano 
Tony Chachere's 
Scotch bonnet pepper, julienned
Onion, medium diced
Celery, medium diced 
Carrot, medium diced 

Mash garlic, anchovies, tomato paste, and bouillon paste in a mortar and pestle.
Render bacon in a pot until cooked, remove and drain on a paper towel, but leave the fat in the pot.  
Toast spices in the fat. 
Add the tomato, garlic, anchovy, and bouillon to the pot and cook until caramelized.  
Add carrot, onion, sweet potato and celery. 
Add scotch bonnet to taste. 
Deglaze with stock or broth. 
Stew until beans are tender, adding salt to taste when finished.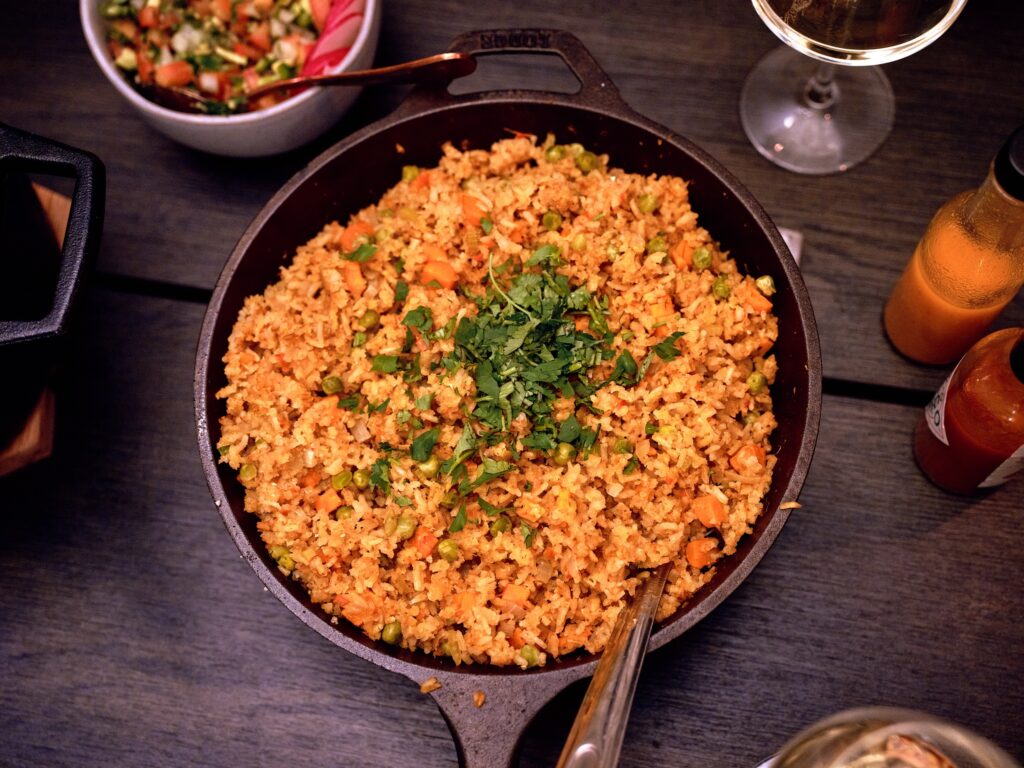 For the rice
Rice 
Neutral oil 
Stock or broth
Sweet potato, medium diced 
Scotch bonnet pepper, julienned 
Onions, medium diced 
Garlic, chopped 
Tomato paste 
Bay leaf
Celery salt 
Black pepper 
Sweet paprika 
Canned, chopped tomatoes

Rinse the rice. 
Fry the rice in neutral oil until golden.
Add onions and cook until translucent. 
After a few minutes add garlic, tomato paste, and the other spices. 
Add sweet potato. 
Add tomatoes and stock, just to cover rice. 
Cover, reduce heat, let simmer for 20 minutes. 
Fluff and serve.
 
Garnish everything with lime wedges, sliced radish, and freshly chopped cilantro. 
Serve with tortillas or tortilla chips, salsa, and guacamole or plain avocado, and Mexican crema or sour cream.