Putting on the Ritz
This time of year, our dance writer Lightsey Darst yearns for glamor, for rhinestones and luxe fabrics, vamp and shimmer -- and so, she brings us along on a whirlwind tour of the Ballet of the Dolls' outrageously fabulous costume closet.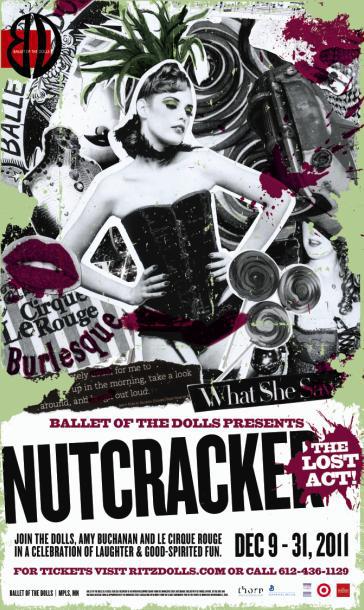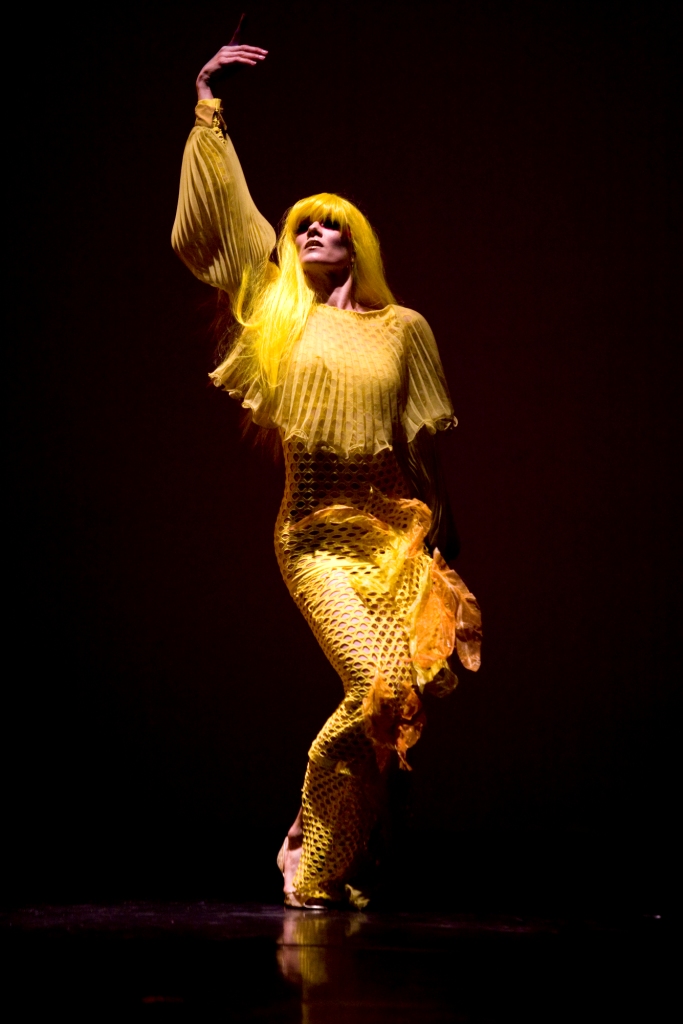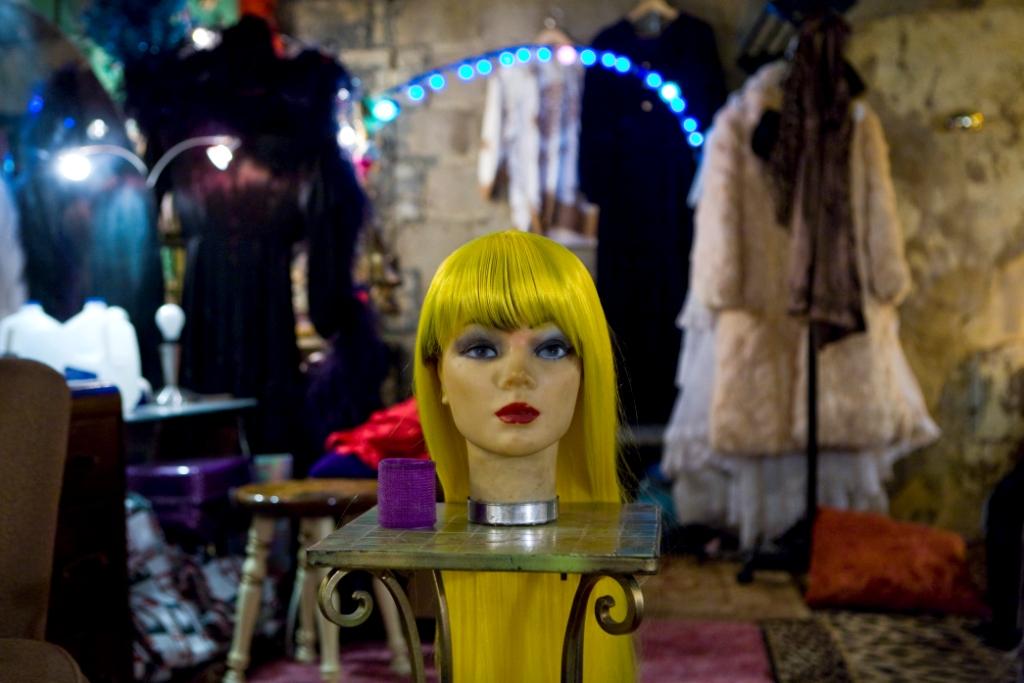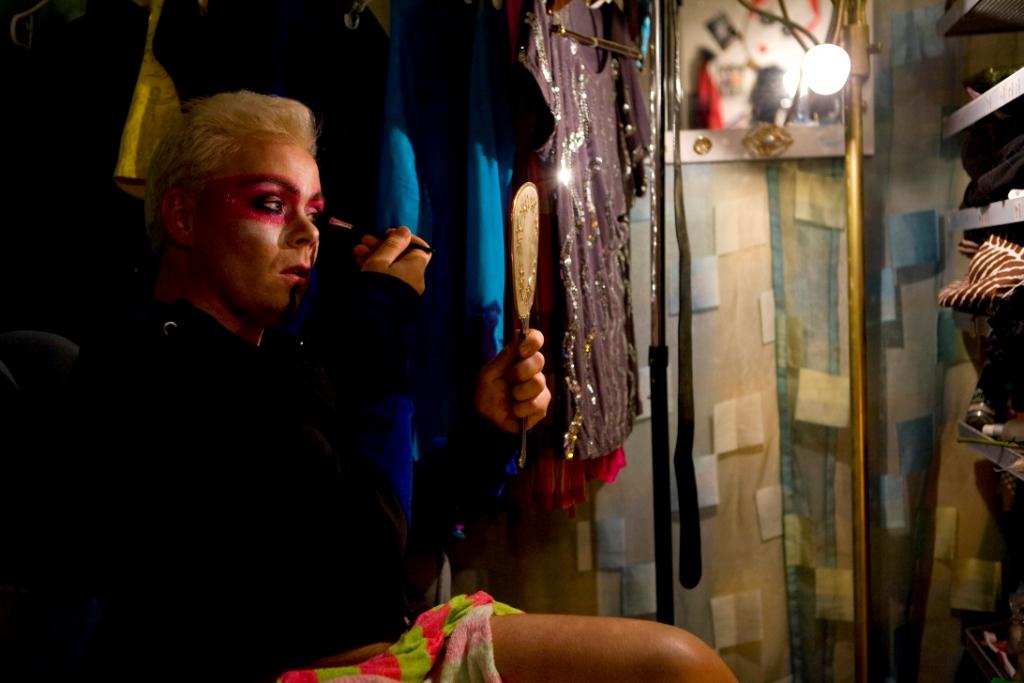 THIS TIME OF YEAR, I WANT TO GO TO PARTIES. I love conviviality, but that's not what I crave, because let's face it, all winter people here are ready to get drunk and, once drunk, happy. I'm not wild for any particular holiday food. I like to sing off-key, sure, but that's not the real draw either. What I really want is to get dressed up and go where other people are dressed up, too. And I don't mean dressed up in the normal way. I mean once-a-year dressed up — heels, nails, grandmother's rhinestones, dainty dinky beaded purse. I mean red strapless, slinky gold sheath, black lounge singer special with fringe all down the back. I mean a costume.
I'm not talking about a Halloween costume either. I routinely fail that holiday because, I have to admit, I don't want to dress up as half a donkey or a cereal murderer. I want glamour.
At the same time, I recognize that most people honestly would rather wear jeans, and it's not polite to show up your hosts in Belle Epoque-glory. And this year, I don't have a single invitation I can safely spangle. Naturally, then, I turn to Ballet of the Dolls.
Backstage at a dress rehearsal for the Dolls' Nutcracker: The Lost Act, in which the Dolls team up with Le Cirque Rouge Burlesque (why hasn't that happened before?), a woman dressed like an off-duty 1940s chorine is showing off two pumps, one silver, one black, both high and ankle-strapped, with vamps so deep they nearly reveal toe-cleavage. The other kind of cleavage is amply displayed in a short dress of ruched velvet and starry stretch. "Do they have to be black?" she asks, twisting one shapely ankle and then the other. Behind her, sleek lovelies in sable and jet cut elegant shapes as they try on top hats. They don't laugh or blush like most people do when they drape boas; they become the clothes — heiresses and their swanky consorts, pimps and princes, starlets and high-class strollers, denizens of the demimonde, the floating world. They are the Dolls, after all, and no one does costume the way they do.
________________________________________________________
I once saw the Dolls model mere draped cloth on stage: jewel-hued, shimmery, sheer, this cloth was the Arabian Nights of the woven world. What really made my inner Salome spin, though, was how the Dolls wore it, how they let light play on it, how they believed.
________________________________________________________
For most ballet companies, the Cinderella moment is stock-in-trade (even Sewell likes to give audiences their "tutu fix"), but ballet dancers affect to scorn their own fancy dress. You can't let the tutu touch you. Typically tatty things with rows of hook-and-eye armor rattling across their backs, tutus are warhorses; their glory is for the audience.
The Dolls, though, don't pretend indifference to finery. I once saw them model mere draped cloth on stage. Of course it wasn't mere: jewel-hued, shimmery, sheer, this cloth was the Arabian Nights of the woven world. What really made my inner Salome spin, though, was how the Dolls wore it, how they let light play on it, how they believed.
NOW I'M IN THE DOLLS' COSTUME "CLOSET," a two-story well at one side of the stage with a staircase going down from each end and costumes hanging everywhere. How do you even get started in this Pandora's box? Plunge a hand into a bin of blue sequins — choir robes for fallen angels. Here's a polyvinyl corset; here are harlequin pants with hot-glued dice. Here's a bin of fur, fake and real. Bin 19 is where you find the turquoise python hat; the faux-Native breastplate is next to the pink studded belt. Half this stuff I don't even have names for. That impossible blue cape with the frothy ruffles — was it made for a person or for a piece of furniture?
In this color-coded jungle, half the blue is mermaid-aqua, all the pink is shocking. The black rack is a row of thin and dapper gentlemen. On the cream rack I can't tell what ruffles belong to what. Is there a wedding dress in here? Yes, one, prairie-style with a Carrie-stain down the front. Here's a beaded bustier, heavy as hell and jingling like a curtain, grafted to … what, a forties bathing suit? The Dolls seem never to say enough: the magenta faux-fur coat needs ultraviolet horsehair trim sewn on, the wood-grain lamé robe needs studded cuffs and collar (Elvis would be jealous).
Some costumes are custom-built, as ballet costumes usually are, but more seem rescued from thrift stores. I can just picture the shy fifties debutante who first wore this strapless peach floral confection with rows and rows of tulle and satin ribbon, then how it languished in her closet for years before she gave it away — giving away with it the memory of her first kiss? Stained as it is, I think this dress is happy here — as all these clothes are happy, glowing with use. Tatty, ratty, faded or frayed, it all pleads wear me, become.
Back in rehearsal, a dancer shuffles onto stage bent over, draped in a patchwork cloak that obscures her like Thousandfurs. When she finally tosses off her tatters, she's a punk ballerina in combat boots, bustier, and a bustle of fantastic bits and pieces — sequins, flounces, swags of black tulle with risqué red polka dots. Revealed, she doesn't shuffle any more — she sashays, queen of the stage, for her moment the best-dressed woman in the world.
This might be the secret of the Dolls' costume magic: they see the tatters as our everyday outside. You don't so much put clothes on, then, as reveal them by taking off the ordinary, under which you are — you always were — glamorous.
________________________________________________________
Related event details:
Ballet of the Dolls' Nutcracker: The Lost Act, with Le Cirque Rouge Burlesque, is on stage at the Ritz Theater in Minneapolis through December 31. Visit the website for more information, performance times, and ticket details: http://www.ritzdolls.com/2011/06/30/ballet-of-the-dolls-holiday-show/
________________________________________________________
About the author: Originally from Tallahassee, Lightsey Darst is a poet, dance writer, and adjunct instructor at various Twin Cities colleges. Her manuscript Find the Girl was recently published by Coffee House; she has also been awarded a 2007 NEA Fellowship.