Dressing for la Dolce Vita
Camille LeFevre browses the Minneapolis Institute of Arts' new exhibition devoted to the glamour, luxury and business sense behind post-war Italian fashion design.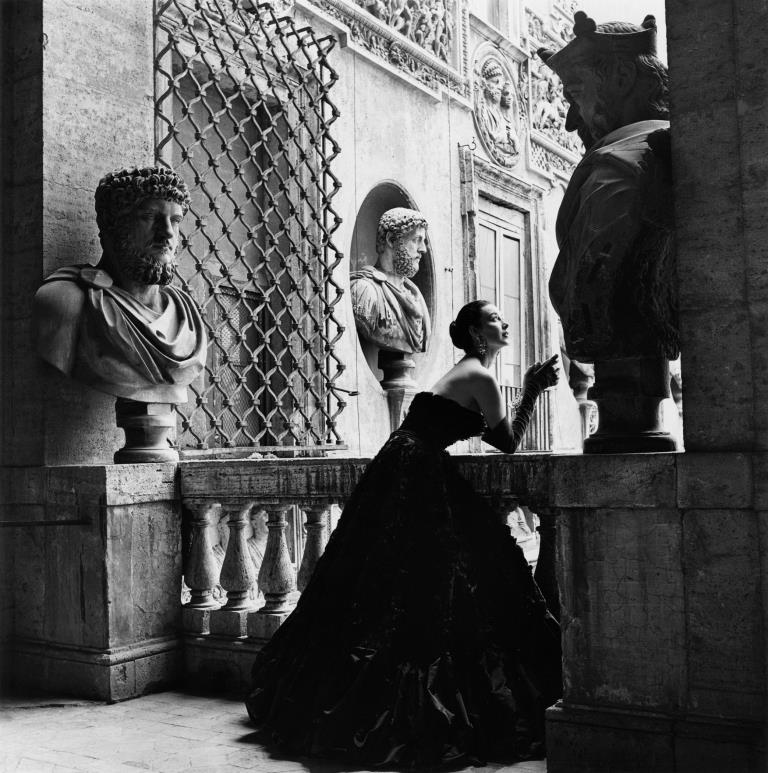 Let's go right to the dictionary, shall we? There, glamour is defined as "the attractive or exciting quality that makes certain people or things seem appealing or special." The origins of the word lay in the early 18th-century Scottish alteration of "grammar," which was then popularly associated with scholarship, learning, and various occult practices then associated with both. In other words, glamour is not only about intelligence and discovery, but also about enchantment. Magic.
Which is what visitors to the Minneapolis Institute of Arts' new traveling exhibition, Italian Style: Fashion Since 1945, are meant to be enveloped by on entering the show. Well, almost. First, we're reminded that, after World War II, Paris was getting all the attention as the world capital of style, fashion, art, culture…and glamour. And Italy decided it wanted in.
American aid provided via the Marshall Plan helped the government re-equip Italian factories; entrepreneurs provided the inspiration and spark, and fashion emerged as a key element fueling Italy's economic rebuilding. Two smart, impeccably tailored suits at the show's entrance remind us that, while the impetus behind Italy's post-war recovery might have been all business and practicality, there was also desire for beauty, color and artistry—for what could be learned, cultivated and put into practice for the world to see, consume and enjoy. Fashion would provide that magic.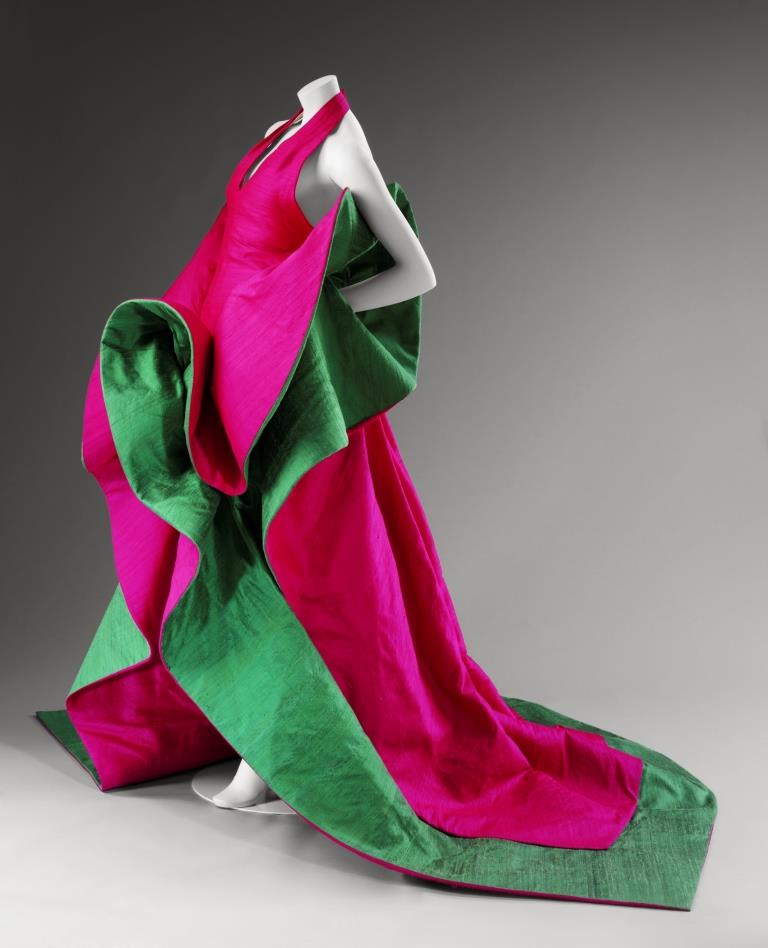 So, just beyond those fine suits is the first wave of glamour on view in this exhibition—a room full of exquisite gowns in glass cases, upright on their lithe headless mannequins like sleeping beauties. What a clever, bold move on the part of the curators from the Victoria and Albert Museum in London, which organized the show (originally titled The Glamour of Italian Fashion 1945 – 2014) from its holdings. Immediately, visitors' senses are swathed in the materiality of these shoulder-baring dresses, the ultimate in the attire of European glamour, with their wasp waists, voluminous skirts and tactile detailing.
Now enchanted, with sensibilities primed and positioned, visitors move further inside the exhibition to learn about Giovanni Battista Giorgini's "Sala Bianca" fashion shows (there is video) in the early 1950s, held within Florence's Pitti Palace. This is the "Return of Luxury" portion of the exhibition, which highlights how glamour filled the abyss left by wartime deprivation, and Italy's fashion, textiles and tailoring found their way across the pond.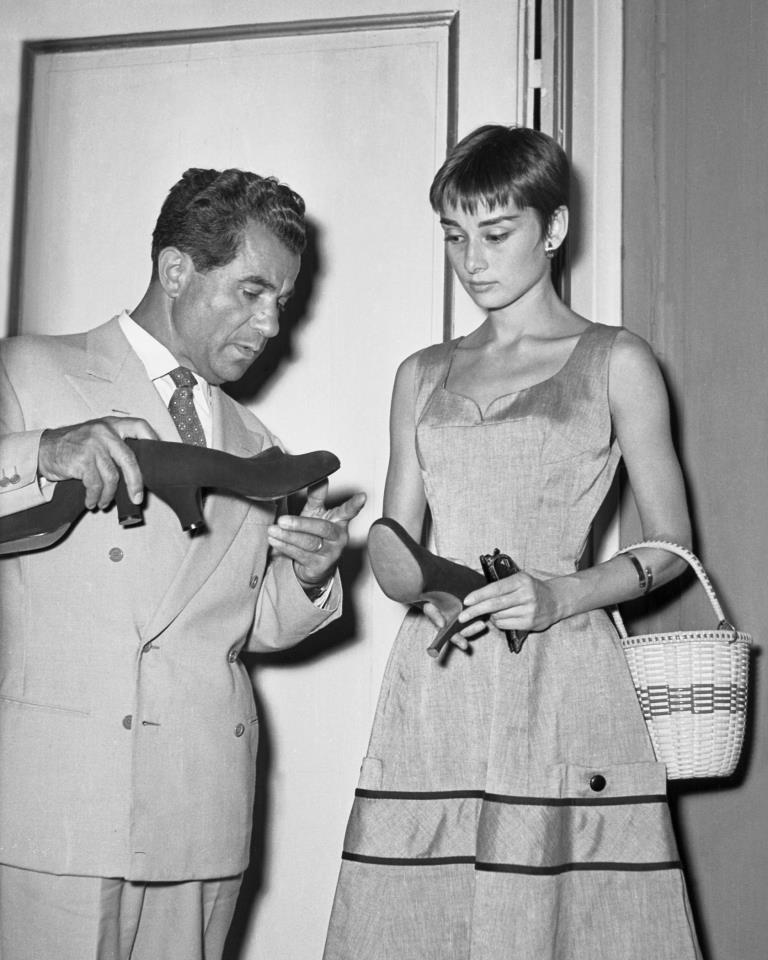 Hollywood, in a word. As Italy also became a hot new spot for movie locations, then-starlets Audrey Hepburn, Ava Gardner and Elizabeth Taylor happily assumed ambassadorial roles as purveyors of new Italian style. The tailoring, of course, was key: think Marcello Mastroianni's suits in La Dolce Vita (yes, there is menswear in the show, including an '80s Versace unstructured suit sure to bring back memories). Look also to the André Laug off-white woman's coat and dress, which astounds with its smooth, seamless craftsmanship in the "Tailoring" section of the exhibition.
The playfulness of Italian style comes into view in the "Made in Italy" gallery room. Here, snippets of films are shown in which the above-mentioned Hollywood stars cavort in the very sleek, often-formidable dresses you see now on display. On another wall is a diamond Bulgari pin given to Taylor by one husband while she was brazenly taking up with Richard Burton (an affair which resulted in her having to buy back her jewels in the subsequent divorce). There's also a vignette of sorts, featuring Pucci's kicky capris and swimsuits situated alongside a Vespa. Ah, la dolce vita.
In this section, also, the synergies between the fashion press, advertising, manufacturing, design and star power galvanized by Italian glamour come full circle in a look at Truman Capote's now-legendary Black & White Ball in New York. Gone are the -0-size waists and sweeping skirts. In are loose silver-sequined sheaths with coats—like that worn by Lee Radziwill and designed by Mila Schon—and the caftan-like gown with iridescent silver-gold net worn by Marella Agnelli, wife of the chairman of Fiat, who also donned with a fantastical plumed mask/headdress for Capote's event. Italy's position as a fashion capital was secured.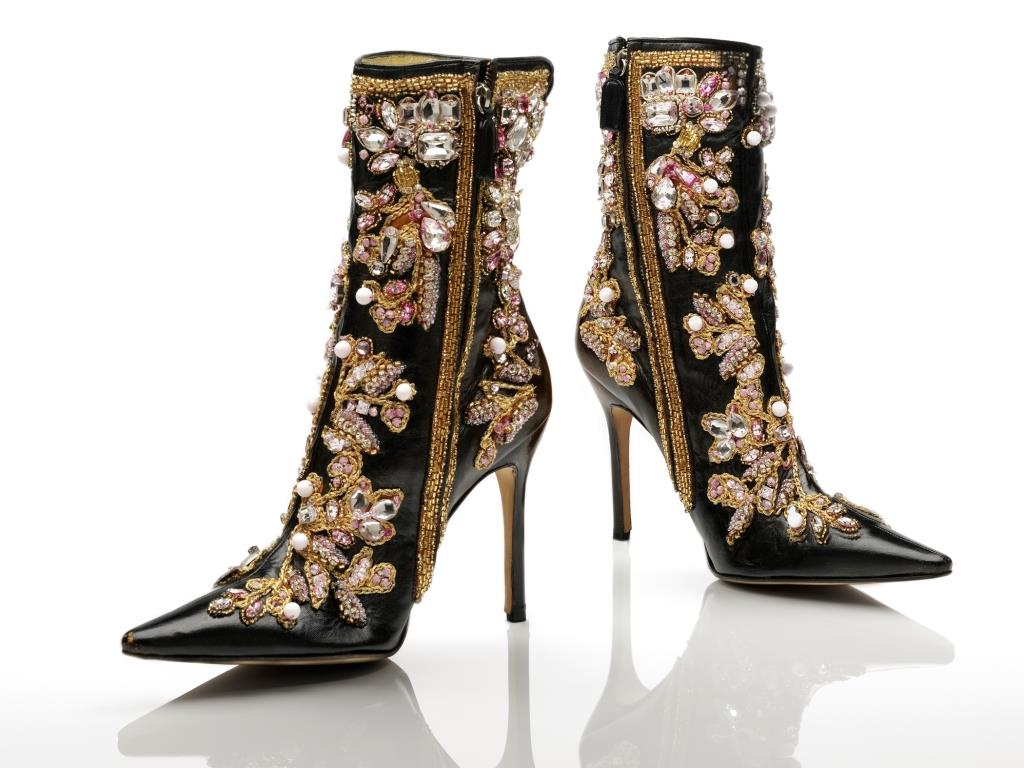 In the final two portions of the show, "Cult of the Fashion Designer" and "Italian Fashion's Future," nostalgia recedes. And so does glamour—to a point. In their place are the more practical realities of ready-to-wear and, in defiant contrast, the extravagances—in material, assembly and vision—of Versace, Dolce & Gabbana, Prada and Capucci. During a party celebrating the exhibition's opening, overheard comments that had previously focused on the tiny sizes of the dresses, the richness of their materiality, the layers of floral embroidery or encrustation of Swarovski crystals, and the oh-ah factor of the fashions on display switched to dismay—at least on the part of some observers.
"I'd be afraid to date a woman who wore those shoes," exclaimed an elderly gentleman backing away from a display class with bejeweled black-leather stiletto boots and flame-festooned high heels. Meanwhile, Millennials crowded around the exhibition's last go at 21st century glamour, agog at a leather strap dress, a pink-and-green silk evening dress whose folds curved petal-like around the body, a Tom Ford for Gucci cut-out gown leaving little to the imagination.
Which brings us to what was missing from the show: the lighting, the mood, even perhaps the sounds that—as indicated by images of the original exhibition at the Victoria and Albert—could have infused the galleries with extra layer of ambience and atmosphere. A heightened glamour, in other words, in which visitors could have been immersed, emerging then from the galleries not just with a sense of discovery and knowledge, but also with senses fully-fashioned—Italian style.
Related exhibition information:
Italian Style: Fashion Since 1945, organized by the Victoria and Albert Museum in London, will be on view at the Minneapolis Institute of Arts from October 26 through January 4, 2015