McQueen's Delicious Delirium
Camille LeFevre reflects on the "delicious delirium" of seeing the Metropolitan Museum of Art's recent NYC exhibition of the fashion, performance art, and fetish objects created by the late "hero-artist" Alexander McQueen, 'Savage Beauty."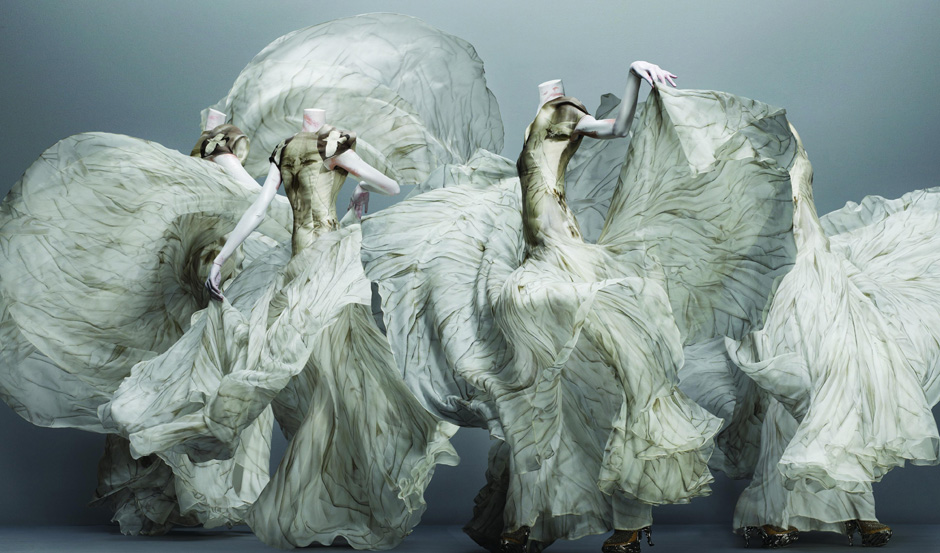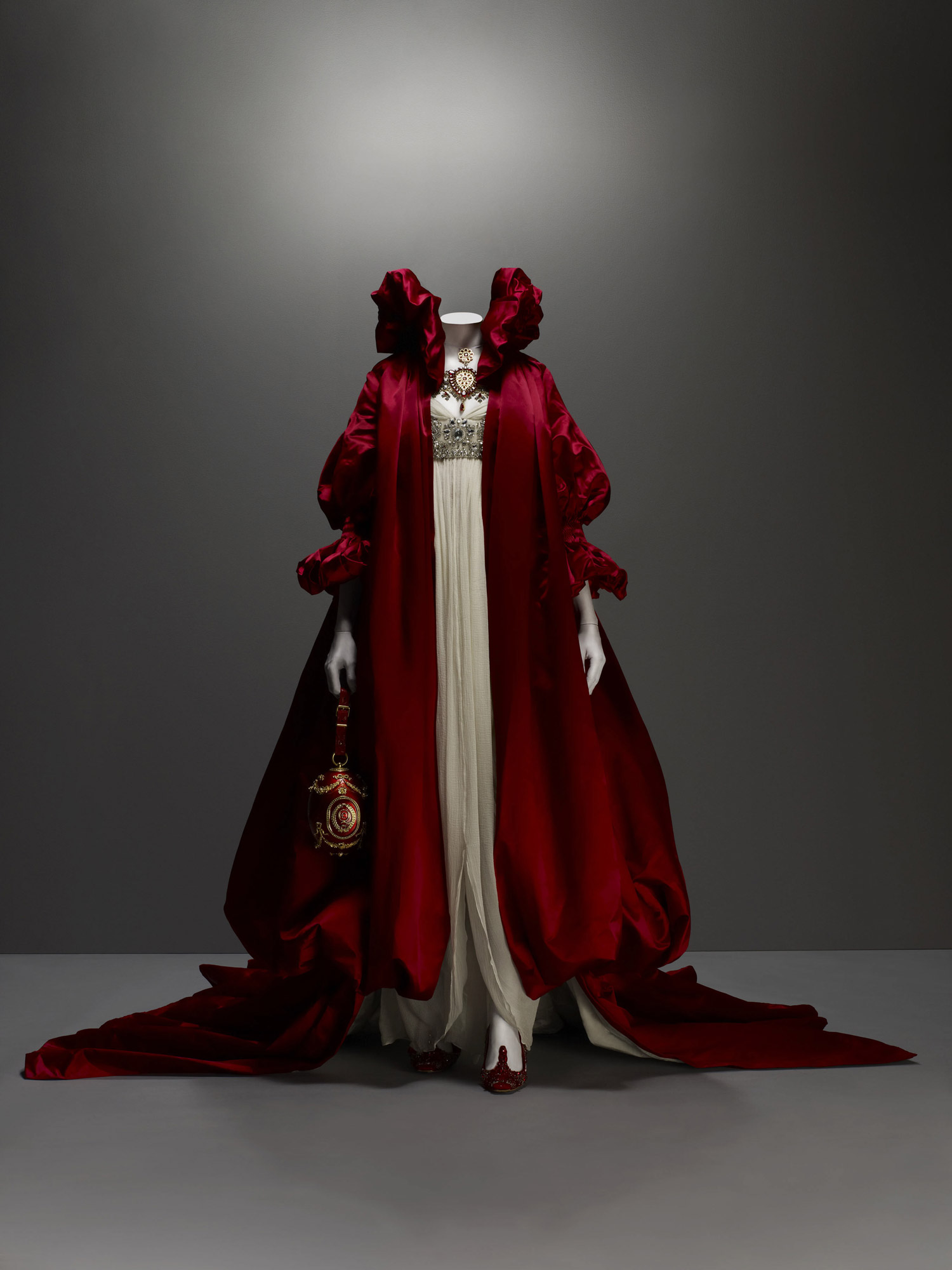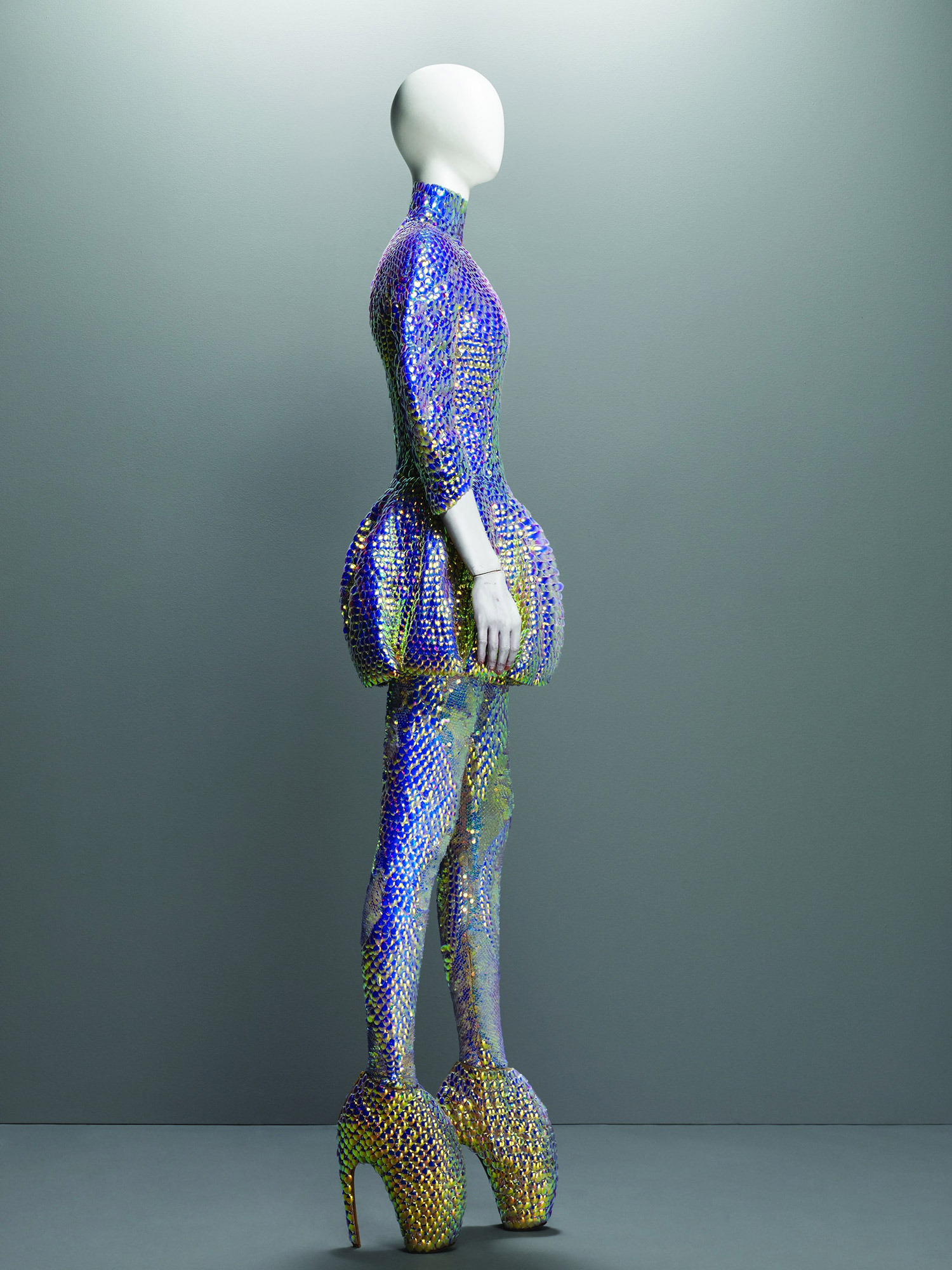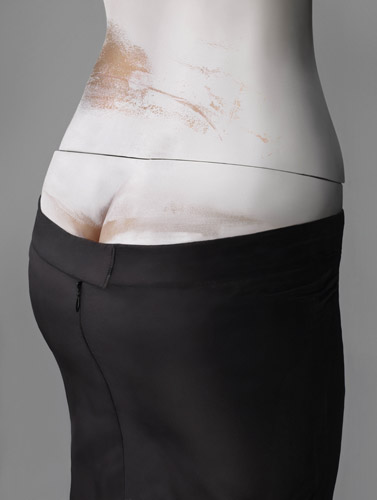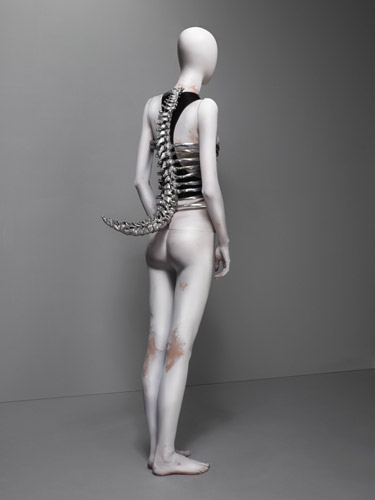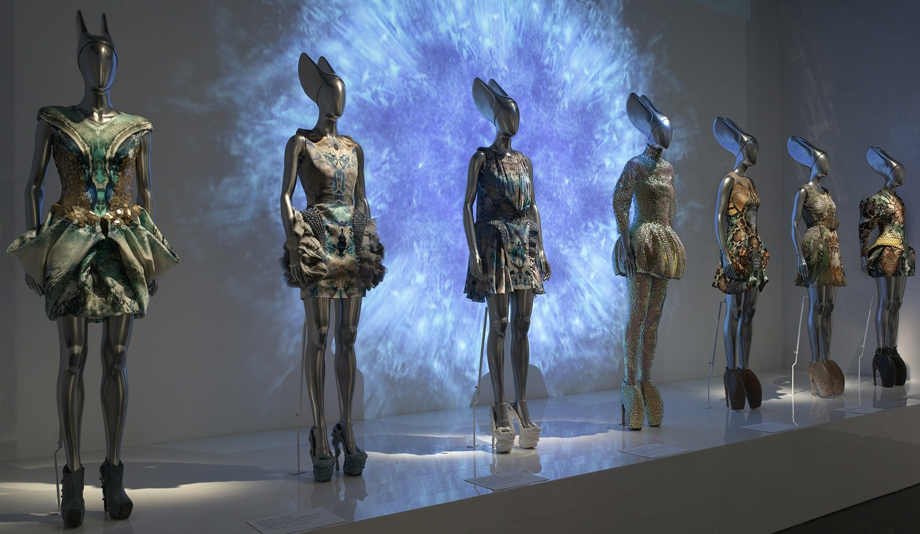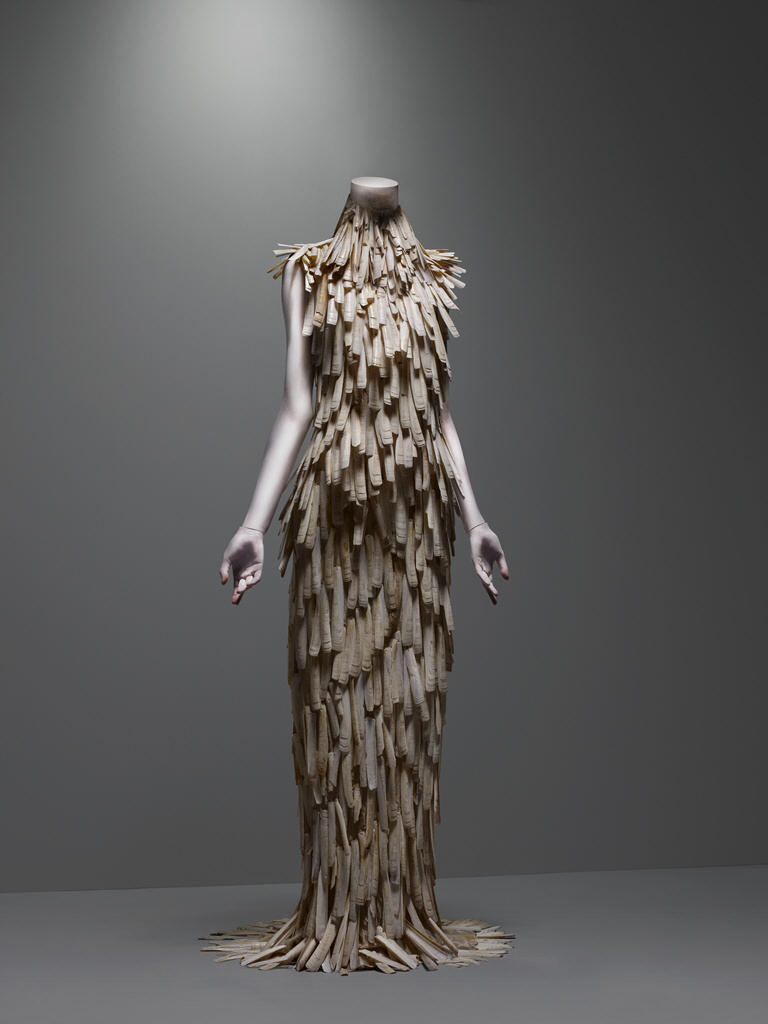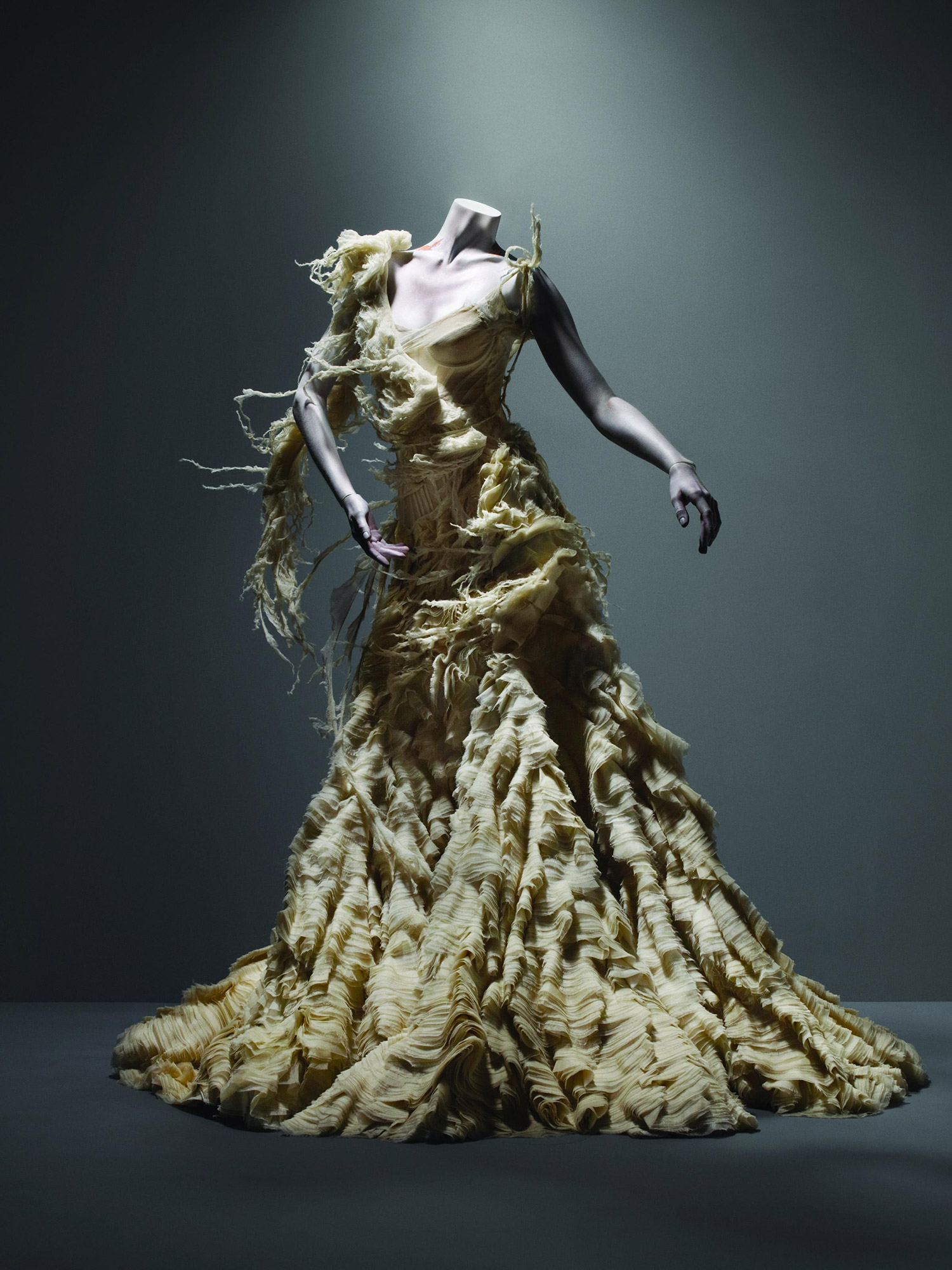 IT'S OVER. IF YOU WERE ONE OF THE MORE THAN 650,000 PEOPLE who experienced Savage Beauty at the Metropolitan Museum of Art in New York this summer, then you know the feeling of emerging, in a sort of delicious delirium, from the haunting, revelatory, exhilarating, fantastical show of fashion, performance art, and fetish objects by the late hero-artist Alexander McQueen.
And if you weren't, there are means of consolation.
You could watch, over and over again, a hologram on You Tube in which a point of light dissolves into a diaphanous universe from which a woman emerges, the solar winds blowing a veil off her face, rippling layered waves of silky nuance around her body until she, revolving and revolving, dissolves back into a single point of light that, with crystal pings, begets other points of light, that clash into one single speared nebula, a moment of creation, one of our many multiverses, that's absorbed back into the black…until your cynicism is atomized and you're weeping with the exquisite beauty, not so much of Kate Moss in the McQueen dress, but of the pure Romanticism of McQueen's vision.
What you'll have missed, however, is the thrill of coming upon the hologram, in its low dark box, in a low-lit room, so you have to bend down and crook your neck, uncomfortably, to see it, elbow to elbow with the next person, who whispers to you, "Stay until the very end. It's brilliant."
You can also page through, over and over again, the Met's companion book for the show: 240 pages of articles, interviews and mostly photographs of McQueen's creations worn by live models, painted dove white and with strings around their joints (so they replicate manikins), whose natural skin color emerges from slashes, scratches and smudges to the paint, and whose heads were photoshopped out of the pictures. But the antelope horns poised on the shoulders of the leather jacket, the red-painted glass medical slides cascading down the back of a dress or the razor-clam shells down another gown's front, the detail of the pheasant feathers across a bodice and across a skirt, the audacious cuts of McQueen's bumsters and jackets, the arch of his "Jellyfish Armadillo" shoes which could really only be worn by a dancer comfortable in pointe shoes — the tactile, material detail isn't the same on the printed page.
You'll also have to contend with viewing the Cabinet of Curiosities — masks, shoes, bondage-y Nancy Grossman-style headgear, jewelry and various fetishes — in an assortment on the page, instead of in a crowded room that itself is a giant wunderkammer, each object or accessory or piece of armature or video from a past runway show in its own compartment high up or higher up the wall. Meaning that during the exhibition, as you looked up, and over, and up, your head bent back, leaning into the person behind you, for long minutes of gazing at an aluminum spine corset, or a manacled model walking down stairs into a pool of water, or a former dancer being blasted with paint by two robots, or a giant chess game narrated by a computer (inspired by two films, Picnic at Hanging Rock and Harry Potter and the Sorcerer's Stone) — and the political, cultural, sexual commentary inherent to each these — the discomfort felt wasn't necessarily associated with the objects and images at hand, but rather with what this exhibition demanded of the viewer physically, as well as emotionally and intellectually.
______________________________________________________
While standing inches away from a gown encrusted with beads, sea shells or dried flowers; or the regal ensemble of red-silk coat, ivory silk-tulle gown, and jewel-encrusted horns; or even the bulbous extravagance of the black duck-feather tunic — who couldn't help but wonder: "What would it feel like to wear that? Who would I become?"
______________________________________________________
"Lee liked to shock people because he wanted them to feel something," as Sarah Burton, McQueen's heir apparent and now the creative director of his fashion house, told Tim Blanks for an interview in the book. If Andrew Bolton, the curator for The Costume Institute at the Met, who designed the galleries of Savage Beauty, intended to augment McQueen's oeuvre of (as one placard explained) "uneasy pleasure that merged wonder and terror, incredulity and revulsion — feelings associated with the Romantic concept of the Sublime," he succeeded. As spectacular, theatrical, and cinematic as the show itself was, so was the viewer required to work the exhibition, to participate and even to perform with physical stamina and flexibility, intellectual curiosity and inquiry, and emotional receptivity.
As a triumph for the late fashion designer and for Bolton, and as a blockbuster for the Costume Institute and the Met, clearly the repercussions of Savage Beauty will be felt, seen, and experienced in exhibitions around the country for years to come.
Here's why:
The democratization of high fashion. Savage Beauty, albeit at a $25 ticket price, brought the spectacle of the exclusive runway show – usually seen by only a select few celebrities, fashionistas, magazine editors and wealthy buyers — to the masses. While standing inches away from a gown encrusted with beads, sea shells or dried flowers; or one of the smart suits or dresses of McQueen tartan; or the regal ensemble from the collection "The Girl Who Lived in a Tree," of red-silk coat, ivory silk-tulle gown, and jewel-encrusted horns; or even the bulbous extravagance of the black duck-feather tunic — who couldn't help but wonder: "What would it feel like to wear that? Who would I become?"
Fashion sells. As Suzy Menkes recently wrote in The New York Times, "Since the seminal book Marketing Culture and the Arts by François Colbert, a Canadian professor, appeared in the late 1990s, there is no doubt that fashion has become the big winner and its exhibitions money spinners. At any given moment there are at least a dozen museums across the world offering major fashion displays-not to mention exhibitions in galleries or even department stores." She includes, of course, the McQueen exhibition.
Sex sells. "I think there has to be an underlying sexuality," McQueen said. "There has to be a perverseness to the clothes. There is a hidden agenda in the fragility of romance. It's like the Story of O. I'm not big on women looking naïve. There has to be a sinister aspect, whether it's melancholy or sadomasochist. I think everyone has a deep sexuality, and sometimes it's good to use a little of it — and sometimes a lot of it–like a masquerade." See various descriptions of clothing and accessories above.
We're all closet Romantics. Despite our post-post-modern cynicism, willing dependence on the cheap and readymade, and deflective reliance on irony, we still retain a deep urge for the Romantic, to experience the Sublime. The McQueen exhibition revealed, and fulfilled, this need. As Bolton explains in his preface to the book:
"Through his runway presentations, McQueen validated powerful emotions as compelling sources of aesthetic experience. In equating emotion with aesthetics, he advanced a traditional that emerged in the last decades of the eighteenth century through the Romantic movement. Romanticism associated unfettered emotionalism with the appreciation of beauty. It placed particular emphasis on awe and wonder, fear and terror, emotions closely aligned with the concept of the Sublime. As an experience, the Sublime was both destabilizing and transformative, involving instances that exceeded our capacities for self-control and rational comprehension. These moments of mute encounter described the experience of McQueen's runway presentations…. For McQueen, the Sublime was the strongest of passions, as it contained the potential for exaltation and transcendence beyond the quotidian."
We are a culture of spectacle. The theatricality of Savage Beauty, and the performativity it required of its audience, underscored the spectacular nature of McQueen's work. As if navigating a surrealist dream, or nightmare, we walked through a bunker-like room displaying the exquisite tailoring of McQueen's pants, jackets and skirts (with music by Tony Hymas). We glided through a Versailles-like parlor of beaded, feathered, voluminous gowns (to the wolf calls of Ben Frost and the electronica of Mekon). In the Wunderkammer, we craned our necks to take it all in. In the hologram room, we scrunched and crouched. There was a manor hall with sumptuous gowns and tartan dresses that gave way to a shipwreck with ripped leather garments. A glass box displaying a coat with its raffia guts falling out darkens to show a film of another glass box imploding to reveal a naked woman with an elfin head connected to tubes, then suddenly the light changes and we're looking at ourselves reflected in the glass.
______________________________________________________
"For McQueen the body was a site for contravention, where normalcy was questioned and the spectacle of marginality was embraced and celebrated."
______________________________________________________
We're curious about the transgressive, hybrid body. We are all "fabricated hybrids of machine and organism; in short, we are cyborgs," theorist Donna Haraway famously declared in the 1980s, advocating that we embrace our already-evolving human (organic)-machine (technology) hybridity with agency and responsibility. "For McQueen," read a placard next to the imploding glass box containing the interspecies woman, "the body was a site for contravention, where normalcy was questioned and the spectacle of marginality was embraced and celebrated." McQueen unabashedly explored interspecies hybridity and cyborg identity in his work, perhaps most famously in his last collection "Plato's Atlantis," inspired by Darwin's On the Origin of Species. He imagined "a time when ice cap would melt…the water would rise and…life on earth would have to evolve in order to live beneath the sea once more or perish." Technology would be inherent in this hybrid survival, in McQueen's vision, reified in such human-sea creature ensembles as the "Jellyfish," in which a short dress, leggings and claw-like shoes are encased in iridescent enamel paillettes; I heard a mermaid singing.
So, to bring it all back home: Might we see reflections of McQueen and Bolton's genius in Minnesota museums any time soon? Will curator Darsie Alexander find a way to animate Robert Rauschenberg's costumes for Merce Cunningham's dancers when Dance Works I: Merce Cunningham/Robert Rauschenberg opens in November at the Walker Art Center? Will the tiny Goldstein Museum of Design, which houses an extensive clothing collection, find ways to innovate inside its modest square footage to reactivate its collections (and itself)? Might there be interest enough, when Northrop brings Ballet Preljocaj to town in April, to showcase the costumes by Jean Paul Gaultier?
"You've got to know the rules to break them," McQueen said. "That's what I'm here for, to demolish the rules but to keep the tradition."
______________________________________________________
About the author: Camille LeFevre is a Twin Cities' arts journalist and college professor.