Line and Labor
Artist Ruben Nusz puts on his critic's hat, weighing in on the new MAEP exhibition, "Expanded Drawing" at the MIA through March 15. Nusz finds the four artists' work, if not the show's title, to be layered, meticulously wrought and satisfying.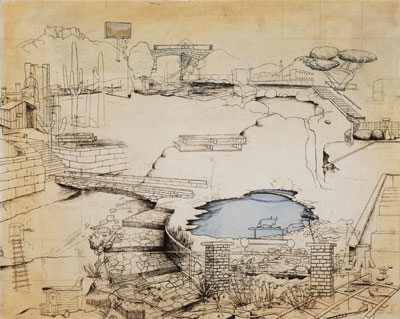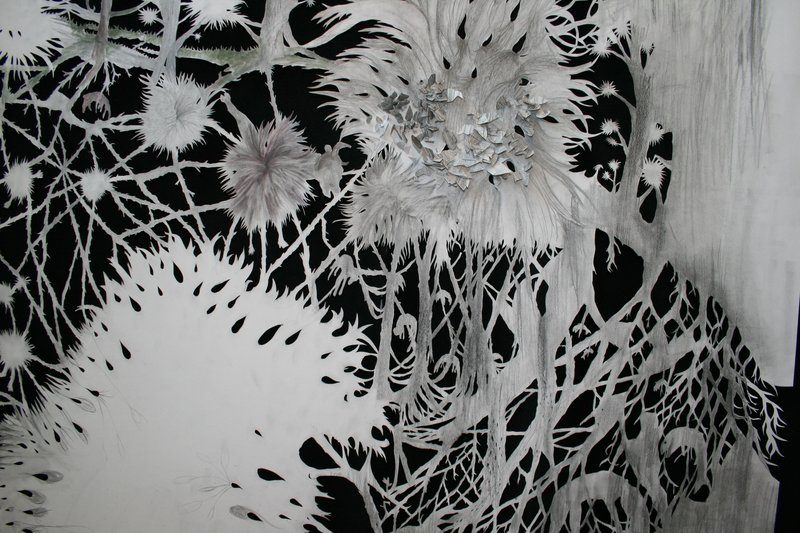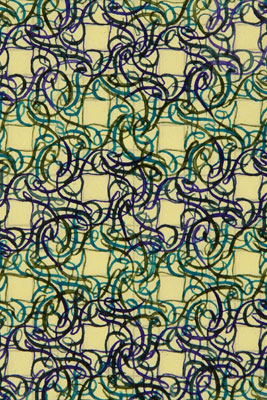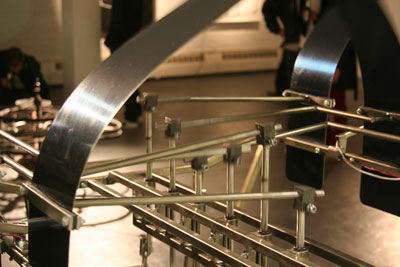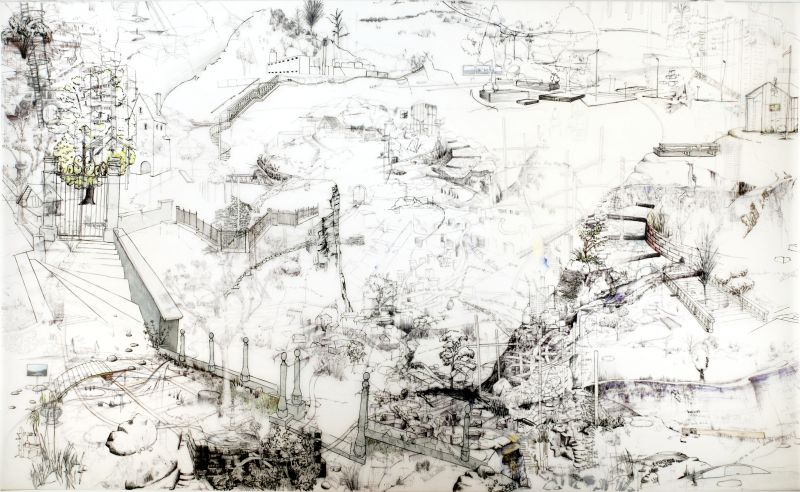 "LINE AND LABOR," AS A COLLEAGUE OF MINE SUGGESTED, would have been a more appropriate title for the current exhibition of "expanded drawings" in the MAEP Gallery at the Minneapolis Institute of the Arts. Each of the four artists—Nick Conbere, Michelle Johnson, Jack Pavlik, and Sonja Peterson—demonstrates a fastidious attention to detail and a genuine devotion to aesthetic, linear whimsy. It's this dedication that unifies the work on view, more so than the somewhat flimsy idea behind the show's title.
Because of Rosalind Krauss's influential essay, "Sculpture in the Expanded Field," when curators use a title like Expanded Drawing they're unavoidably evoking some specific expectations that a true dilation of what defines a drawing will be on view. In fact, since 1979 when the Krauss essay was written, this notion of an "expanded field" has been mined across the visual arts to the point of meaninglessness.
The elevation of drawing as a medium on the local scene in the last six years is a wonderful development (the show Drawing: Seven Curatorial Responses in 2004 at the Nash was a splendid example). But a focus on a form's definition—particularly in this show—is too often a lackluster device employed as a simple way to consolidate disparate works of art into one appealingly modernist, easily digestible category. I'm in no way saying that these works aren't accomplished (they are). Nor am I suggesting they couldn't be classified as drawings (they could). But these don't seem to me to be "expanded drawings," at least according to a faithful extrapolation of the familiar benchmark set by Krauss.
After a long, delightful stroll through the second floor of the MIA's permanent collection, as you enter the exhibition, you're first greeted by the work of Jack Pavlik. The artist has programmed a series of motors to bend and wave thin sheets of metal, creating ocean-like shadows on the walls behind the welded contraptions. Some of the pieces chime when metal hits metal, like a call to prayer. Other pieces squeak, ever so slightly, with a sound suggestive of the humming tension in the opening of Sergio Leone's masterpiece Once Upon A Time in the West, when three thug cowboys await an arriving train. Both the film and Pavlik's sculptures are mesmerizing.
_________________________________________________
These pieces work well together, not because they inflate the definition of drawing,
but because each artist shares a priority on practice and skill, a devotion to
capturing the peculiar textures of personal experience, and an eye for using line in multidimensional ways.
_________________________________________________
The same could be said of Sonja Peterson's plexiglass drawing/sculpture, Blind Mindwalk. Unlike her past cutouts, which were indebted to Kara Walker, this piece carves out (literally) a new area of exploration for her. In fact, this work lingers in my memory as the stand-out in the show, no mean feat given its location in the visually competitive and overwhelmingly gaudy Michael Graves Atrium. Peterson's meticulously cut Blind Mindwalk explores what appear to be mental synapses, visually connecting various personal narratives in silhouette. I found myself getting lost in her "mind maps," lingering on the revealing figurative moments in these seemingly abstract drawings.
Like Peterson's mind maps, Nicholas Conbere's pieces explore narrative as well, though in a more traditional fashion, via etched and drawn architectural landscapes. His drawings are layered, physically, on medium-sized sheets of Mylar. On this material, the pencil sketches recede in the background, pushing the dark, inked lines to the surface. Unlike the abstract work of his influential predecessor Julie Mehretu, whose pieces brought this layered technique to attention, Conbere's drawings are natural, representational renderings which playfully ebb and flow like the winding Mississippi River—a landmark referenced in much of his work.
Michelle Johnson, the fourth and possibly the most gifted draftsperson in the group, graces slight sheets of yellow 8″ x 10″ graphing paper with calligraphy-based patterns. Her process involves repeating Renaissance-style letters in ink to construct abstract forms which call to mind mandalas, Celtic ornamentation, and henna tattoos. At first these designs appear rigidly symmetrical, as if they're made with rulers, architectural templates, or Spirographs; but upon close scrutiny slight differences in the tone and line of each miniscule letter are visible. These subtle variations belie the warmth of human touch amidst the exquisite, almost robotic freehand patterns. Johnson's drawings epitomize the monastic kind of discipline and rigorous attention to detail echoed throughout all the artists' works in the exhibition.
Labeling this an "expanded drawing" show is ultimately misleading. Actually, the current MAEP exhibit contains an array of sculptures, drawings, and even an animation that work well together, not because they inflate the definition of drawing, but because each artist shares a priority on practice and skill, a devotion to capturing the peculiar textures of personal experience, and an eye for using line in multidimensional ways. It is, in the end, a coherent and unified mixed media show, and there's nothing wrong with that.
About the author: Ruben Nusz is an artist living and working in Minneapolis. He graduated Summa Cum Laude with a BFA from the University of Minnesota in 2001. In 2004 Nusz directed a feature-length documentary that toured the national festival circuit. He has exhibited throughout the Midwest at Rosalux Gallery, Stevens Square Center for the Arts, Gallery 360, Hopkins Center for the Arts, The Minneapolis Institute of the Arts, Rochester Art Center, and in the Northrup King Building where the he has a studio. He's known to be somewhat temperamental….okay, very temperamental.
What: Expanded Drawing: Nick Conbere, Sonja Peterson, Michelle Johnson and Jack Pavlik
Where: Minneapolis Institute of Arts, MAEP Galleries, Minneapolis
When: On view through March 15
Admission is FREE and open to the public