Dance Without Reservation
Lightsey Darst saw Zenon's ambitious fall season performance recently, and she came away wowed - by the dancers' passionate performances, by the moving choreography, and by the company's sheer voltage on stage.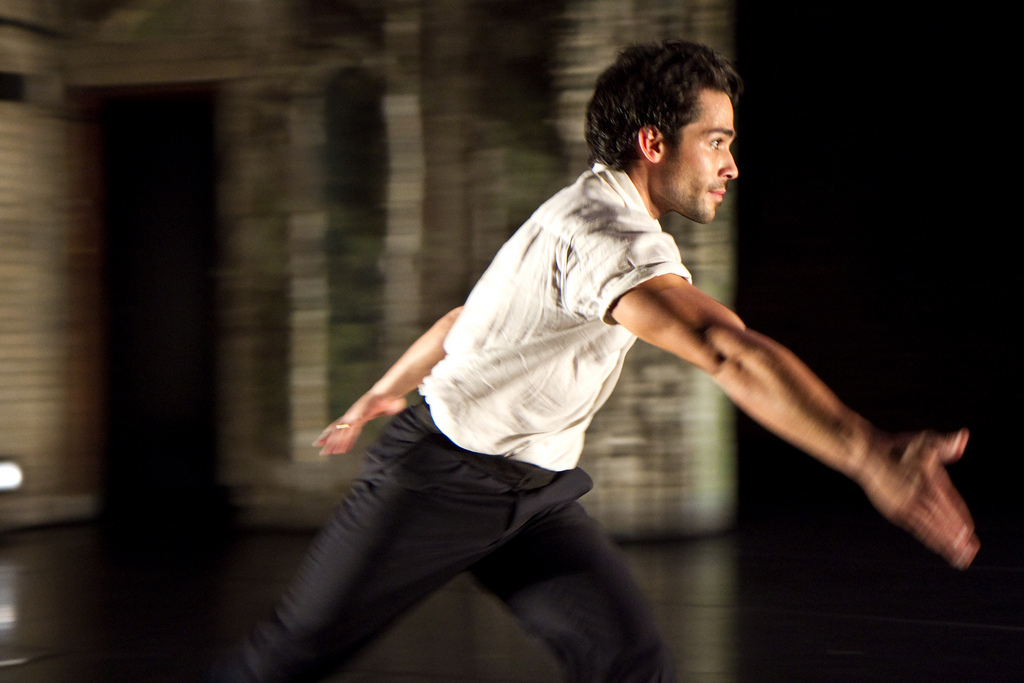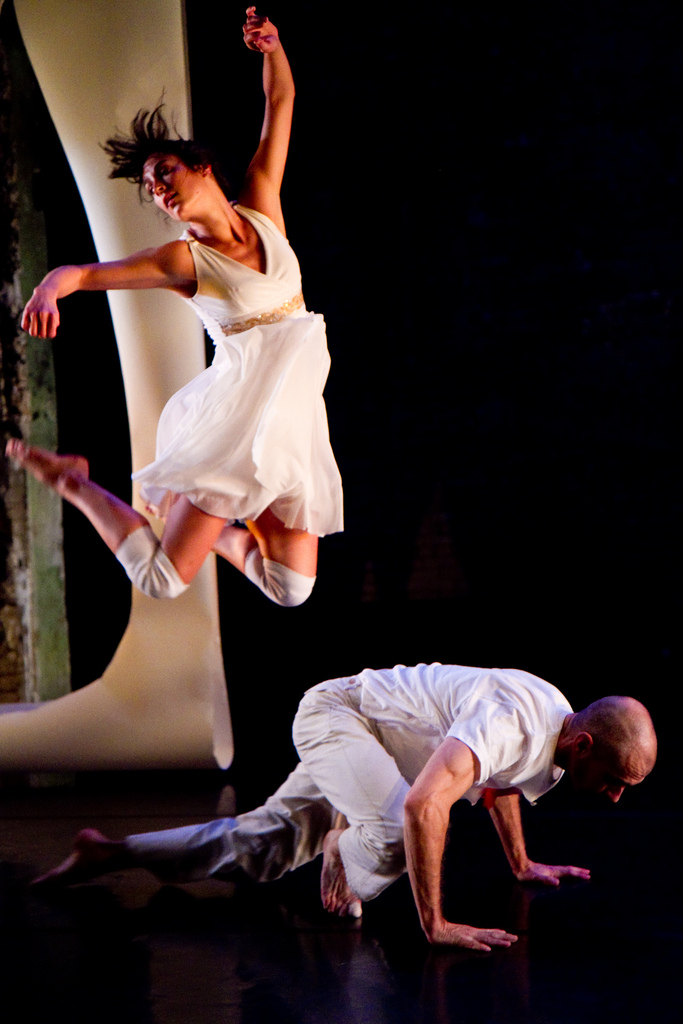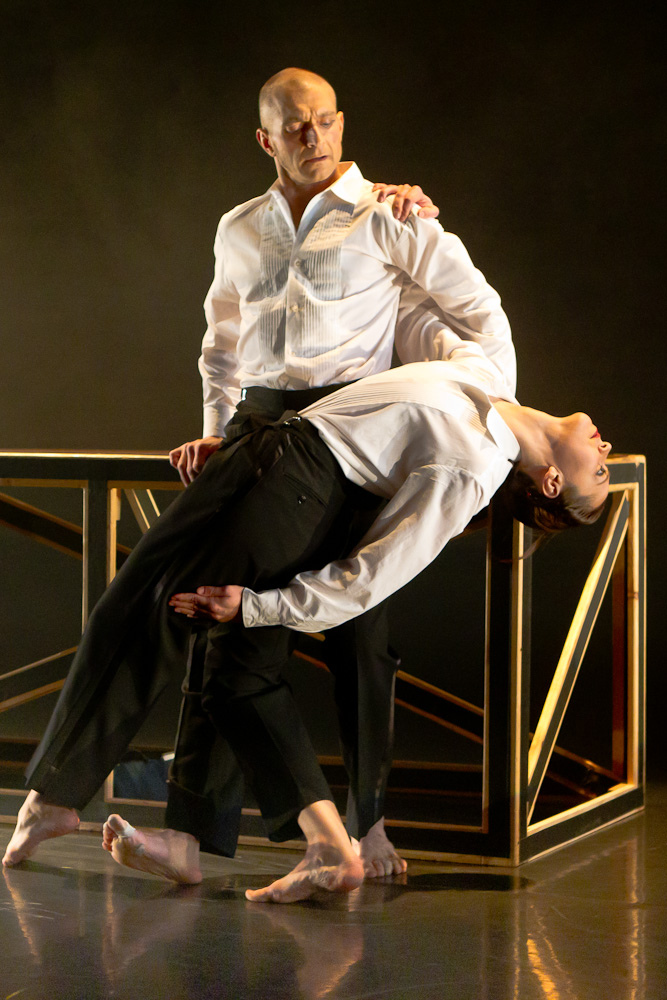 EXUBERANTLY, EXTRAVAGANTLY, JUBILANTLY PHYSICAL with a soupçon of the metaphysical — enough to give your thinky bits something to do, but not enough to wear them out — this fall's Zenon concert was exemplary, the Twin Cities' top modern dance company at its best. At its heart, what Zenon Dance Company offers (in buckets) is the dancer as dream-self, leaping into life with all the passion we hope we have in us, carrying us off to that place where we are our best, worst, most tangible selves — acting, changing, doing, not just sitting around watching. Because of this, while any review of Zenon inevitably ends up being about the choreography — whatever new, old, bizarre, banal, sexy, sweet, salty, or sour dances the tireless Linda Z. Andrews, Zenon's head, has found to offer up — the review must begin with the dancers. They are the vehicles for the audience's transformation: Mary Ann Bradley, Bryan Godbout, Tamara Ober, Leslie O'Neill, Eddie Oroyan, Stephen Schroeder, Laura Selle Virtucio, Greg Waletski, and Amy Behm Thomson (a guest artist now, after nine years with the company). To explain what each offers to the viewer would take too long and would be, anyway, incomplete. Let's just say they're generous. And the audience responds to their generosity: the opening night crowd followed their motion with emotion, as water follows the wave.
The fall concert's theme, "Women Choreographers of the Americas," sounds as exhaustive as a bird book, but what it really works out to is just four pieces, two of them premieres, all by women choreographers. Argentine choreographer Susana Tambutti's tango deconstruction, Like an Octopus (not a premiere but a revival of a piece from 1992), opens the concert. To a soundtrack of broken tango, voices, static and snare, Tambutti turns the tango inside-out and redirects its danger and seduction on to the audience. Equals rather than opposites, Tamara Ober and Greg Waletski slink and stalk, command and surrender, using a long table as runway, bulwark, platform, even gallows. Tambutti's potent images mix sex and death: the tango's sudden stops and reverberations become a backward collapse in unnerving stages, the broken neck last. Expect a gunshot or an ecstasy, the tortured arms say; expect not to know which is which, as Ober and Waletski fly at each other and then apart, their crossed bodies briefly forming a center that can't hold. Tambutti telegraphs her ending before it arrives, and Like an Octopus winds up being twice as long as it needs to be, but I'm talking in terms of maximum efficiency here, not audience pleasure. When the dance was over, the crowd applauded politely, then burst spontaneously into howls. The couple next to me started kissing. How's that for dance that moves?
In her Structures of Feeling, one of the evening's two premieres, Uruguayan-born New York choreographer luciana achugar sends out eight dancers in brightly patterned sleep-suits, twinned in four pairs, undulating like seaweed, rolling and stretching in kaleidoscopic sequences of increase, decrease, canon, gradation, repetition. Structures reminds me of Shakespearian comedy (all those twins, those patterns), and, more to the point, of the trippy, apolitical things one used to see on public television in the late 1980s. What is achugar, often a vibrantly and disturbingly political artist, up to in this noodly movement sketch, which flounces and winds offstage without ever quite arriving? Hard to say. However, one can note achugar's commitment to the beauty of the live body, as in a mesmerizing sequence in which dancers crawl upstage, giving the audience a view of their haunches in motion, then turn their crawl into a rippling back arch, a lashing fall that animates entire spines, all the knotty little bones and radiating muscles and the blooming lungs beneath.
______________________________________________________
Everywhere you look, there's a collision that unhinges the nerves, breakneck partnering that wracks the heart. Andrea Miller's hot dance shows off all these dancers have got — and they've got plenty that'll get you.
______________________________________________________
"Picnic, lightning" is Nabokov's offhand description of a death, and everything it suggests — heat, appetite, itches, lust, a rumpled party dress, sudden storm, force that kills and illuminates in one flash — which comes to life in New York-based Andrea Miller's 2009 knockout by the same name. I say knockout, but maybe I mean knock-down, because it strikes me that Miller either sets them up or knocks them down, but not both — her couples start and stay doomed — but perhaps that doesn't matter when you can knock 'em down this well. Take the liquid series of attacks that begins the piece, when Amy Behm Thomson runs right up Bryan Godbout's body, or the orgasmic little kneeling hops that punctuate Leslie O'Neill's duet with Stephen Schroeder, or the sick back dive O'Neill plunges into over and over while Schroeder hangs on for dear life: everywhere you look, there's a collision that unhinges the nerves, breakneck partnering that wracks the heart. Miller's hot dance shows off all these dancers have got, and they've got plenty that'll get you, from the men's big air to the women's knee-breaker, yearning lunges.
A quite different mood fills the fall concert's second premiere, New York-based Colleen Thomas's Anatomy of a Viciously Sweet: A. Love; B. Lust; C. Life; D. All of the Above. It opens with a saccharine doo-wop that reminds me of the "Beauty School Dropout" number from Grease. I had my doubts about it — why must dancers sing these days? what's behind this questionable trend? — but Thomas and the dancers won me over with their offbeat-funny-sweet and with the pitch-perfect details that animate each moment. One dancer cuts a heart from Greg Waletski's shirt, revealing a red feathered inside; she stuffs his heart in her mouth, chews, then spits it out; another dancer tries to replace his heart with a music box that plays (what else?) the theme from Swan Lake. Everyone has a trademark tic that suits his or her stage persona: a chicken dance for clever, shy-cute Waletski, a perpetual motion machine for the buoyant Bryan Godbout. Love is the clear theme, but Thomas skirts easy positions. Just when you think things are getting serious, Waletski does his chicken dance; just when you're sure a relationship is beyond repair, a sincere duet grows out of the air, two men relying on each other, rewarding each other's trust. On this evidence, Thomas is equal parts cynic and sap — and that's reason enough to enjoy this little trip with her. Another reason to enjoy Anatomy is Thomas's love of live music: here John McGrew loops and twines his angelic voice and pop-y synth around the dance with wit, sweetness, and light. I didn't note its absence earlier, but when you feel its presence, the superiority of live music can't be denied, especially in this concert. Presence, the here and now, contact, connection — life is what Zenon is all about.
______________________________________________________
Noted performance details:
Zenon's fall season concert took place over two weekends at the Southern Theater in Minneapolis, November 18-28, with world premieres by Colleen Thomas and luciana achugar; revival performances of Picnic, Lighting by Andrea Miller and Like an Octopus by Susana Tambutti completed the program.
______________________________________________________
About the author: Originally from Tallahassee, Lightsey Darst is a poet, dance writer, and adjunct instructor at various Twin Cities colleges. Her manuscript Find the Girl has just been published by Coffee House; she has also been awarded a 2007 NEA Fellowship. She hosts the writing salon, "The Works."