Dance the Body Electric
Art historian Sheila Dickinson watched NYC-based choreographer Netta Yerushalmy's intimate, living room dance-and-spoken word performance in F.D. 13 and left not just moved by the dance but struck by the kinship of abstract movement and image.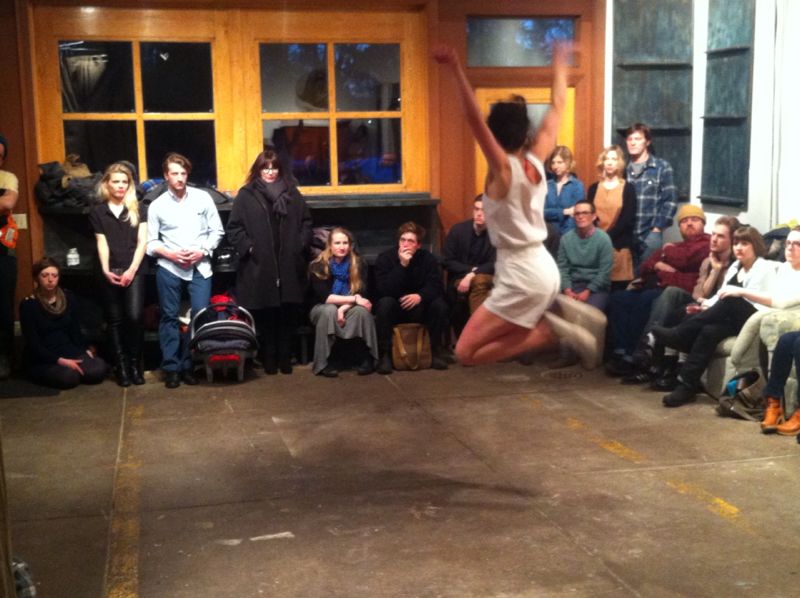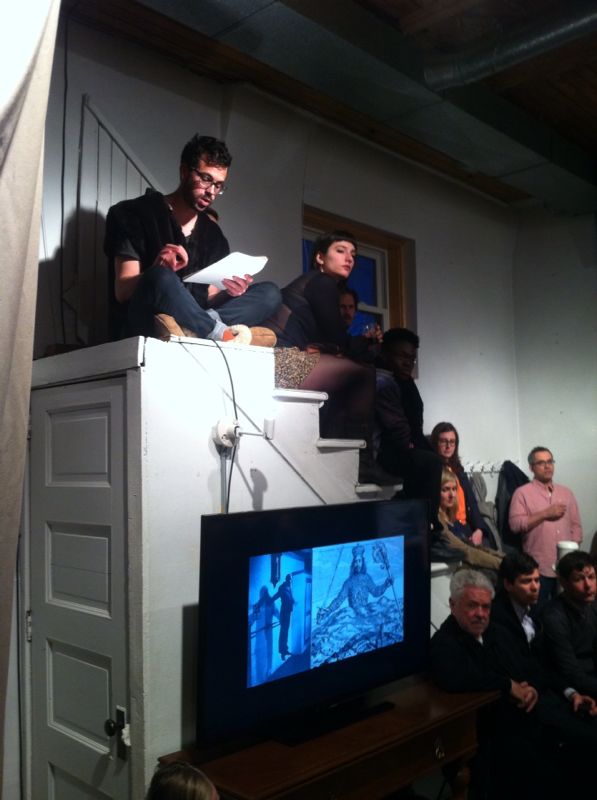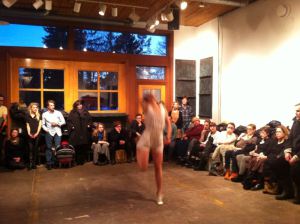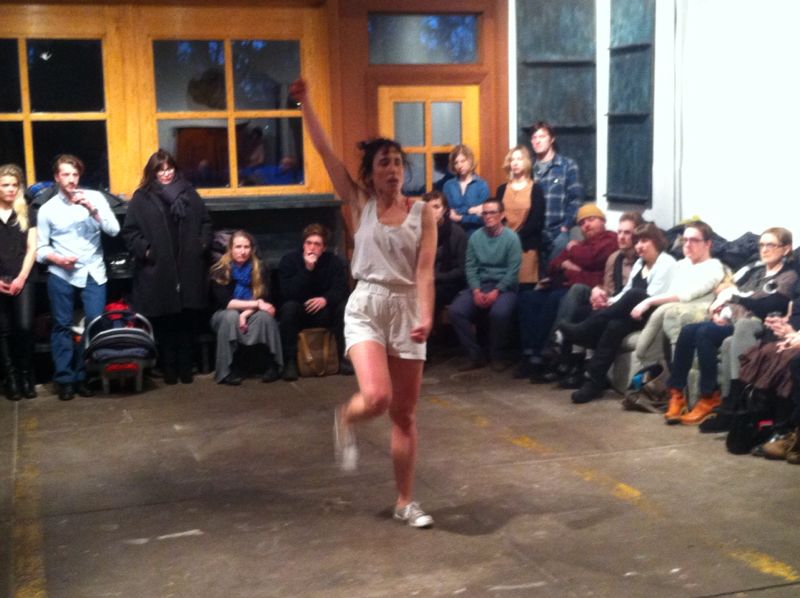 I DON'T GET OUT MUCH. I have two jobs — three, if you count writing as a job. So, although I'd love to go to the many cultural events I see posted in arts calendars, I am just not able to get away. But one recent Saturday night I decided: Enough. I'm getting a babysitter and going to whatever I see going on tonight, no matter what it is.
It was a Saturday a couple of months ago; the event that caught my eye as I browsed through event listings was a dance performance. I have not seen contemporary dance since I lived in Dublin, more than seven years ago. I wasn't exactly nervous about seeing dance, but went in feeling like I did not exactly know what I needed to do to enjoy the performance. But even if I wasn't sure how to prepare for the show, I knew I definitely wanted to check out the amazing location – an old St. Paul firehouse that has been converted into a home. As it turns out the old firehouse, F.D. 13, works incredibly well considering it's never been used as a space for performances. Its conversion to a living space was a thoughtful one that kept the integrity and feel of the firehouse, including the old cement floor with yellow road markings. An original wood staircase ascends up one wall, leading nowhere, floating dreamlike.
The place belongs to curator and scholar, Sandra Teitge, and her husband; that they opened their home in this way, to host guests to a free performance is a gesture of radical hospitality, born of a desire to share an artistic gem, New York City-based dancer and choreographer Netta Yerushalmy, who's been in the Twin Cities recently for a Zenon Dance residency. At F.D. 13, as guests arrived we were welcomed not by the quiet murmur of people taking seats, but to something more like an informal party, a room filled with meeting, mingling, wine and conversation. About an hour after the doors opened we found our places to watch the performance – some took seats on the sparse furniture pushed against the walls and others clambered up to spots on the mock stairs; a fair number needed to stand. You might think I'd have read up on the context of the dance before I went to see it. But seeing as how just getting out the door and out somewhere takes considerable effort, that night I just sat down on the couch with my friends happy to see Yerushalmy's dance, knowing absolutely nothing about what was to unfold.
A man and a woman walked out from the back, domestic areas of the house. Decked out in a brown, furry vest and sheep's wool slippers, David Kishik, one of the performers – a bearded, bespectacled man – went his own way, climbing through the crowd perched on the stairs to find a spot of his own, at the very top, where he sat cross-legged. Reaching down, he pulled the chain of a small, upward-facing light fixture and began to read from an academic paper. Meanwhile, the woman, outfitted in a simple white, retro calisthenic outfit – exercising shorts and tank – took to moving in the main cement floor space, now empty of guests. The only set against which she moved was a flat-screen TV showing two still, black-and-white images: on the left, an older man in a suit jumps with arms outstretched, hovering for a moment mid-air; on the right, a print of the Leviathan with staff and sword, lording over a medieval city seen in miniature below.
______________________________________________________
I'm not sure how to describe precisely what I saw and felt, but being at a loss for words feels okay. We can think of the movements of the body as text, of dance as a type of writing.
______________________________________________________
I'm not sure how to describe here what I saw. But being at a loss for words feels okay, in part because Kishik, reading from his paper on the stairs, was speaking precisely about the complicated relationship between writing about dance and dance itself, especially if we think about the movements of the body as text, of dance as a type of writing. So, I listened to his words for clues. The combination is invigorating: to hear intellectual rumination on the history of dance and, at the same time, to experience such movement, the sensual pleasure of it in front of you. In the absence of the music one expects to hear with dance, by replacing that sensory experience with the spoken word, I found the dance, as a whole, to be palpable in entirely new ways. In no way was the spoken text some sort of narration; his wasn't some story that the dancer performed. In fact, at first I searched for just such a connection only to find it wasn't there. The dancer's movements were clearly not intended as representations of recognizable gestures from daily life. Freed from the burden of trying to decode them, I began to see repeated gestures — they were rarely performed together and always iterated in a different sequence. The movements were like shapes and forms on a canvas, abstract in nature.
I teach art history. Specifically, I teach young people how to look at, and obtain their own meaning from looking at paintings they would otherwise have little clue how to parse. I sat there and watched in fascination as the dancer's body created shapes, forms, and contours in a small square space. A somatic abstract artwork emerged: her explosive, loud movements added passion and color; her low, soft moves gave the work shadow and recession. The meaning for me derived from the speaker's repeated allusions to the complexity of a dancer's quest for "sovereignty" of the body as it performs within the confines of given choreography. It struck me as very much akin to the frustration and intensity of modern life, of working and functioning within the various institutions of our lives – be it working for Target or shopping at Target. Like the dancer, we engage in ritualistic repetitions, battling between expected norms of behavior and the vagaries of individual will, the desire to move in whatever way we wish.
As the reader, Kishkin, pronounced his conclusion and turned off the illuminating light, the dancer's movement quickened and became more frantic, finishing in a flurry of competing, repeated gestures. To my surprise, by the end, not only did I understand the dance, I felt understood. I felt my own body's experience of negotiating institutions, as if the biopolitics of my everyday life had been expressed within the performance I'd just witnessed. This conjunction of the artist's expression with the viewer's experience — that's where real art happens, and it feels like a gift to be a part of that.
After appreciative applause, the performers sat on cushions and answered questions offered by ten or so audience members. From that Q & A, I learned that the abstract look of the movements was intentional, that Yerushalmy had literally abstracted Vaslav Nijinsky's choreography from his iconic work for the famous Stravinsky score, Le Sacre du Printemps, (The Rite of Spring). To do so, she said she catalogued in lists both the choreographed movement by Nijinsky and the shapes from Stravinsky's musical notations on the score. Philosopher David Kishik, our reader, writes about the history of dance and worked with Yerushalmy in Berlin, where as artist-in-residence, she created this original work for the 100th anniversary of Nijinsky's famous dance work. Thanks to the generous hospitality of F.D. 13, our informal crowd was privy to the American premiere of Yerushalmy's creation.
______________________________________________________
Related events
Zenon's 31st Spring Season, May 9 – 18 at the Cowles Center for Dance and the Performing Arts in Minneapolis, features two world premieres, one by Netta Yerushalmy, whose last work for Zenon was the critically acclaimed and popular "Hello, My Name is Catherine;" the second is Folktale Zero by Daniel Stark, which re-imagines the Icelandic folktale of Grýla while examining whether folktales have a hold on today's "generation zero." Also on the program are reprises of Danny Buraczeski's Ezekiel's Wheel, inspired by the writings of James Baldwin; and Kyle Abraham's My Quarreling Heart. For more information: http://www.thecowlescenter.org/calendar-tickets/zenon-dance-company-2
______________________________________________________
About the author: Sheila Dickinson teaches art history at the University of St. Thomas, has three small children and writes about contemporary art here and in Ireland.