VISUAL ART: Through Baryshnikov's Eyes
Camille LeFevre weighs in on iconic dancer Mikhail Baryshnikov's exhibition of photography, "Merce My Way", by which he documents the inspired movements of fellow dance legend, Merce Cunningham. (At the Weinstein Gallery through August 2)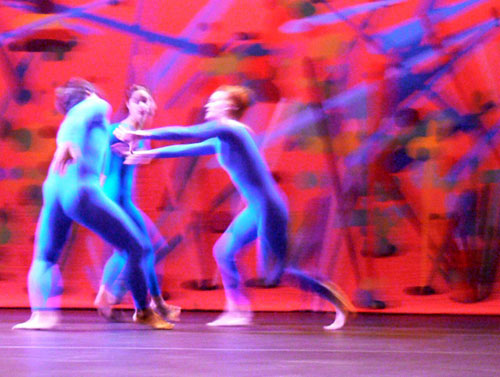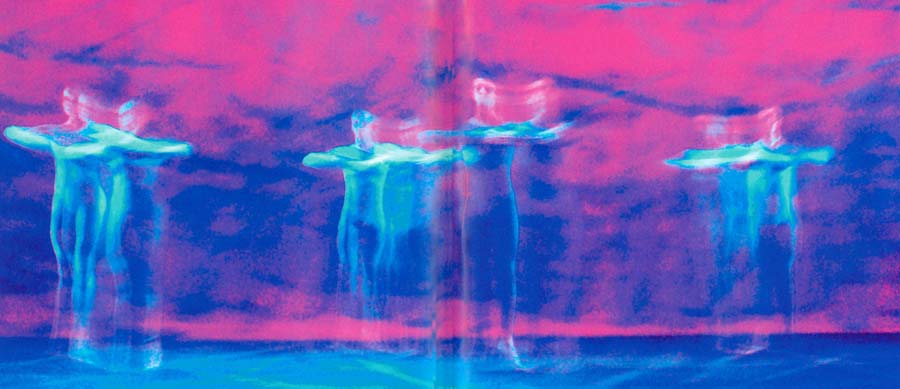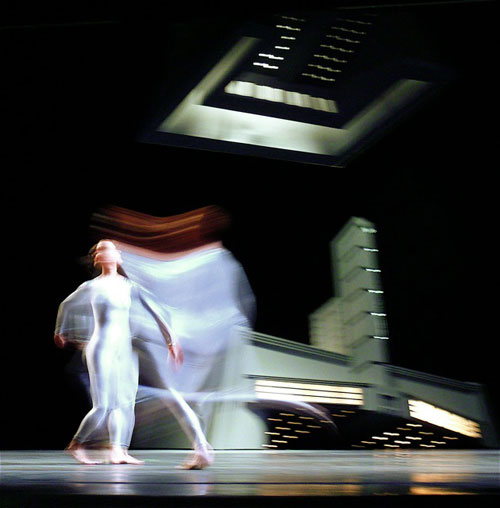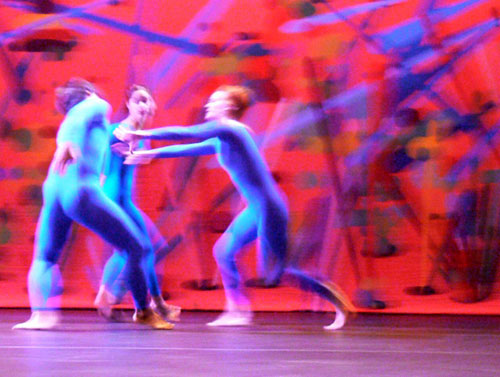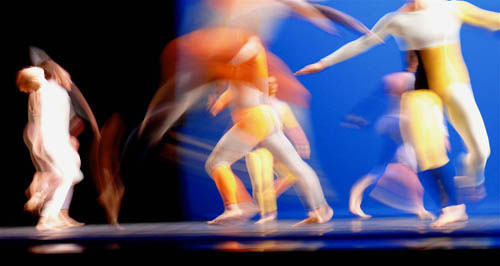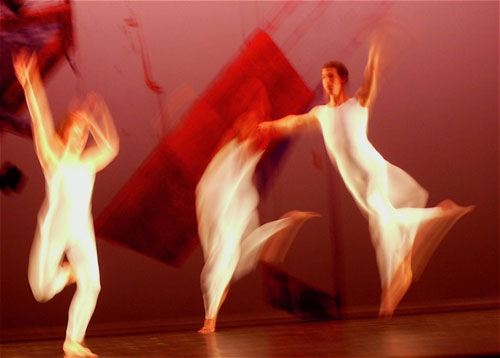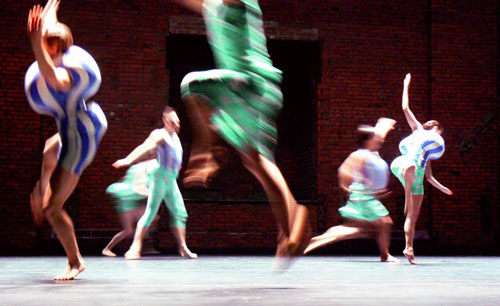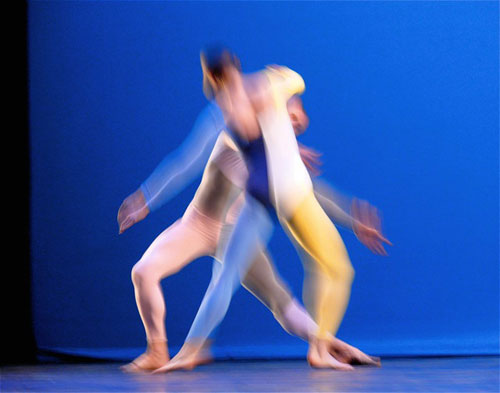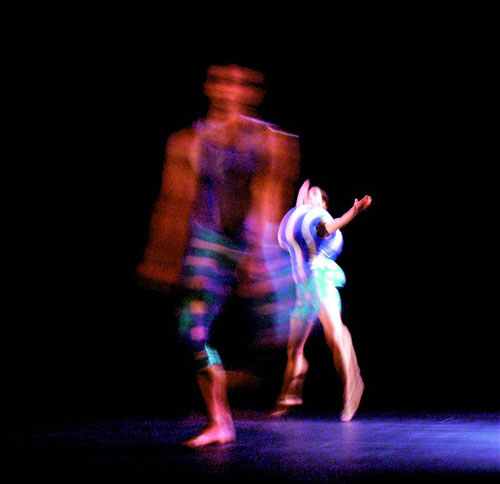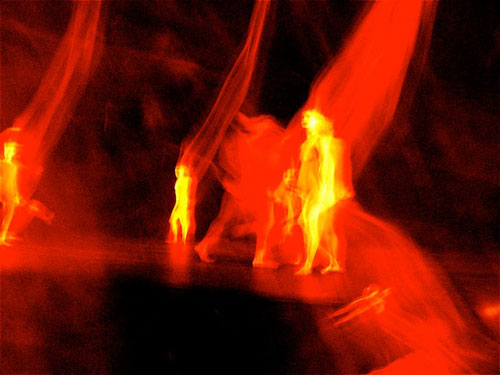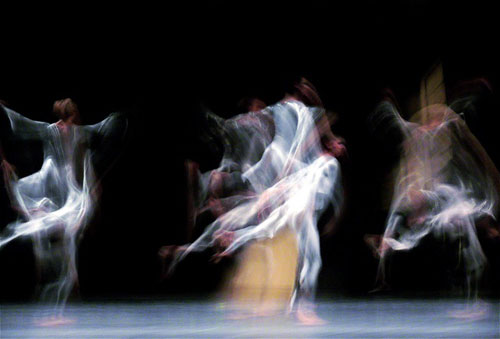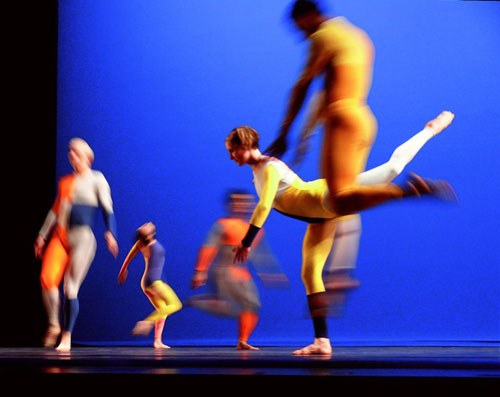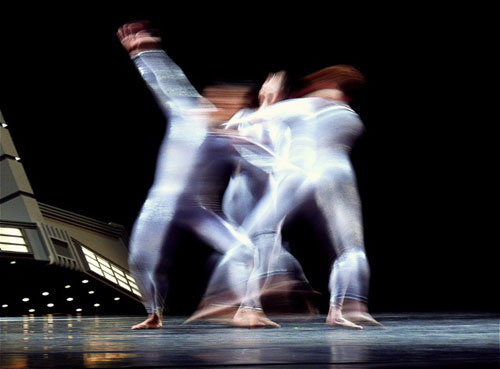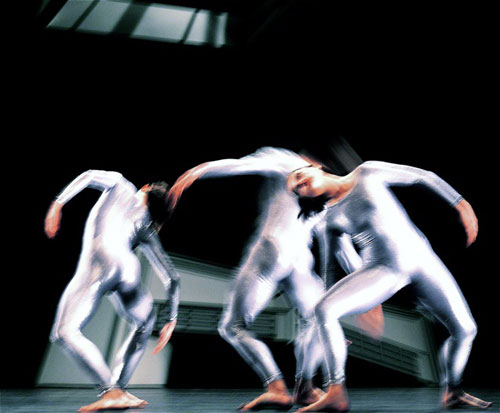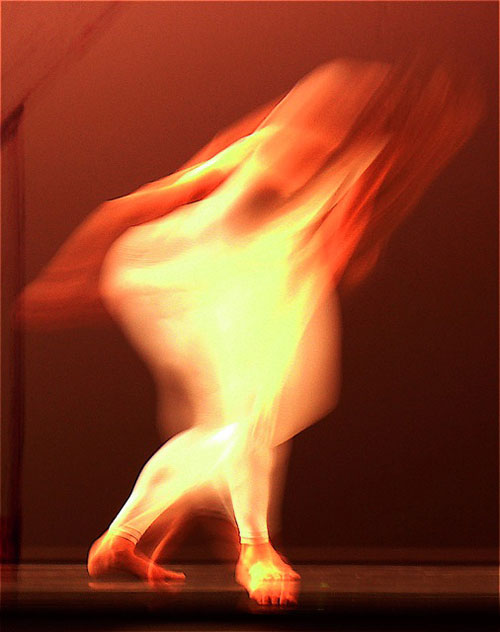 ON A SWELTERING FRIDAY EVENING SEVERAL WEEKS AGO (June 20, to be exact), an exhibition of photographs by Mikhail Baryshnikov, titled Merce My Way and depicting Merce Cunningham's dances, opened at the Weinstein Gallery in south Minneapolis. A media circus, a see-and-be-seen event, a can't-miss brush with celebrity (whether you were a dance aficionado, a Sex in the City gal, or Cunningham groupie), the opening was jam-packed with kiss-kissing, much jockeying for photo ops with "Misha," microphone thrusting and flash-bulb popping. People took turns in front of two decrepit air conditioners that failed to cool the heat of proximity to stardom and the fervor of devoted fans.
_________________________________________________
"Isn't it wonderful?!?!" someone gushed to me. I sensed an implicit threat of very public censure should I disagree.
Besides, it was too hot to say no.
_________________________________________________
It was impossible to concentrate on the art. The exhibition is comprised of large-format, digital photographs that Baryshnikov shot during Cunningham Dance Company dress rehearsals, while running back and forth in front of the stage. As such, each work captures—with a blurry, grainy, often colorful sense of motion—a singular moment in Cunningham's work. "Isn't it wonderful?!?!" someone gushed to me; I sensed an implicit threat of very public censure should I disagree. Besides, it was too hot to say no. Plus, I hadn't yet formed an opinion. Who could in the torpid crush of star-struck humanity?
I turned to Minneapolis photographer Sean Smuda, whose surrealist tableaux and intriguing photographs of dancers provide hours of thoughtful musing, and asked, "What do you think?" He promptly dismissed Baryshnikov's photography as "video grabs." He likened the pictures' dispersed, pixilated, unfocused quality as "noise" resembling "bad TV reception." I couldn't disagree, and appreciated his candor. Discussions ensued about whether this art would enjoy an audience at all if it weren't by an international celebrity.
The next morning, gallery owner Martin Weinstein—after showing me a stunning Steichen and providing a short lesson in the history of dance photography (Arnold Genthe, Steichen, Barbara Morgan, Alexey Brodovitch, and Irving Penn were among the photographs he mentioned)—stated his case. Baryshnikov's photographs are "large format, they're color, and they're digital," Weinstein said. "This is a logical next step in the historical trajectory of one of the most photographed subjects: dance."
Weinstein added that he's also seen Baryshnikov's early photography taken in the Dominican Republic, collected in the exhibition Dominican Moves. "This work is better. There's been a progression in his work. Here's someone who has been photographing for 30 years, is very scholarly about his study of photography, and who is uniquely qualified to interpret dance." Plus, during the exhibition's premiere at the 401 Projects in New York City, Cunningham approved the photographs.
For Baryshnikov, the title of the exhibition, Merce My Way, says it all. It's his take on the iconic, indefatigably innovative choreographer's work. A collection of memory traces, the conjoining of the ephemerality of dance with permanency of the camera shutter's click, Baryshnikov's images (and he admitted he's taken thousands of them) arrest the dancers' often blindingly kinetic movements into single, dramatic moments.
_________________________________________________
"It's not the attempt to slow down I'm after.
I'm looking for a more emotional and expressionistic mode.
What can the speechless part of the body say?"
_________________________________________________
Cunningham's choreography is famously inventive in its absolute abstraction, intricate physical complexity, reliance on chance, pristine aesthetic, and denial of all story, drama and emotion. The Merce Cunningham Dance Company website states that, "Cunningham is not interested in telling stories or exploring psychological relationships: the subject matter of his dances is the dance itself." Nevertheless, Baryshnikov, who cut his teeth on the romantic Russian story ballets, sees tremendous pathos, dramatic storytelling and emotional complexity in the moments he's captured in Cunningham's dances. During a walk-through of the show, he insists, "I'm showing Merce's work the way I see it, personally."
As an example, Baryshnikov offers that his perspective is the opposite of, say, the sensibility reflected in Eadweard Muybridge's photos, which are single-still shots of a moving body that are later combined into animated motion. "It's not the attempt to slow down I'm after. I'm looking for a more emotional and expressionistic mode. What can the speechless part of the body say?" he asks, then laughs as he gestures to the photographs around him.
"With each group of dancers, you can create your own story. You can also think about certain unrealized references to visual arts, paintings. Because my moment distorts the human body in the most beautiful way." Darting to the other room in the gallery he points to the black-red Untitled #15, in which three dancers resemble yellow-hot ghosts engulfed in and emanating flames. "That's my depiction of hell," he explains with a laugh.
I point to the cool pink and blue Untitled #11, which, in its spatial quality, color and speed, is quintessential Cunningham. "Yes, and they're floating," Baryshnikov says of the dancers. The dancer-turned-photographer calls Untitled #7 his "Francis Bacon moment," referring to the way in which the dancer's face is stretched across the photographic "canvas;" I add that the face is also turning, just like Talley Beatty's head turns in the front of the four-headed Buddha statue you see in Maya Deren's avant-garde film, A Study for Choreography in Camera.
Untitled #13 is my favorite among these photographs, for its sense of motion and angelic quality. "There's almost a Renaissance touch to it," Baryshnikov adds. "I was looking for a romantic quality in [Cunningham's] work." As we look at other silver images in a series along one wall, Baryshnikov describes how the grainy photography acts as "brushstrokes" to add a painterly quality to the dancers' silver leotards, or to give the effect of "scratching the canvas intentionally to give that almost dimensional look."
_________________________________________________
"Look at this!" Baryshnikov urges, "It's something you
so rarely see, to slow down so much urgency."
_________________________________________________
But Baryshnikov points to Untitled #9 as a prime example of the drama inherent to Cunningham's work; in this photograph a trio is arrested in a push-pull moment of…what? Hope? Loss? Yearning? "Look at this!" he urges, "It's something you so rarely see. To slow down so much urgency," Baryshnikov earnestly explains. "This is emotional choreography! It's a human drama here, because you could create millions of stories about these three people."
"You know, the less I understand his work the more I love it. I don't even think about it. I'm just in love with the light. I could stare at this, imagine the movement…." As he pauses in front of Untitled #9, I study the tremendous physical and emotional momentum he's caught in a nanosecond of time and space. And I suddenly understand Cunningham, Baryshnikov's way.
What: Mikhail Baryshnikov: Merce My Way
Where: Weinstein Gallery, Minneapolis, MN
When: Exhibition runs through August 2
Admission is FREE and open to the public
About the author: Camille LeFevre is a Twin Cities arts journalist and dance critic. You can find out more and read more of her writing by visiting her website: camillelefevre.com.