This is the End
Andy Sturdevant offers a fond farewell to the spunky DIY arts 'zine, ARP!, with an essay tracing its short history, its influences and intentions, and the mag's central place in the Twin Cities contemporary art scene of the late 2000s.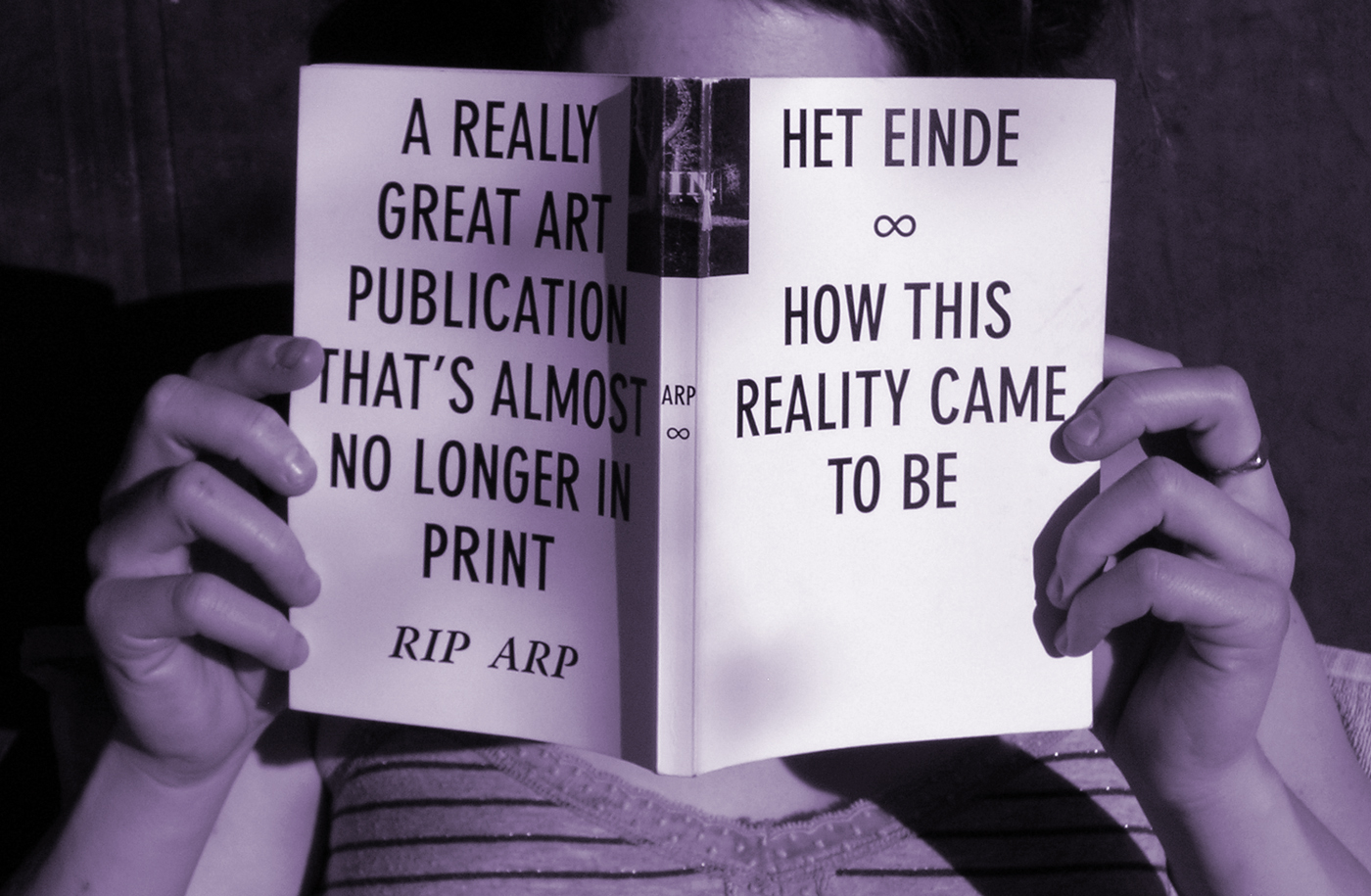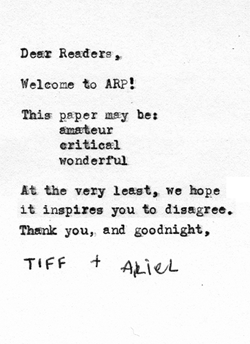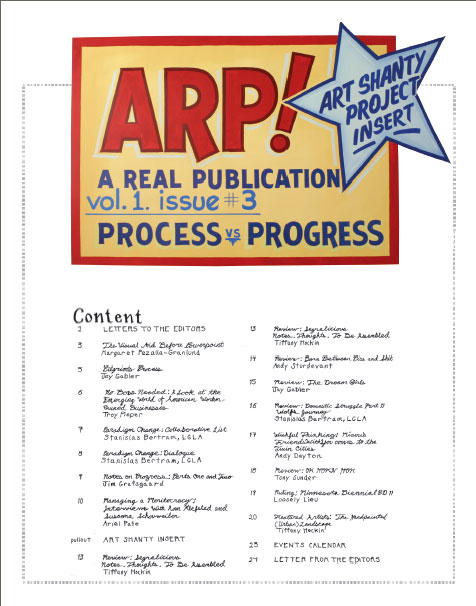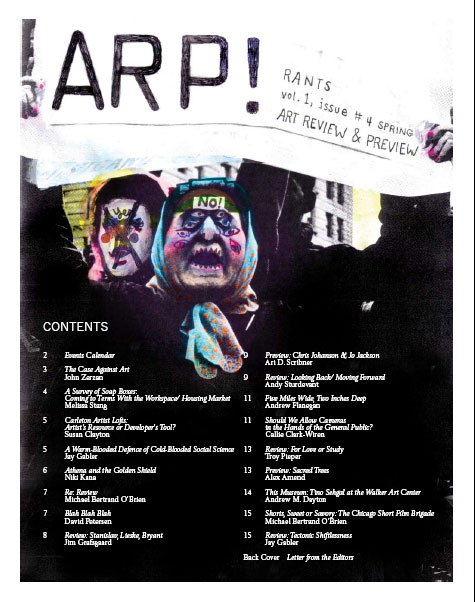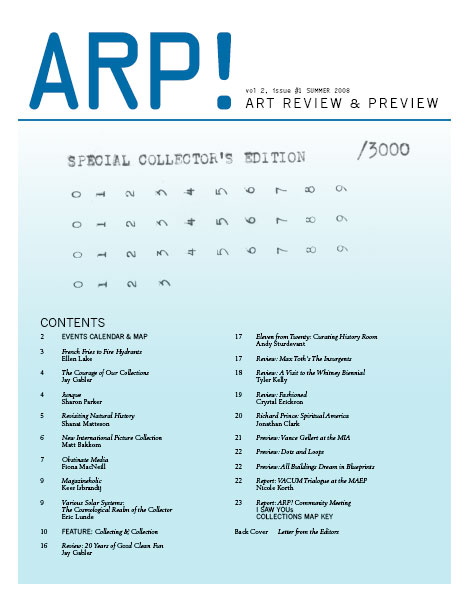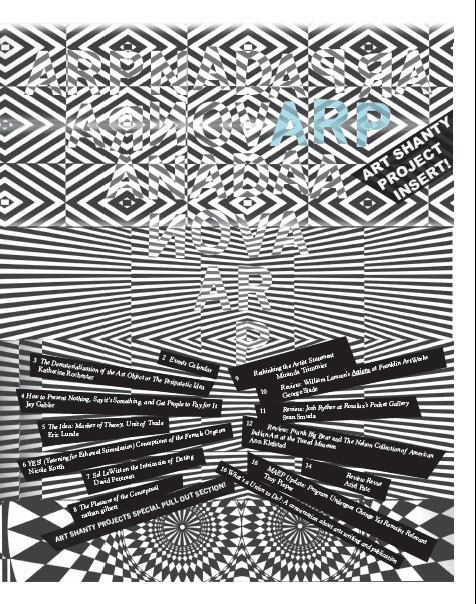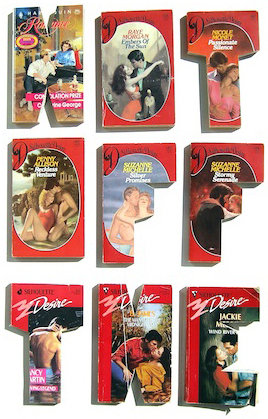 THERE ISN'T REALLY A UNIT OF TIME MEASUREMENT that aptly captures the duration of what we might call, for lack of a more elegant phrase, an "art scene." Art spaces, art magazines, art bands, art websites, art collectives, art what-have-you — they tend to have a natural lifespan of anywhere from four to seven years, folding when there's no more time, energy, or money left to sustain them. People get older, get married, or have kids. They max out their credit cards, or they get 9-5 jobs, or freak out and move to Alaska to become hippie survivalists. Maybe it's not even anything that extreme: people just get tired of devoting fifty unpaid hours a week to their projects. Or, perhaps these labors of love do end up thriving, becoming established non-profits which are lavished with foundation money at some point. Even then, though, such projects transform into something else in the process. The people initially involved go off to do other things, their roles filled by eager 22-year olds who step in to take their places. The 22-year olds run things for a few years, until they get tired and cede their positions to their younger siblings' peers. These aren't "generational" cycles, exactly, and describing them as "epochs" is certainly too grandiose. I'm not sure what you'd call it.
Whatever it is, I've gotten the sense this summer that we're nearing the end of one of these units of time. Bedlam Theatre (along with its beautiful second-story patio) is being evicted from its West Bank building, to be relocated to an as-yet-determined space elsewhere. Art Of This Gallery in South Minneapolis will leave its Nicollet Avenue storefront in September. And, of course, Art Review and Preview! (ARP!) also recently completed its several-year run. For the past couple of years, it was possible, even likely, that if you were an artist or at least a friend of an artist, a regular Friday night would involve some interaction with one or more of these places and projects. Perhaps you'd glance at the ARP! calendar, find out about some of the week's openings, and organize a multi-stop bike ride between them all, ending at the Bedlam. All have been essential to artistic life in the Cities; this isn't to suggest they won't continue to be. No doubt, the individuals responsible for these projects will still produce work in Minneapolis, and those endeavors will undoubtedly take on new and equally interesting forms going forward. But it still feels like the end of…
Well, something, anyway.
And whatever that something has been, I'd personally put ARP! at the center of all of it. It was a forum for artists and others to read about what was happening around them, and it was written mostly by other artists. Of course, it seemed insular at times — the culture of artists' communities (or any niche community, for that matter) inevitably is on occasion. But, in general, the commentary and design in the quarterly's pages served to draw readers in — the offerings were smart, mostly inclusive, and never dry or academic.
In the interest of full disclosure, I must confess that I can't write objectively about ARP!. (you may have figured as much from the sentimentality-stained tenor of the preceding paragraphs.) My writing appeared in nine of the twelve issues, and, at one point, I was even listed as "staff writer" in the masthead. In fact, the first art writing I ever had published was in ARP!; prior to that, the only thing on my imaginary writer's CV consisted of a handful of album reviews written for a music 'zine back in my hometown ("most of the lyrics sound like the sort of thing a 14-year old AC/DC fan would write, translated into Bulgarian and then translated back into English again").
So, my part-time career as an arts writer began with ARP! — specifically, with a brief overview of historic artist-run spaces in Minneapolis which ran in the second issue of the magazine. Like most of the writers who came to the magazine, the editors didn't set out to recruit me — I had no idea who they were when I found a copy of the first issue at the Soap Factory. While reading that first issue, I noticed the editors were soliciting pieces about the history of the Twin Cities' art scene for the upcoming issue, and I tracked them down to offer my services. Mostly, I was just excited that someone somewhere was thinking about these things.
Those editors, Tiff Hockin and Ariel Pate, had been thinking about art together for a long time. They first met ten years ago while high school students at the Perpich Center for Arts Education in Golden Valley. Both went off to college at the Kansas City Art Institute together, and when they completed their undergraduate degrees in 2006, they decided it was a good time to go back home to Minneapolis and begin something in their hometown.
What that something might be wasn't initially clear. At first, they were thinking they might begin an artists' residency program, idealistically dubbed "Neutopia." (in fact, art.neutopia@gmail.com remained ARP!'s only email address for much of their run). Before making any firm decisions, though, Hockin and Pate wanted to reconnect with the artists working around town during their absence. The duo interviewed, formally and informally, dozens of artists they met around town, asking them what was missing from the community. "A discussion" was the answer that kept coming up in the course of these conversations.
ARP! came along at an interesting time for arts criticism and coverage in Minneapolis-St. Paul. "Interesting" is, of course, a euphemism; "bleak" would be a better word. There hadn't been a magazine devoted solely to visual art since Artpaper had folded in 1993. City Pages had employed some great arts writers throughout the 1990s and early '00s, but by 2006, most of that paper's arts coverage had disappeared. The dailies, of course, were slogging towards obsolescence, and had long since ceased to be relevant to any arts-minded reader younger than 40.
______________________________________________________
ARP!'s early issues, in particular, for all they lack in slickness, are little monuments to ambition, and to gleeful experimentation with ideas and forms unique to print.
______________________________________________________
This is not to say it was all gloom and doom; certainly there were a few venues for arts writing, this online journal included. And artists have always complained about the lack or quality of arts writing. It's a constant theme in arts writing. But the economic models for publishing have changed so profoundly in the past ten years that the unease felt by artists in the 2000s about the future of the way their work would be discussed, critiqued, and engaged in print seems less like the usual kvetching, and much more like a real crisis than it has in the past. And it's from this roil, specifically, that ARP! emerged. As Hockin and Pate envisioned it, ARP! would be a proudly print-only venue for good arts writing, calendar information, news, some gossip, and a healthy helping of shit-stirring. Hockin refers to herself and Pate as "folk journalists"; they did not, she points out, "start ARP! because we knew what we were doing." From the second issue on, Hockin and Pate brought in their roommate Troy Pieper, a graduate of journalism school and a veteran of a number of local collectives. And almost all of the work of the magazine was done by those three people. It was not a publication run by professionals. They strived for the highest possible quality they could muster, in terms of content and execution, but the fact that the quarterly was printed on newsprint imparted to the venture a defiantly a low-tech attitude.
The name ARP! itself is a retronym: when Hockin and Pate decided to create the paper, they were going to call it Art Neutopia Press, or ANP. The name ANP was already claimed by another quarterly arts-and-culture magazine, so not knowing about the American Association of Retired Persons, they opted for a slight modification and garbled it into ARP. "Art review and preview" was retroactively assigned to those initials, with an exclamation mark added as a self-deprecating flourish. "Self-deprecating and willingly so," points out Hockin, proudly. The first issue, themed around "Public/Private," came out in the spring of 2007. "This paper may be amateur / critical / wonderful," wrote Hockin and Pate in an editorial letter. "We hope it engages you — either in pleasure or disgust."
Those second and third issues in particular, for all they lack in slickness, are little monuments to ambition, and to gleeful experimentation with ideas and forms unique to print. To wit: the second issue, about the history of artist-run spaces in Minneapolis and St. Paul, includes a comprehensive, fold-out timeline stretching back to the 1940s; the third issue is completely hand-written, from start to finish. Neither would have worked in an online format.
The list of the magazine's contributing writers is an interesting one. ARP! had a reputation for being somewhat youth-driven — in fact, Hockin and Pate told me an amusing story about how much easier it was to work with potential advertisers when they posed as interns — but the stable of writers actually came from a variety of backgrounds. Certainly, there were some students and recent graduates among the contributors, but many were veterans of the art scene; there were first-time arts writers and artists approaching middle age, professors, and a few experienced journalists. All worked for nothing, or almost nothing (the writers were treated to dinner a few times a year).
As I noted above, it's too early yet to have much critical distance from ARP!. The definitive account of the Twin Cities contemporary art in the 2000s, of which ARP! was a part, will have to be left to some enterprising young writer twenty years from now. Even from this vantage point, though, it's easy to see how unique ARP!'s position was. A newsprint magazine published at the very tail end of the newsprint magazine era, with no real web strategy and whose publishers never bothered with mastering the online format. Yet, like an online magazine, it was given away free of charge.
Most importantly: unlike an online magazine, ARP! was created to be an object, something to be held and felt and left around coffee shops and apartments and bus stops. It was always intended to be something one picked up at openings and book shops and art materials stores. Such objects tie us to the physical world, the world of people. To experience ARP!, you needed to go out into the world and physically obtain one, and copies were generally most plentiful in spaces where other artists would likely be around. And it's for this reason that I so closely tie ARP! with the other art spaces of its time and place. Even in the simple act of heading out into the world to pick up a copy to read, engagement — with one's peers and neighbors, with fellow artists — was a necessary part of the process.
As this unnamed unit of time measurement draws to a close, it is worth remembering the accomplishments of Art Review and Preview!. As per its mission statement, the magazine engaged. And that is just about the best thing one can say about any piece of work that is hand-crafted and sent out into the world. I hope that the artists of the next few cycles are lucky enough to make something for themselves that will do so equally well.
______________________________________________________
Related links and information:
Copies of the final, paperback-bound double-issue of ARP! are available at www.artreviewandpreview.org for $12 each. Back issues can be found in PDF format for free on the website, as well.
Tiff Hockin and Ariel Pate, the editors of ARP!, have already begun a new venture, Hot of The (H.O.T.), "an independent, pop-up publishing house [which] will set up shop within the walls of The Soap Factory in northeast Minneapolis. For twenty-two days, the editors will be in-residence, taking submissions, editing works, and printing and binding books. Anyone may submit a manuscript. As many as forty works will be published over the course of the project. All materials chosen for publication will be published in editions of ten and will be for sale in the gallery." H.O.T. will be up and running from July 31 – August 22, 2010.
______________________________________________________
About the author: Andy Sturdevant is a writer, curator and arts administrator living in South Minneapolis. He is the host of Salon Saloon, an arts and culture live magazine performed at the Bryant-Lake Bowl on the last Tuesday of every month. The fall 2005 issue of Bejeezus Magazine, from which the album review excerpt in the fifth paragraph of this piece first appeared, can be back-ordered from the publishers.