The Big Reveal
Lightsey Darst talks about the art of the striptease with two of the performers behind the crowd-pleasing Best of the Midwest Burlesk Festival, on stage at the Ritz Theater in Minneapolis January 28-30.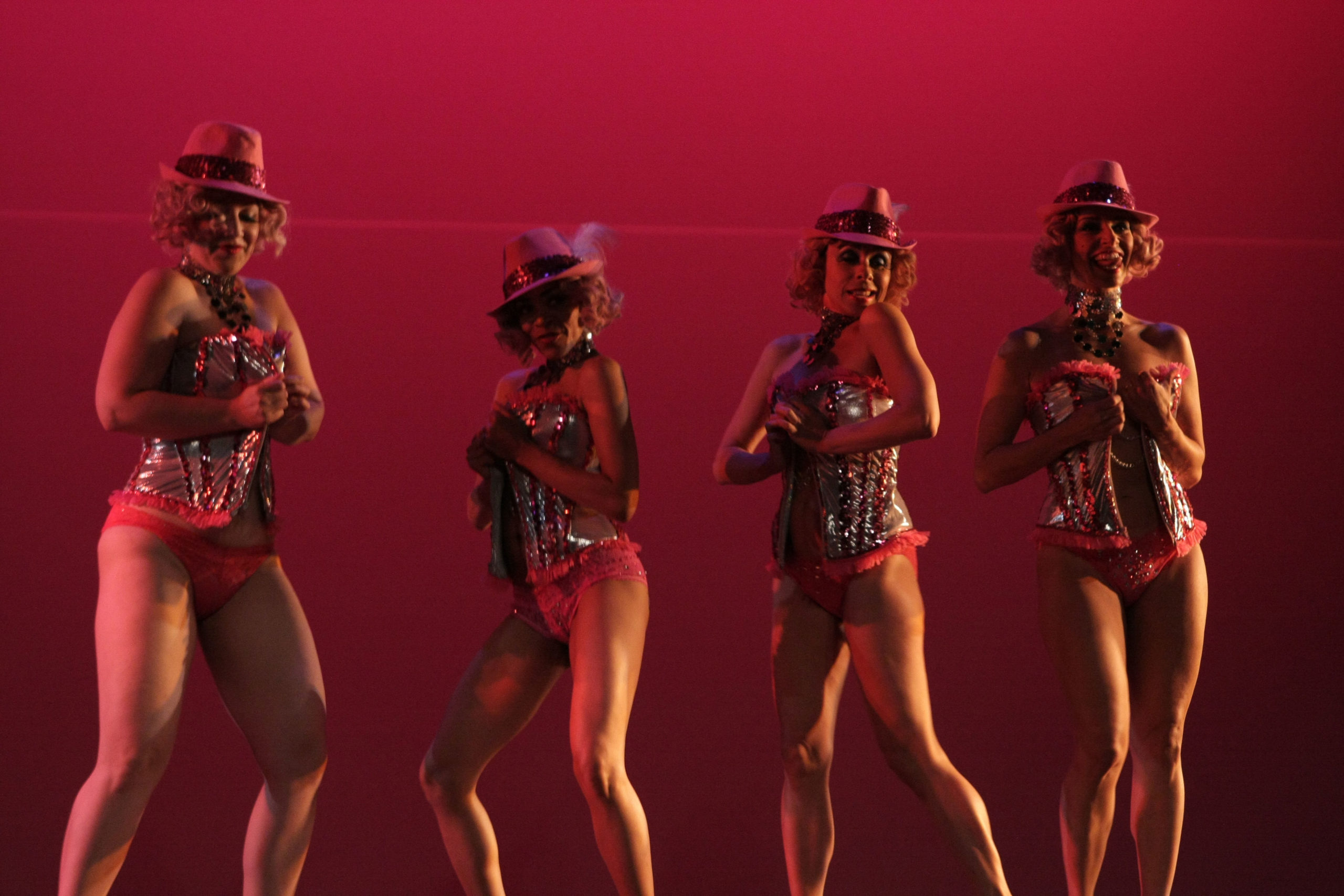 I'M HERE AT BURLESQUE REHEARSAL with Gina Louise and Millie Fandelle. (These are stage names. Not, mind you, because these ladies are ashamed, but because it's more fun. Who doesn't want to see a Millie Fandelle take her clothes off?) Let me just tell you what they're wearing — and you can guess what, by the end of the piece, they're not.
White satin capes with fur trim. White fur muffs (double entendre intended). White satin robes, one-shouldered, shirred and ruched, with the zipper installed upside down, in classic striptease style, so they can unzip in a smooth, upward flourish. Shiny elbow-length gloves and demure white hats — everything furred, feathered, or flowered so that it trembles with every saucy move. Three-inch strappy silver sandals, rhinestone-spangled; nude fishnets; bride-white corsets, laced up the back, hooks and eyes up the front. Nude panties with rhinestones. Pasties.
If you're wondering what sets burlesque apart from stripping, maybe it's been a while since you visited a strip club. Modern "strippers" might peel a garment, but mostly they're more stripped than stripping. Despite the occasional themed outfit (naughty schoolgirl, French maid), they usually stick to a semi-nude bump-and-grind — "routines" or "acts" are rare. Burlesque dancers and strippers relate to viewers entirely differently: burlesquers present themselves to their audience as proud, confident artists, while strippers present themselves to their customers as objects to be seen. Plus, burlesque hails back to (and toys with) a long tradition of striptease and cabaret. In fact, burlesque and modern stripping share almost nothing, aside from the flash of flesh.
And even the flesh is different. If the stripper ideal is unreal as can be — salon-tan, girl-hipped, with big fake breasts — burlesque performers tend toward the voluptuous, with 1950s pin-up curves and the soft contours of real breasts. Natural flesh tones (whatever color — burlesque attracts a diverse bunch) add to the act: disrobing feels more authentic when the skin underneath isn't invulnerably tan.
If you're still confused about burlesque, think Mae West: an elaborate costume, larger-than-life lady-in-charge personality, a performance of sexuality, humor — that's burlesque. And this weekend is your chance to see some: it's the third annual Best of the Midwest Burlesk Festival (aka BoMB), and it's an ideal way to break the ice.
________________________________________________________
After her first striptease, she was hooked. "I loved that connection with the audience. It was a slippery slope from there. I was like, okay, hand me the pasties."
________________________________________________________
But how do you break that ice — how, I asked Gina and Millie, do you get started taking your clothes off on stage? Both Gina and Millie grew up dancing, as you can tell by their fluid moves and their body confidence. They say they'd gone in other directions, but were looking for a performance outlet. For Gina, the movies Moulin Rouge and Chicago inspired her to try some cabaret dancing; she liked the fun atmosphere, the relation to the audience. So, she was doing an "Isadora Duncan prancing pseudo-Grecian thing," not striptease, when another performer's sudden absence pushed her forward. She opted for a silhouette strip, deciding "I could do striptease if it's behind the screen;" but after that experience, she was hooked. "I loved that connection with the audience. It was a slippery slope from there. I was like, okay, hand me the pasties."
For both Gina and Millie, that connection to the audience is the big draw. Millie notes that burlesque is "a very generous form of dance, because you have your audience in mind the entire time." Whether the dance is sexy or funny (usually, both), "however it's meant to be received, it's meant for them," Gina says.
Still, burlesque isn't for everyone. The prudish should keep clear, as should — how to phrase this delicately? — any feminists who can't roll with a third-wave revelation-as-empowerment vibe. You have to be ready to laugh about bodies and sexuality; you have to get into the build-up, encouraging the performers as they take off more and more; you have to be able to handle The Reveal.
The Reveal is, of course, boobs. Pastied or tasseled, out they come. Now, in the past I've been nonplussed by The Reveal. I'm somehow never ready for it; it always strikes me as a gap, as if the performers have just slipped out of character. More simply, that's the moment when I say to myself, Wow, I am not a man.
Gina and Millie help me understand The Reveal. First, "Audience members can have several different reactions," Gina says, "anything from 'Wow, those are different,' to 'Nice boobs!' It depends how it's done." Arousal isn't really what these ladies are going for. The main reaction, they say, is a "you go, girl!" enthusiasm. "The most fun is when you can get a laugh," Gina says. "The second most fun is when you get a hoot or a holler." And the hoots and hollers, they agree, feel like encouragement, not sexual come-ons.
Now, nobody's pretending that striptease isn't sexual. But let's be honest here: many forms of dance draw at least part of their power from sexual energy. Beautiful bodies, often in revealing clothes, soaring through moves that show off their vitality — who hasn't felt an evening's crush on a dancer? And yet, because it's art, we're perfectly comfortable with our semi-sensual reactions. Some burlesque acts cross into more sensual territory than Gina and Millie's coy strip, but even then, the self-conscious artistry of the dance keeps most of the reaction above-board.
Not every act even features a reveal (yes, that's what they call it in the business). But because the reveal is a big part of burlesque's past (and burlesque, as a form, is very conscious of its history), even an act without a reveal is going to make some reference to it. The reveal is "almost like the punchline to a joke," Gina says, "where everyone knows it's coming, so they're going along with it, and they're just waiting" to see if the artist can think of a clever way to do the reveal — say, with a pair of strategically placed orchids.
Here's the reveal in Gina and Millie's routine: they grab the sides of their corsets and pop open the hooks, a few at a time, in time with the music. They flash each other, they flash upstage, still holding their corsets together when they face front (this is the art of the tease, you know). When they drop the corsets, they hold their hands over themselves, coyly, as if they're cold. Finally, with a last flourish, they reveal. When they flash each other, they crack up, and so do I; it's a good joke.
Is the reveal a big deal for the performers? Gina says that the first time, the sheer physical fact of being bare in public, of feeling "Oh my god, there's so much air on my boobs!" was startling — but now she's used to it. Millie compares the reveal to taking off one's cover-up at the beach — that moment of stripping off your dress and standing in just your swimsuit. "It's being exposed, and it's still a little bit vulnerable. But there are times when I'll take off a glove, and it'll feel the same way." She mimes taking off the glove, stripping it from one upraised hand with the other, holding the glove daintily between two fingers: "It's gone now."
And suddenly, even though Millie's just pantomiming, her arm looks different: nude, new, like a freshly unveiled sculpture. That moment of showing yourself to another person, vulnerable, however slight the revelation — that's what burlesque celebrates and validates.
________________________________________________________
Related performance details:
The Best of the Midwest Burlesk Festival, presented by Lili's Burlesque Revue, begins tonight, January 28, and runs through January 30, with four shows at the Ritz Theater in Minneapolis.
________________________________________________________
About the author: Originally from Tallahassee, Lightsey Darst is a poet, dance writer, and adjunct instructor at various Twin Cities colleges. Her manuscript Find the Girl will be published by Coffee House Press in April 2010; she has also been awarded a 2007 NEA Fellowship. She hosts the writing salon, "The Works."