Something Borrowed, Something Blue: "Trio" at Northern Prints Gallery
Julia Durst caught "Trio" at Northern Prints Gallery in Duluth. She was most impressed with the work of Rob Quisling. The show is up through July 30, at 318 N. 14th Ave E, Duluth. Call 218-724-3089 for more information.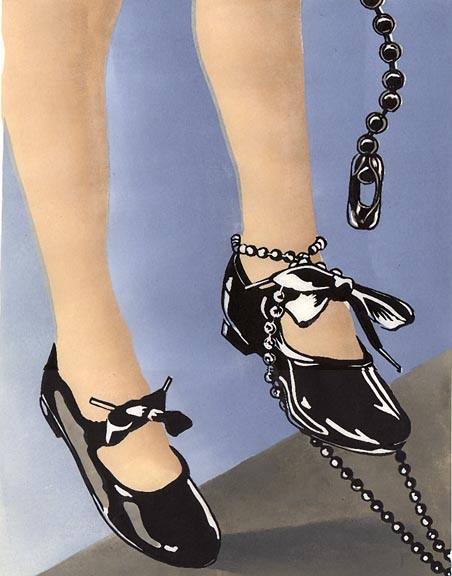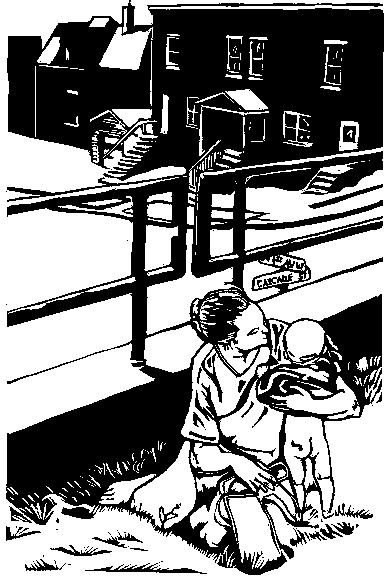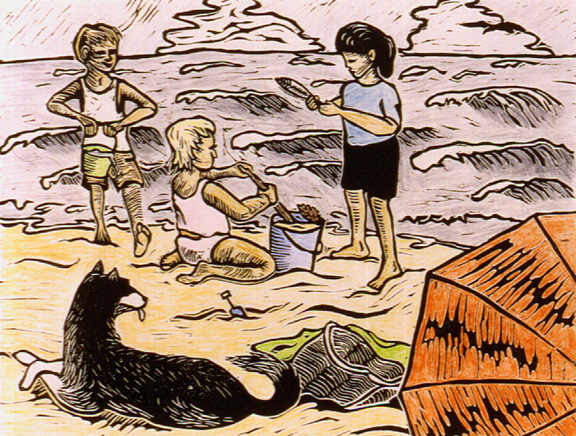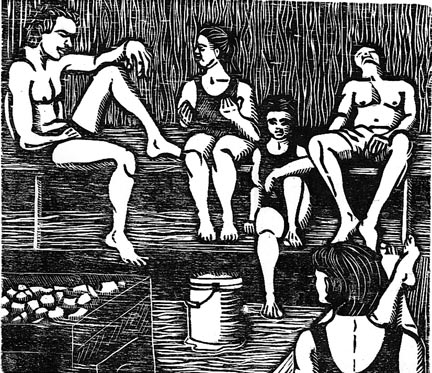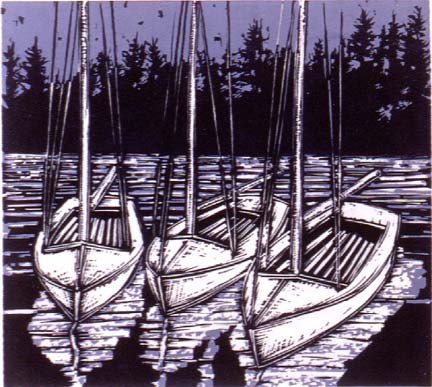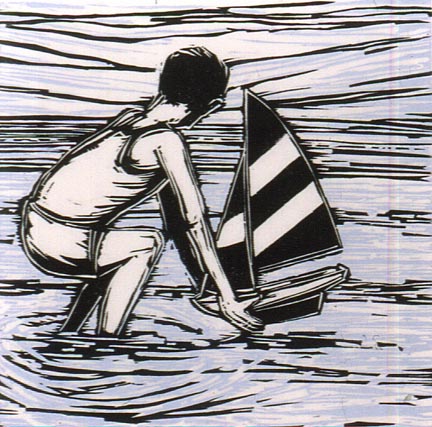 Duluth printmakers Tom Rauschenfels, Diane Chaney, and Robb Quisling reveal three different approaches to relief printmaking in "Trio," now hanging at Northern Prints Gallery. The three friends present new and old work in a large exhibition where work varies stylistically and thematically from one artist to the next. Commonalities emerge, though– a shared color, a similar line. These friends clearly respond to and borrow from each other.
Tom Rauschenfels is the veteran printmaker of the group. The Hermantown art teacher's work honors the medium of woodcut printmaking, his art rich with nicks and frenzied textures. His prints appear laborious, pulled from a well-worked block, and for this they are beautiful.
In "Trio," Rauschenfels' work engages one of two subjects: serene nautical scenes or expressionistic figures. The two are so dissimilar one could deny they share a common maker, but the style in which they're executed is classic Rauschenfels– linear and dense, unrestrained. Some of his figurative work almost conjures Kathe Kollwitz, tension and emotion explained through a figure's posture and brow.
That said, the more sedate sailboat prints are surprisingly the ones that hold the viewers' gaze. Compositionally, they do everything right: the angles of the sails nicely contrast the sky's texture, and they punctuate the horizon in the perfect place. Almost strictly black and white, Rauschenfels warms the scene with strategically placed muted, creamy blue. His skill with color is apparent in two of the best sailboat prints,"Obscuring Clouds" and "Peaceful Anchorage II."
Diane Chaney's work is less easy to gauge because her styles vary somewhat. Some prints are akin to Rauschenfels' in their linearity and energy ("November Crow"), while others resemble Quisling (more on him later), who uses large planes of color and reduced detail ("Two Beautiful Women"). Some work defies either.
Chaney is at her best when she shows people interacting. "Two Beautiful Women," a color woodcut print, depicts two women of distinct physique– big hair, big thighs, sharing a big conversation on a big sofa. Chaney elevates what would otherwise be a generic scene, and the women shed their anonymity, becoming characters without being caricatures.
That intimacy and playfulness doesn't quite surface in her other prints, but some succeed for other reasons. In "Sauna," five people bask around the coals in varying degrees of perspiration and dehydration. Chaney has carved out a wavy texture for the background that looks like flames, a subtle and effective technique.
Sailboats and saunas aside, it's the third printmaker who steals the show. Robb Quisling's portrayals of ordinary life take shape in large relief prints where the details have been reduced to a slick, almost graphic composition. Absent are the traditional and expected textures and lines of relief printmaking, replaced by large areas of bold color that saturate the paper. Rauschenfels' blue makes an occasional appearance, like a piece of vocabulary quoted from a different language.
Quisling's prints are visually and conceptually a delicious mix– an Andy Warhol/Norman Rockwell cocktail. His subject is the world around him: the boardwalk, a Chinese restaurant downtown, a row of lawn chairs. He shows sadness and beauty, the spaces we all share in unexpected moments. In "Laundry," a wheeled cart waits poised and hopeful in a vacant laundromat. Nearby washer and dryer doors sit open like rows of yawning portholes. "Cascade Park" shows woman and child lost in a private moment in a public place. Duplexes line the treeless street behind them and remind us that idyllic moments aren't reserved for the manicured lawns of a suburban childhood. Quisling gives us specific places but communicates a universal experience.
He writes in his artist statement, "I find inspiration in my children's reactions to life… as well as from my personal experiences and growing pains as a stay-at-home father and artist." In addition to roles as husband and father of three, Quisling studies art at UMD.
Cecelia Lieder, owner of Northern Prints Gallery and an accomplished printmaker herself, says that Quisling could have easily had a great solo exhibit of his work, but he wanted to show with friends. She is very pleased with the resulting collection of 50 prints. "We were able to bring together the work they have done and show all they've accomplished," she says.
It's a rare pleasure to see a sizable body of work from each of three artists, sensing where they have influenced each other. Rauschenfels produces some impressive prints; Chaney's are interesting and often fun. Quisling, however, gives us prints that make us forget they are prints– they are simply art.
Web sites: www.northernprintsgallery.com Also, mnartists.org sites for: Robb Quisling