Slouching Towards Pre-Occupied Wall St.
Or, "I Was a Governor's Island Art Fair Exhibitor" - mnartists.org's resident travel writer, Sean Smuda, weighs his experience in the artist-run art fair off the tip of Manhattan during one hurricane-crazed, pre-Occupied week in New York City.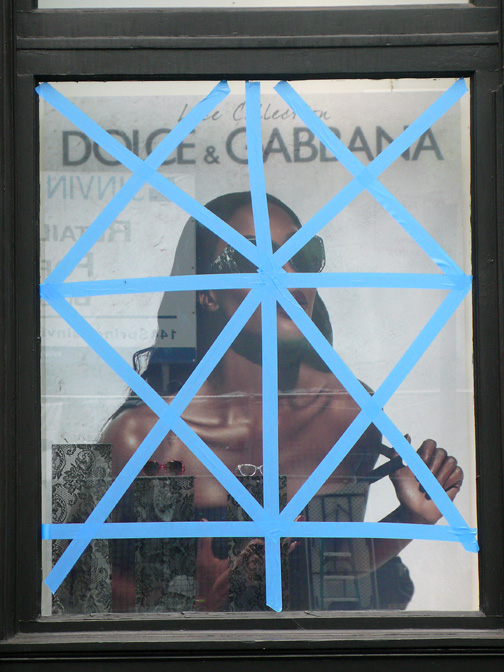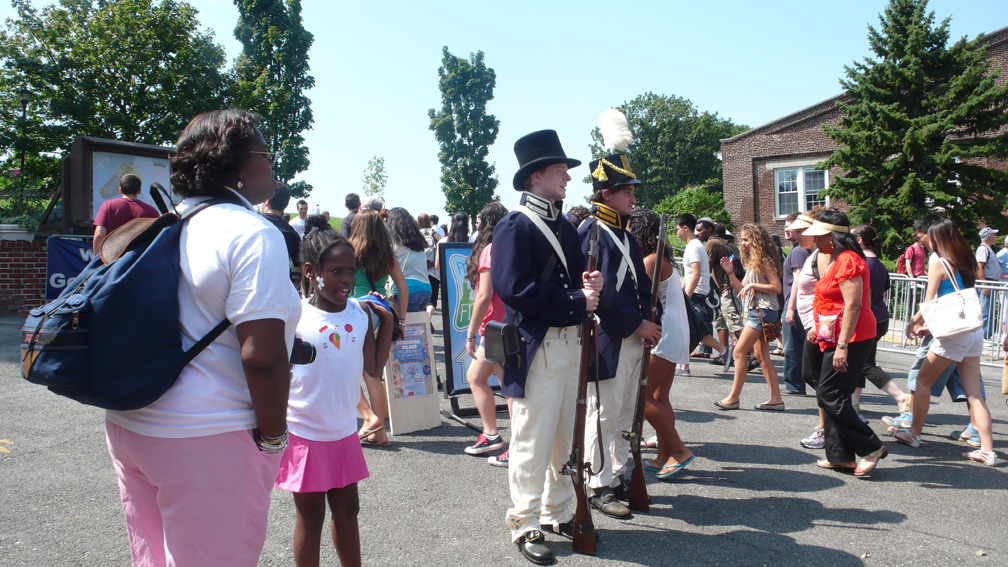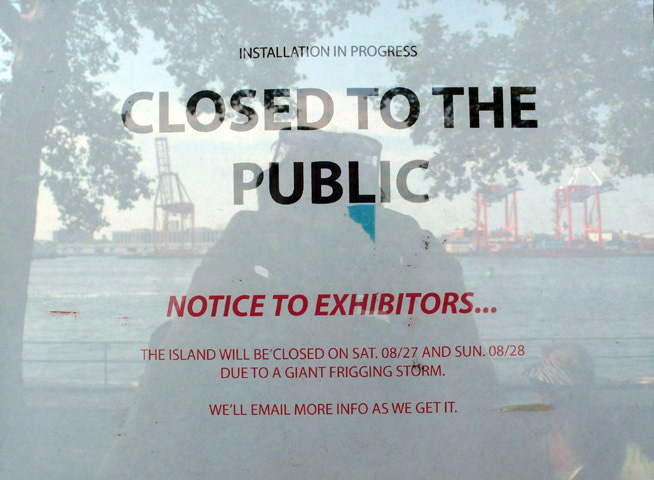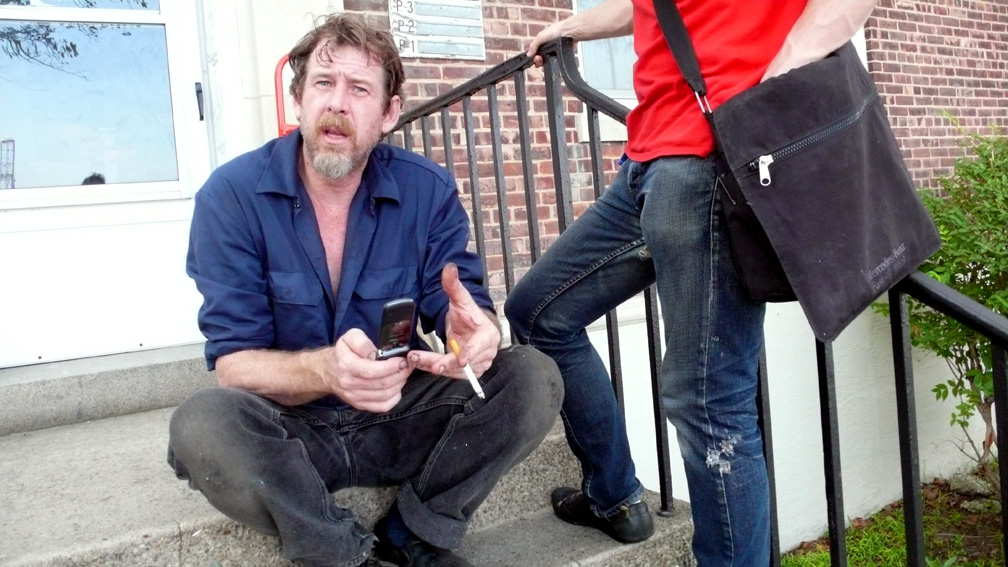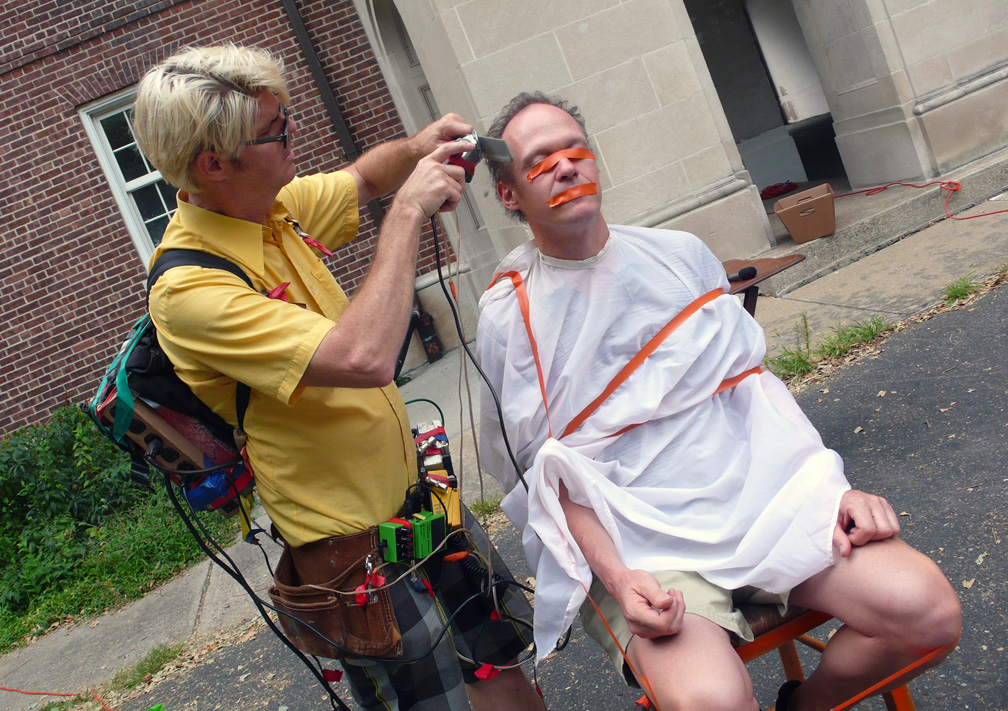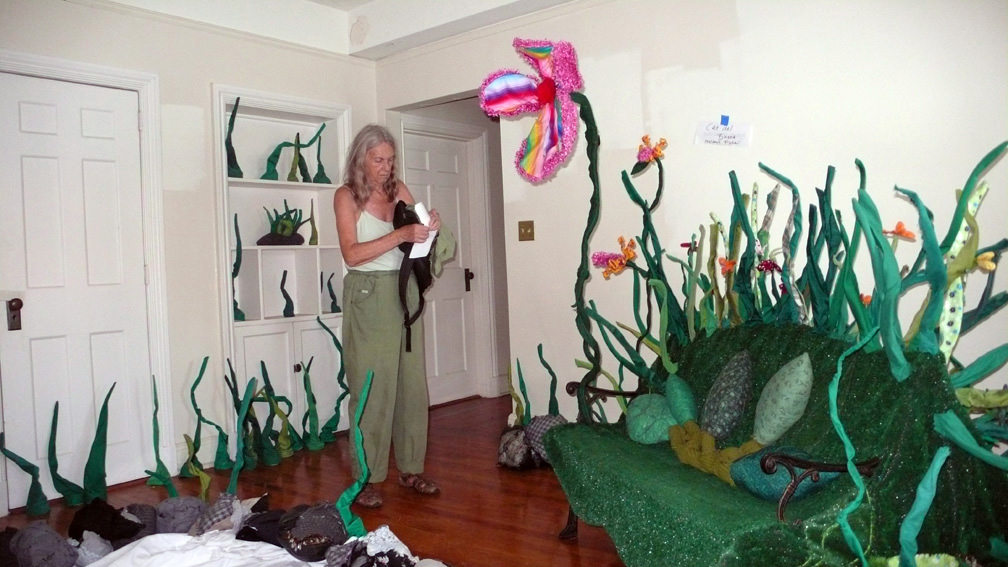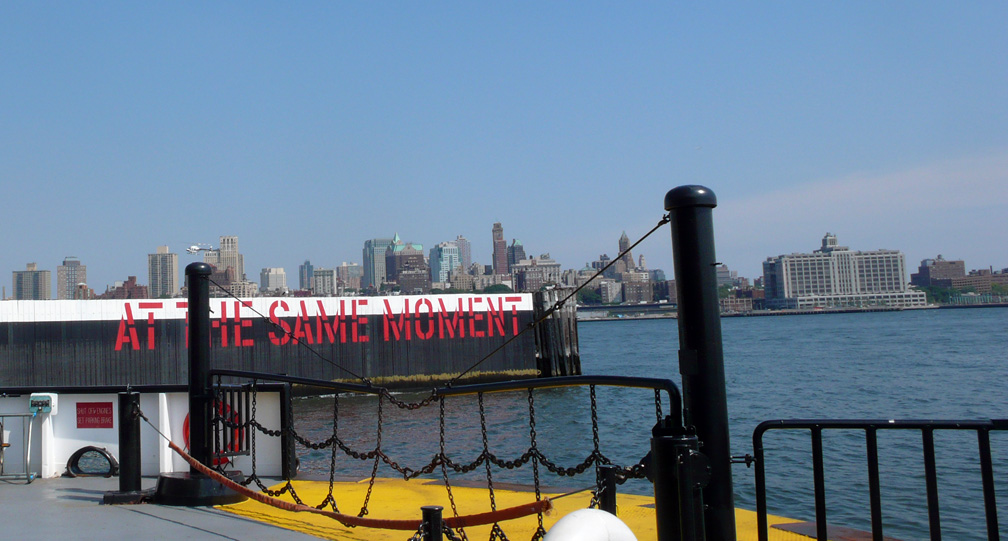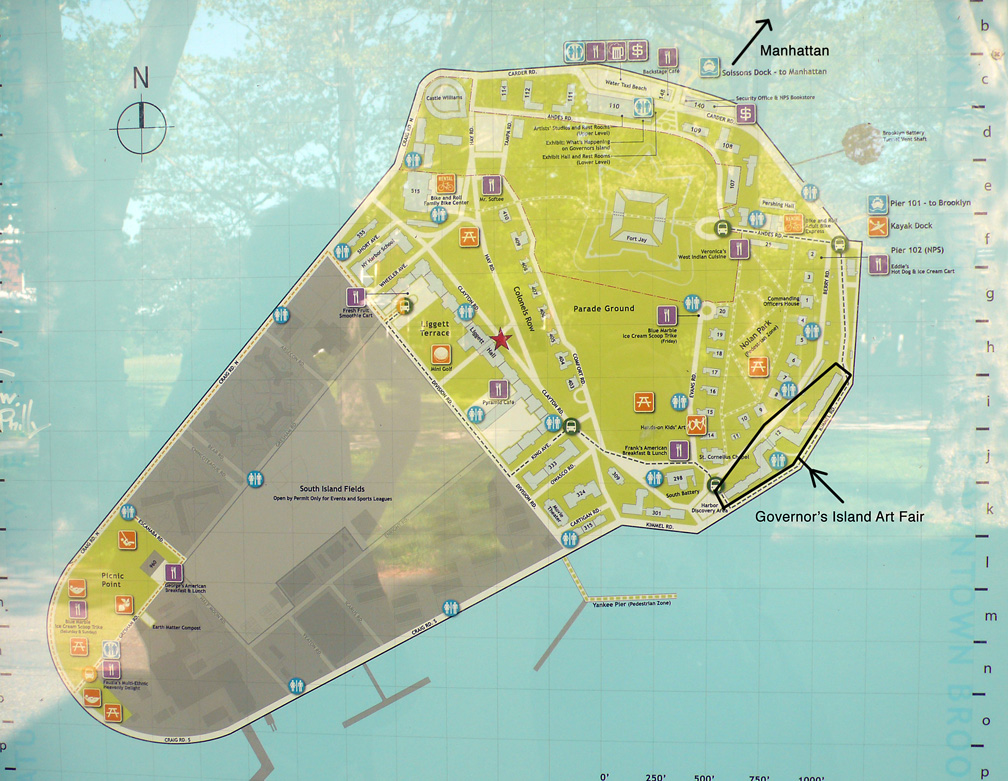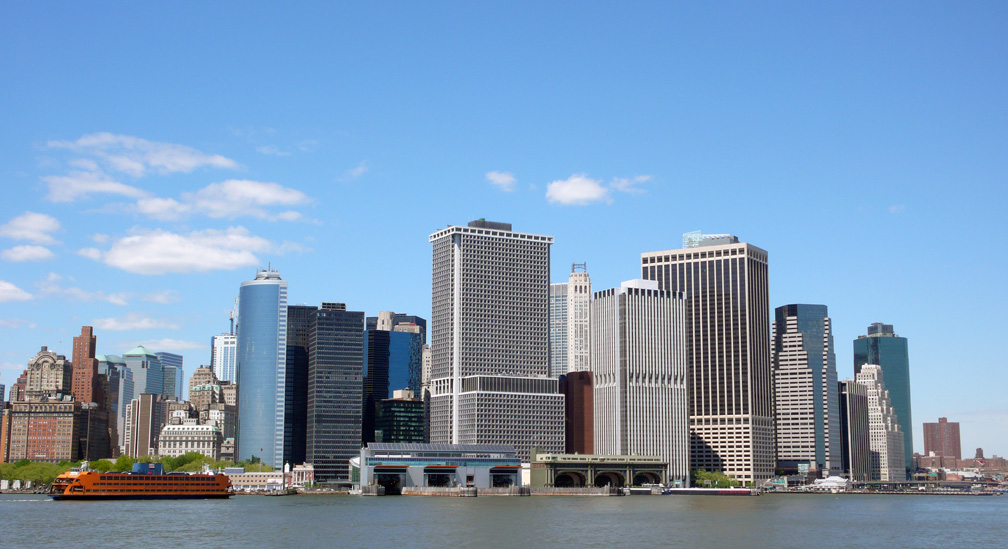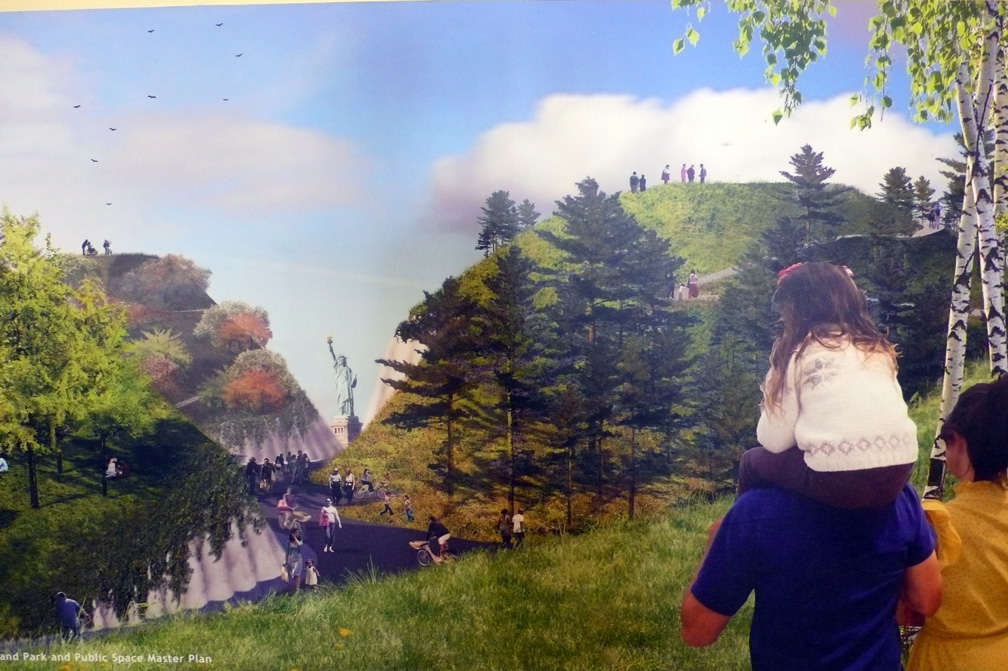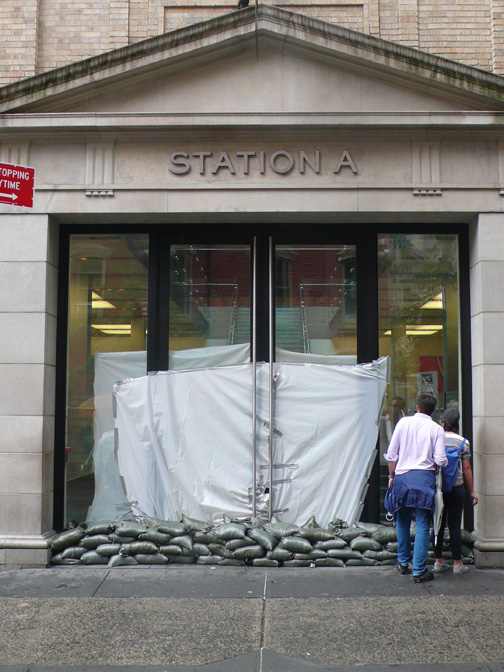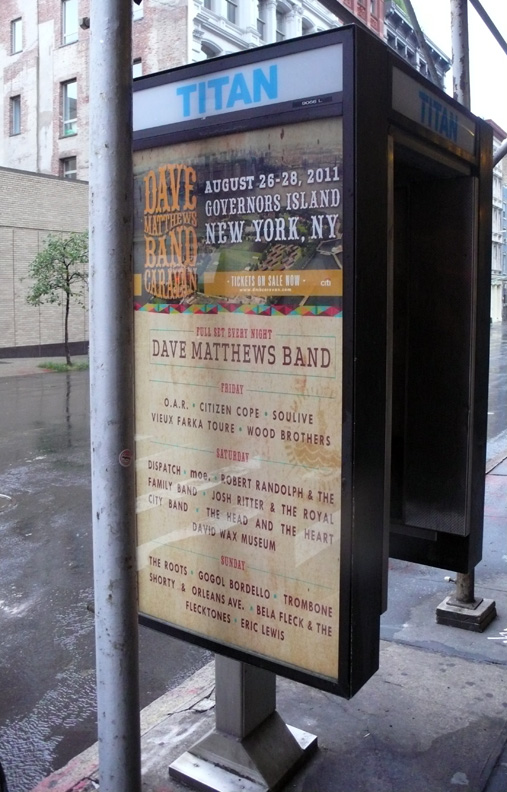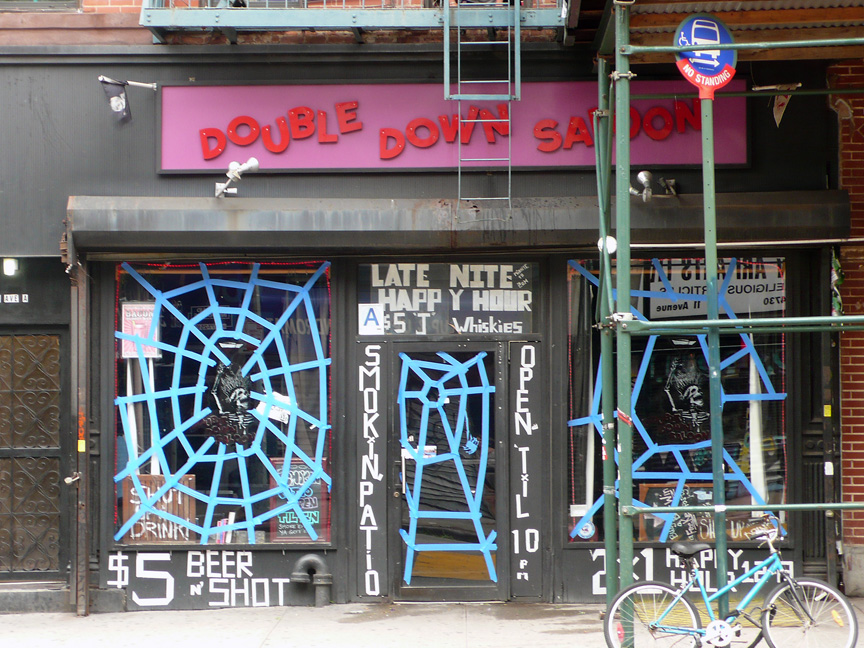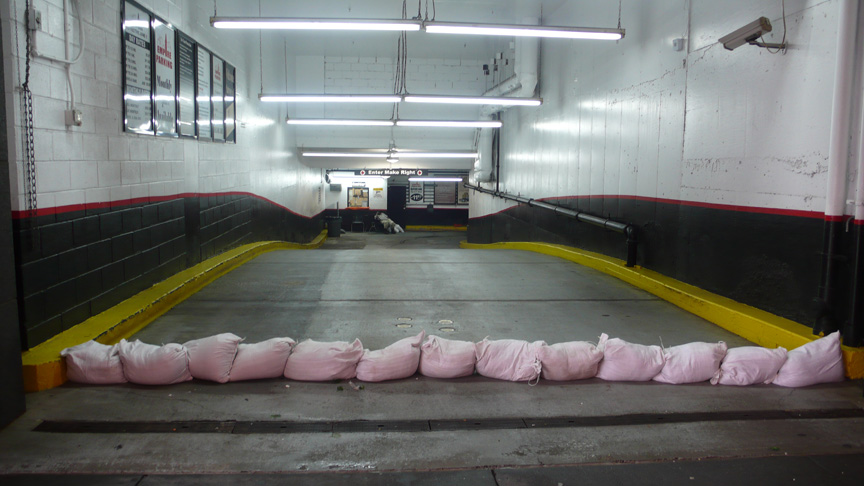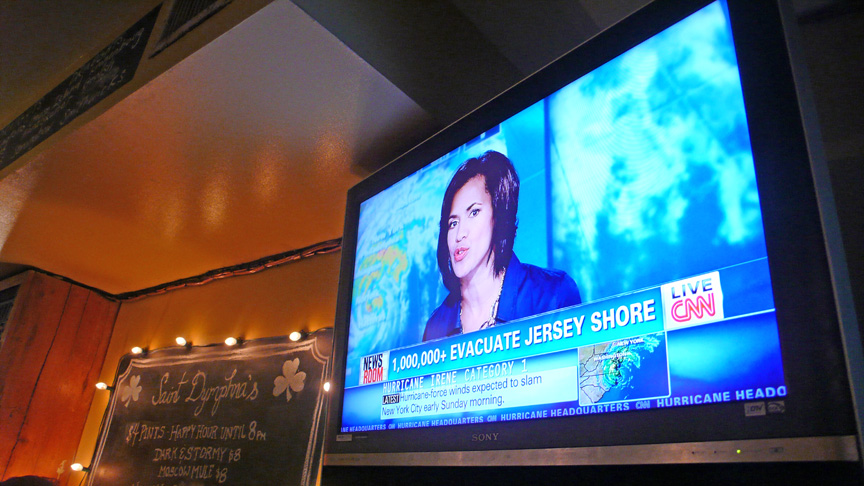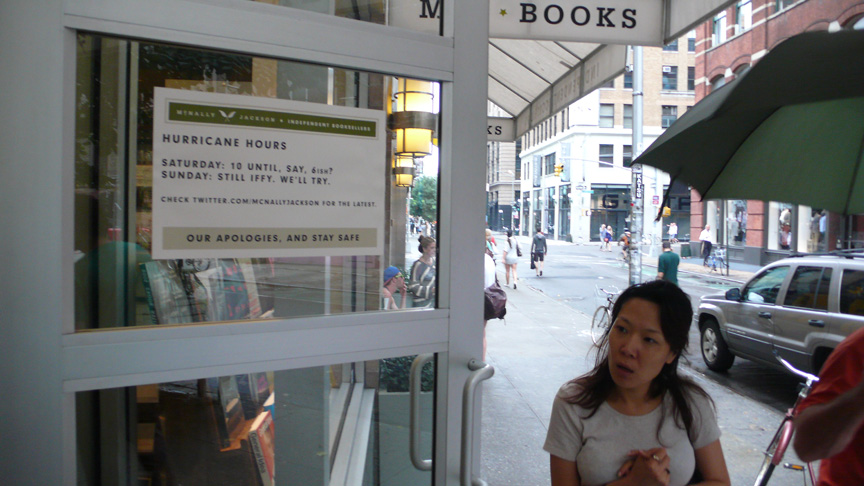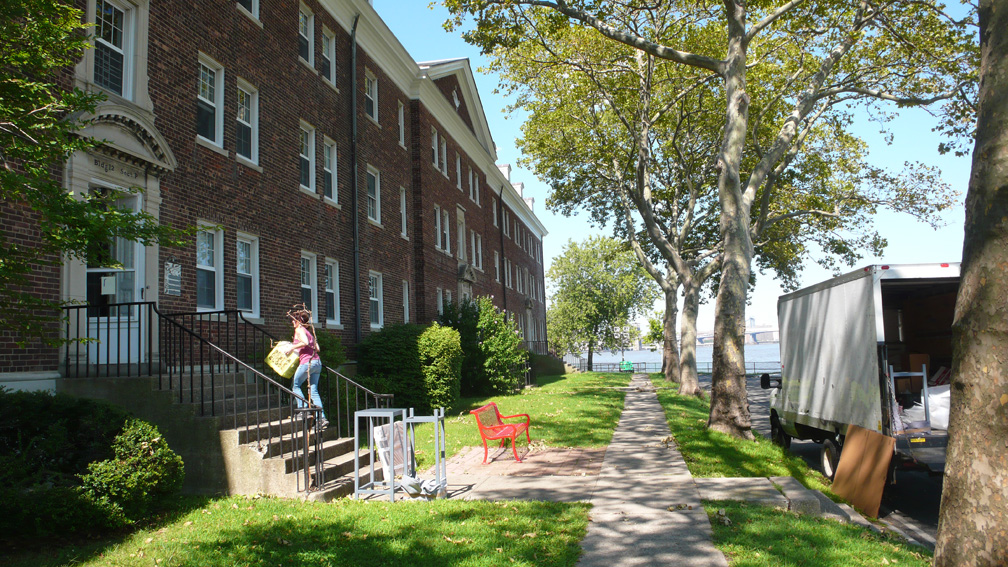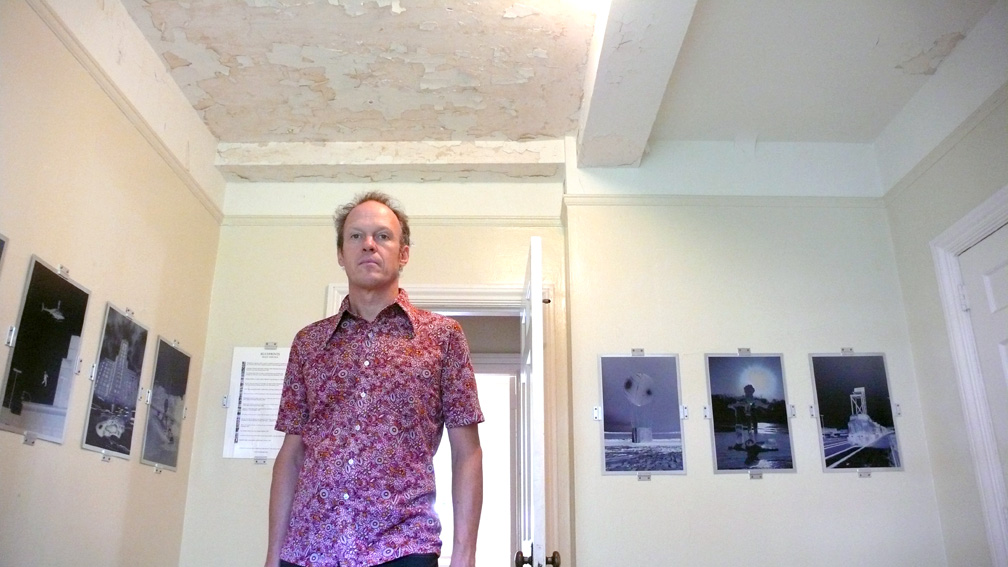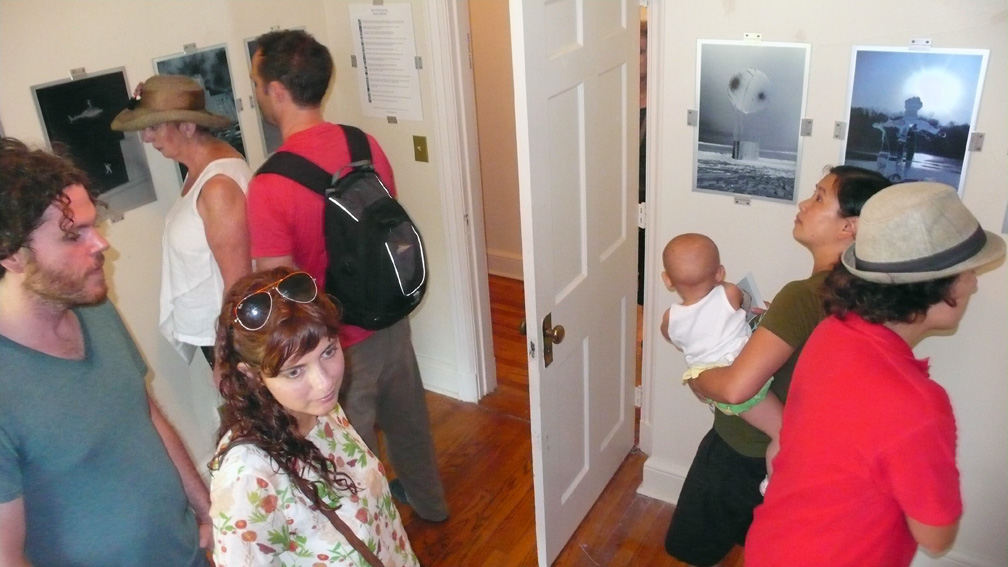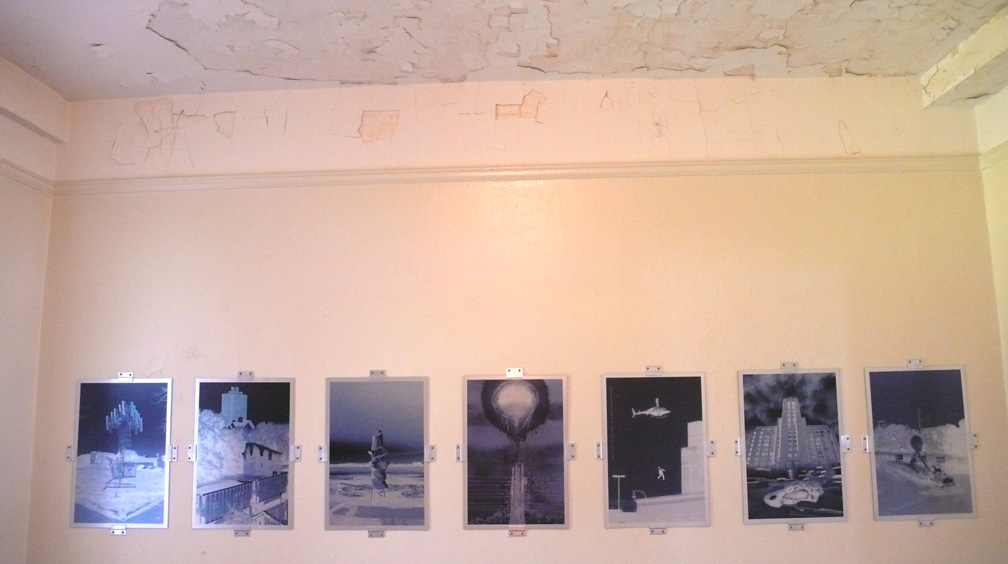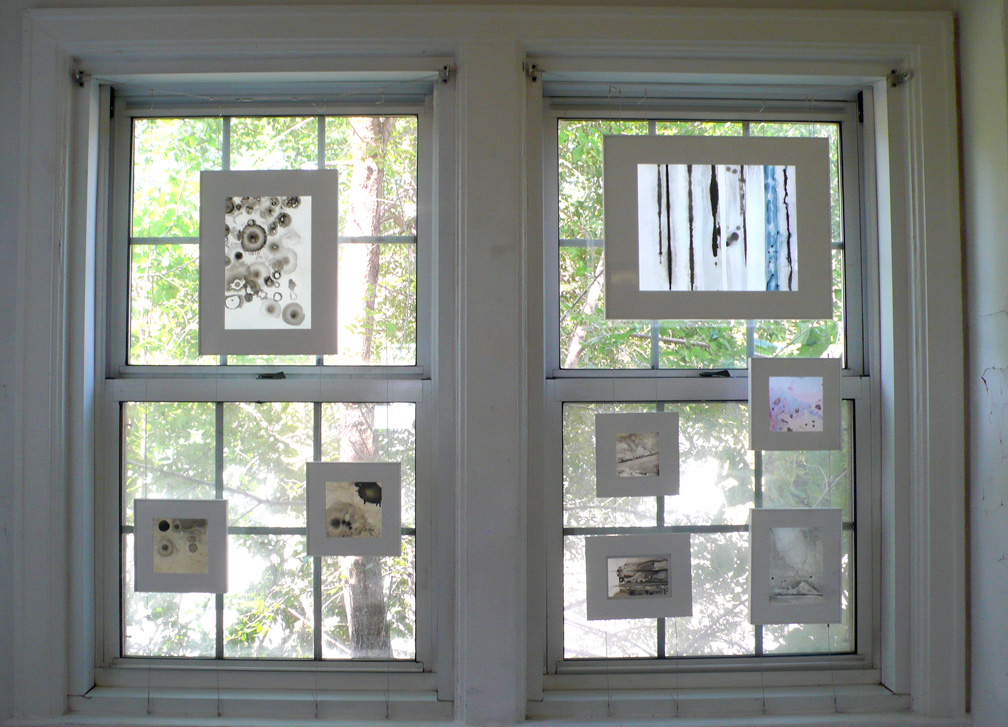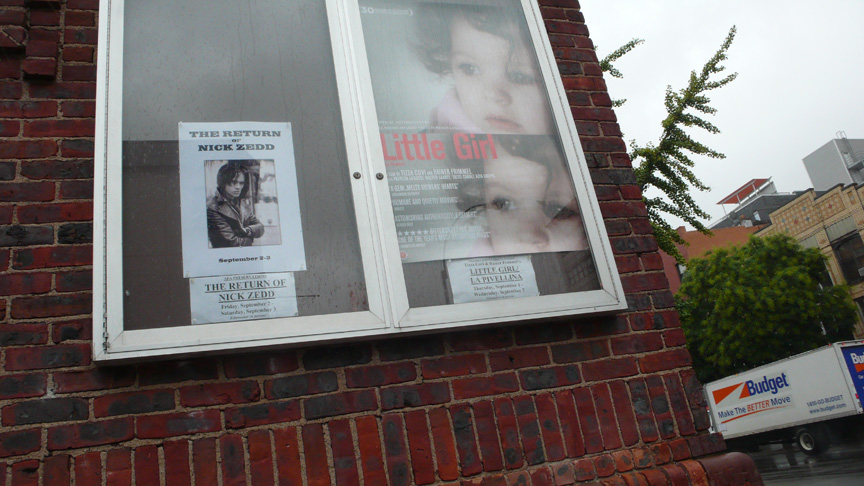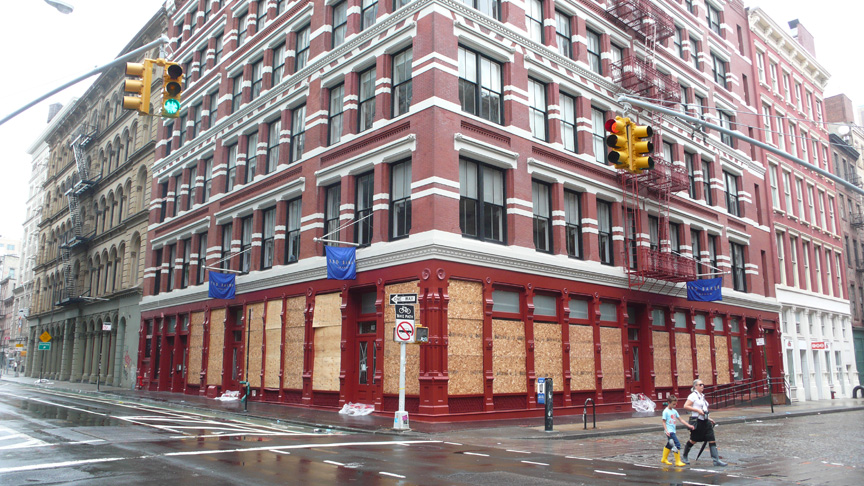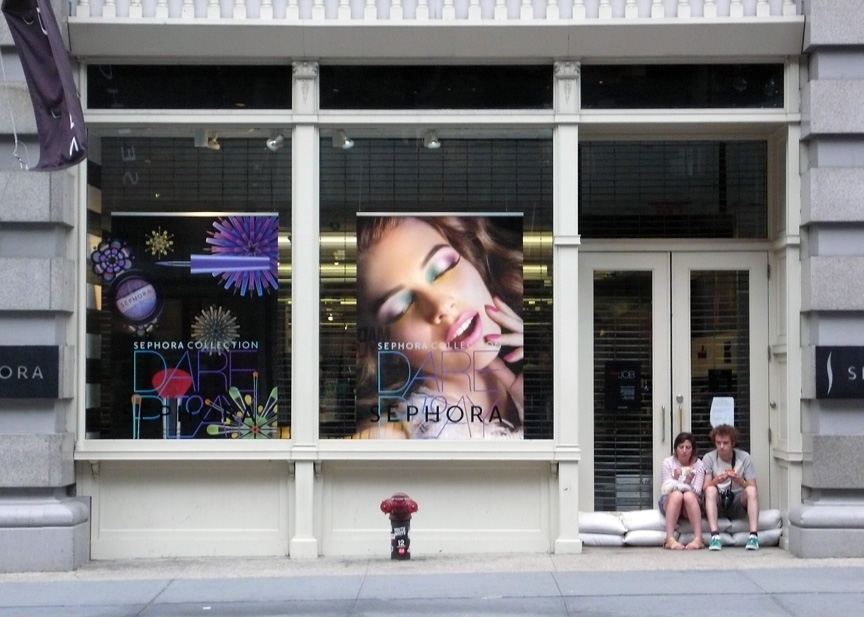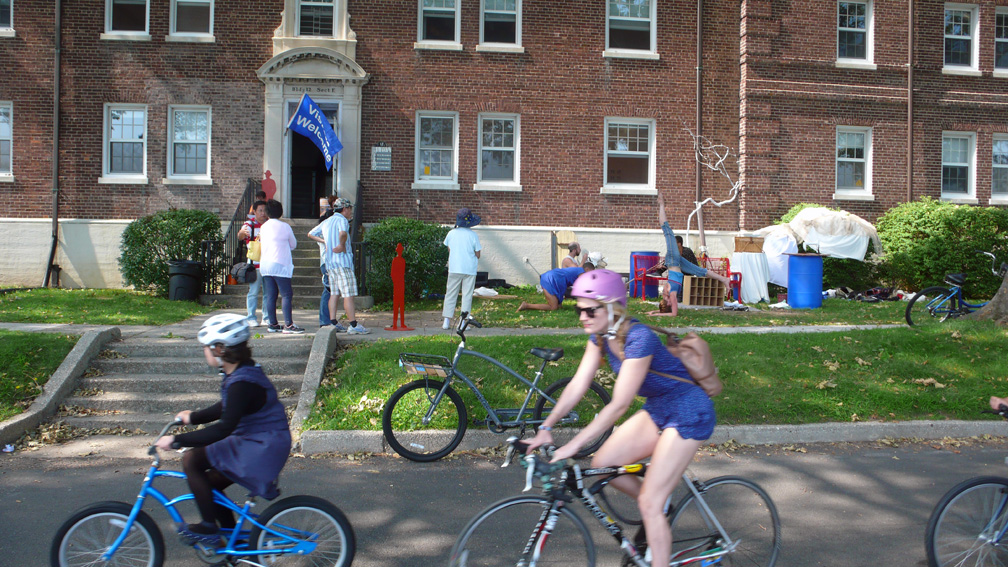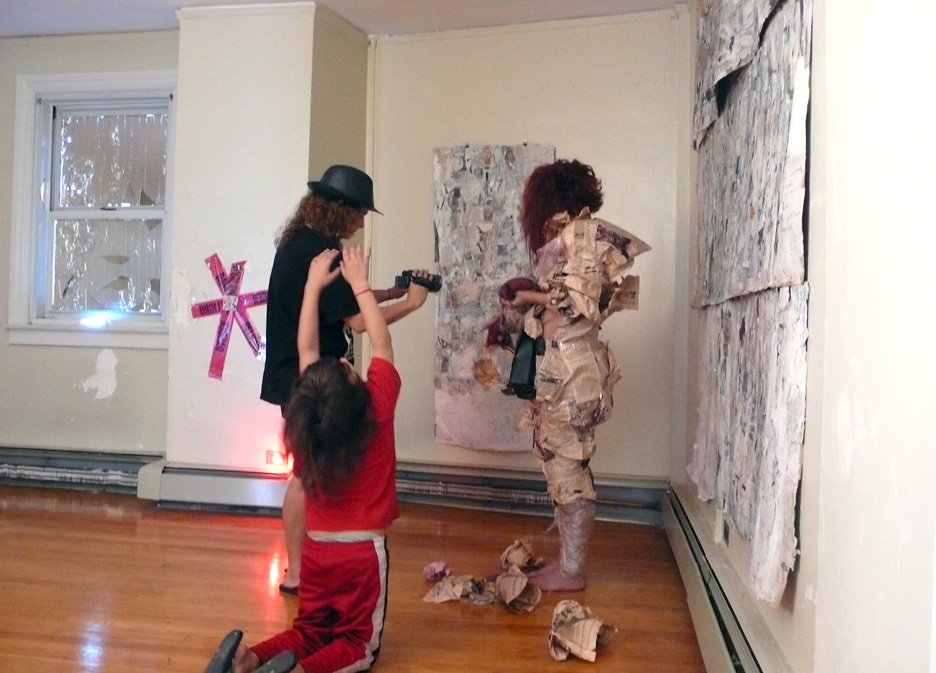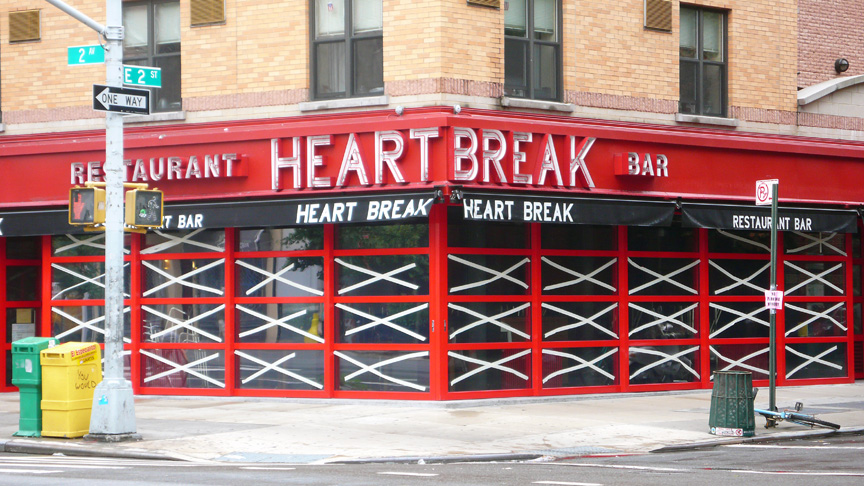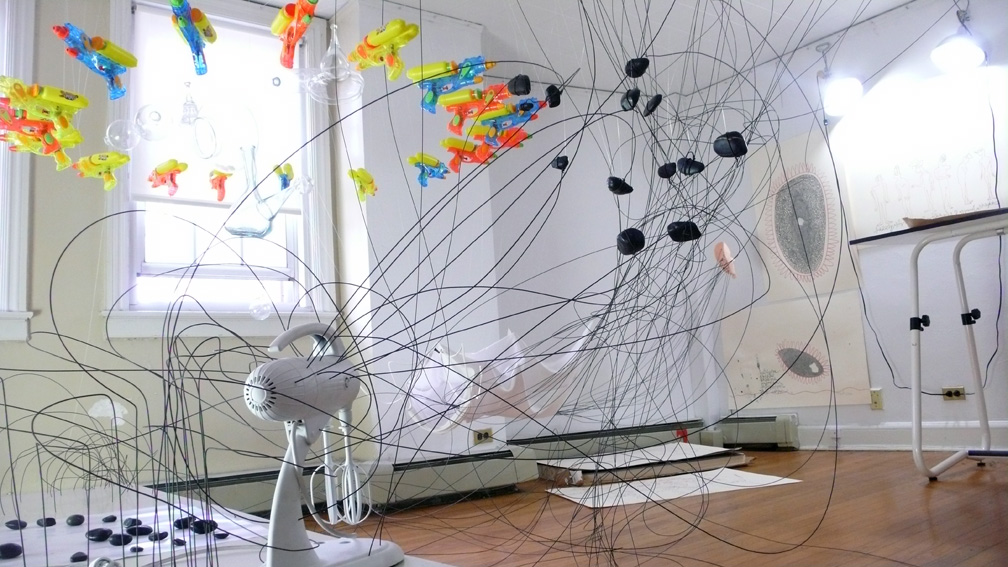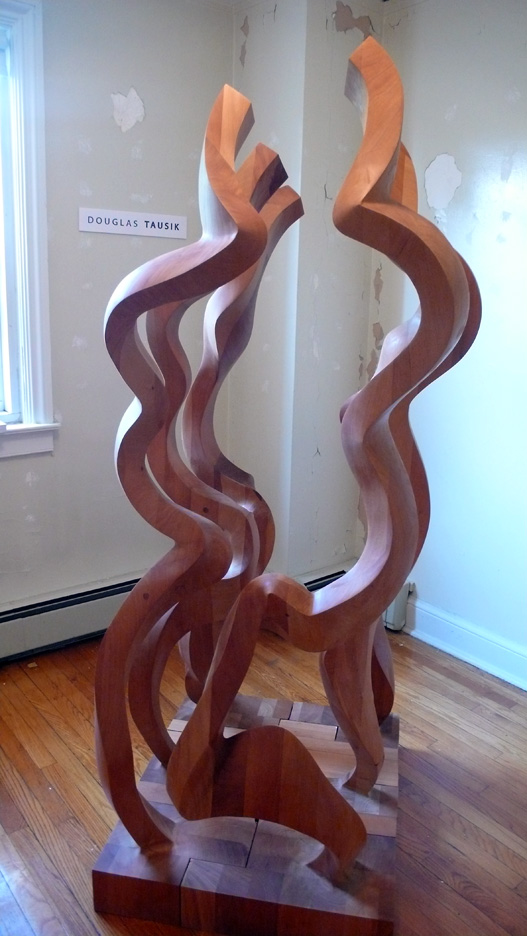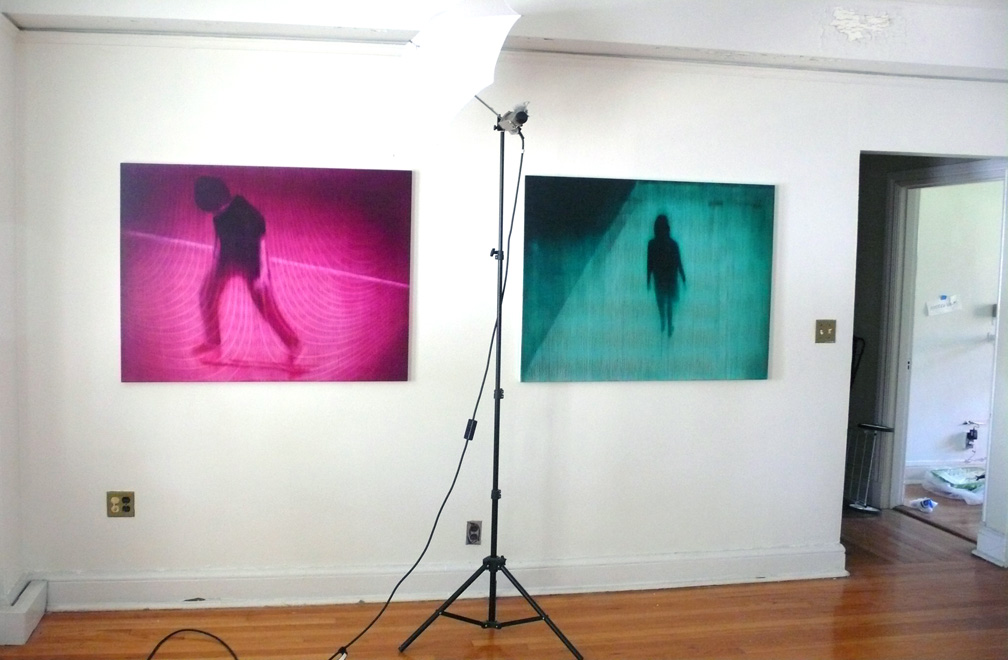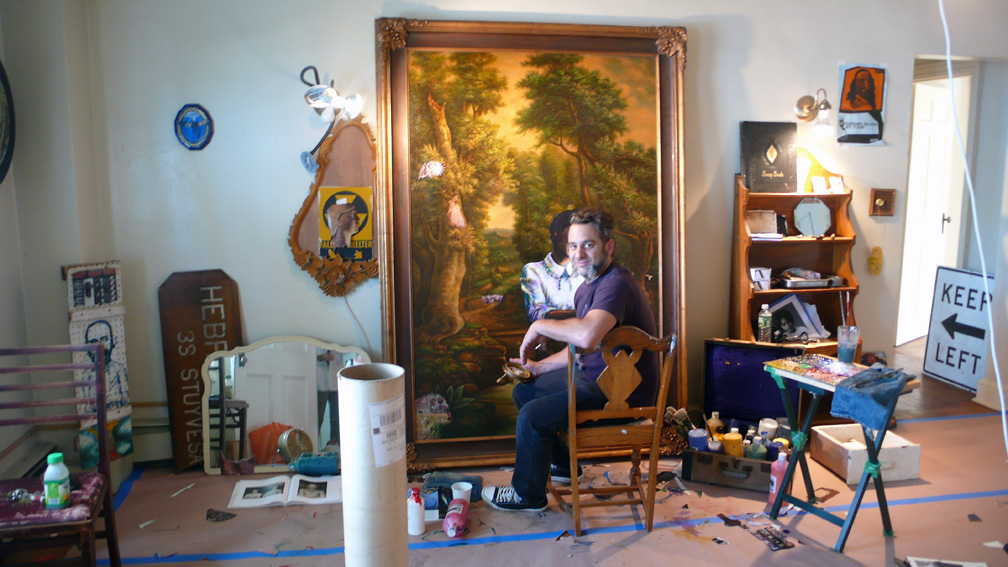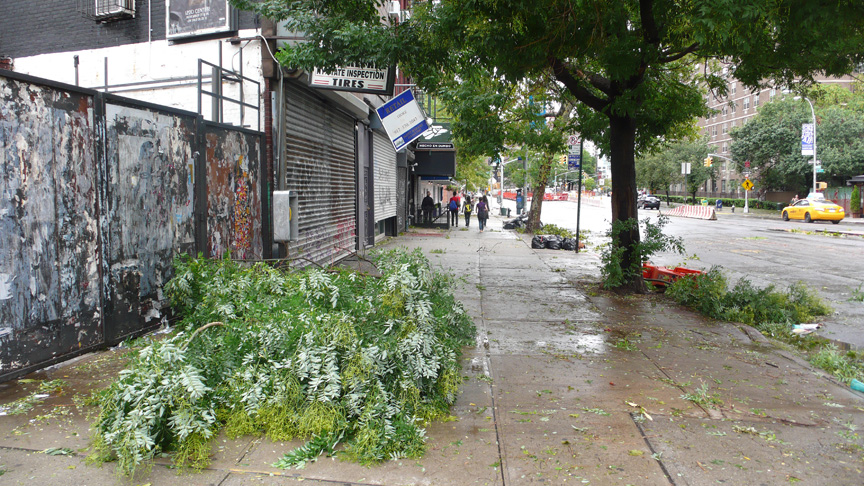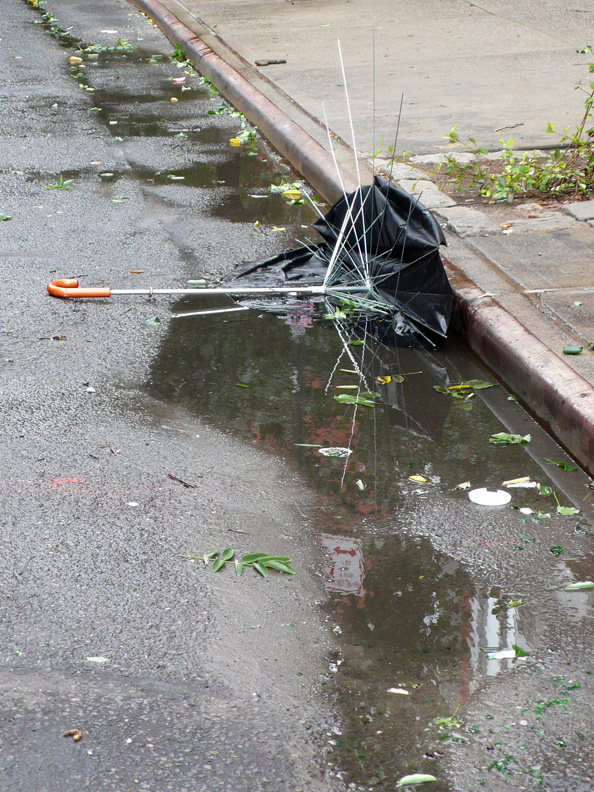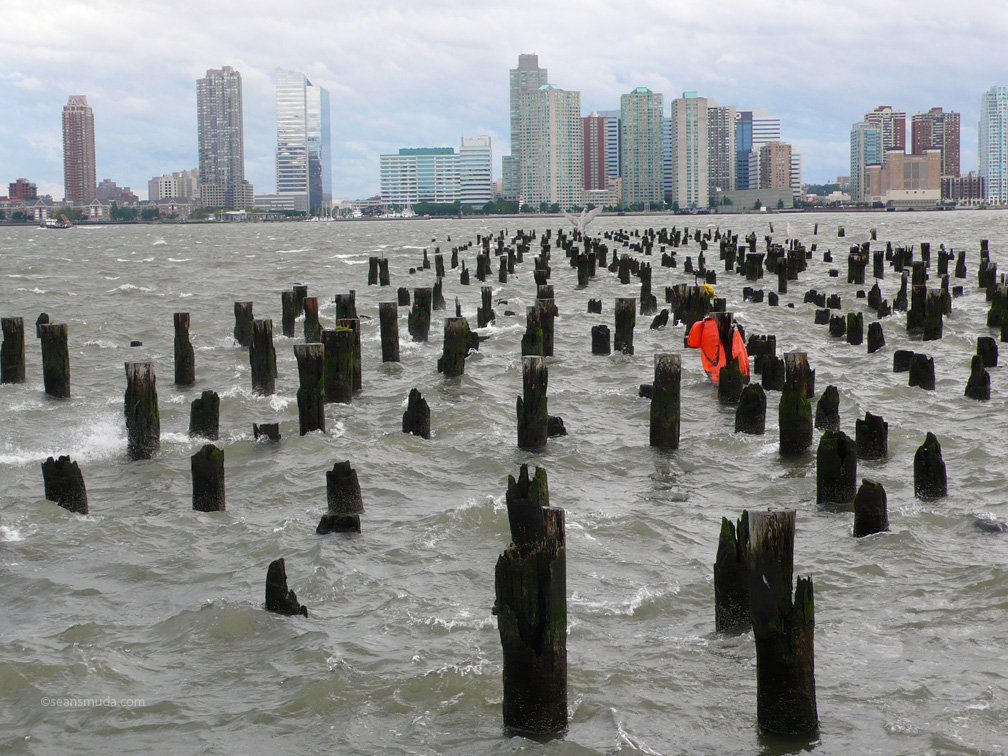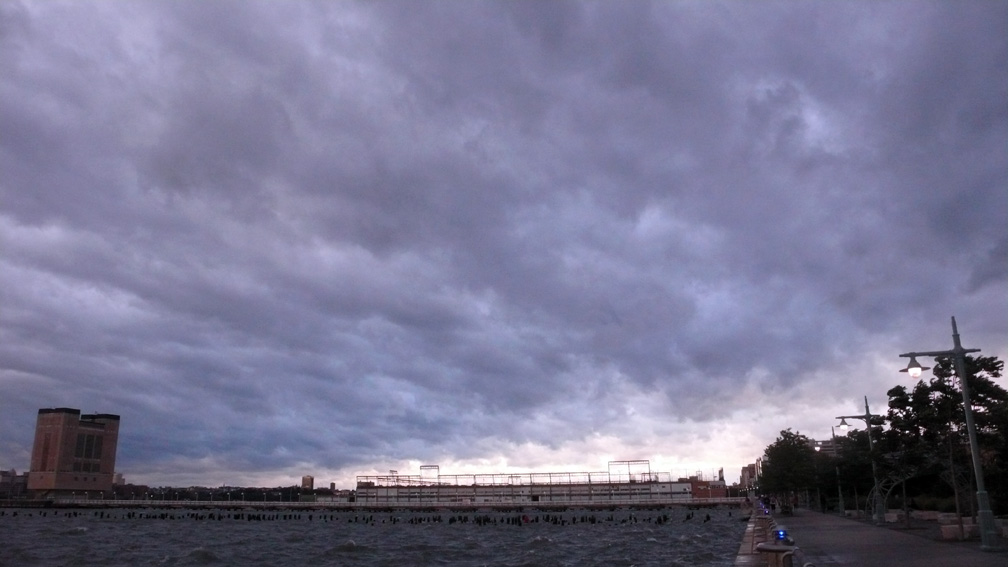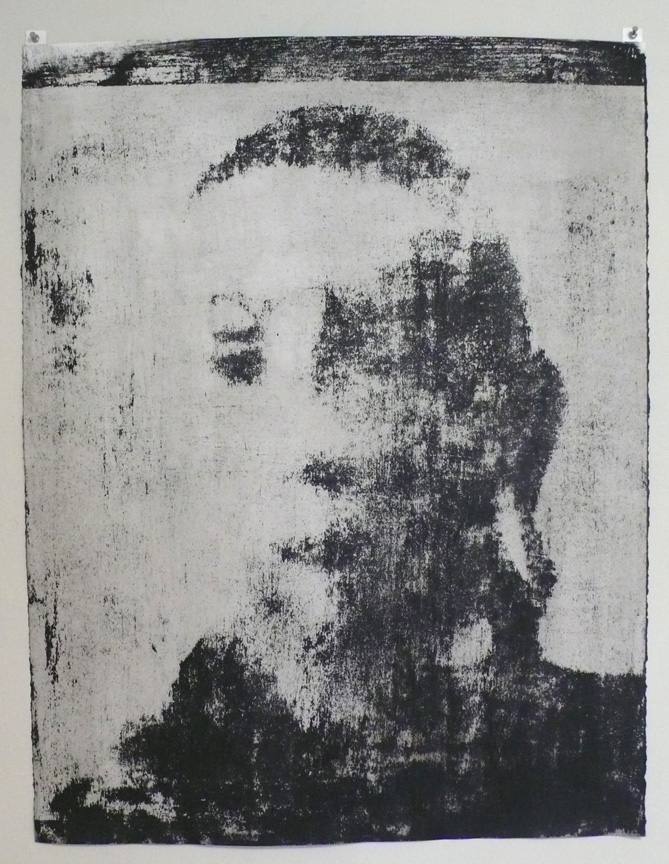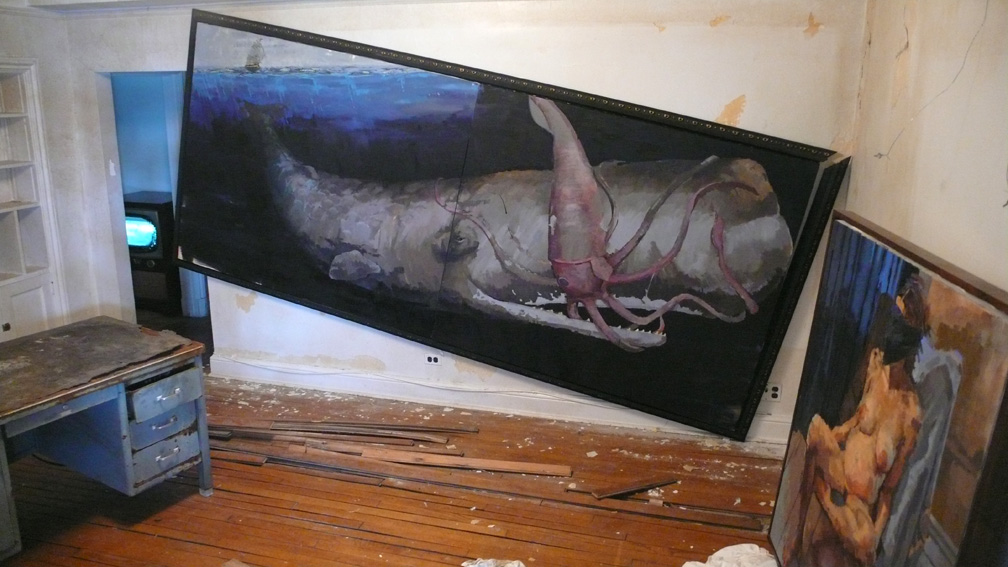 SOME PEOPLE EVACUATE FROM HURRICANES, SOME FLY straight into the eye. Tempted to this madness by the cultural BlitzhackerTM that is New York City and the dream of showing in it, I leave on one of the last planes from Minnesota just before hurricane Irene hits. My mission: to make it to Governor's Island, just off the tip of Manhattan, in time to install work before the opening of the Governor's Island Art Fair.
As the potential disaster looms, I encourage Life to flash before my eyes. A visit to New York always invokes a certain reckoning with mortality, market forces, politics and personal/national identity (and this before Occupy Wall Street!). In this case, it's doubly so, as I will be staying with artist and poet Nancy Rosing, an old family friend who did my birth announcement (and who was also once a State Fair photography judge!). Contemplating America and Fate, I muse that I am living the dream and living the lie at the same time: if you believe Michael Moore's Fahrenheit 911 at least one, if not two, of Bush II's presidential elections have been stolen. If you follow University of Madison professor John Fetzer's lectures or dig up "Operation Northwoods", 9/11 was completely engineered by the US government (though, even if you take their theories at face value, the why remains persistently nebulous). Perhaps these disasters were all the work of collusion with aliens to maintain the squeaky wheels of "capitalism." Regardless, such information and disinformation has all merged into the current economic bottom line — we seem to be trending towards socialism without the benefits, where austerity measures encourage us to give our all as we wait for multi-national resource controllers to figure out how free health care, banking, etc. can be profitable.
The Governor's Island Art Fair has a solution for all this: run by artists for artists, it is a low-key, low entry-fee event. Founded by Ernie Sandidge, Nicole Laemmle, Jack Robinson and Antony Zito, the 4heads as they call their organization, are united by a common need to side-step the gallery/fair paradigm and put the artist first. They specialize in "commandeering and beautifying unused spaces" — such as the chunk of the former Coast Guard/military base on Governor's Island. Here "well over 100 independent artists are selected entirely on the merit of their work and given a room of their own in which to create an exhibition environment of their own design." Although perhaps that's not enough carrot stick for the average hamster on the money wheel, 4heads' involution of Westward expansionism (and on one of the last open spaces of Manhattan, to which the island belongs) captured my sense of frontiersmanship. If their social network has a chance at upsetting both capitalism and art-trend posturing as promised, then eastward ho!
My direct connection to the group is through Ernie Sandidge, a former Minneapolis actor, teacher, and artist. His peregrinations led him from Minnesota to the Art Institute of Chicago, then to Paris and Mexico, where he apprenticed and learned the crafts of rich oils, honest representation, and subversive allegory. Last spring, on my return from setting up a collaborative show in Tours, France (Minneapolis' Sister City), Ernie gave me the grand tour of Governor's Island, the first Dutch settlement in New York (with the forts to prove it). I submitted work for consideration in the fair the next day and — with the other three heads' vigilance warding off any nepotism — was admitted sometime in July, with have barely a month to commit for the opening on September 2nd.
But commit I do. When we land New Jersey is humid — not New Orleans humid, but there's something oppressive about the air as I force my sleep-deprived, standby-flying body on the train to friend Nancy's. Hearing that the island (as well as all public transportation) will be shut down over the weekend due to the hurricane, Nancy and I grab her tools and hop the Tribeca free shuttle to the ferry. Despite its 1,200-person capacity, the boat seems crowded – turns out it's Dave-Matthews-band-three-day-stint crowded. The band's booked all weekend elsewhere on the island's 172 acres, and his three days are suddenly compacted into this afternoon and evening, thanks to the approach of Irene. Elbow to elbow with them, I wonder if any of these people will still be here for the fair's opening weekend, or if they are just coming to see the island one last time before it (and perhaps a few truckloads of road gear and neo-hippies) is wiped off the map by the coming storm.
The brick and plaster barracks room I have been given as my exhibition space is small, only 10 x 9-ft. The "gallery" includes a closet door not on the floor plan and some other anomalies that force a tighter-than-expected installation. In Nancy, a former exhibition designer for the Museum of the City of New York, I could not ask for a better or more resourceful companion. As we do the math and lay out chalk lines, we find that the work will fit, but just. We're running out of time before the last ferry, however, so we have to wait and finish setting up on Monday. Perhaps by then it'll be a co-exhibit with hurricane Irene; maybe she'll mount a harbor seal through the wall.
Either way, at least we won't be enduring three days of jam rock.
On the rush back to the ferry I poke my head in on Ernie's room, and there he is, making the most out of what Mother Nature has already wrought. Humidity has turned many of the ceilings in Building 12 (the sizeable compound of buildings that is the Governor's Island Art Fair) into peeling scales; in his room, the wooden floor is already warped to splintering. Accordingly, his installation references a shipwreck/whale-fight/cracked skull theme. We say "hi, bye" and make arrangements to drive to Philly the next day to escape the shutdown and pick up more work for the show.
This, of course, turns out not to be in the cards, as we soon find out Philly is predicted to get hit even harder than New York; there is something about being stuck in an apocalyptic, hurricane–induced traffic jam that seems reasonably counterproductive to opening the fair on time. "But hey, strap on your rain gear and walk over to the East Village. Let's get lunch!"
It rains off and on, not as heavy as on the Louisiana coastline, but monsoon-style nonetheless. Prepared by my Minnesotan roots, I pull on a Boundary-Waters-grade rain suit and waterproof messenger bag and walk down Canal Street where I buy a pair of sunglasses and flip flops that, only yesterday, cost twice as much. I like this storm!
New York in a crisis is New York at its best: sublime and ridiculous masking tape Xs and designer sandbags barricade doors and cover the windows of Dolce and Gabbana, Apple and other stores. Soho is redecorated in Katrina chic, a sobering counterpoint to Times Square's Disneyfication. Word on the street is that mayor Bloomberg is looking to make up for being in the Bahamas during the crippling snowstorm last winter. And seeing the elaborate storm preparation in the city, it does seem like overreaction; I mean, c'mon — the heat island factor of Manhattan alone should dispel most of the storm's blowhardiness.
Tidal waves are another matter altogether, though. Interestingly, this is also the week New York is having its first million-dollar-prize surfing competition. With visions of Kelly Slater hanging ten down Wall street, I strip my gear on and off according to the rain. It's great being in a depopulated Manhattan. The storm-crazed flight of the house-in -the Hamptons elite has created a sort of time warp: former punk provocateurs Nick Zedd and Boyd Rice are presenting at the American Film Archives this week, as though the past thirty years or so never happened. This is the Lower East Side I know and love! Will Richard Hell, Jim Carroll and the Ramones be spiking drinks and arms from a drunken speedboat driven by Lou Reed? Such possibilities abound in this real rain that is washing all the scum onto the streets. There are but a few places open and they are crowded; any restaurant, such as Mogador, that relies on a staff commuting from outlying boroughs? Fugeddabouddit! I meet Ernie, his partner (and fellow photo exhibitor) Sandra Nydegger, and their baby girl for a deluge-appropriate bahn-mi sandwich.
______________________________________________________
New York in a crisis is New York at its best: sublime and ridiculous masking tape Xs and designer sandbags barricade doors and cover the windows of Dolce and Gabbana, Apple and other stores. Soho is redecorated in Katrina chic, a sobering counterpoint to Times Square's Disneyfication.
______________________________________________________
IT RAINS HARD ALL NIGHT, and the next morning I go up to the roof to see if the Woolworth Building's copper top has survived; it's the oldest and one of the most beautiful of 'scrapers. Its top is still there and all seems well with the city, until I slip down half a flight of stairs in my super-slick-when-wet flip-flops. An accident I'm later told is common when descending into subways. Cavé diem! The only thing that saves me is when one of the damned things falls off, because my skin has more traction. This accident necessitates an appropriate response: and I down something called a Mexican Firing Squad with my friend and fellow Boston Museum Schooler Andrea Parkins (who will later in the week give an awesome performance with her band These Arches). We do this over breakfast at the one Soho restaurant, Cuban or otherwise, that is open. Eventually, both my aches and the weather clear, and we spend the rest of a pleasant afternoon photographing the ubiquitous broken umbrellas and other detritus that line the streets.
Monday morning is beautiful: clear skies and sun, with Manhattan's pollution now blown over Nova Scotia. There was a little flooding on Grand Street, the lowest point in Manhattan; reportedly, there were kayakers, too. But Tribeca seems almost untouched by the hurricane. Scanning the roofs for dangling gargoyles and barca-loungers, Nancy and I make our way to the Battery. With time to kill, we look for still more Boston Museum school alums, the Starn twins' photographs in the South Ferry subway stop. Their filigreed, process-heavy, imagery-delicate works seem to portend the litter of branches that cover the sidewalks of Governor's Island. We make our way out there, toil non-stop for about four hours on the install, then call it a day.
Tuesday, I head back and finish setting up — solo. With two days off before the opening, I cat about the city, see friends and museums; I rummage the deluxe trash of Tribeca for materials to fashion a tiny, makeshift PR table, which is cut and taped from four brand-new, discarded Apple keyboard boxes (each one contains a Snow Leopard OS disk, all of which are now on eBay). The tabletop platform is a square of recessed grey foam. Were I to add miniature trees it would be a scale model of the 9/11 memorial, which is only blocks away. (Cue the Twilight Zone theme.)
I return to the island on Friday, and it is another full-scale concert weekend — this time featuring the rapstravaganza tour, Rock the Bells. On the ferry over, I meet Stephen Woods, who has been doing a summer-long residency on Governor's Island, which has provided him with a large studio room and adjacent storage/private spaces. He's had months to prepare his exhibition, and it shows. His work is an exploded view of ideas and the universe using wire, found objects, and drawings. He attempts to break the standard Western narrative of single-minded-success-at-all-costs. Reagan's Star Wars missile-defense is represented by a circle of hanging water pistols; one of the guns, pointed inward, suggests a suicidal bent in the program's planners. When a young boy asks about this, I tell him "It's so everybody gets wet". Stephen is an engaging conversationalist, in that hyper-smart yet detached way unique to the Irish; we spend a good hour talking about civilization, madness, and disrupted destinies. I keep thinking of gyres and centers not holding, like the inward and outward breath of the planet.
Another artist I have the pleasure of spending time with is Jon Lewis whose gum bi-chromate color separation photo transfers are drop-dead gorgeous. Like oil stick-drawings, with just enough detail to denote individuality, his are truly minimalist portraits; some are merely thumbprints greatly enlarged. His pushing of the medium belies his split-minded painting/photo background.
As there are over 118 other artists to talk about and I am at 1977+ words already, I would encourage the reader to click through to read more. You could also Google the many reviews available, from Artforum to Inhabitat magazine. To review the reviewers: Artforum's only semi-down with the fair because it's not art world-bitchy, gossipy or competitive enough, the kind of thing that leads to price-fixing conspiracies. Inhabitat's sustainability angle on the use of abandoned spaces is interesting and progressive, the kind of thing that leads to grooving forever on the here-and-now plane: i.e. Dave Matthews. The Village Voice, in keeping with the media company's budget-cutting Murdochization of late, has an extensive slideshow but no commentary, the kind of thing that leads to soulless, alien mind control.
As far as the ongoing struggle between the individual artist vs. the art market machine goes, the Governor's Island Art Fair is not engaged in a head-on battle, but a long-term war of attrition with the status quo. With good taste, smarts, and the merits of pursuing a sustainable arts lifestyle on their side, the fair's organizers are jockeying for visibility, and using what they can of the media's taste-making buzz, but not living in subservience to it. If 4heads stick to their guns, eventually trends will favor and perhaps canonize them beyond the half-hearted mention they got in Artforum this go-round. And perhaps, if they were to perform some extraordinary renditions on (Village Voice critic) Jerry Saltz, (Whitney director) Adam Weinberg, and (reality art TV impresario) Sarah Jessica Parker, then de-hood them in one of the island's cloistered rooms without outside reference — they just might be able to convince them that the Governor's Island Art Fair is indeed a worthy cultural destination. Perhaps even persuade these arbiters of taste that the entire endeavor is a performance piece involving early 21st-century artisan-theoretical practices by some by an unknown genius from Lower Manhattan, Brooklyn or Minneapolis…thus blowing both minds and pocketbooks wide open!
And if you like that one, I have a certain bridge you might be interested in…
As for myself, if I get into the fair again next year, I am going to ask for two rooms: one for the work, the other for low lights, quiet music, and a psychiatrist's couch. There, I will analyze what art is truly lacking from the pomo-soul, and advise how best to fill its void in true NYC fashion.
At this point, though, the best therapy I can offer, dear reader, is that you occupy and embody your cities and government, and use whatever sidewalk chalk, or mud stencils are at hand. After all — art is but a memento from the other side of the dream, and it's time to be involved and push through the hurricane of impediments and obfuscations to get there.
______________________________________________________
Related links and information:
The 2011 Governor's Island Art Fair took place through the month of September. Find information about how to get involved in this annual festival, organized by and for independent artists from around the world on the website, 4heads.org.
Don't miss Sean's extensive photo essay in the slideshow above.
______________________________________________________
About the author: Sean Smuda wants to re-program your reliance on competition, conspiracies and CSA's.