Roots of Change
Lightsey Darst on "red, black, and GREEN: a blues" by Marc Bamuthi Joseph/The Living Word Project - the show is so far-reaching, it should sink under the weight of its ambitious message - and yet it doesn't. Why? "It's hard to beat engaged honesty."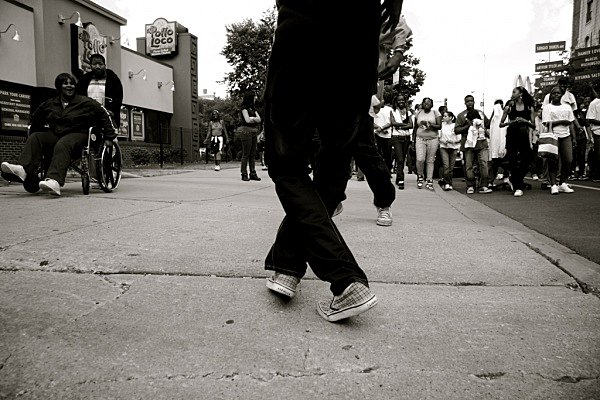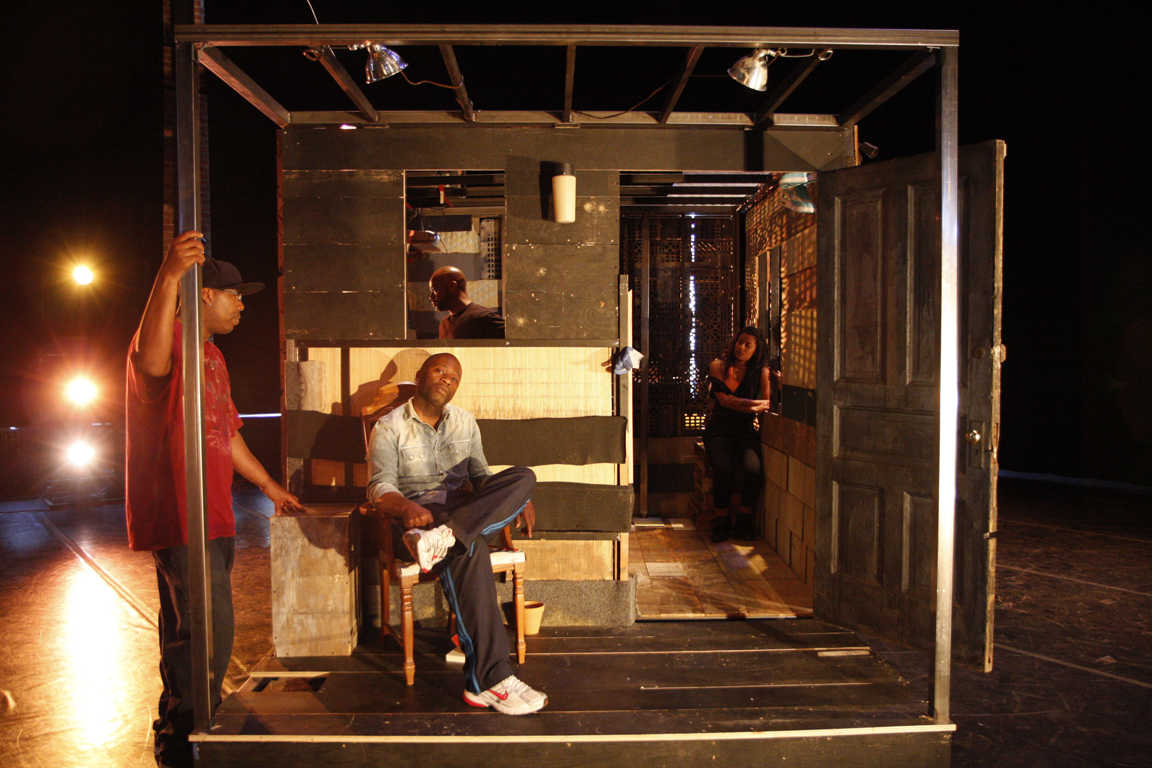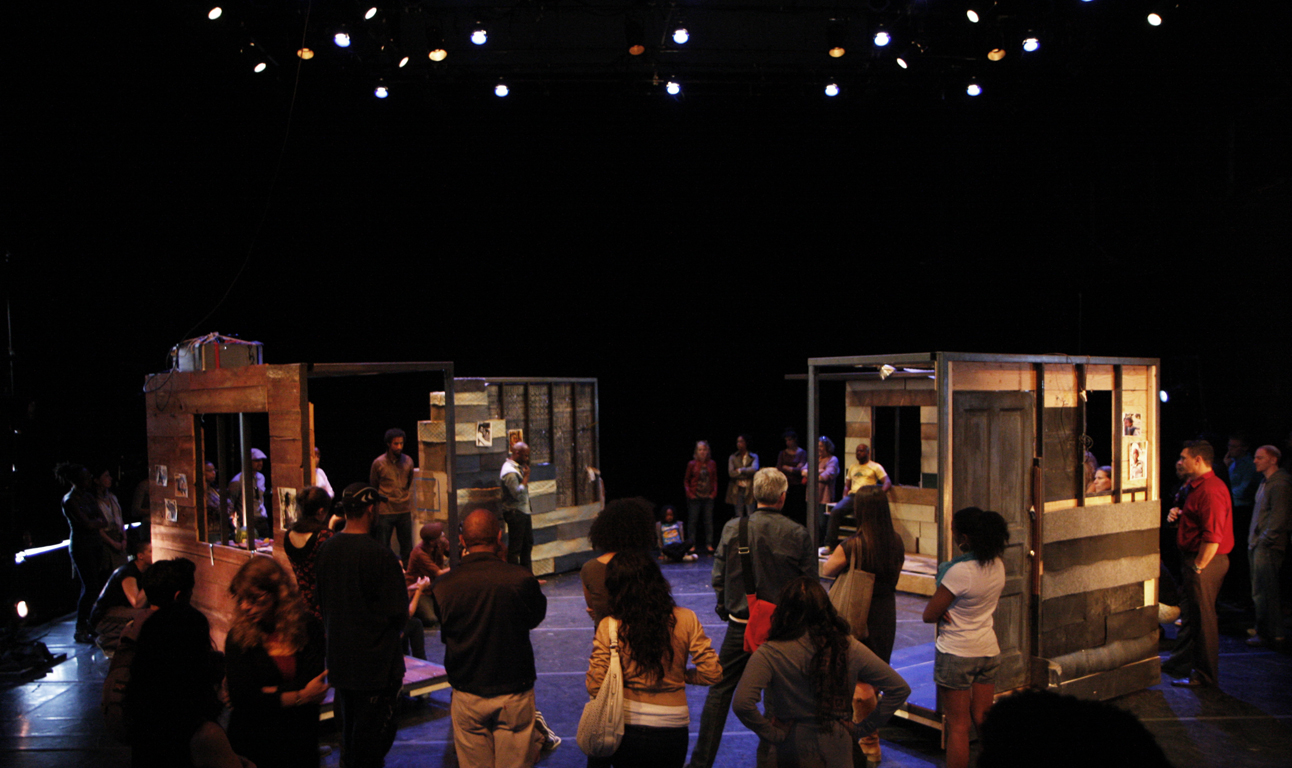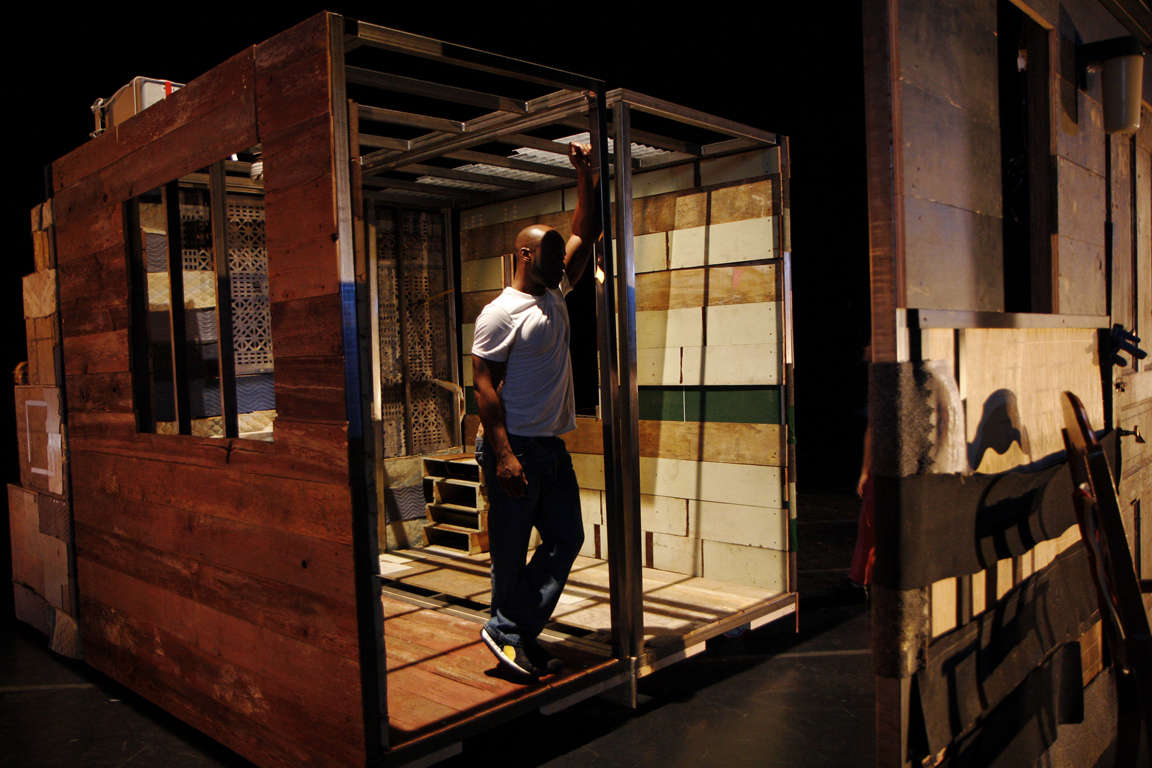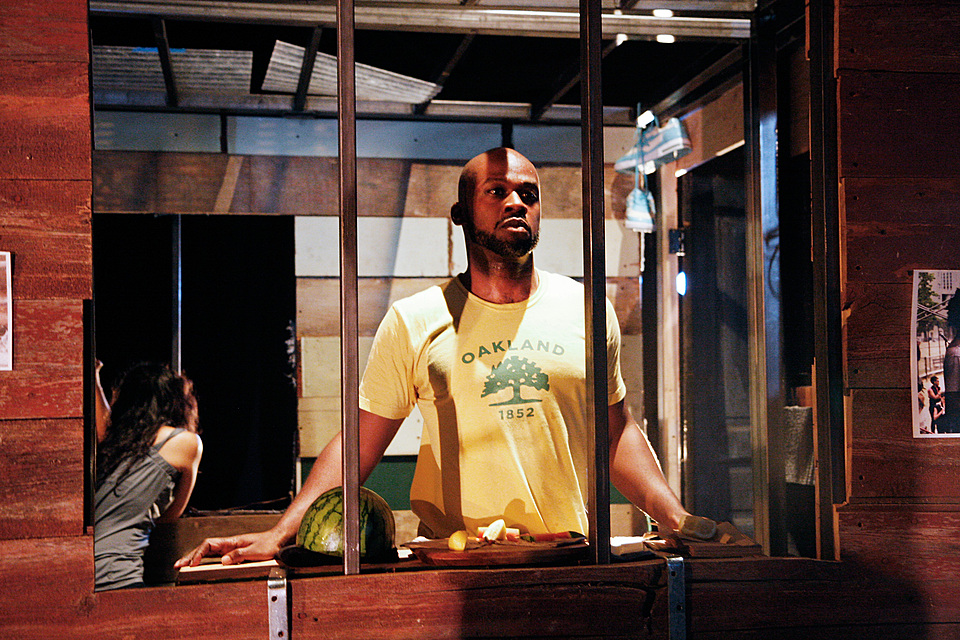 On the stage at the Walker's McGuire Theater a young audience clusters around a man rapping from the roof of a shack, his rat-a-tat words echoing from their upturned faces in a glare of light. There's the thwack of someone cutting ripe watermelon, red chunks of it sitting in the shack's glassless window, a woman's hand idly picks up one; she smiles, she's singing. The house starts to come apart; someone's beating on a pole that resounds with the playground clang of hot metal; someone's shaking a can of spray paint, chanting "I feel like tagging" to the rattling of the ball. The woman's climbed to the rooftop and arches her torso, her body becoming the icon of some suffering, liberation, turmoil, desire. You get marked: eye contact. People move back out of the way of the house. "I'm trained as an urban planner," one man maintains, pushing his section of shack or standing on its beaten porch. "Urban planning should be a practice of belief." Is that what he said? What does he mean? Is this urban planning, is this belief? Some people are corralled by the house, now in four parts around an open space, while others surge in. It's not clear what impulse to follow. There's the squeak of sneakers: turn around, someone's dancing right next to you. He's intimately near, a big man surging and bucking, moving you out from his center bit by bit as his steps expand. Crickets; the light shifts to gloaming, and it must be almost over. Someone chants "Belief is black," and the couple next to you picks it right up. A white girl is dancing, loose limbed, not quite convinced of herself. Suddenly there's blacklight, and everyone's thrown into it. People begin to clear the stage, ushered by theater staff. Some are milling, greeting, already talking about something completely different.
"Me and the woman whose son just died," one man begins, cutting through the chatter. He's Marc Bamuthi Joseph, and this is his/The Living Word Project's red, black, and GREEN: a blues, and this is how it moves: laterally, diagonally, detail to abstraction to detail, dance to voice to space, drama to humor to tragedy to action, first-person to news report to rap to call-and-response, out from some unspoken (because unknown?) center to a thousand peripheries that become centers and then jolt back to the heart of the matter. And the matter here is the tricky relation between the eco-movement and black America, or how not so much to get black culture to "go green" (in the Whole Foods, bike-powered, more eco-than-thou way white urbanites with disposable income and no pressing issues of their own do) as to re-green: to find again a harmonious relation with land that ignores neither still-pressing social issues nor a history in which land has often been a prison. This is certainly too much for one ninety-minute dance-theater performance to accomplish (a friend laughed at the press release), and sometimes Joseph does push too hard to connect, leaning on the show's title words as if their mere repetition can make it happen. Yet it's hard not to feel that, overall, Joseph does make something happen here.
What's his secret? It's hard to beat an engaged honesty.
Well, that, and a lot of craft, experience, work, and talent. Look at the bios in the program and you'll be impressed, not only or even not mostly by the names, degrees, awards, etc., but by the array of disciplines practiced by each contributor. Take the aforementioned urban planner, Theaster Gates: he designed this show's set and sings and acts; elsewhere he makes sculpture and installations, and currently he bears the outsize title Director of the Arts and Public Life and Artist in Residence at the University of Chicago. Tommy Shepherd, another performer, is a drummer and beatboxer, who also composes and does a host of other things. The final performer, Traci Tolmaire, might be the most impressive in her onstage versatility: she sings and acts (she's a hard-knock growl-singing urban girl, then a community organizer with a wide smile and an easy educator's tone, then an old man junk sculptor with a stooped back and a shake in his drawl), and she dances (modern dance, hip-hop, a jazz diva's slinky sway). With this flexible crew, any moment can flip; you want to stay on your toes to move with the show.
The opening night audience certainly did. Ammo claps and mm-mms throughout affirmed that Joseph connected, and a springing standing O (not the slow, obligatory kind) hammered it home: red, black, and GREEN: a blues works.
What does it work toward? The closing image might clarify: the actors push Gates's house back together. From the outside, it still looks like what you see as you take the Amtrak through Mississippi — a shameful picturesque of Southern poverty. But now you know how versatile it is, how it can open out and transform, how it's studded with props and TV monitors, embedded with hollows so every part of it drums. Even the exterior begins to look more like art — a gritty Rauschenberg combine, say, only this one you can live in. The actors go inside, turn on a light, pull down the blind. Inside, you can imagine they go on with the show, singing, crying, and laughing, sharing some of the watermelon that's still sitting in the window, talking about how to root more deeply in the same place and so change the world around.
---
Noted performance details: red, black, and GREEN: a blues, a Walker commission by Marc Bamuthi Joseph/The Living Word Project, was on stage at the Walker Art Center March 15 – 17.