MOMENTUM: Vanessa Voskuil and Sachiko Nishiuchi
Lightsey Darst took in the first weekend's MOMENTUM: NEW DANCE WORK performances, and she weighs in on the madding crowd and fiery flamenco of this year's first shows, by Vanessa Voskuil and Sachiko Nishiuchi.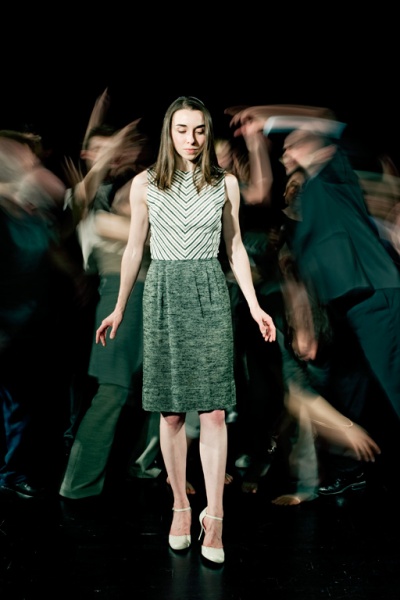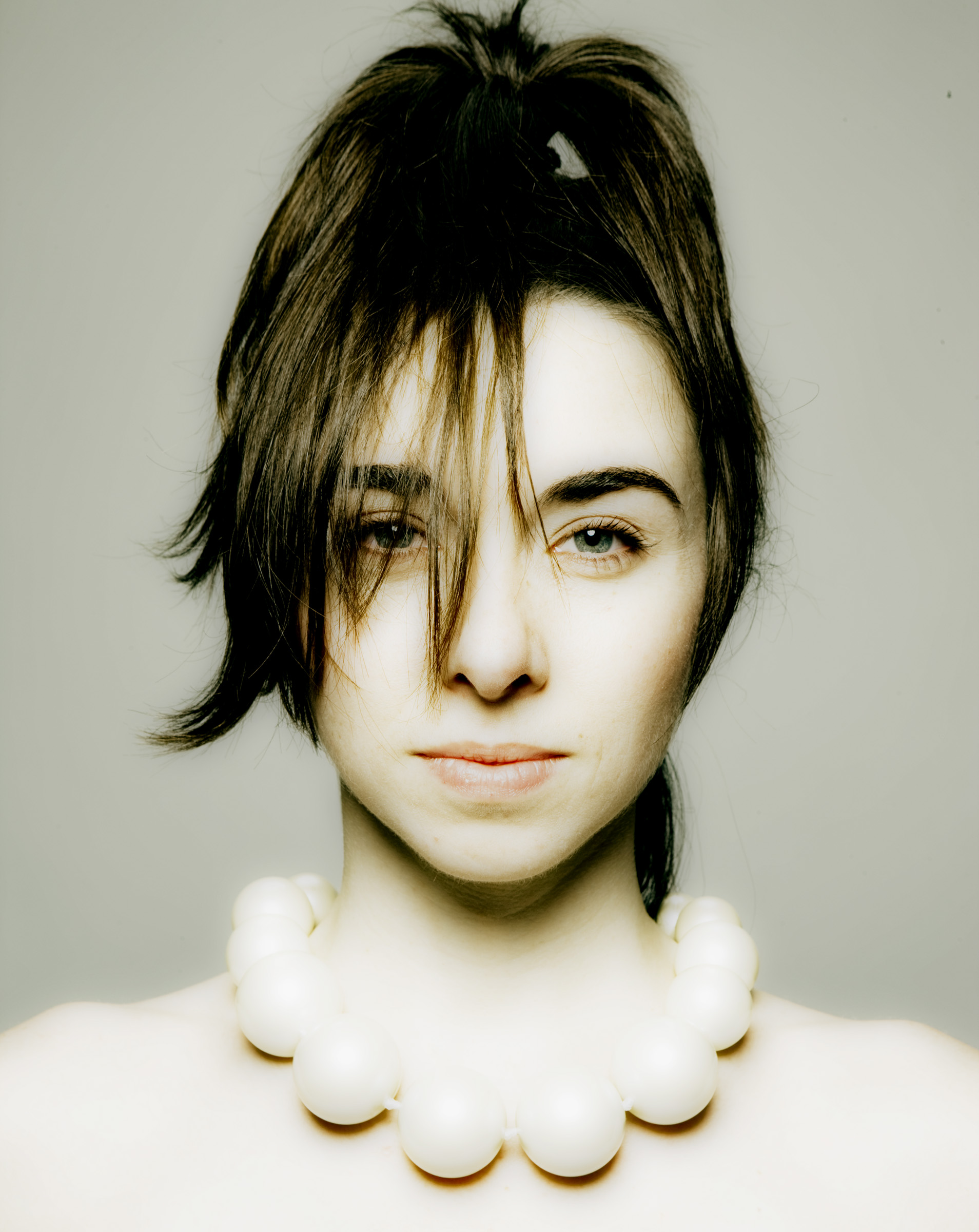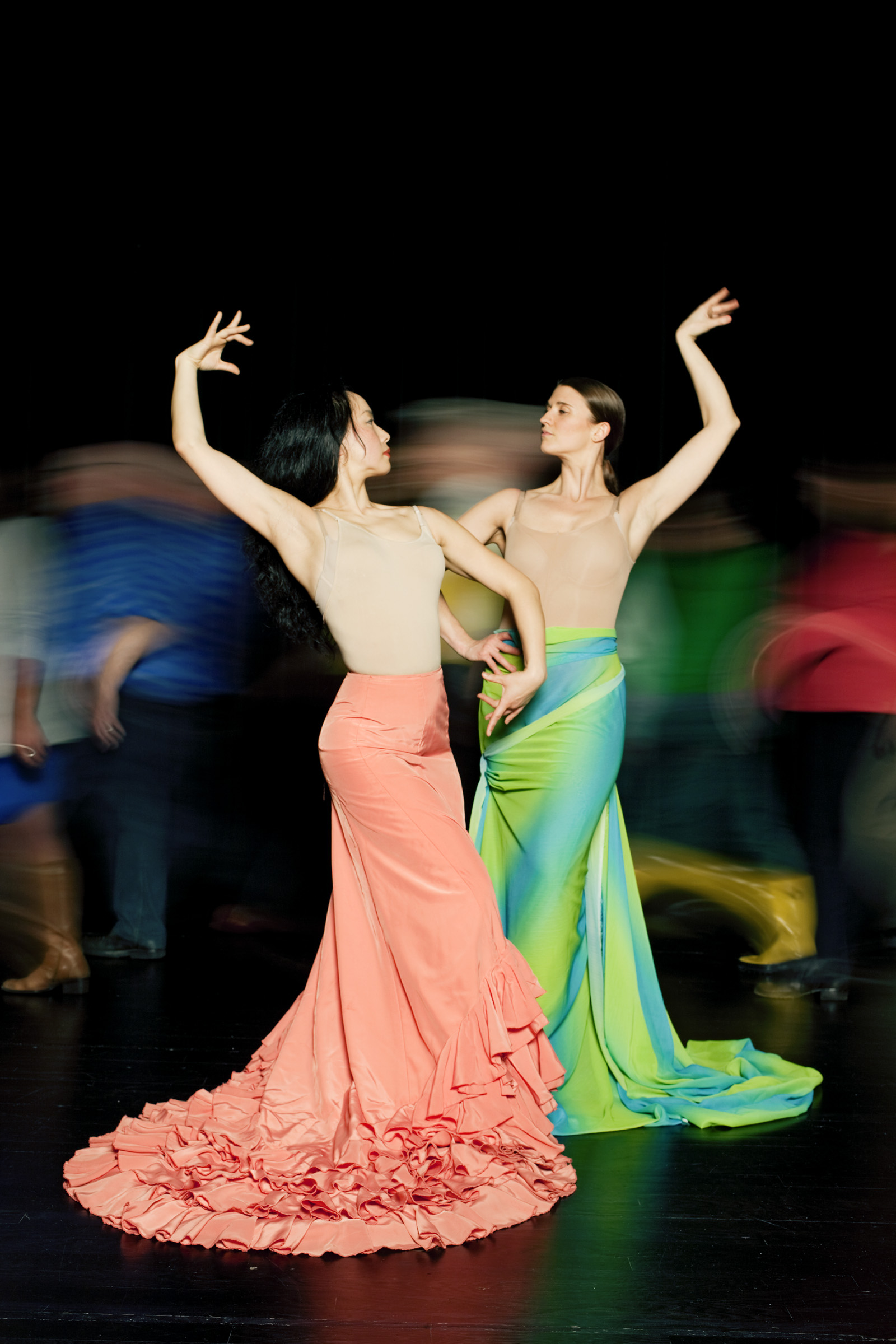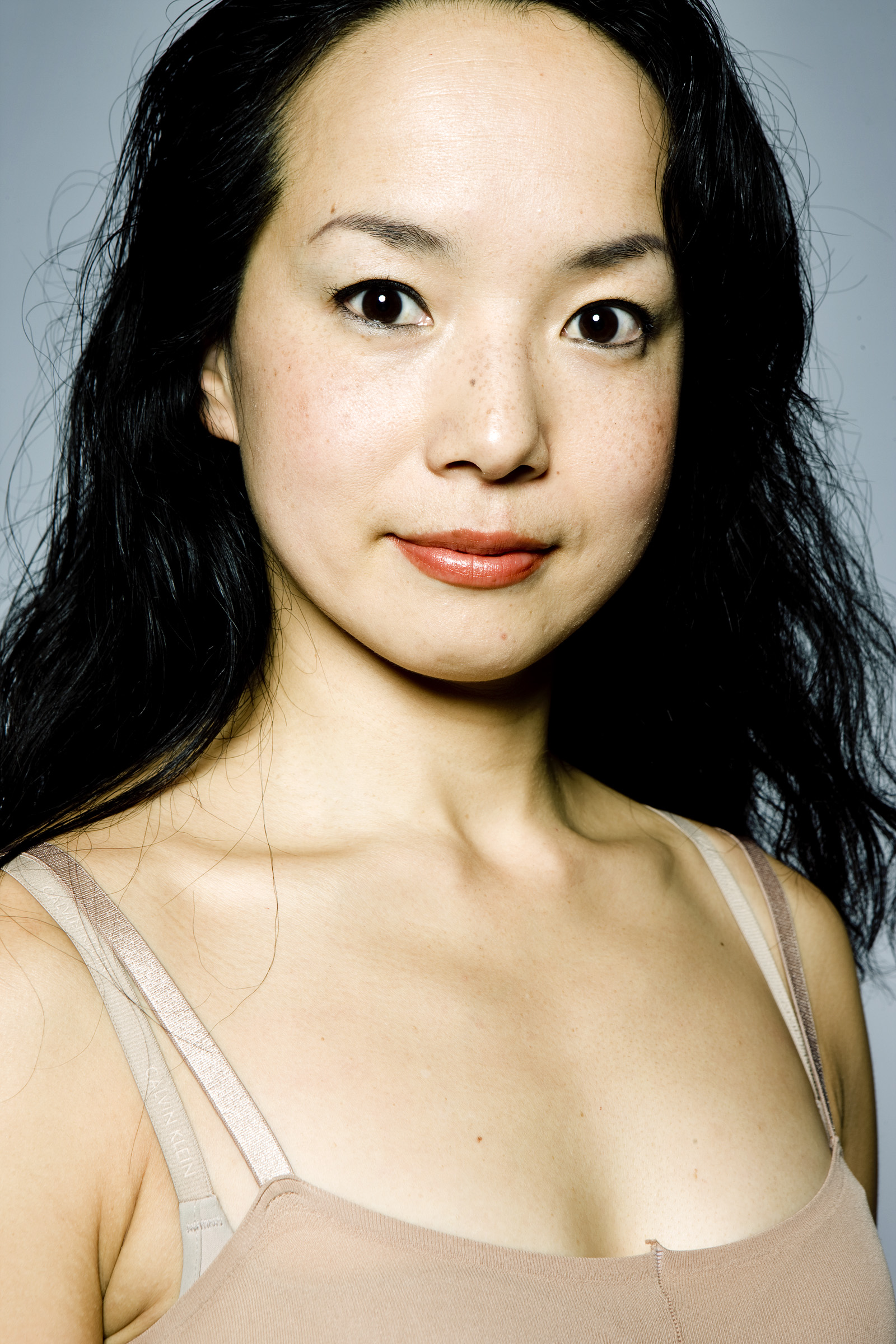 MOMENTUM: NEW DANCE WORKS — THE EMERGING DANCE ARTIST SERIES presented by the Walker and the Southern Theater — is here again. The Momentum commission is a coveted prize, and the resulting works are closely watched. This year, four women test their solo choreographing skills: Vanessa Voskuil and Sachiko Nishiuchi the first weekend, Sally Rousse and Megan Mayer the second.
Vanessa Voskuil stimulated the local economy and sold out the Southern by working with a cast of 74 (plus herself) for her en masse. As the audience finds their seats, a human maelstrom swirls, single members stepping out to introduce themselves at microphones on giant stands at the front corners of the stage. (Hold those stands in your mind: they'll come back later.) These introductions — quick, often simultaneous, and half-drowned by a score of rolling thunder — illuminate the diversity of this crowd. They are from here and there, they are students, musicians, doctors, scientists, social workers, they are of varying ages and physical types, dressed in their own bright, clean, but heterogeneous clothing (a man in a suit and tie, a girl in a pretty dress, a guy in a tank top); one even lets us know that "today is my birthday." Only a few are dancers or performers. Once they leave their swirling and begin jogging in place facing the audience, you can see that some are goofyfoots while others have natural presence, but altogether, there's no denying the charisma of the crowd. A group this large is magic; there's no looking away.
The next forty-five minutes seem short, as Voskuil's crowd executes a series of simple scores, not terribly interesting in themselves, but fascinating as performed (and made all the more fascinating by the support of excellent sound, video, and stage design, thanks to Voskuil and John Koch).
______________________________________________________
The dancers summon up famous crowds of the past and present, their mood shifting like light on a windy day — now Woodstock, now Reign of Terror, now ashram, now bedlam. What will they become, what will they do?
______________________________________________________
When they raise a few members up in a slow and ecstatic crowd-surf, you can't be surprised (how could Voskuil not do it?); but you also can't stay unmoved: the fantasy of riding on touch, the tenderness of a mass caress, hands all reaching as if toward a holy body. Together, they're more than individuals, but also less, turning to animals or plants. When they wave their arms, they're a sea anemone; when they scramble at random, they're bees in a hive. They summon up famous crowds of the past and present, their mood shifting like light on a windy day — now Woodstock, now Reign of Terror, now ashram, now bedlam. What will they become, what will they do? They move their mouths without sound, they recline all together in a Lolita pose, looking at us, until it all calls up a question that is not less insistent for being nonsensical: Who are they?
Us/them: the crowd is unmistakably a spectacle. They stare at us just as we stare at them, but our natural arrogance protects us from any equality with them, erecting a division between ourselves and the stage. At times, Voskuil moves through the still crowd. She's a powerful whirlwind, but her role is ill-defined. Besides the fact that it's obviously her (Voskuil, the choreographer), it's not clear what she's doing, and any identification with her is fleeting. It's that spectacular crowd we stay with, so that ultimately, en masse is a distancing rather than an enveloping experience. In that, it's rather like looking in the mirror. That other face with its flaws and secrets and its patent indifference to us: we know, but cannot quite believe, that it is our own face. This is the divide en masse evokes.
In their last act, the crowd suddenly breaks up and surges to the two giant mic stands, happily laughing, cheering, and pointing as they carefully tip the big objects into each other's hands, then take them apart, raising the metal rods high and disassembling them with a flurry of loosening wrists, in a dream of cooperation. This is strangely affecting – as if the face in the mirror suddenly smiled, not at you but with a warmth you didn't know it had.
SACHIKO NISHIUCHI'S THE APPLE TREE, by contrast, illustrates a simple narrative through a traditional dance form, the driving beats and dramatic stances of flamenco. Nishiuchi uses live music, a handful of dancers, and mostly solo dancing to tell a version of John Galsworthy's "The Apple Tree," pared down to its center — love at first sight, the woman abandoned, her death, and his regret. Costumes by Red Shoe Clothing (Kerry Riley) and video by John Koch enhance the production — except where they take away from it. Riley produces some sumptuous skirts for Nishiuchi — a simple bias-cut white with exquisite draping, a sensual mango with a frilled train — but her costume for the apple tree (a female dancer, an embodiment of the simple life) is laughably literal. Koch's video mostly adds fleeting poetic images, but one section becomes an iPhone ad from hell, funny in itself, but distracting here. Still, Nishiuchi can summon real emotion, as in the scene where the hero first sees the heroine, the scrim-cast shadow of her winding arms embracing him.
______________________________________________________
Nishiuchi seizes her poses — a stamp, a clutch, an exalted arm on high — with a vigor that seems wrung out from every atom in her being, every fierce feeling.
______________________________________________________
Unfortunately, Galsworthy's English sentimentality is ill-suited to both flamenco's bold passion and modern life. Why would such a strong woman (Nishiuchi certainly dances her with furious stamping strength) curl up and die when she discovers her lover is unworthy? In this post-Clarissa age, the appropriate reaction is to put on "I Will Survive" and a pair of good boots, suck it up, and move on. Even the secondary meaning of the plot — the heroine as creature of nature, the hero torn between natural life and the seductions of technology and the trivial — isn't enough to make this emotionally convincing. (I can imagine an Apple Tree in which the central characters are recast, not as male-female lovers, but as two halves of one soul, struggling for dominance. Then we would have a modern story. But what I can imagine is neither here nor there.)
If you can get past this and take Nishiuchi's work on its terms, though, you get heart-aching singing and playing from La Conja and Ben Abrahansom (who also wrote the music), and passionate dancing from the leads, Nishiuchi and Edwin Suarez. Suarez hammers his quick beats in, now with such control that it doesn't seem he can be making all that noise, now with the wild swagger of a matador. Nishiuchi seizes her poses — a stamp, a clutch, an exalted arm on high — with a vigor that seems wrung out from every atom in her being, every fierce feeling. But she can also be gentle. The moment I will take home from The Apple Tree is this: a quick inhale and the ravishing line of Nishiuchi's supple back swaying like grass in the wind.
*****
Related events:
Momentum: New Dance Works continues this weekend, with I Could Not Stand Close Enough to You by Megan Mayer and Paramount to My Footage by Sally Rousse, July 23-25 at the Southern Theater. Shows begin at 7:30 Thursday evening, July 23 and 8 pm on Friday and Saturday, July 24-25. Tickets are $20 ($16 for Walker and Southern members). You can reserve tickets online here or here.
Check back for Lightsey's review of the second weekend's Momentum works by Megan Mayer and Sally Rousse, which will be posted on mnartists.org next week.
About the writer: Lightsey Darst writes on dance for Mpls/St Paul magazine. She is also a poet who served as the founding coordinator of mnartists.org's What Light: This Week's Poem publication project, and the founder and host of a monthly writers' salon, The Works, at the Bryant Lake Bowl.