Mn Artists Presents: [Your Name Here]
Mn Artists Presents: Anat Shinar & Amal Rogers
May 2, 2019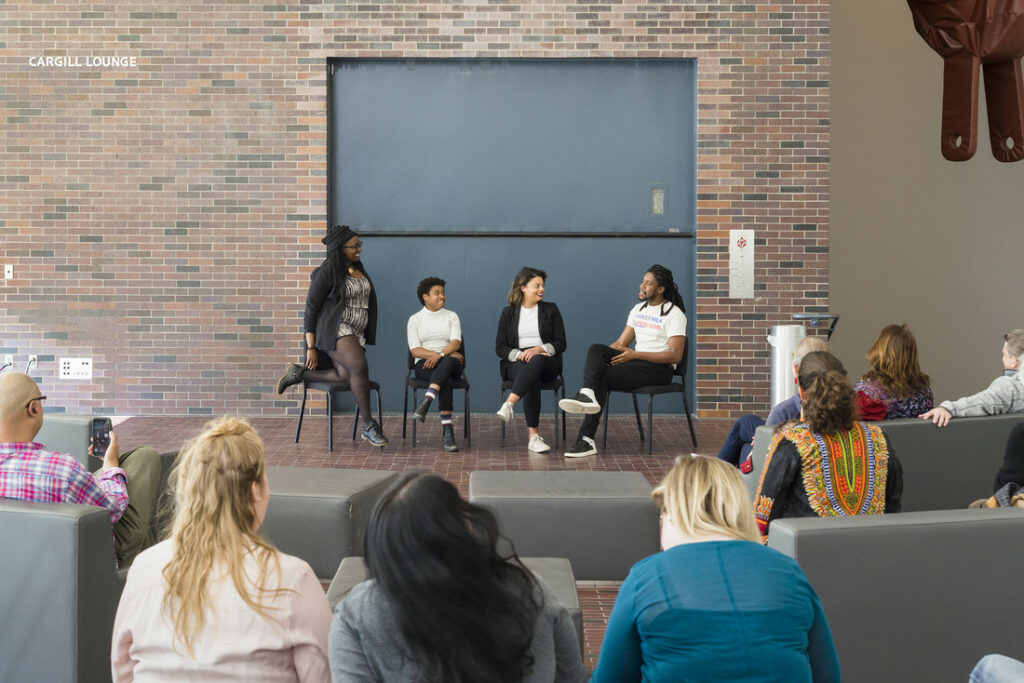 How are marginalized artists asked by institutions to turn their trauma into something digestible for audiences? How is expression limited, and progress hindered, by the ongoing exploitation of historical trauma? Through darkly comedic performance, installation, discussion, and activities, Minnesota artists will explore how pressure to produce work about certain subjects, histories, and identities further alienates and exploits individuals and communities.
Guest curators:
Anat Shinar is a Minneapolis-based contemporary performance artist, curator, writer, educator, and member of Fresh Oysters Performance Research collective. She graduated from the University of Minnesota with a BFA in Dance and a BA in Visual Arts, and completed her Master's degree in Arts and Cultural Leadership, also at the UMN. Her choreography has been commissioned by and presented at The Minnesota Museum of American Art (the M), Pillsbury House Theater, Red Eye Theater, Southern Theater, The Soap Factory, SooVAC, and the Bryant-Lake Bowl. She is the Director of Development at Young Dance, a dance education non-profit, as well as a teacher for Young Dance and the Cowles Center, working with students of all ages and abilities. Anat was a 2018 Naked Stages Fellow at Pillsbury House Theater.
Amal Rogers grew up in the swampy suburbs of south Florida where the juxtaposition of the Disney-like built environment and the ever-advancing natural environment instilled in her a recurring sense of chaos and absurdity. She earned degrees from Mills College in Oakland, California and the New College of Florida in…Florida. In Minneapolis, Amal experiments with dance performance. She also teaches dance in public schools with the Cowles Center, works as part time rehearsal director with the Somali Museum Dance Troupe, and provides bodywork with the People's Movement Center. She has presented performance in Minneapolis, Chicago, San Francisco, Oakland, Helsinki, and Sarasota. On the internet she edits work for the publication Art For Ourselves.
Artists & projects:
How to Turn Your Trauma Into Art
Workshop | 5-8 pm
Created by Anat Shinar, Amal Rogers, and Paige Collette, facilitated by Tristan Koepke as "Hans".
Paige Collette is a Minneapolis-based performer who often works with humor and food. Last year she took part in Red Eye's Isolated Acts/New Works 4 Weeks Festival and created a one-woman show about Monica Lewinsky, The Monica Meditations (recently remounted at Bryant Lake Bowl).
Tristan Koepke is a dancer, educator, and bodyworker based in Minnesota. He has been a part of Zenon Dance Company in Minneapolis since 2011, appearing in the works of many artists including Faye Driscoll, Netta Yerushalmy, Andrea Miller, and Daniel Charon. He frequently collaborates with choreographer Chris Schlichting, for whom he has worked since 2009, and recently appeared in Vanessa Anspaugh's Bessie-Nominated The End of Men. His past performance credits include Doug Varone and Dancers, luciana achugar, BANDportier, Morgan Thorson, elephantJANE dance, Patrick Scully, ARENA Dances, Time Track Productions, the Lyric Opera of Kansas City, and The Minnesota Opera. Tristan, certified as both a yoga teacher and Rolfer™, received his BA in Dance from the University of Minnesota-Twin Cities. He is currently the Associate Director of the Young Dancers Workshop at the Bates Dance Festival, where he has worked since 2010, and will begin Graduate Studies in Dance this fall at the University of Maryland, College Park.
---
This is what's allowed
Performance installation | 5:30-7:30 pm
This is what's allowed is a performance installation sifting through identity, dirt, and parameters. Working with and highlighting the rules and regulations surrounding dirt that is prescribed by the Walker Art Center, this work will investigate the ways in which both dirt and certain living body's experiences can and cannot exist in an institutional art space and what it takes for them to be allowed.
Lela Pierce is a multiracial visual artist and dancer born and raised in Minnesota (on Dakota land). She has danced extensively with Ananya Dance Theatre as a founding member from 2004-2016. She has also toured with Rosy Simas Danse and performed with Pramila Vasudevan of Aniccha Arts since 2015. Lela received the Jerome Emerging Artist Fellowship in visual arts in 2017-18. She will be entering the UMN MFA program in the Interdisciplinary department of visual arts in the Fall of 2019. Lela would like to give special thanks and acknowledgement to Pramila Vasudevan for help with this project.
---
Blackout presents: The Swag Hat
Performances at 5:30 and 7:30 pm
Our take on various issues concerning our society. We create a dialogue with the audience by having you anonymously submit topics, questions, and comments to us. What follows is an honest conversation about the suggestion – relating it to our lives, to various aspects of our culture, to whatever it is that the suggestion brings to our minds – and then we break into jubilant longform improv rooted on the conversation we've just had. That's it! We weave all of the topics brought up that night into an austere experience that you, the audience, creates with us. The entire room has a stake in what becomes a hilarious back and forth between the performers and audience.
Blackout Improv is a troupe of Black improvisers, stand-up comedians, musicians, classically-trained actors, dancers, poets, writers, storytellers, and educators – creates comedic dialogues around serious truths. Mixing improv, social justice, and arts access through a wildly successful formula of putting more Black performers on more improv stages, Blackout is literally changing the face of comedy in Minnesota.
---
Installation
On view 6-8 pm
In this new installation, Maggie Thompson explores the stasis of identity projected onto Native peoples. Thompson further investigates how institutions bind people to these identities, asking individuals and communities to perform aspects of culture in order to be easily recognizable.
Maggie Thompson (Fond du Lac Ojibwe) was born and raised in Minneapolis, MN. She received her Bachelor of Fine Arts in Textiles at the Rhode Island School of Design (RISD) in 2013. As a textile artist and designer she derives her inspiration from the history of her Ojibwe heritage, exploring family history as well as themes and subject matter of the broader Native American experience. Thompson's work calls attention to its materiality pushing the viewer's traditional understanding of textiles. She explores materials in her work by incorporating multimedia elements such as photographs, beer caps and 3D-printed objects.
Thompson had her first solo exhibition "Where I Fit" at All My Relations Gallery in 2014 and has since exhibited at institutions such as the Minneapolis Institute of Art and the the Plains Art Museum. In 2015, she received support from the Minnesota State Arts Board Cultural Community Partnership Grant and the Native Arts and Cultures Foundation Regional Fellowship to create a body of work for her exhibit "On Borrowed Time" at the Minnesota Textile Center. The Minneapolis Institute of Art and the Minnesota Historical Society have both acquired pieces from Thompson to be a part of their permanent collection.
In addition to her fine arts practice, Thompson runs a small knitwear business known as Makwa Studio and is also an emerging curator of contemporary Native art at and has worked on curating special exhibits for Two Rivers Gallery, the McKnight Foundation and the Minnesota Museum of American Art.
---
Public Strategic Planning Session on Institution and Identity
Panel Discussion | 7:30 pm
This community discussion will take the form of a strategic planning session focused on addressing big-picture questions about trauma and art: How can institutions reflect more deeply on ways they implicitly ask marginalized artists to perform, exploit, and/or make digestible traumatic aspects of their identities? How can they better create environments that invite artists to share work on their own terms? Additionally, how can institution address the organizational systems that perpetuate the exploitation of artists? This discussion will result in the creation of actionable items to give the Walker at the end of evening.
Sarah Myers is a playwright, director, and associate professor in the Theater Department and MFA Program at Augsburg University. Most recently, she directed Anat Shinar's Something elegant, like this at Pillsbury House Theater as part of the Naked Stages series, and her play I Do Today (recipient of the 2017 Jewish Plays Project Top 10) was published in January in Workhaus Collective: An Anthology of Plays (Sprout 2019) and produced as part of Greenhouse Theater Center's Solo Celebration series. Her other work has been produced and developed at the Side Project, the wild project, FronteraFest, the Off Center, the Blue Theater, the Women & Theater Conference, and Indiana Repertory Theater, among others. Published plays include The Realm (Bonderman National Youth Playwriting Award), God of the Gaps (Pushcart Prize nominee), and In and Out. Sarah has collaborated with The Other Theater Company (Chicago) and Sod House Theater (Minnesota), and she is a former company member of Workhaus Collective (Minneapolis) and Rude Mechanicals (Austin). BS: Northwestern University; MFA & PhD: University of Texas at Austin
Nimo H. Farah is an artist and activist that uses language to express things she finds too confusing. Her current undertaking is to develop her skills as an orator while blending Somali and English. She thinks of herself charming and hilarious in the Somali language, but rarely does that humor translate into English. Her poetry and short stories have been published in Water-Stone Review, the Saint Paul Almanac, and the Loft Inroads chapter book. As a storyteller she has shared her words at the Black Dog Café, the Loft, and Pillsbury House. She co-founded SALLI (Somali Arts Language & Leadership Institute), a nonprofit organization promoting art and literature the Somali community. She is a 2014 Loft Spoken Word Immersion Fellow, a 2014 Bush Fellow, a recipient of 2015 Intermedia Arts VERVE grant, and a 2016 National Arts Strategies Fellow.
David Melendez is a former US Navy submarine mechanic and a Ph.D candidate in Theatre Arts and Dance at the University of Minnesota. His areas of interest are Theatre Historiography, Chicana/o History, and Indigenous Performance Research. He has taught classes on Chicanx music, art, Barrio culture, and service-learning with Latinx community organizations in the Twin Cities as an instructor for the Department of Chicano and Latino Studies. Mentored by the artistic and administrative leadership of Penumbra Theatre Company as the 2018-2019 August Wilson Fellow, David supports local theatre artists, educators, community organizers, and youth whose work centers the needs, challenges, and desires of historically marginalized and presently vulnerable communities in the Twin Cities. He currently teaches Introduction to the Study of Performance at Macalester College, sits on Mixed Blood Theatre's Latino Advisory Council and the advisory board for the Alliance of Latinx Minnesota Artists (ALMA), plays son jarocho music with the MN Jaraneros in partnership with El Colegio High School, and gathers to play Sunday community futbol with Left Wing TC.
Alys Ayumi Ogura is a Twin Cities-based dancer and performing artist. She started her dance training as a child under the guidance of Ms. Mika Kurosawa, who later became to known as the "Godmother" of Japanese contemporary dance. Her theater training was part of her BA in Theater Studies from Westmar University, IA. She is an alumni of the 2017/2018 Arts Organizing Institute at Pangea World Theater. Ogura has been performing in the Twin Cities since 2010, and has worked with Aniccha Arts, Company Blue (Italy), Emily Johnson/Catalyst Dance, Hauser Dance, Live Action Set, MotionArt, Melissa Birch, Emily Gastineau, Sandrine Harris (CT), Anna Marie Shogren, Vanessa Voskuil, and Laurie Van Wieren, to name a few. Her choreography has been performed at the Choreographers' Evening at the Walker Art Center, the 9 X 22 Dance Lab at Bryant Lake Bowl, and the Ragamala Dance Company's Ode to Navarathri festival, Landmark Center. One of her improvisational pieces was featured at the Future Interstates series curated by BodyCartography Project and Hijak. Ogura currently dances with Sara LaRose-Holland's Kinetic Evolutions Dance Company, and has just been invited to perform with Painting the Room, a music/dance/text improvisation collaboration.