The Trauma Question
Writer and cultural strategist Lisa Marie Brimmer responds to the May 2019 event Mn Artists Presents: Anat Shinar and Amal Rogers as "surreal immersion theater", untangling the complex relationships between artists, institutions, and audiences, and calling for new stories to be made possible.
Mn Artists Presents: Anat Shinar and Amal Rogers was an evening of surreal immersion theater that put the Walker Art Center center stage for audience consumption. By posturing the Artist, the Institution, and their relationship as the theme and focus of an evening of darkly comedic scenes, curators Shinar and Rogers cast scenes of subjection throughout the white, circuitous halls of the international art center. Nestled in the bourgeois downtown neighborhood of what is now called Lowry Hill in Minneapolis, MN, on occupied Dakota and Anishinaabe land, on an unassuming Thursday in early May, Shinar and Rogers drew audience attention to mimetic and improvised stories that bore resonance to many stories of the land, and the communities that now call the soil here home.
It's true: Black, brown, indigenous, people of color, non-Christian, queer artists and those with disabilities are made to feel the squeeze of the ever-restricting resource tributaries which determine where and how they will propagate their work.1 While artists add demonstrated value to the communities in which they work, their communities of origin, as well as the economies that are nurtured financially and energetically by their contributions, Institutions—large and small—often produce exploitative work conditions. That is, by providing a platform for artists, Institutions can un/intentionally reproduce conditions which feature the biases, assumptions, and conservative social environments of their monied, legacy-driven donors and audiences.2 An environment that exploits communal/personal experiences of trauma as artistic currency tends to play to the neoliberal gaze and imagination. This type of exploitative cycle can produce a certain comfort for some, without necessarily supporting the contemporary struggle of the artists and communities creating the work.
The Night
Curators Rogers and Shinar curated an evening which hoped to push audience members past a comfortable experience. They highlighted the ways in which marginalized artists end up footing the bill in support of organizations through their artistic and emotional labor. Artists often provide unpaid or uncredited guidance in areas of equity and inclusion. They are subject to the popular experience of being both undervalued and under-compensated. Additionally, their engagement with organizations often produces greater philanthropic legibility for the organizations. By this I mean, the organization makes money off inequitable practices. This dynamic plays out at lots of organizations: those of various size, shape, and even under some of the greatest of leaders.3
Criticisms remain regarding the common methods of doing this work. The rote behaviors of academic, artistic, and archival institutions can be seen as lacking the strong community connections, as well as the understandings, necessary for authentic relationships and storytelling. This lack is a consistently-cited reason why these spaces reproduce a colonial environment of extraction and exploitation. How can we apprehend a relationship between the artist and the audience, the artist and the institution, or the institution and the audience? How do we make space for these relationships to develop otherwise?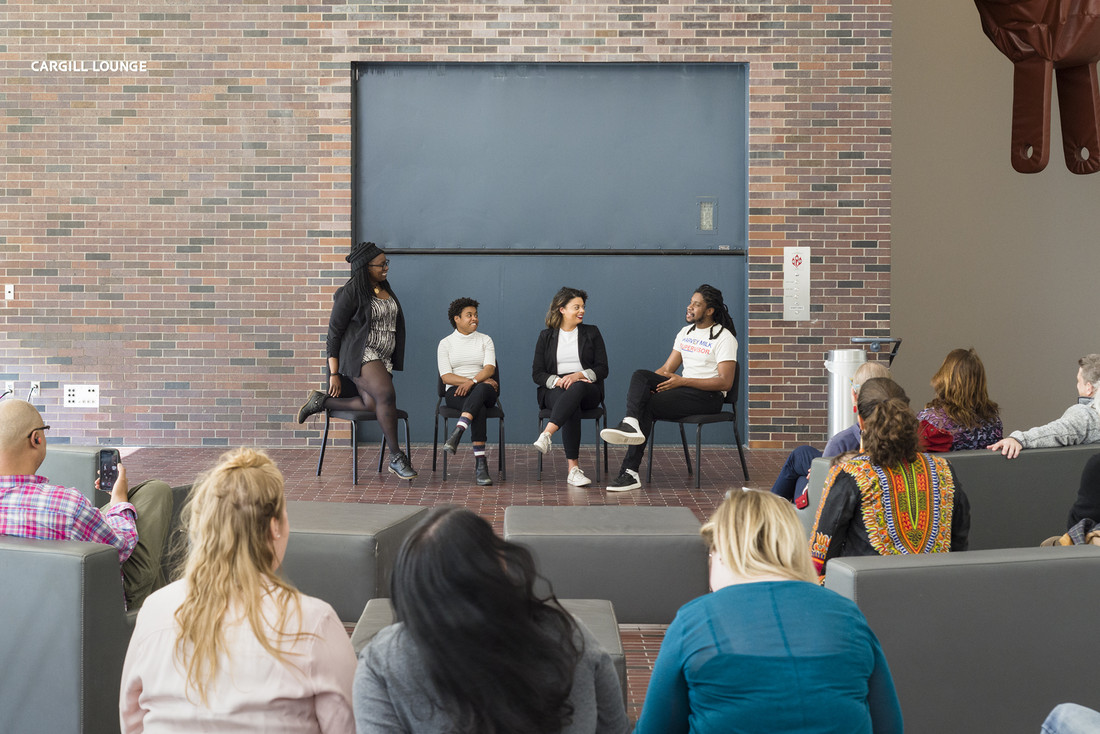 The Session
Rogers and Shinar curated an evening of dark and comic critique hoping to spur just that conversation. In doing so, they doubled down on an open indictment of the privilege of the viewer. These performers conjured an act of witness—in which the spectator/spect-actor squirms under the eye of the performer. The evening struck some of the same satirical notes that came through in Rogers' and Shinar's most recent Choreographer's Evening performance in 2018.4 To me, their opening number was one of the funniest and uncomfortable moments of dance I've seen. Rogers and Shinar looked at (or past?) an old box television and out into the audience, eating, crinkling bags, drinking from plastic and aluminum, and indulging the audience's attention for minutes on end.
The Mn Artists Presents installations curated by artists Rogers and Shinar followed suit, by illuminating the anti-Black and anti-indigenous environmental experience of marginalized artists at work. Live performance was used to tell stories of place that thinned the veil between performance artist and audience member. The ruptured fourth wall, the playful air of improvisation, and direct institutional and place-based critique all framed my experience of the event.
The Public Strategic Planning Session on Institution and Identity was supported by a cast of four performance artists of varying backgrounds,5 in addition to Rogers and Shinar. The session had explicit ground rules, and a series of questions for artists and audience whose answers were projected in a PowerPoint projected for all the sighted to see.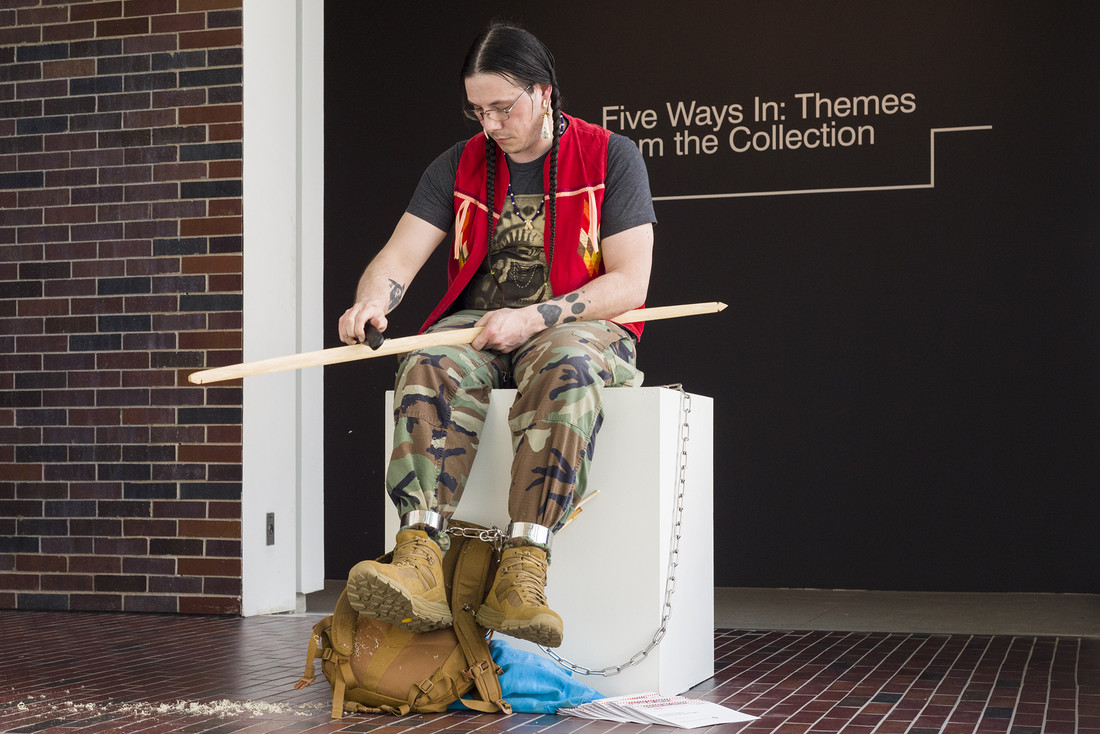 The striking sound of Dawi whittling a bow6 at the head of the Hennepin Hallway, seated on the top of their block, informed my later experience in the Cinema, viewing what I'm considering a forum theater piece—in which the cast of panelists become actors seeking audience participation, in which the audience is cast as expert, in which we can't tell the difference between life and art.
Also ripe in my mind were the images produced by the body of Lela Pierce contained in a large square plastic bag, with other body-shaped bags strewn around the space, with gashes of red and dirt inside.7 The whirr of commuters heading sheepishly home from downtown laid behind the scene as a scrim to this performance. On seeing this assemblage, I could only remember "dying in" the street with other Black Lives Matter activists after Jamar Clark was murdered by police in late 2015.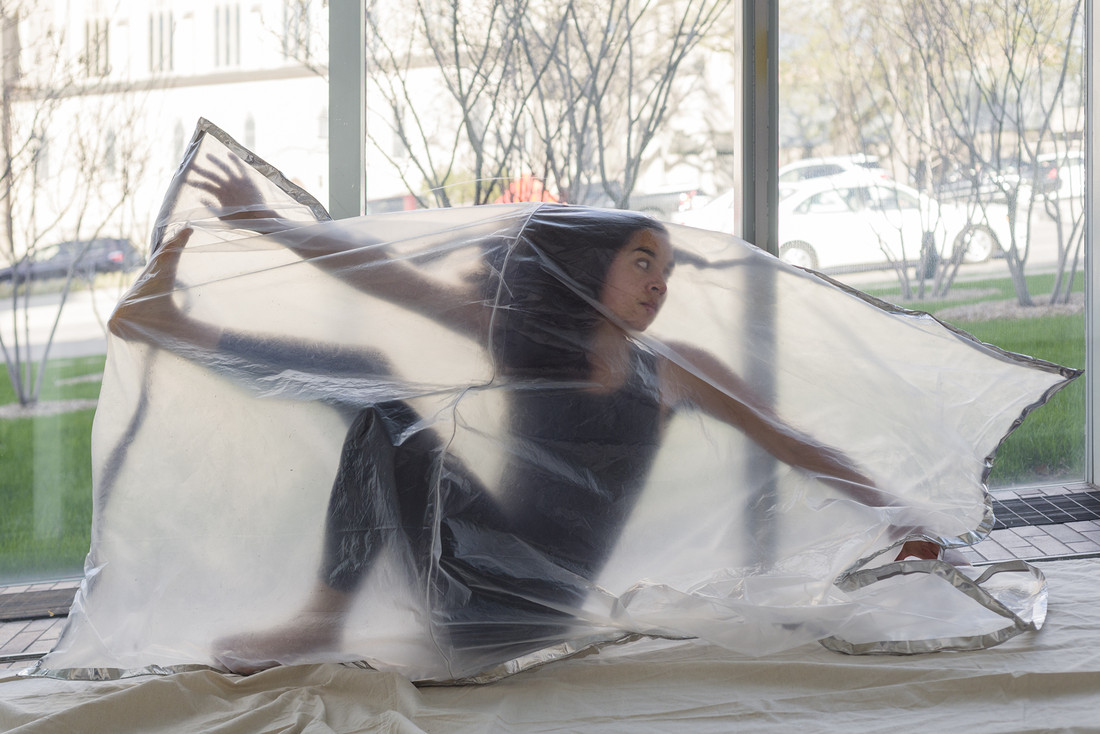 At many times I wanted to participate and, say, interrupt the white/white-passing woman I read as haggling the performers by talking to and photographing the real, live indigenous human beings wearing silver shackles enjoined to white podiums. How do the histories of black and indigenous peoples on this land remember each other?
I should note that as a named party with the final word on what parts of the experience would be made public. Though the complete notes are linked here to support an idea of what these minutes looked like, I summarize a few key challenges below. These were challenges that were present in the 90-minute forum theater experience of the Public Strategic Planning Session, but they also describe lead concerns in the field of engaging and supporting marginalized, local, and emerging artists.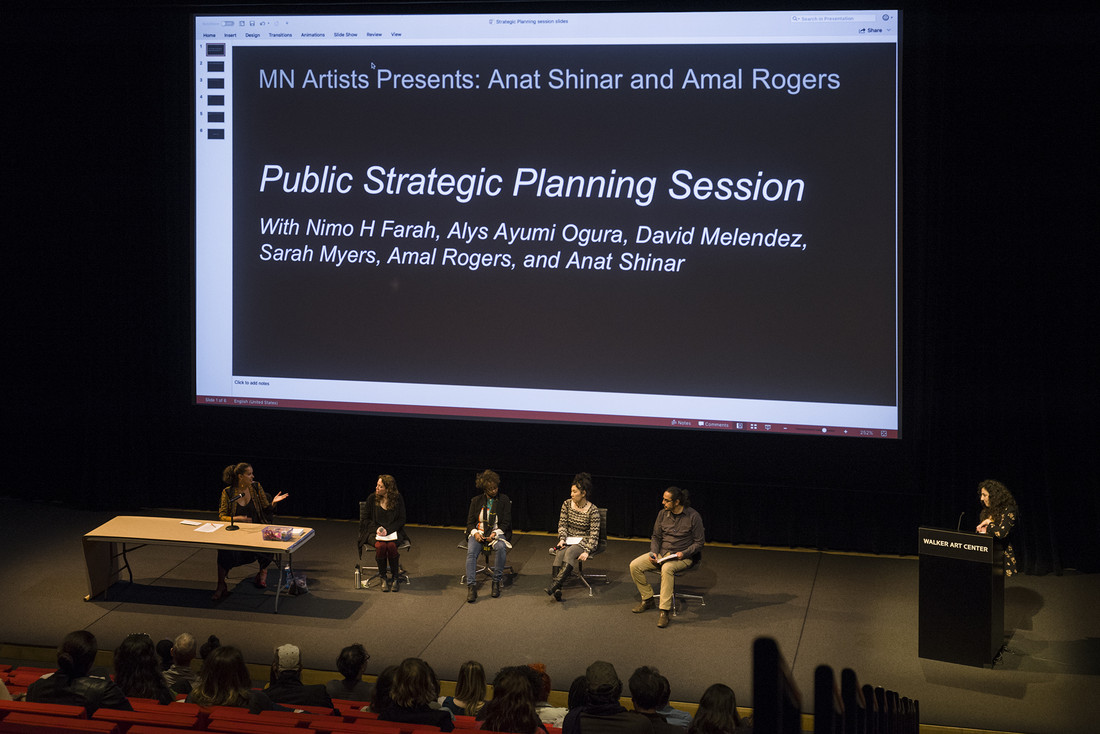 Key Challenges from the Public Strategic Planning Session on Institution and Identity:
Trouble Getting Specific: At no point was a member of the curatorial team, artistic panel, or audience member full on willing to explicitly define the term marginalization or who a marginalized artist is. Why so scared? Perhaps it was to avoid the oppression Olympics that has become so common to identity politics. Perhaps for fear of taking on a (problematic) expert position. Perhaps for fear of doing it wrong.
Economics Are Stratified: We live in a classist society. There, I said it. The distribution of financial and energetic resources is simply unequal. While artists share—or imagine they share—a position outside of mainstream culture, marginalized artists are especially insecure on the funding, space, and opportunity to tell stories with and for their community. Others have both the access and resources that come with mainstream privilege (which privileges white, male, heterosexual-centered performance work).
Access Is an Issue: This is a question of who is invited to the table and whether that table is actually accessible. Is there space for my wheelchair or service dog, and will there be ASL captioning for my deaf/hard of hearing neighbor? At the Walker, where even taking a stroller through the galleries can present a challenge, the intermittent steps and seemingly infrequent elevators produce a barrier to accessible spatial flow.
Insider–Outsider Dynamics: If we are on the outside of organizations and mainstream society, how do we gain access to spaces for rehearsal and performance with our limited means? If they are even available to renters, it takes money and emotional energy to gain access to space. Personally, at times I'm limited on both! And once an insider, the dynamic of an organization can be complicated—certain bodies in the boardroom aren't always allowed to be effective.
Legacy of Action Without Impact: As Myers, the facilitator, reminded the audience at the top of the show, there are many individual people, groups and organizations doing the work to create more access for underrepresented voices and organizations in the arts and beyond.
To shift away from these known concerns and towards a little more impactful action might require business to operate a little differently. It is no short work: Decolonizing and democratizing the Institution is a complex task. How do we get specific, flatten our relationships, and create deeper, more impactful relationships?
For arts institutions, shifting the power and financial dynamics to include a more expansive idea of audience could be a prime next step. This could look like compensating contracted artists for the outreach aspect of their work, conscious board development and training, or a long hard look at what has always worked in favor of what might also do the trick.
Another suggestion could be to create more accessible spaces for different types of bodies and minds. Access to both platform (as artist, administrator) and content (as audience) is more costly for marginalized bodies. These spaces are still not for us. 8 All across various halls of academia, throughout the walls of galleries great and small, and on stages of incremental height, we see access as something that is still pointing towards the mainstream performer and audience member, the able-bodied consumer. How can philanthropic organizations take a stronger stance on supporting venue and performance space accessibility?
The Next Question
Like the live performance of the Public Strategic Planning Session itself, it seems like the relationship between the Institution and the Individual Artist is stuck on a traumatic loop. Nothing to be done.9 As it happened in the panel: fumbled questions, repeated observations, and frustrated participants all reveal our inability to get beyond an introduction. We repeat conversations for lack of ability to see beyond the world to which we are currently bound.
The trauma question is a force of habit that controls with repetition. Even if we make the end comedic, even if we try to combat marginalization with radical love, radical honesty, and satiric form, we might miss the whole point. We might do the whole thing over again. We might tell the same story.
This evening, and with the Walker as stand-in for "the Institution" writ large, we were left wanting more answers than can seem to be found. In the 21st century, our traumas must not be up for allotment or lease, and institutional profit. We need better long-term strategies that offer reparations to those whose stories and bodies are brought us to now. Let us create new habits around which new stories can be made possible.
---
This response was commissioned in conjunction with Mn Artists Presents: Anat Shinar and Amal Rogers, which took place at the Walker Art Center on May 2, 2019. This piece was edited by Amal Rogers, with editorial support from Emily Gastineau.