Marriage Made In Heaven: TalkingImageConnection
Geoff Herbach offers a first-person dispatch from the latest TalkingImageConnection happening, "Gazing at Stars," the latest offering in an innovative series bringing together in conversation visual artists, musicians, and writers.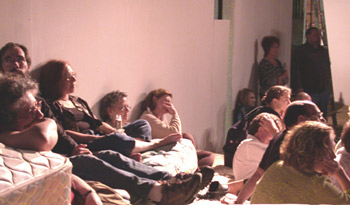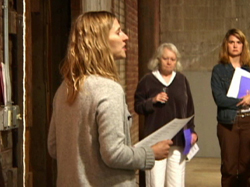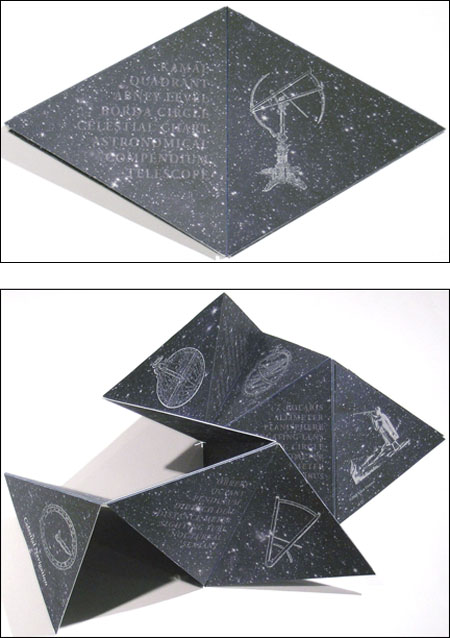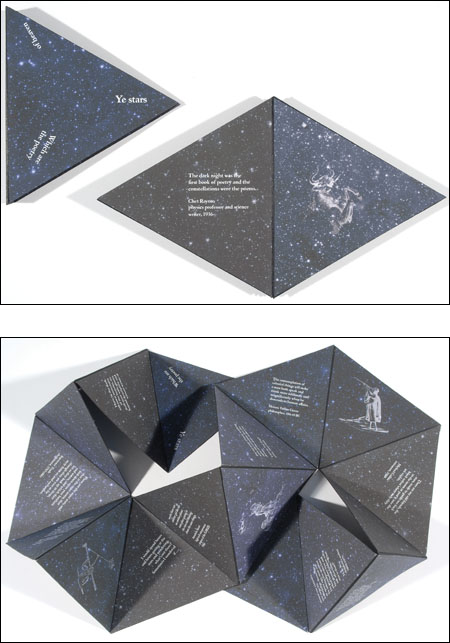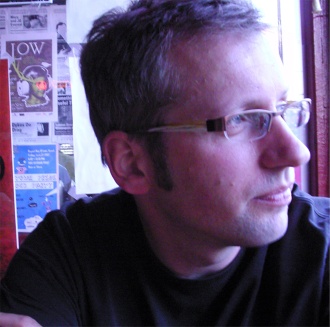 STANDING OUTSIDE OF THE SUSAN HENSEL GALLERY, I am pleased that the temperature isn't below zero. It's hanging in the mid-twenties, even though the sun is down. Practically balmy. A South Minneapolis icon, Matt's Bar, home of the famous Jucy Lucy (the cheese is inside of the burger!), is not even a block away. Even with the fleeting, decent February weather, weather that pulls us hibernating Minnesotans out of our homes (and often into bars), tonight Matt's isn't getting the lion-share of the traffic in the neighborhood. An event that trumps the Jucy Lucy, impossible though that sounds, is about to go down. At least for the next hour and a half, more people will be attending a literary reading in an art gallery than are gnawing world famous cheeseburgers in the bar down the block.
I've either read at or attended twenty events organized by TalkingImageConnection. The audience is always this big.
Inside the gallery, lengths of two foot-wide paper hanging from wire frame the main room. On the paper, the night sky is printed, the stars, the constellations. After milling around, drinking a beer or two and eating some blue corn chips (Matt's has nothing on this place), I sit down on a stool facing other members of the audience, or their sides, or the backs of their heads, or their rears (lots of standing and sitting on the floor). They fill the room to capacity, young and old, and are packed tight. This is not a standard set-up for a literary reading. There is no podium, no obvious focal point. The art installation, Celestial Navigation, by Karen Hanmer, completely surrounds us. As the readers introduce each other, it becomes obvious why no focal point is necessary. In three of the room's corners (a constellation of sorts), stands what might look like another member of the audience if it weren't for the fact that each of these individuals is clinging to paper filled with words, prose, and poetry. The readers—Jean Larson, Ace Moore, Alison Morse, Jeff Skemp, and Charlotte Sullivan–are part of the installation. As each tells a story or reads a poem, heads in the crowd swivel. Some in the audience are close enough to read along, gazing over a writer's shoulder. That seems appropriate. This event is titled "Gazing at Stars," after all.
TalkingImageConnection (TIC) is a Twin Cities organization founded by multi-genre writer Alison Morse. Morse is also a former animator and instructor at MCAD. "I want TIC to be a bridge between word and image, artists of different disciplines, emerging and more established artists, and artists and audience members," she explains. "TIC is about rubbing two different substances together to make fire." The organization has been holding readings in art spaces since 2004. Half a dozen times a year, good-sized crowds attend these events in galleries (often the Soap Factory, but many others, too) across the Twin Cities.
As the reading moves forward (an incredible, personal essay by Sullivan, quirky, funny, lyrical poetry by Skemp, short bursts of intense poetry by Larson, a poetic creation story by Moore, and vivid fiction by Morse), it becomes clear that the artwork is more than just a backdrop for the writing; this is a collaborative affair. The night sky, the stars, connect reader to reader and reader to the surroundings. This is writing that has been created in conversation with the art. Almost all TIC readings work this way.
About a month before the reading the writers met, and met Karen Hanmer ,the artist responsible for Celestial Navigation. They listened to her, asked questions about her work, looked at the art they'd be surrounded by when they'd read, took notes and then went to work writing in reaction.
This is the TIC modus operandi. Morse talks about an upcoming reading by way of illustrating the artist/writer interaction that kicks off a TIC event. On June 14th Morse, along with poets Tammy Wenberg and Paula Cisewski and musician Peter Schimke, will perform writing created in response to an upcoming themed show at the Soap Factory, Meander, curated by Bethany Kalk and Ben Heywood. Artists in the show are taking on "meander" in literal and conceptual ways, collaboratively and individually. There will be video, murals, installations, photography, and sculpture—and much of it will be produced on site as the show goes up. But a few images have already been created for the show, and the writers are already looking at them and responding to what they see. TIC has a blog where they share lines of poetry, paragraphs, and musical themes. In the end, these poets and musicians will string along a full evening of words and music that both addresses the art and adds to it.. For the writer, the end result of one of these evenings is often work that stands on its own. Viewing the artwork, thinking in different ways and in out-of-the-ordinary contexts, provides a fresh entre into the themes a writer is naturally predisposed to write about anyway. This, I think, is what Morse means when she says, "…rubbing two different substances together to create fire."
The result of this interaction is not just good for the writer, it works for the audience. As the readers present their writing, audience members are quiet, still, attentive. There is none of the nodding off one sometimes sees at more traditional readings and lectures. In fact, TIC readings are a part of a national movement in literature. A reading doesn't have to be merely a public relations event for a new book; literary events are being reimagined in ways that marry the energy of performance with the panache of good writing. And in so doing, these dynamic interpretations of the old-fashioned author reading prove that such an event can be a happening that draws an audience on the merit of simply putting on a good show. The audience at "Gazing at Stars" is rapt. And that's why TIC is still growing after four years. That's why the Susan Hensel Gallery is drawing better than Matt's Bar this night. And as audience members move out into the relatively mild night afterward, there's a buzz in the air. We all know we've seen something heavenly.
For more information on TIC, including its mission, pictures, video, and a schedule of future events, visit the organization online at talkimage.org.
About the writer: Geoff Herbach is a writer from Minneapolis, MN. He co-founded the Lit 6 Project, a group that runs beer-fueled literary events around the Midwest. He is also a founding member of The Electric Arc Radio Show, a literary-musical tragi-comedy, which has aired on Minnesota Public Radio, starring four sad writers who live in a decrepit house and spend time fighting over the television remote and stealing appliances from local stores rather than writing. His debut novel, The Miracle Letters of T. Rimberg, arrives this April from Three Rivers Press. Tish Cohen, author of Town House, called the book, "…a darkly comic, extraordinary peek into the delicate mind of a suicidal no-hoper." Herbach has hope and an MFA in creative writing from Hamline University.