KOBI: Reflecting to Heal
A conversation with the 2021/22 MCAD–Jerome Fellow on how his photographic practice creates space for healing, reparation, and introspection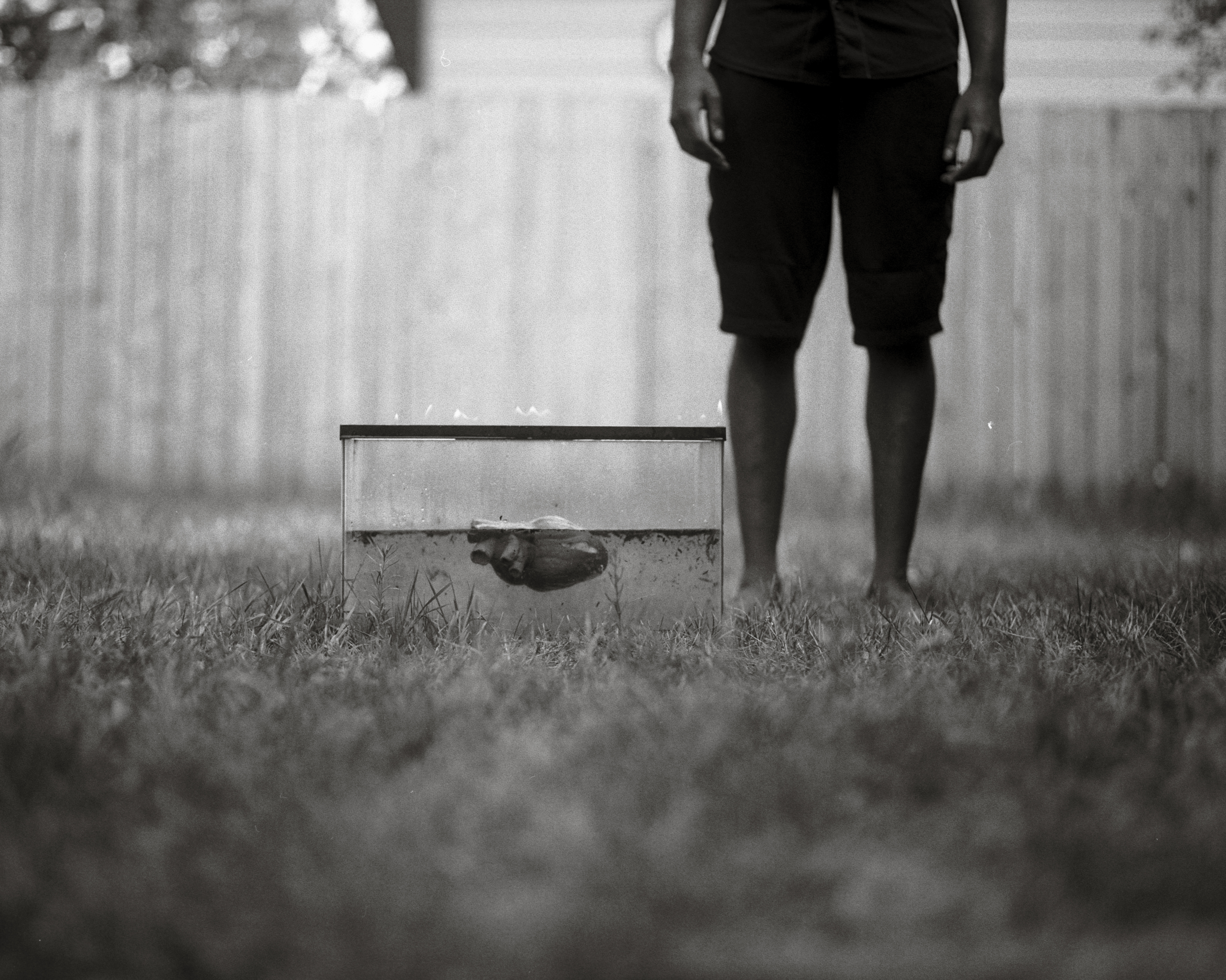 Melanie PanKauHealing, introspection, and reflection are common themes throughout your practice. You mentioned your images create a space for dialogue about trauma, identity, and mending. How do these ideas manifest in your photographs or in a specific project?
KOBIThe idea manifests in the project BlackMan BlackMan specifically, because it deals directly with the themes of some of my traumas and how I got to learning how to heal. From being displaced from my home country of Liberia due to war (Displaced) to my crippling fear of water and near death experiences (P.T.S.D.), my goal was to reflect that trauma through the concepts, the subjects that I collaborate with, and how meticulous I was with the creation. Each subject wore white, which I wanted to represent healing. Each subject wearing the same clothing was meant to create a sense of homogeneity and allow Black men to be able to see themselves and their trauma through my stories. My goal was not to be clever with my approach, but rather direct and intentional, which aids in healing.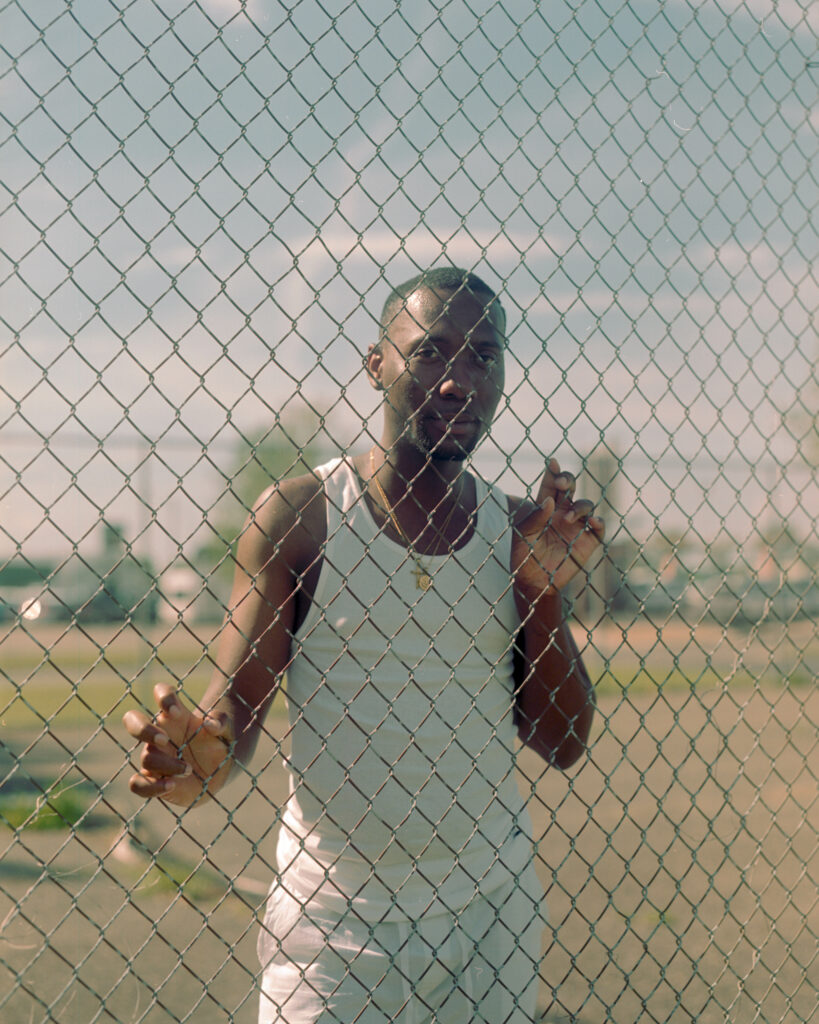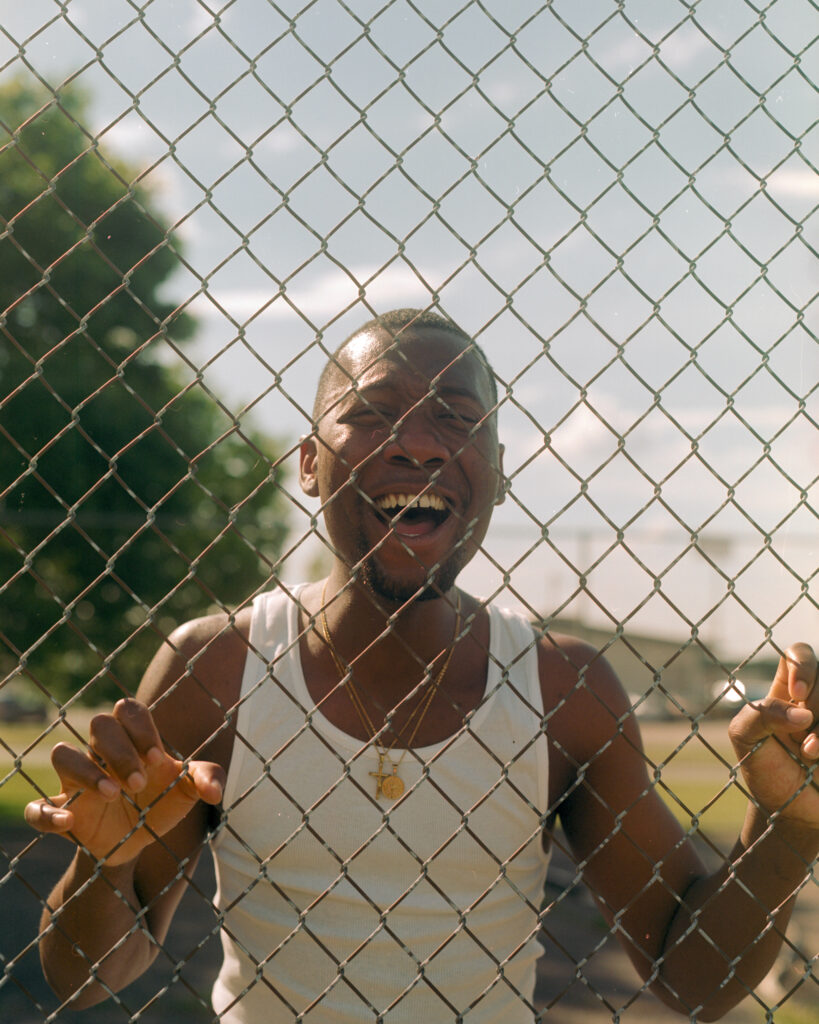 MPYou described your practice as evolving from reparation, and becoming more about the preservation and restoration of your self-identity in relation to your Blackness. Could you tell us more about this evolving theme in your work?
KOBIWhen I started as a creative, I wanted to make work to inspire change for Black people. And I felt that the only way to do that was talking about the struggles of "all Black people" and creating a solution that felt very prescriptive. In doing so, I could never make work that felt real, because I was constantly trying to speak on something I really didn't understand. While watching George Floyd's murder I broke down. I was confronted with my own trauma and could no longer out-run my demons; I had a decision to make. I knew I needed to heal, and art has always been a source of peace for me, so my work became about healing myself. On this journey I've learned that not every Black man has the resources to heal that I've had, nor do they know how to. Because I have this platform, I have dedicated my work to creating spaces to converse and show others that conversation and transparency is sometimes all we need to start healing.
MPI'm curious to know more about your process. You work primarily with film. Why is using analog photography important to your image making?
KOBIAnalog photography taught me to slow down, to enjoy the process of creating and not just the end result of a piece. The more I work with analog, the more I realize the parallel between the process and healing. There is something about film that shows you that you have no control, and the sooner I realized that, the sooner I was able to start to heal. I also really appreciate how gentle it is with Black skin.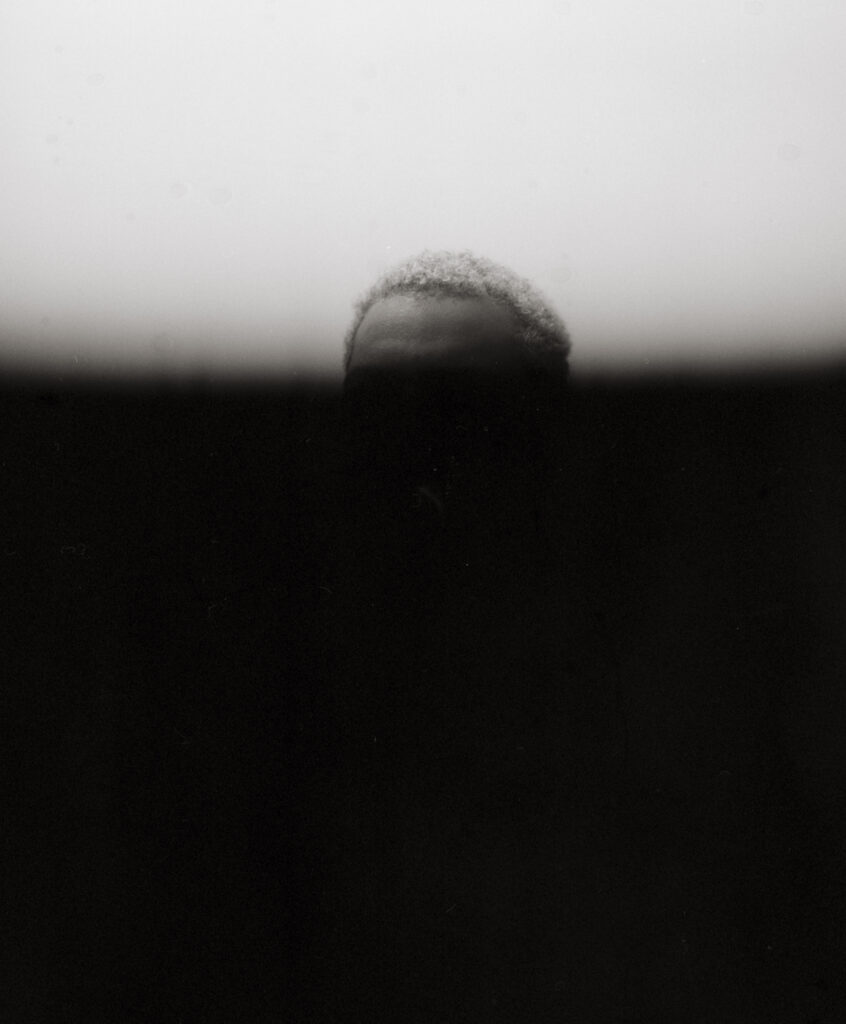 MPCould you tell us about your recent collaborative book project? Do you plan on creating more work in partnership with other artists?
KOBIThe Illusion of Healing is a collaborative phoetry (photo/poetry) book with artist Jandeltha Rae. The goal was to create a space for her to share a fraction of her gift and show the world how talented and amazing she truly is. Whatever she decided to write about, I was then going to interpret her words to create the photographs within the book.
It was a complete coincidence that she was in a place of healing and wanted to write about her trauma, which aligned perfectly within my work about trauma and healing. I am a big fan of poetry and every time I read, I get these images in my head. I wanted to give those images a place to live. And I felt it was something that wasn't done before. A lot of kids' books have visual aids in them; it's as though the older we get the goal is to lose our childhood and innocence and one of those ways is by stripping away images from books, so in a way this was an attempt to take back some of that innocence.
I plan to work with other artists. I am currently working on something with a few other artists that will be released this fall. There is a lot of talent in Minnesota, but unfortunately a lot of those talents don't have the opportunities or are waiting for a certain platform to do what they want to do. I want to give artists the space to show off their talent and understand they don't need anyone's co-sign on their work to "make it." I believe success is in the act of doing and not the end result.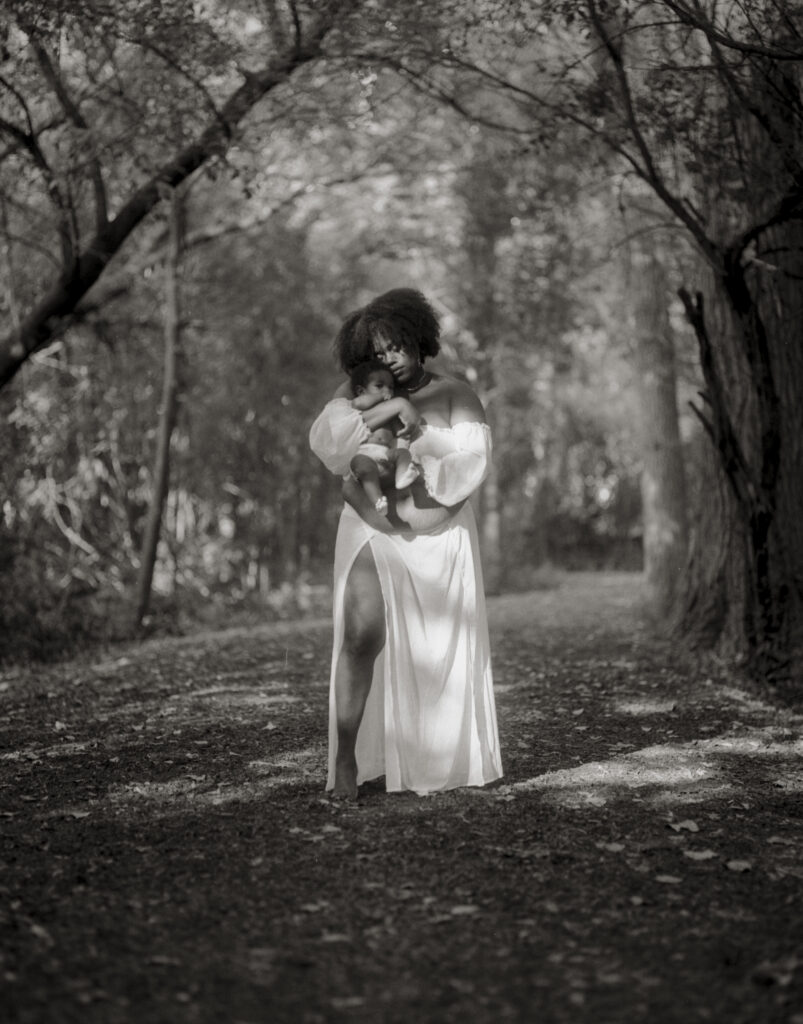 MPWhat do you want a viewer to walk away with after experiencing your work?
KOBIWhatever they want. I want them to feel whatever it is they are feeling. I want them to feel however they feel looking at my work and know that that is okay. I want Black men to feel that they are seen, heard, understood, and belong. I want anyone who isn't a Black man to understand that although this work isn't made directly for them, whatever they are feeling is valid. You can listen to the struggles of others without yours losing validity. I also want the traumas that Black men feel to be valid, and I want healing to be a real option for us, not something that's glorified or stigmatized. I want people to understand that anxiety and depression are real things that I feel as a Black man. I am anxious in my own bed, I am anxious when I leave my home, I am anxious every time I sit in my vehicle, let alone when I drive. I am anxious when I walk around Target because I feel I'm always being watched, and I am anxious at the sight of a body of water, let alone getting into one.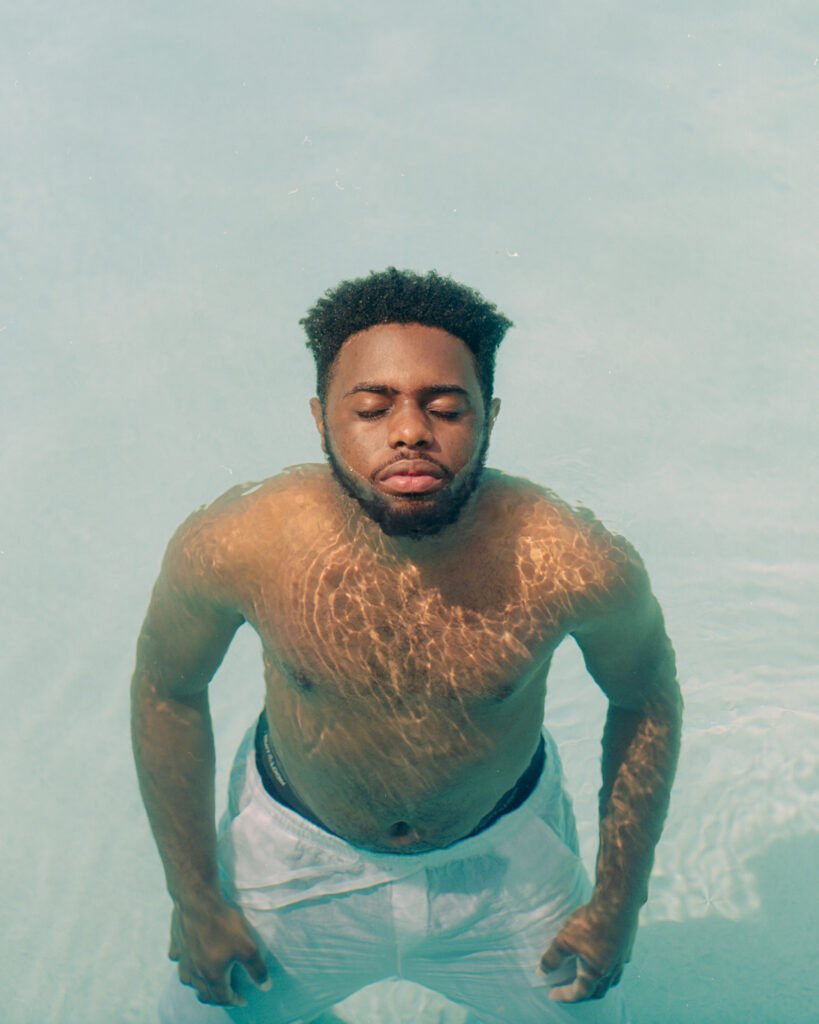 MPWhat artists, writers, musicians, exhibitions, performances are inspiring you right now? And why?
KOBIAt this time no one is inspiring my work, but I do have an extensive vinyl collection that I listen to to reset. I listen to old soul music from the likes of Nina Simone and Nat King Cole to modern music of J. Cole, Frank Ocean, and Snoh Aalegra. I have been inspired by Maya Angelou who has shown me that words can be both sweet and bitter, Langston Hughes who has shown me how to be brutally honest and transparent with my words despite who it hurts, and Rupi Kaur who showed me that words and images do belong together on a page.
Ultimately spending time with my daughter and learning to be a father is motivating my work and encouraging me to deal with my shit, so I don't continue to perpetuate the traumas and neglect my father showed and passed down to me. She is showing me a gentle way to not only give love, but to receive it.
MPHow has winning the MCAD-Jerome fellowship affected your practice?
KOBIIt has given me the financial means to create, a platform, and accountability to make my work because it needs to be seen and experienced. It has shown me that I am really good at creating. It showed me that my work belongs and that healing matters. It has also shown me that the quality of the work I make matters just as much as the quantity.
MPIf you could describe your work in one word, what would it be?
KOBIHealing.
---
KOBI is a multidisciplinary Liberian/Ghanaian artist working primarily in film and photography. He believes that the art we make is an extension of who we were, who we are, and who we want to become. KOBI's artistry has evolved from one about reparation and become more about the preservation and restoration of his self-identity and the identity of Black people. KOBI uses film and analog photography to convey his trauma and propose a solution of healing through conversations about acceptance and accountability. He obtained his BFA in Integrated Media and Film production from St. Cloud State University and is currently a member of the Public Functionary (PF) Studio 400 program.