FRINGE SHORTS: "The Dust" by Core Project Chicago
Amber Davis enjoyed the excerpts from Core Project Chicago's thought-provoking interdisciplinary movement piece exploring the entanglements of Death, Fate, Memory and Man.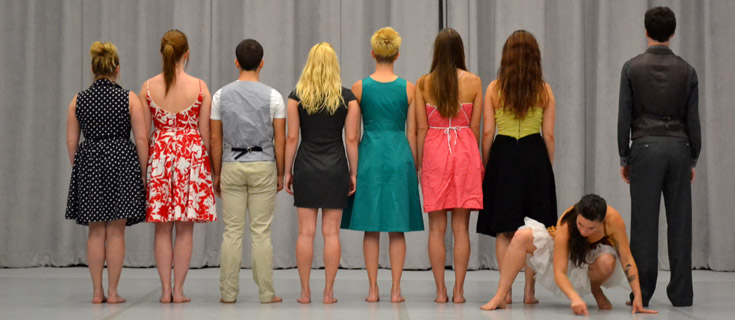 PATRICK'S CABARET IS A LEADER IN MINNEAPOLIS for its support of performers and an especially cool place to find up-and coming dance artists presented side by side with established favorites. It's a perfect venue for a dance slot in the Fringe, so it was great to see the Core Project Chicago (CPC) company performing there. CPC focuses on interdisciplinary work with a dance focus; The Dust is the company's latest piece. Their thought-provoking addition to the Fringe only offered excerpts from the full-length version of the work, but focused direction from Erin Rehberg kept the piece flowing as a whole.
The excerpts presented in the Fringe iteration of the show focus mainly on four characters: Death, Fate, Memory, and Man. Through movement and captivating music (written and designed by Spencer Lambright), those characters explore the interdependence of their relationships, whether they're connected by objective or accident. Performers Matthew Frazier-Smith, Tiffany Philpot, Kate Puckett, and Ashley Strickland dance with power, balancing a intense presence with the audience and moments of surprise. Tiffany Philpot, in particular, provided a great strength and honesty to the ensemble performance; Kate Puckett merits a mention, too, for her intriguing interpretation of Death.
CPC's The Dust could be set in present or past. Lambright's sound design lives in almost, but not quite familiar territory, with a mix of recognizable music (at one point the voice of Frank Sinatra), radio static, and text by Jasmine Greer. Lambright's design feels contemporary but nonspecific; it lends ambience without defining the time frame. Costumes by Carrie Gant and Jasmine Greer are lovely, distinguished by minimalist but striking color choices, accented with patches of surprise.
CPC is not only performing these excerpts in the Twin Cities; they're in the middle an extensive summer tour schedule, including stops in St. Louis, Kansas City, Baltimore and Rochester, New York, as well as two cities in their home state of Illinois. I hope CPC will return again next year to do a full production, outside of Fringe's abbreviated time-limits. Recommended.
______________________________________________________
Related information and performance details:
The Dust by Core Project Chicago is on stage at Patrick's Cabaret in Minneapolis for one more performance, Sunday, 8/11, at 7 pm. Find show details and ticket information on the Fringe web page: http://www.fringefestival.org/2012/show/?id=2265
Find reviews, ticket info and more on the Fringe Festival website: www.fringefestival.org/
Check back on the homepage regularly throughout the Fringe Festival, August 2 – 12, for more short reviews on mnartists.org, sent in from our intrepid performance critics on the scene.
______________________________________________________
About the author: Amber Davis is an actor, puppeteer, stage manager, and teaching artist in the Twin Cities. Davis has worked with the Walker Arts Center and Open Eye Theatre, The Jungle Theater, The Children's Theater, Orchestra Hall, Free Arts Minnesota, Mu Performing Arts, Savage Umbrella, Aporia Theatre, and Chameleon Theatre Circle. She co-organizes Wheel Sexy, a bicycle cabaret and burlesque show. Savage Umbrella's most recent project, Davis directed and designed The Golden Carp, a new chamber opera.