FRINGE SHORTS: "Flesh" by Present State Movement
Lightsey Darst reviews one of this year's most buzzed-about Fringe performances, "Flesh" by Present State Movement: five solos by five stellar Twin Cities dancers: Tamara Ober, Leslie O'Neill, Laura Selle Virtucio, Nic Lincoln, and Amy Behm-Thomson).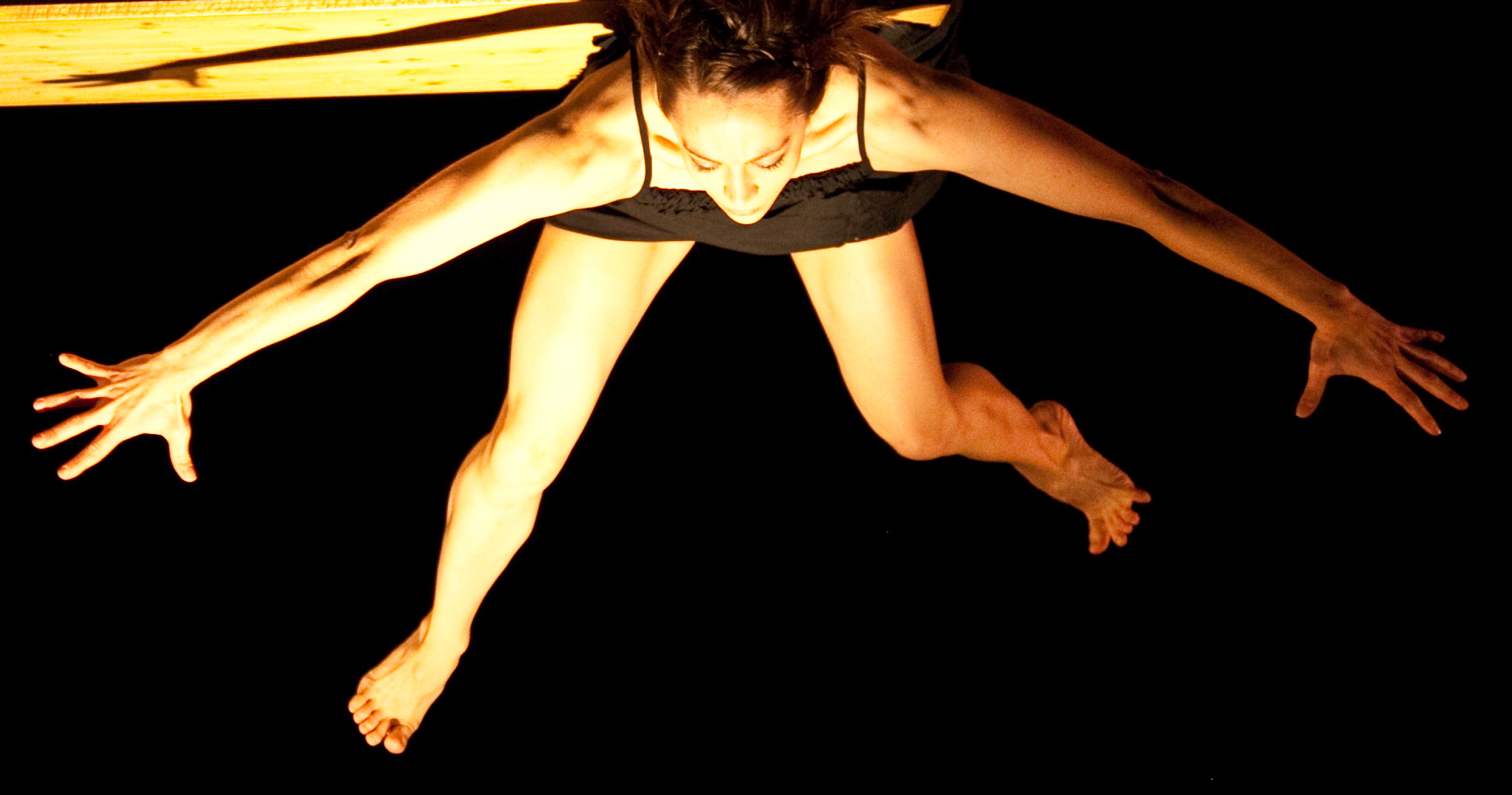 FLESH IS APTLY TITLED: a show of five solos held together not by a common choreographer, not by a dance company, but by a theme of revelation — and by its objective correlative, a lot of skin. If you want to see something lovely, go no further, because Flesh gives a long look at five stellar Twin Cities dancers: Tamara Ober (also the show's organizer), Leslie O'Neill, Laura Selle Virtucio, Nic Lincoln, and Amy Behm-Thomson. It's not just that you get to see them dance, either; you get to see pieces they created or co-created, or pieces that were made or re-set just for them, pieces they perform with a special intensity. In other words, you're learning a lot about these people, from the set of their haunches to the color of (some of) their dreams.
I'm always fascinated by how little critics say about what dancers actually do, how routinely we turn our attention from dancer to choreographer. This show, by foregrounding the dancers' choice, refuses to let that happen – but it simultaneously suggests why it does. What drives many dancers to endure the training and discipline required for excellence is a craving for physical experience, for embodiment, transformation. Take "These Years," the solo O'Neill created for herself. After beating the sides of the bathtub she sits in, O'Neill ties up the top of her gold lamé dress, takes a sensuously long time sticking shimmery clips in her long brown hair, and then, in my favorite moment, stands up in her bathtub, faces a folding mirror, and rises and sinks on the balls of her toes over and over. What she's doing is obvious, but with the bathtub hiding her feet, she seems to be levitating — or playing with levitation, trying it on to see what it looks like. We've seen her go from suicide (drowning in her bathwater) to angry girl to society beauty; what's next, this moment suggests, might not be human at all.
All the solos here explore transformation or the desire for it. The four women's solos register frustration with available roles in life and art — the spiritual version of "I have nothing to wear!" which is no small matter. Marta Ladjanszki's solo for Ober, "ONE," turns Ober upside down, with pointe shoes on her hands and prehensile, handlike feet. The choreography might be one more thing that ballet will have to answer for at the great tribunal in the sky, but Ober's performance — feral, sustained — is in a league of its own. Amy Behm-Thomson, in her own work "secondaries," arrives cradling a white wing that suggests a past life or outgrown wish. In a dress of virginal white lace not-so-virginally missing its lining (the work of the always-thrilling costume designer Angie Vo), Thomson struggles with … something. What it is perhaps doesn't matter as much as her lightning arms. Selle Virtucio's "Her Kind" (named for Anne Sexton's poem and co-created with Laura Miller) goes into the same territory of social claustrophobia, rebellion, quest, but draws its circle more tightly than the others, ending with a flurry of bird hands and a sudden look away.
Nic Lincoln's "Dressage," choreographed by Judith Howard, takes on another transformation, one involving a mane, a bit, and sky-high heels. "Dressage" is frankly fetish (the title should tell you that), but I didn't find it obscene or even disturbing, because there's nothing to suggest the character is damaged by his journey. Even when he crashes into the wall, there's something ecstatic about it, a release into his own force. "Dressage" also entirely skirts camp; it is utterly sincere. So, deprived of the usual ways we'd probably look at a man putting on horse gear, we're left with… beauty, actually. Arms and hands in a blur like wind; abandon, devotion; a centaur-self rising. It's spellbinding. That girl beside me who twiddled with her program throughout his performance, what was she protecting herself from? The varieties of human desire? Dear, no one escapes that. And why would you want to?
______________________________________________________
Related performance details:
Flesh by Present State Movement is on stage at the U of M Rarig Center Proscenium in Minneapolis. Shows are Friday, 8/5 (5:30 p.m.); Saturday, 8/6 (5:30 p.m.); Sunday, 8/7 (8:30 p.m.); Friday, 8/12 (4:00 p.m.); Saturday, 8/13 (8:30 p.m.).
Check back regularly throughout the Fringe Festival for more short reviews on mnartists.org, sent in from our intrepid performance critics on the scene
______________________________________________________
About the author: Originally from Tallahassee, Lightsey Darst is a poet, dance writer, and adjunct instructor at various Twin Cities colleges. Her manuscript Find the Girl was recently published by Coffee House; she has also been awarded a 2007 NEA Fellowship. She hosts the writing salon, "The Works."