Going Solo
It's a Class-A fantasy for dancers: you get to choose the choreographer of your dreams to create a dance just for you, and then you're handed the bucks to make it happen and a premiere venue in which to showcase the resulting work. Linda Shapiro on the McKnight Dancer Fellowships.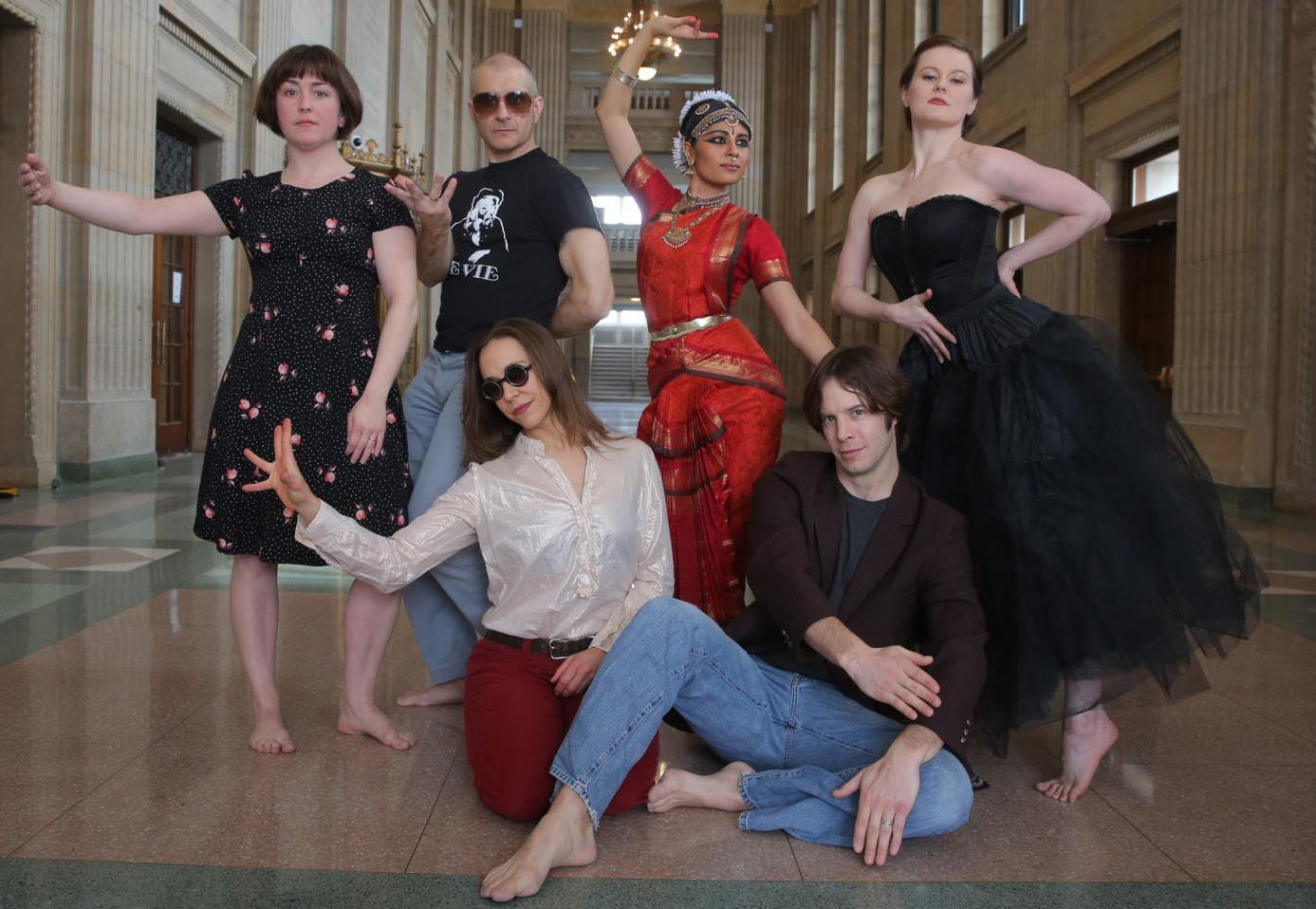 Since time immemorial, solos have been danced for an audience, in competitions, to prepare for war or honor the Gods. Unlike group dances, which are always in some way social and communal (even if they are a corps of swans amplifying and extending the tragedy of their queen), the solo animates the dancer in obsessive, sometimes hyperbolic, always personal ways. It's the ultimate test, the deep space of Selfies.
But dancers are usually somewhere near the bottom of the hierarchy in terms of getting funding, and most rarely have the opportunity to work intensively one-on-one with a choreographer of their choice. It's a Class-A fantasy for dancers: you get to choose the choreographer of your dreams to create a dance just for you, and then you're handed the bucks to make it happen and a premiere venue in which to showcase the resulting work. Each year since 2002, the McKnight Foundation Fellowship Program has selected three exceptional dancers to receive a McKnight Artist Fellowship. In addition to a cash award of $25,000, each recipient receives a commission for a new solo from a choreographer of his or her choice. Then there is a commissioning fee and a budget for production, as well as a separate performance fee.
Mary Ellen Childs, the Program Director for the McKnight Dancer Fellowships that are currently administered through Northrop, met regularly with fellowship recipients that first year, talking through ideas with them and hearing about their experiences.
"Some knew exactly who they wanted to work with. Others, like [former Zenon dancer] Eric Boone, actually did research and interviewed several New York choreographers before choosing to work with Susan Marshall," says Childs.
I interviewed the dancers and choreographers for the 2008, 2010, and 2012 SOLO concerts (they take place in alternate years) for program notes that I wrote to help audiences understand the motivations and processes behind what they would see onstage. What fascinated me was that virtually every dancer took advantage of the fellowship opportunity either to explode outward into a completely different form, or to spelunk the caves of some inner self they had, as yet, been unable to access. After working with choreographer Luis Lara Malvacais in 2011 Amy Behm said, "He gave me the opportunity to embody a completely different form, to become a kind of living sculpture. And he changed the way I view my body in the world." For Emilie Plauché Flink, collaborating with Sara Hook in 2010 allowed her to rediscover "the primitive stage of finding the animal/mover part of me."
Perhaps William Butler Yeats's great question "How can we know the dancer from the dance?" might be shuffled around a bit. Maybe we can know the dancer through the dance. Or possibly the dancer enters some other world entirely — rather like the inhabitants of the film Being John Malkovich. There, strangers invade the putative actor's mind and nervous system for fifteen minutes, after which they are violently ejected and dropped somewhere on the New Jersey Turnpike. This model of making new dance work allows for transformation, revelation, and yes, transport from one realm of experience to another.
Such are the possibilities hovering around the sixth SOLO concert, which will take place October 4 and 5, the first to be presented on the new Northrop stage. Performing this time around will be McKnight Dance Fellows from 2012 and 2013: Kari Mosel, Tamara Ober, Gregory Waletski, Taryn Griggs, Ashwini Ramaswamy, and Stephen Schroeder. I spoke with Ober, Waletski, Griggs and Ramaswamy about their experiences, which ranged from working with a filmmaker/director who is not a choreographer (Ober), to working with an Indian Guru (Ramaswamy).
Tamara Ober, who currently dances with Zenon, says that New York-based D.J. Mendel changed her mind about how dance can be integrated into a theatrical whole. "It's fascinating to watch how he crafts time, space, and energy in his films. He's also a percussionist, so his films have incredible rhythm," says Ober. "They are raw, human, incredibly honest, but also beautiful and poetic — everything I believe in. But it's an interesting collision; he's darker than I am."
Whereas Ober was looking for something new that would blow her world apart, Ashwini Ramaswamy of Ragamala Dance wanted to follow a family tradition by working with the same mentor, Alarmel Valli, that her mother, Ranee, and sister, Aparna, had studied with for years. All three perform bharatanatyam, an ancient dance form from southern India in which, originally, a female acolyte spoke directly to the Hindu deities. So, Ramaswamy really needed to be both grammatically correct and eloquently expressive. "In this dance, I must be both the devotee and the divine god Shiva," says Ramaswamy. "Before working with Valli, I thought more about technique and line — how I looked onstage. By working organically and fitting the movement to my personality, she has taught me not just to portray the characters, but to embody them."
Greg Waletski chose Karen Sherman, a Minneapolis-based choreographer whom he knew well but had never worked with. After 22 years as an ensemble dancer with the Zenon Dance Company, he was interested in working with props and text "to explore my own performance life now—the theatrics of it," he says. Sherman responded to that desire with what she calls "…a semi-fictional, semi-biographical, semi-fantastical, semi-wishful-thinking monologue for Greg. Meaning: some of it is about him and some of it is about those of us watching him. Greg can pretty much do anything and most people know that, I think. The piece addresses that a little, rewarding and robbing you with his talent."
Taryn Griggs had danced with Jody Melnick in New York and developed "a huge dance crush on her. She's a very smart dancer, very considerate and articulate, and thoughtful at every moment." The two of them took a more formal approach for this new work. The piece became, says Griggs, like a game of telephone: Each of them would improvise for seven minutes, record it; then, each would improvise on the other's improvisation. "We'd go back a month or so later and decide that, say: Minute two or three of that is interesting. Let's learn that."
______________________________________________________
A solo frees the dancer from the ensemble. She can fill the space without having to worry about bumping into or fitting in with anyone else. He can become a one-man show, his body the center of whatever universe this particular dance creates.
______________________________________________________
A LITTLE SOLO HISTORY
A solo frees the dancer from the ensemble. She can fill the space without having to worry about bumping into or fitting in with anyone else. He can become a one-man show, his body the center of whatever universe this particular dance creates. Waletski admits, "Holy crap, the [prospect] is terrifying. All alone out there on the Northrop stage — no one to riff off of and make contact with."
In a recent New York Times Book Review Q&A, Garrison Keillor cheekily characterizes Minneapolis as a place where people go "to see documentary films or lectures on urban planning or dances with titles like Dimensions of Being." And danged if he isn't spot-on, at least about solos. Early in the 20th century, Isadora Duncan, perhaps the first great concert solo dancer, took her cue from antique Greek drama. "When I have danced, I have tried always to be the Chorus…I have never once danced a solo," she claimed. In her wise book, Time and the Dancing Image, Deborah Jowitt writes:
There are those who swear they saw [Duncan] as Iphigenia going to the sacrifice, but it's clear that she was trying to suggest the action as it might have been envisioned by the chorus, thereby giving the picture a heroic impersonality and magnifying herself into something more than a solitary woman dancing for an audience. It could be said that in doing this, she presaged the abstractions of early modern dance, in which the dancer would eschew impersonation and equate her own persona with universal feelings and drives.
Nobody did that better than Martha Graham. In her 1930 solo, Lamentation, her body was encased in a tube of lavender stretch jersey; only her face, feet, hands were visible. The costume restricted her movement, as did her position: she was seated on a bench throughout the dance, bending and stretching in a series of harsh, distorted shapes that pulled the fabric across her body. The effect is abstract and, at the same time, a primitive expression of grief. "Gestures that have no literal counterpart emerge out of this distended, nearly inhuman shape," writes Marcia B. Siegel in The Shapes of Change: Images of American Dance. "Because she does nothing else, these gestures assume almost mythic importance, suggest the collective grief of whole societies." (p. 40)
Rebels who wanted to free dance from the rigid and (to them) artificial forms of ballet, Duncan and Graham "found" their dances within their own bodies and psyches. But how does the soloist find herself within the dictates of an established form like classical ballet? In Anna Pavolva's famous Dying Swan solo, choreographed by Michel Fokine in 1905, Pavlova embodied, as the French critic André Levinson wrote, "…. the aerial creature struggling against earthly bonds." In a way, that's a fair summary of what ballet is and strives for. But Pavlova made it a personal statement that went far beyond the lengthy demise of some feathered creature.
And then there is Lil Buck, who performs a highly codified form of street dance called Memphis jookin, and whose solo, Dying Swan, with Yo-Yo Ma playing Camille Saint-Saëns's "The Swan" went viral on YouTube in 2011. Adapting some of the conventions of jookin, like dancing on the tips of his sneakers with fluid joint articulations, Lil Buck turned a virtuosic and competitive dance form into a highly lyrical hommage.
Street dance forms from hip-hop to Detroit Jet feature soloists, usually in friendly if combative one-upmanship. Like jazz ensembles, each performer takes something known, even formalized, and makes it his (or her) own. Here's a description in a 2013 mnartists.org piece on a hip-hop performance at the Cowles Center for the Performing Arts. Lightsey Darst images just how each dancer's signature moves infuse his dancing with big-P personality:
The best tutting (a hand-centric dance derived from Egyptian art) pushes and cuts some imaginary substance without crushing its mysterious integrity, as when Dancin' Dave makes fine origami of what I fancy is an air-Cadillac, and gives it to [J-Sun] Noer, who unfolds it into a revving go-cart, gets in, and drives sideways down ether. Watching Arturo Miles do the Jacob's-ladder with his arm bones, you have to wonder what holds him together, and the man's so musical, you have to wonder about that too, where rhythm starts in his body, and how he manages to brush just the cream of the beat each time.
If street dance began with young men doing their thing while working off of one another, women performing highly idiosyncratic solos is what drove modern dance. Renowned New York-based dancer and teacher Risa Steinberg is known for her performance of solos created by Isadora Duncan, as well as modern dance pioneers like Doris Humphrey and Anna Sokolow. During a recent conversation, she discussed the "burden of responsibility" involved in performing a solo created by someone else.
For me these solos are a celebration of their dances, and also what time has done: where we started, where we are now. I need to do my best to be representative of the piece I'm dancing. I will never look like the Isadora Duncan, but I must find a way to give information about that artist.
At the same time, Steinberg maintains, she must find her own way into each solo, her own reason for doing it. She gives the example of learning Anna Sokolow's Kaddish from the choreographer in the mid-1970's, near to the time that Steinberg's father died. "There was something in the hours I worked with her that was human and riveting and full of memorial," says Steinberg.
Ober, a young dancer in her prime, insists, "I wanted a solo that dealt with some of the hard stuff about dance. Like: Why do we do what we do? What's good enough? Who are we trying to please? I want [my solo] to be about me channeling my essence, spirit, desire."
Audiences will get a glimpse of what compelled these dancers and choreographers through a series of video snapshots of the rehearsal process and interviews with the dancers. Childs emphasizes that, while each process is different, "the dancer is in the driver's seat. That can be both empowering and scary."
______________________________________________________
Related performance information:
SOLO, an evening of world premiere dances performed by the 2012-2013 McKnight Dance Fellows, will be on stage at Northrop October 4 (8 pm) and 5 (5 pm). Find more information: http://www.northrop.umn.edu/events/solo.
Linda Shapiro writes about dance and performance. She was the co-founder and co-artistic director of New Dance Ensemble, a repertory company, from 1981-94.