FRINGE SHORTS: ""Identity" by Threads Dance Project
Camille LeFevre says this young dance troupe performs sometimes unsteadily, but with conviction: "The intention is laudable. The choreography and its execution are still in process."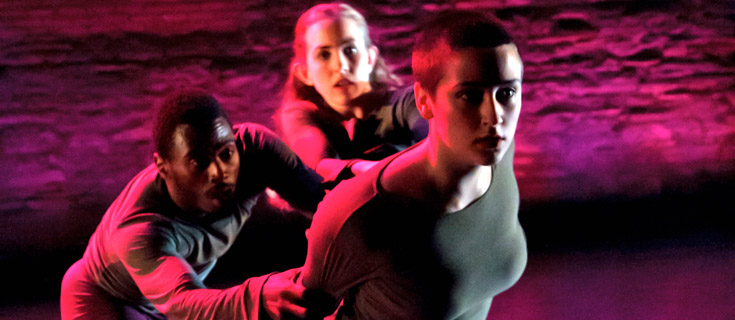 THREADS DANCE PROJECT IS A RELATIVELY NEW group in Minnesota. The company was founded by Karen Charles, who studied with Alvin Ailey American Dance Theatre and is a former teacher, former co-principal at Perpich Arts High School, as well as the founding Director/Principal at Main Street School of Performing Arts. Threads is a multi-racial, contemporary-dance company of young performers, with a mission "to explore the human condition through dance" and "be the human connection between the music, the dance and our audience."
This is serious business for Threads. The Fringe show starts off with "MyDentity," and the women, in colorful dresses, expressing a sense of beatitude through their sweeping shapes and swingy momentum. But the tone and mood becomes dark, and dramatic, quickly thereafter. A section illustrated with archival photos of lynchings is fronted by dancer Davente Gilreath, who's wearing ragged clothing, and who dances with grace and quiet ferocity while Nina Simone sings of "strange fruit hanging in the trees." Then, inexplicably, Karen Christ appears in red, dancing a solo en pointe. The identity, as portrayed in this piece, is still in need of integration.
"Pariah" is a story of a suicide danced to a rendition of "Creep," and then "I'm In Here" by Sia. The dancers (Mackenzie Beck-Esmay stands out) fling, reach, sway, and turn in their isolation and pursuit of connection. "In This Skin" is a funereal work, in which the dancers appear in shroud-like tunics with their hands and feet bound by stretchy red cords.
The Threads dancers are a capable group with varying abilities. Charles's choreography is a blend of ballet (some en pointe), and lyrical, modern, and vernacular dance, which the dancers perform often unsteadily, but with conviction and, in some cases, athleticism. The intention is laudable. The choreography and its execution are still in process.
______________________________________________________
Related links and show information:
Identity n. 1. sameness of essential character 2: individuality 3: fact of being what is supposed by Threads Dance Company is on stage at Intermedia Arts in Minneapolis:
Thursday, 8/9 at 8:30 pm; Friday, 8/10 at 4 pm; and Sunday, 8/12 at 2:30 pm. Find the official Fringe web page for the show here: http://www.fringefestival.org/2012/show/?id=2270
Find reviews, ticket info and more on the Fringe Festival website: www.fringefestival.org/
Check back on the homepage regularly throughout the Fringe Festival, August 2 – 12, for more short reviews on mnartists.org, sent in from our intrepid performance critics on the scene.
______________________________________________________
About the author: Camille LeFevre is a Twin Cities' arts journalist and college professor.