FRINGE SHORTS: "How Do You See It?" by Christopher Watson Dance Company & Jeffrey Peterson Dance
Camille LeFevre reports back from a collection of thoughtful dance performances at the Fringe, choreographed by Christopher Watson and Jeffrey Peterson - "How Do You See It?"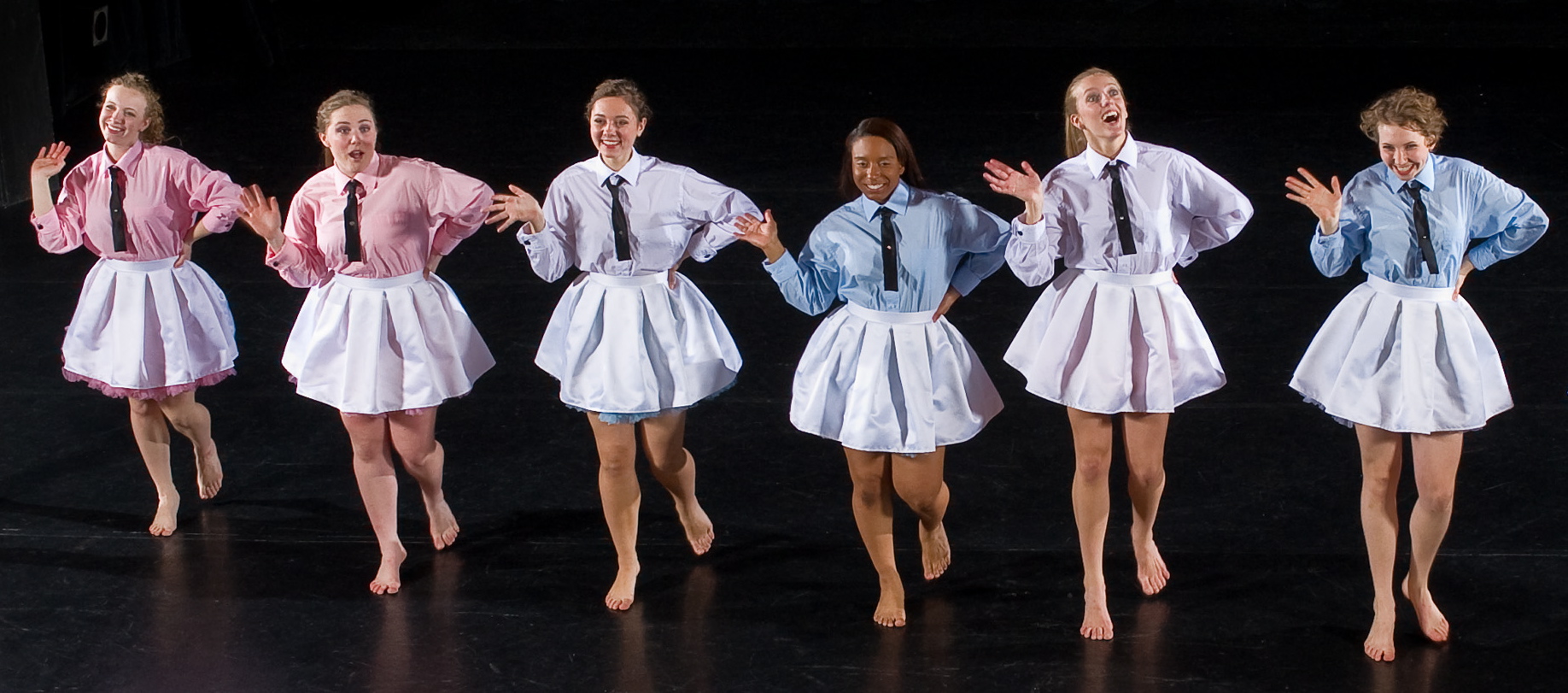 CHRISTOPHER WATSON CHOREOGRAPHS QUIET, THOUGHTFUL AND CAREFUL WORK. His "Duet for Panorama," performed during the Fringe by Bryan Gerber and Jordan Klipzke, is a study in support and counterpoint, weightiness underscored by gravitational pull, and muscular articulation. His trio "Pursuit," danced by Gerber, Megan Bridges and Sarah LaRose-Holland, is a shyly playful romp of shifting attractions.
The centerpiece of Watson's portion of this double bill is the larger ensemble piece, "One Long Right Now," with Gerber, Bridges, Jeremy Bensussan, Jill Patterson and Una Setia. Here we get the fuller sense of Watson's lyrical style. This is a soft work of delicate runs, lilting curves and lifted arms. Gentle touches send a leg rising into the air. Subtle encounters end in floor spins or slow reaches. Feet shush as they glide across the floor. Only a slight elbow of punctuation or a sudden catch causes ripples in the glassy smoothness of the choreography.
In contrast, Jeffrey Peterson's sassy "Stand Up" is all attitude. The boys and girls (Bridges, Gerber and Klitzke, joined by Ruth Boehme, Susanne Grochett, Sarah Jabar and Erin Simon) wear white, pink or blue button-down shirts and short white skirts splayed wide by a froth of tulle underneath. It's perfect gender-non-specific costuming for the dancers' giddy flouncing, hand waving and manic grinning that serves as a throughline for the piece.
Potent, ribald commentary by comics Margaret Cho, Lisa Landry and Wanda Sykes, heard in voiceover, sets the tone of the piece. Their bits on hating Sarah Palin, negotiating babies, abortion, and claiming one's power are matched with the dancers' forceful movements and a flag-spinning Palin lookalike. A gestural interpretation of two Etta James tunes about love illustrates the complexities of romantic love. A choreographed rendition of Aretha Franklin's "Respect," however, has Jabar faux-slugging, kicking and slapping a happy-go-lucky Gerber; it's strange and disturbing.
The strength of the group, however, pours through Franklin's "(You Make Me Feel Like) a Natural Woman," ending the show on a rather thrilling note of power and determination.
______________________________________________________
Related performance details:
How Do You See It? choreographed by Christopher Watson/Jeffrey Peterson is showing at the Lab Theater in Minneapolis. Shows are Saturday, 8/6 (7 pm); Sunday, 8/7 (4 pm); Thursday, 8/11 (5:30 pm), and Saturday, 8/13 (7 pm).
Check back regularly throughout the Fringe Festival for more short reviews on mnartists.org, sent in from our intrepid performance critics on the scene.
______________________________________________________
About the author: Camille LeFevre is an arts journalist who writes frequently about visual art and architectures.