FEATURE: (10,000 Arts) The House that Art Built
Artist Scott Stulen gives an inside look at the story behind ARThouse, the sometimes gallery space that doubles as home for New London artists Andrew Nordin and Lisa Bergh.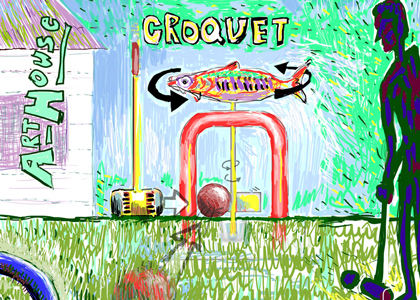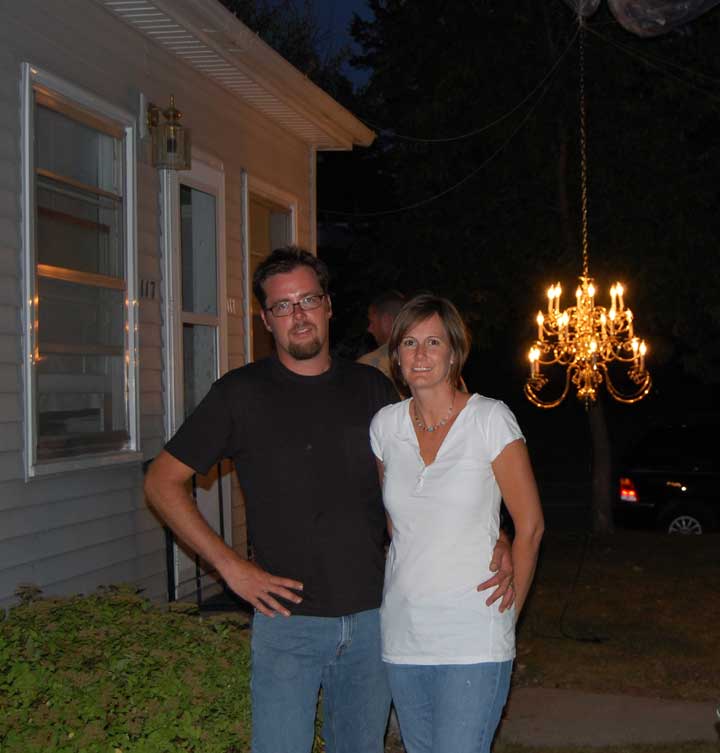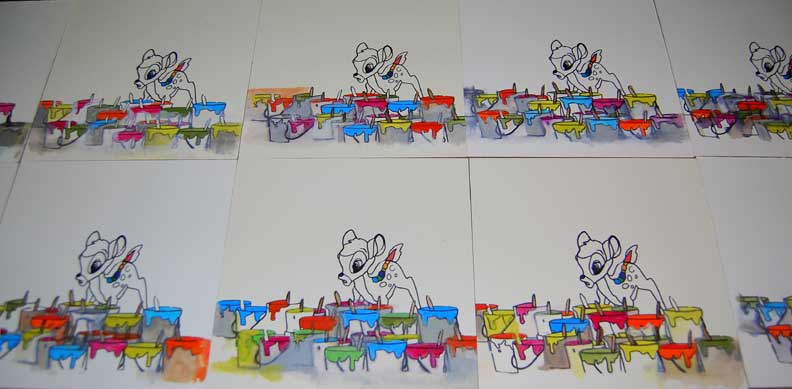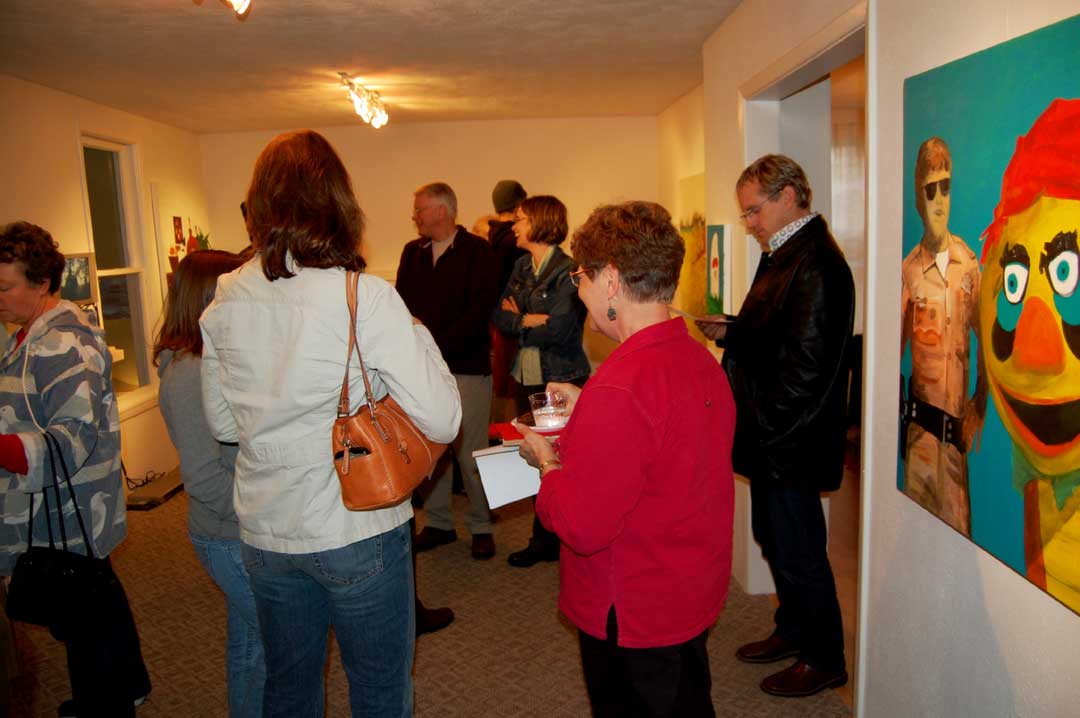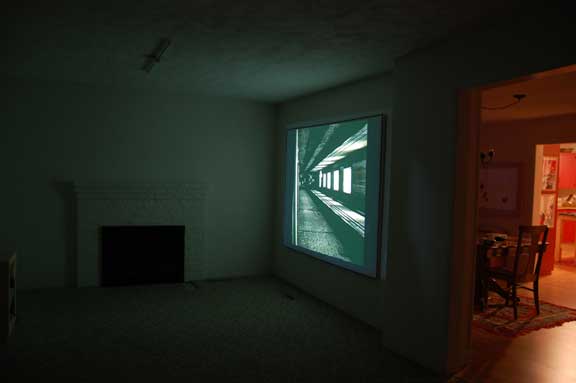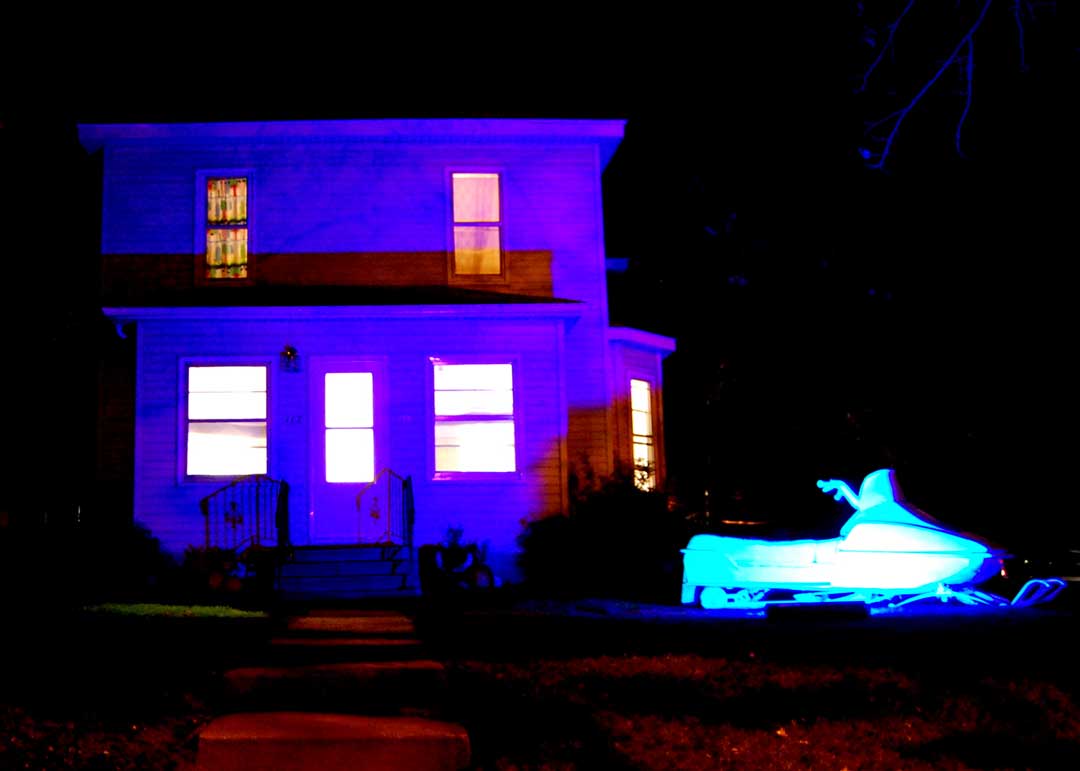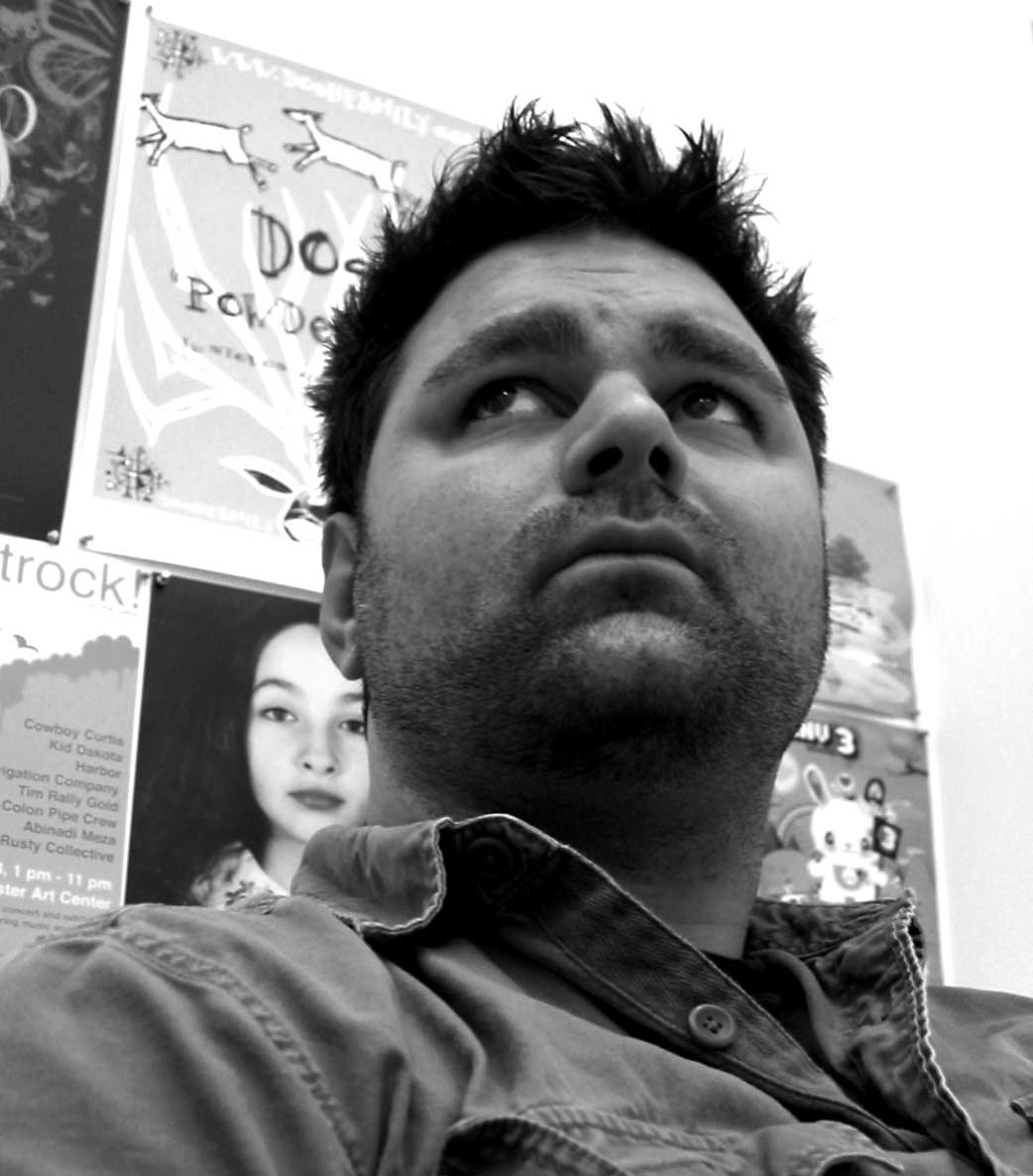 (Originally published on mnartists.org in January 2008; reprinted for the May 2008 issue of 10,000 Arts, an arts quarterly co-published by mnartists.org and The Rake magazine.)
A COUPLE OF BLOCKS OFF MAIN STREET, AN EAGER CROWD waits in front of a turn-of-the-century farmhouse. As the clock approaches the top of the hour more visitors steadily appear, gathering near the door of the residence. Soon the door is opened and the crowd enters, warmly greeted by their hosts. Within the space the visitors discover videos, paintings of television characters, floating lights and colorful sculptures throughout the rooms, spilling onto the front lawn and hovering above the house. Throughout the coming hours, more guests arrive to view the work, meet the artists, and converse with their neighbors by the warm campfire.
New London, Minnesota is a small town two hours west of the Twin Cities, known more for its ski team and lake resorts than its contemporary art scene. Andrew Nordin and Lisa Bergh first conceived of ARThouse shortly after relocating to New London in the fall of 2005. A few evenings each year, Andrew and Lisa convert the first floor of their home and front yard into an exhibition venue. Both are working studio artists with extensive gallery and museum experience, and they were anxious to realize their dreams of starting an exhibition space of their own. After ruling out more traditional gallery formats due to cost or other practical concerns, the couple decided to begin by using their own home. ARThouse is the result: an ephemeral art gallery, a temporary exhibition space offering one-night art events. Phantom galleries are gaining popularity with many artists and curators looking for alternative venues and exhibition formats (e.g. Will Work for Food, Placement Gallery, The Occasional Art Gallery). With the financial and institutional structures of traditional galleries and museums removed, phantom spaces like ARThouse have the freedom to foster an environment of experimentation, performance, and inclusiveness.
ARThouse openings are events both eagerly anticipated and stumbled upon. Neighbors may notice the spectacle of a lighted chandelier floating above the treetops or a white glowing snowmobile on the front lawn, and then find themselves stopping by, unconsciously drawn towards the activity for a closer inspection. However, many of the visitors are active members of a statewide art community, traveling from the Twin Cites, St. Cloud and beyond to search for interesting work, regardless of its location. Perhaps because of this diverse audience, ARThouse openings percolate with energy, offering a welcome respite from the stale sameness of the kind of work on display in many established, more traditional institutions. Andrew states "The idea to do this really germinated from our belief that viewing artwork, contemplating art, is, and should be, an activity for people not just in metro areas, but rural areas as well." For Andrew and Lisa the residential phantom format was a perfect strategy to introduce contemporary art to their local community, the merging of art opening and a neighborhood block party. "ARThouse events are based on the idea of the open house," explains Lisa, "a common social gathering in small towns and rural communities. However, instead of celebrating a birth, graduation, or anniversary, we create an art happening. The setting is intended to be laid back, friendly, and far less formal than a traditional gallery or museum reception. You can come for the art or just come to visit and catch up with your neighbor."
Using creative and inexpensive methods, Andrew and Lisa effectively market the ARThouse events through sites like Flickr and mnartists.org, free arts calendars, email lists and word of mouth. Flickr is particularly effective allowing ARThouse to post images of past events and to communicate with a broader network of similar ephemeral spaces and alternative galleries. However, the most interesting marketing tool Andrew and Lisa have devised gives something back to their audience. For each event, the exhibiting artist is asked to create an edition of fifteen small pieces. The pieces are then given away as door prizes to the first fifteen people who arrive at the ARThouse opening. The word is out and at the last opening the door prizes lasted for only few minutes.
It's time for full disclosure: I have a personal connection to ARThouse. I grew up in the New London area and most of my relatives still live there; I also exhibited my work at ARThouse this past October. Actually, my wife can attest to my anxiety prior to the event. It was almost like I was going back to high school again. I have never been as nervous for an art event as I was the night of my ARThouse opening in my hometown. My worries evaporated shortly after the opening began; and my experience demonstrates just what distinguishes an ARThouse show from those of its larger contemporaries. A few local students, neighbors, a couple of my brothers lined up at the door near start of the opening, all leaving some time later clutching a small painting as their door prizes. Throughout the evening people who I knew, probably should have known, and complete strangers asked intriguing, challenging questions, and studied the work. It was an intimately engaged environment unlike any exhibition I'd been part of before. Later in the evening, I talked to Minneapolis artist Jonathan Gomez Whitney, another ARThouse veteran who exhibited at the space earlier this past summer. Whitney's stunning installation floated a chandelier above house throughout the opening, casting wonderful golden rays on the front yard. (Whitney also grew up in New London and confirmed that my homecoming anxiety was not unique.)
The upcoming ARThouse season is an intriguing mix of regional and local artists; you can see what I'm talking about for yourself. Beginning in April, Chicago artist Ashley E. Towne will be presenting elegant and formal mixed media works on paper; she will be followed in July by St. Cloud-based multimedia artist Bill Gorcica; and they'll close out the year with a collaborative installation by Duluth artists Kristina Estell and David Bowen in October. Along with this impressive line-up of artists in 2008, Andrew and Lisa hope to build upon the success of the first year further, perhaps expanding their offerings to include more educational programs related to the exhibitions. The response from the community, thus far, to the ARThouse has been overwhelmingly positive. Lisa observes, "Andrew and I have been pleasantly surprised at the sincere gratitude people extend to us for bringing such dynamic art and artists to the community. The most common feedback we receive is 'Thank you. This is so great for our community.' As an artist, I find that response incredibly meaningful. It tells me that my community appreciates new experiences in the visual arts and understands the power of art to positively impact communities. The city of New London is working hard to increase tourism and create new opportunities for artists, performers and audiences. We are proud to be part of that process."
About the writer: Scott Stulen was born in Willmar, Minnesota in 1974 and lives and works in Rochester, Minnesota. He is the Associate Curator and Curator of Education at the Rochester Art Center. Scott is a mixed media artist whose work explores personal and collective memory, pop culture, failure, loss, and obsession. His work is included in numerous private collections including the Weisman Art Museum and University of Minnesota, and he exhibits regularly throughout the country. Upcoming exhibitions include Lead Guitar, No Vocals at St. Cloud State University and Arrested Development at St. Mary's College at Notre Dame University. His work was selected for inclusion in the juried national publication New American Paintings in both 2004 and 2007. In addition to visual art, Scott curates and performs as a DJ and sound artist including the annual Headphone Festivals at the Rochester Art Center. More information can be found at his website.
What: Bill Gorcica exhibition (and croquet set!) at ARThouse
Where: ARThouse, New London, MN
When: July 12, from 5-9 pm
Admission is FREE and open to the public