Erika Terwilliger: Unmaking and Remaking
A conversation with the 2022/23 MCAD–Jerome Fellow on tactile intimacy, preservation and decay, and the life cycles of everyday objects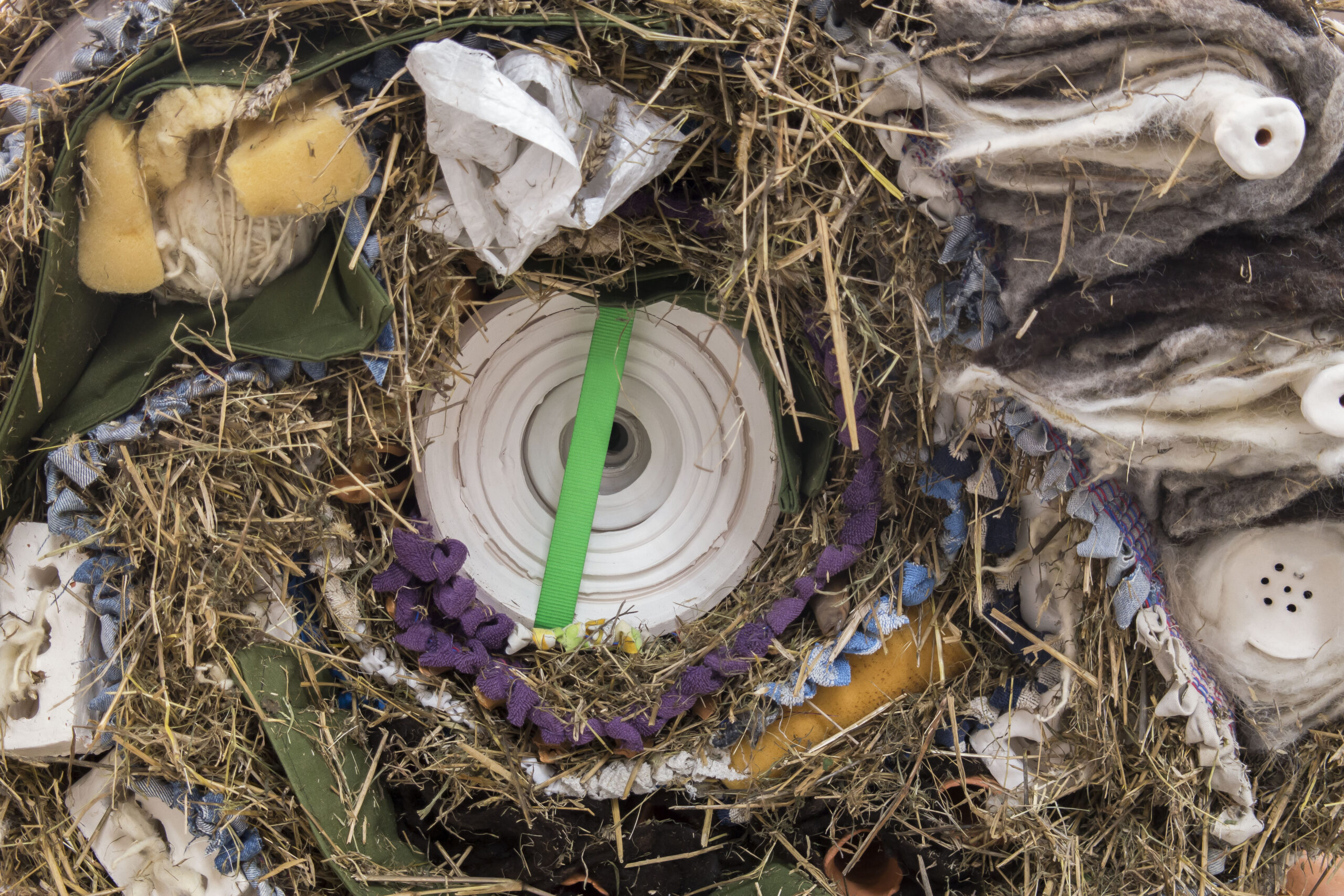 Yuanrong LiYour practice is centered around the concept of the life cycle of objects and materials. Can you tell us more about the ideas behind your work and your explorations of preservation and decay?
Erika TerwilligerAt its most basic, my practice pulls things apart and figures out how to put them back together again. The work is built around maintaining actions that are caring and protective, but also allow the object or material to erode and eventually pass out of a life. I like to intervene in the normal path an object or material might take, by hanging onto things a bit longer than normal, whether creating a woven record of my compost, reconstructing a worn blue plastic tarp, or picking apart the carpet padding from underneath my bedroom floor. The question of when and how to let something go is integral to the practice.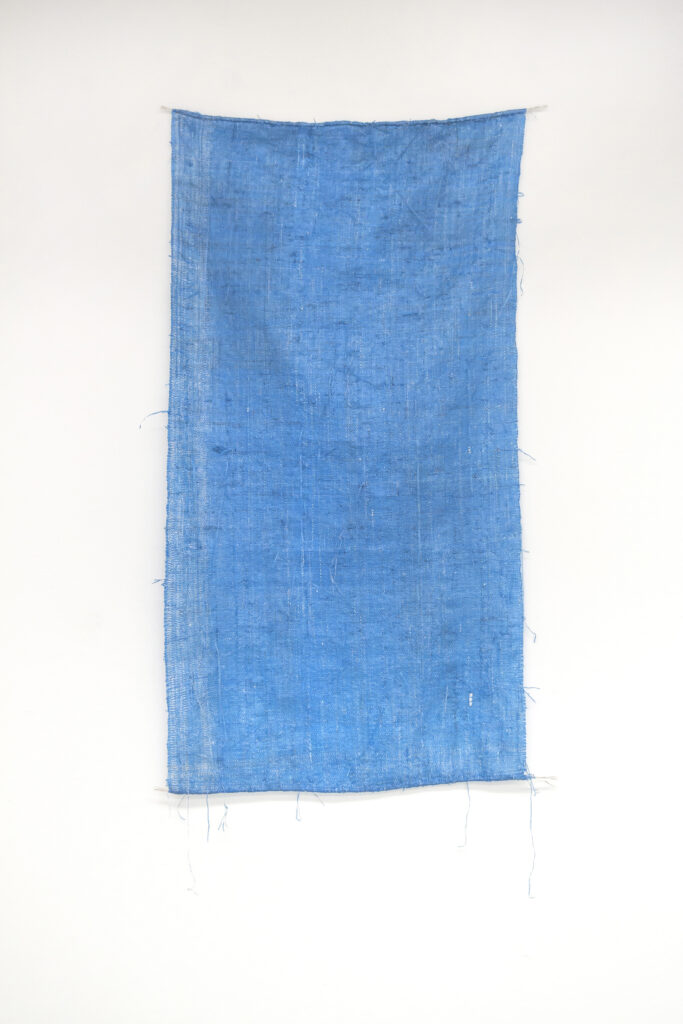 YLHow do you approach the process of unmaking and remaking objects, specifically in your project Tarp?
ETThe Tarp project marked the beginning of this kind of work. It began when I found an old blue plastic tarp at my parent's house, and I decided to unravel it to understand its construction: a simple pattern of plastic threads going over and under, the warp and the weft. This continued until I was left with a pile of blue plastic which I tied end-to-end to form a single string. I warped an old rug weaving loom with the ball of plastic and began to recreate the same pattern. When finished, the new weaving was a fraction the size of the original, as the plastic was fragile and the loom snapped almost a quarter of the threads. What I was left with would never keep out the rain or cover a pile of dirt in the garden. My act of maintenance undermined its original purpose, and I was left with an object even less traditionally functional than the original. I was caring for something that would normally be discarded as useless, but by caring for it, I was also eroding it. If I were to repeat the weaving process enough times, the tarp would eventually disappear. From this experience I realized that I'm interested in working with one's hands as a very human, tactile experience. Cultivating and maintaining muscle memory is always a guiding force in the practice. Rather than actively planning, I let this embodied knowledge find the next step.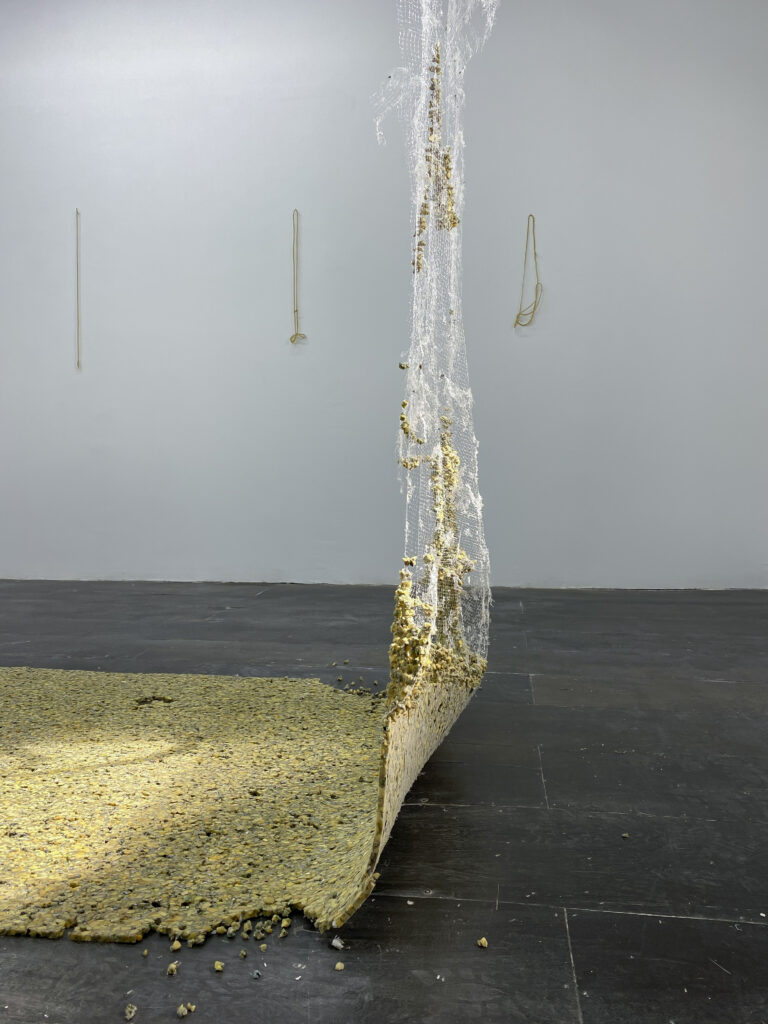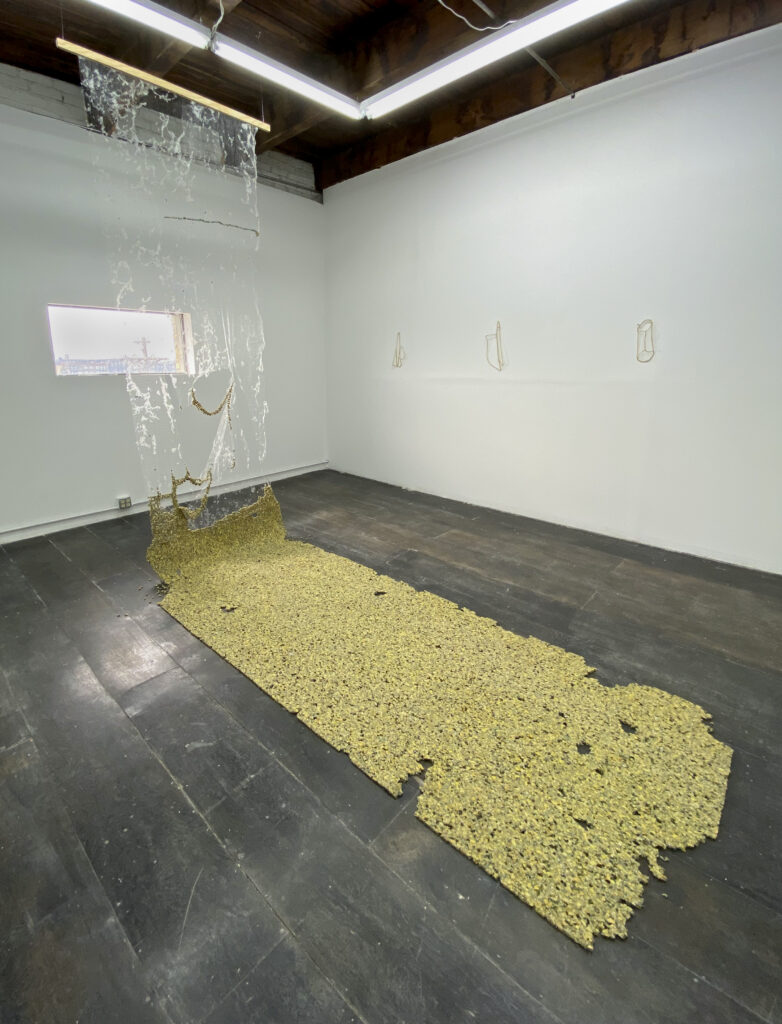 YLYour work exists across mediums, with a through-line of an interest in tactile intimacy and repeated failure. How does failure play a role in your creative process?
ETI use failure to describe instances where my expectations for a material collide with the reality of how it exists in the world. In my practice, I never invest time to bring about a known result, rather it's the work itself, the trial and error, the hands-on material connection that allows the project to find its form. For example, in my current body of work with aluminum roasting tins, I expected these objects to be endlessly malleable. What I've found is that they can crack, tear and resist my attempts to shape them to a much greater degree that I originally anticipated. I love it when materials push back against my actions, when they do the unexpected and assert their own presence in the finished piece. It's this push and pull, these failed attempts that necessitate working in conversation, not dictation.
YLThe blurring of constructive and destructive motion is an important aspect of your sculptures. Can you elaborate on how this creates empathy towards the "leftovers" in your art?
ETI'll be the first to admit that finding shared feelings with a plastic tarp is a paradox. Empathy is an imperfect word to describe what I'm trying to do, as I try to avoid anthropomorphizing the objects I work with. What I really mean when I say empathy is my attempt to find an understanding of the object or material on its own terms. What drives me to pull things apart and put them back together again is trying to know a thing based on its physical presence in this world. It's a frustrating exercise at times, but again it's the attempt that matters. If you try and fail at building empathy with a plastic tarp, it should at the very least become easier to maintain curiosity and care for the rest of one's surroundings.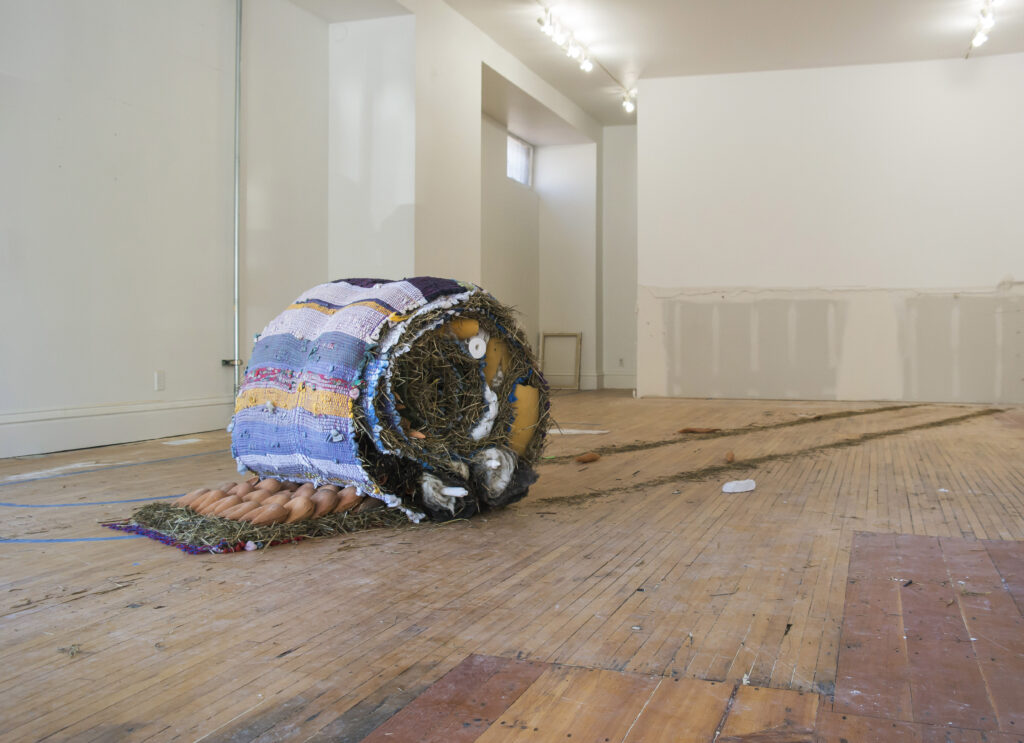 YLYour work takes stock of mundane objects and materials in the home. Can you discuss the significance of using these everyday items as subject matter in your art?
ETIt takes me a long time to see and understand things, and so it's necessary for my practice to draw on materials or objects that I'm confronted with every day. A large part of the work is staying aware, in order to put myself in the path of the next material obsession. I find scum accumulating under an electric toothbrush, hair collecting in a drain, or treads wearing down on shoes endlessly fascinating. Throughout time, things that we see and use every day become quite personal. I have an incredibly strong memory of using a blue tarp to save pear blossoms from a late spring sleet storm with my father that surfaces whenever I revisit that project. In my current work with aluminum tins, each one is collected from moments of my life where people have gathered, which of course often happens around a shared meal. Whether it's a friend's wedding, or a memorial service for the passing of a loved one, I see these pans as catalysts for those shared, deeply personal moments.
YLHow has your work evolved over time, and what do you see as the future of your practice?
ETI've always had an obsessive approach to making art, and when I first started, I was primarily driven to create objects as a formal, aesthetic experience. At this time there was an incredible outpouring of work that I don't think I'll ever find again in regards to quantity and pure visual excitement. There's a part of me that is still driven by a desire to bring beautiful objects into the world, but I think I've also been able to step back and consider this obsession as coming from a place of deep curiosity and care for my surrounding environment. This distance has allowed me to work more slowly and sustain longer-term projects that are increasingly ephemeral. Whether using raw unfired clay or making projects that might simply be put into the recycling bin at the end of an exhibition, I'm becoming more interested in work that is based in impermanence. Part of this is practical: I've always been prolific and I'm running out of space in my studio and basement. More and more, I'd like to find a practice in which the work cleans up after itself. I don't know what this looks like exactly, but I'm eager to find out.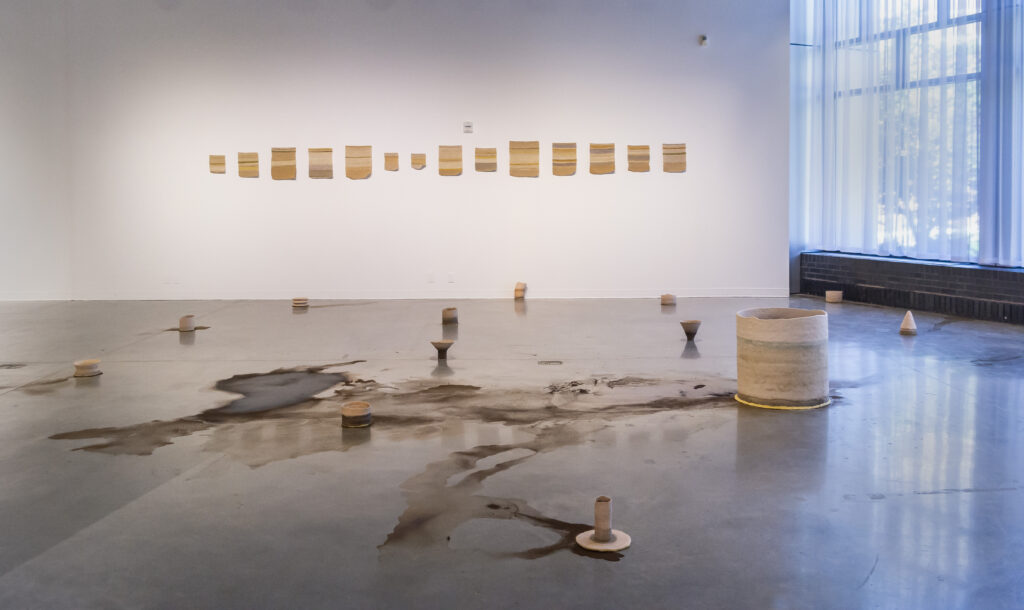 YLHow has winning the Jerome Fellowship affected how you approach your work?
ETThe exhibition opportunity from the Jerome Fellowship has allowed me to be more intentional about the viewer's experience with the work. I've always grappled with how much to reveal or conceal from behind the scenes, and increasingly I'm interested in making work where the task or process is more legible in the piece itself. Having the exposure of an exhibition within the MCAD gallery is an incredible opportunity to test out these ideas of legibility and labor within the work.
Additionally, in regards to the labor aspect of the practice, I feel like I've reached a reckoning point with how I treat my own body in the studio, as I don't always extend the same consideration to myself as I do to my materials. It's significant to be able to pay yourself for your time, and the funding the Jerome Fellowship provides has allowed me to work more slowly and carefully on a practice that can be quite hard on the hands, shoulders, and patience. This can be as simple as changing the way I hold a pair of pliers, switching tasks every few minutes to avoid strain, or trying to become ambidextrous to share the load between my right and left hands. Funding from the Jerome allows me to more fully consider what it means to make the work in a physically healthy and sustainable way.
YLIf you could describe your work in one word, what would it be?
ETDeliberate.