Dancing on Ballet's Living Edges
Dance critic Lightsey Darst weighs in on two recent ballet performances - Crystal Pite/Kidd Pivot Frankfurt RM's "Dark Matters" at the Walker, and Minnesota Dance Theatre's ambitious, two-weekend fall dance festival, "Enduring Prescience."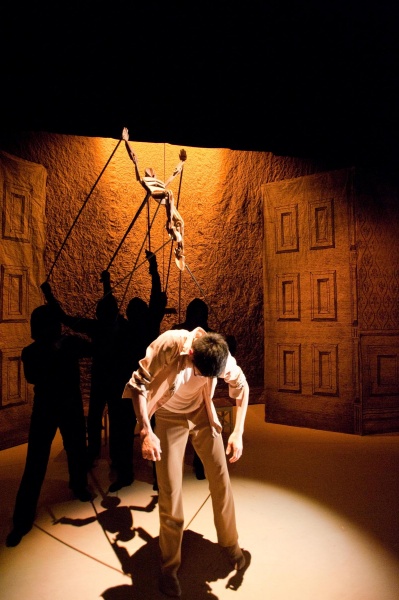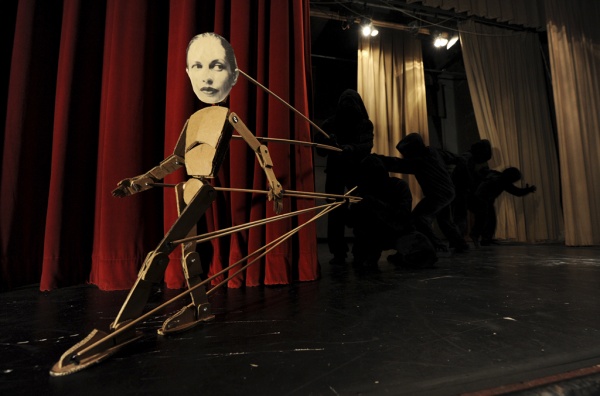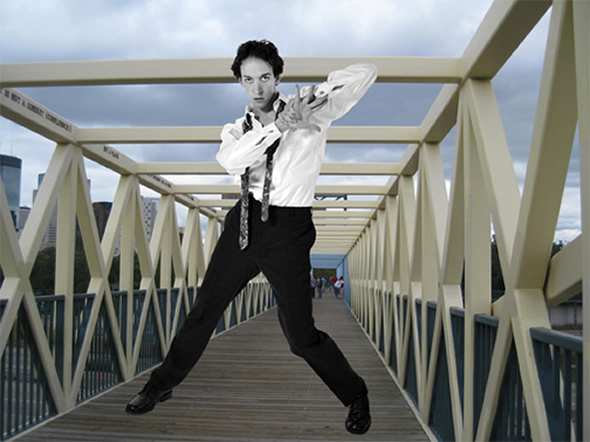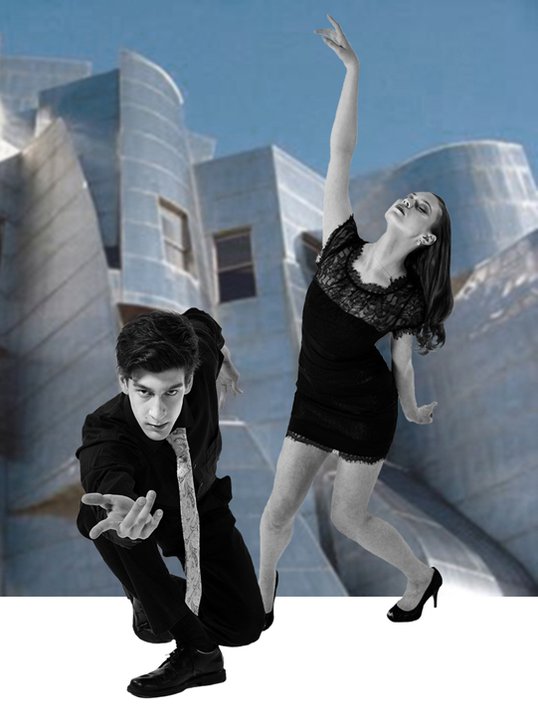 I WAS EXCITED TO SEE CRYSTAL PITE AND KIDD PIVOT's Dark Matters at the Walker: the smooth-as-silk hyper-coordinated wonder of postmodern ballet meets the warped mirror of postmodern puppetry, all under a title that's equal parts astronomy and goth whisper. Sexy, poetic, dark — it sounded like complete catnip.
But the Canadian dance company's work turned out otherwise. Not that Pite, the choreographer and director, didn't throw a lot at the footlights — she had the puppetry, the dance, the stage collapsing into pieces, some cool fighting, a gloomy philosophical text intoned in a dead-white-male voice. And it's not that the total package wasn't often entertaining. It's just that I'd seen all this before. That breakdown of the stage world, for example: when a lighting bar gleefully crashed into view, it reminded me of nothing so much as the chandelier smash-up from Phantom of the Opera. The puppetry-team, with the puppeteers acting as a sinister little chorus in their ninja black, was hip, but not all that novel. If only Pite & Co. had excavated something new (or primordial) in the story of the puppet and his creator, instead of circling through elements so familiar, they were all already onstage from the beginning. But no, the show's not over until the puppet/puppetmaster/choreographer becomes the dancer/naked body/victim/murderer/destroyer/creator etc.
The choreography would have impressed me, if I hadn't seen Forsythe before; but, as it is, Pite's long study with the master of postmodern ballet shows a little too well. All the Forsythe tricks and tropes are here — the soft fall into the floor; the fake cause and effect, as a whole pile of people sink or maneuver like a human Rube Goldberg machine, that last little detail, isolated, that sets off a new chain reaction; the unidirectional, gravity-less space; the equality of men and women; the curled-over upper back; even the characteristic Forsythe body, a little puppet-like itself, with wiry limbs hanging loose from a squarish body. But what motivated the inclusion of all this Forsythian machinery? What's your damage, Kidd Pivot?
Still, I wasn't sorry to see the dance, Forsythe-lite though it was. It's definitely an impressive style, one with legs beyond its creator, and one we don't get to see much of around here; for some reason, no one in town does faux-Forsythe. But perhaps you're wondering, in spite of its billing as such, what makes this dance ballet? It certainly lacks ballet's conventional trappings: the toe shoes, the courtly pose, the romantic belief in love's primacy. You won't even see any ballet steps, really.
And yet the body organization and sense of space are the same. Where today's modern dancers organize the body loosely, lines of energy rippling through some muscles while the rest fold or fly, following in consequence, ballet dancers exert continuous control across the body. Nothing trails; every muscle, potentially, has a direction of its own. Classical ballet prefers long lines that visually simplify that complex coordination; Forsythe likes to break it up, to twist this bit against that one. Ballet also moves with a sense of architecture, both the space's and the body's, which you can see in Forsythe as in classical ballet.
One more reason not to be sorry to have seen the rollicking, rather silly mess that is Dark Matters: the dancers. Everyone in the small cast, besides being freaks of coordination, radiates that absorption in motion that is key to compelling dance. One solo, in particular, (perhaps improvised) ranged through bodily possibilities like shuffling a deck: this Mr. Fantastic rose in a riot to an off-kilter balance, standing foot sickled, other foot up in the air, puppeteering himself through impossible evolutions.
Whatever else happens, the dance lives.
MEANWHILE, MINNESOTA DANCE THEATRE mounted an ambitious fall program, with two weekends of dance at the Lab. How to summarize the wide-ranging choreography, music, and dancing fielded by Minneapolis's venerable chamber ballet? In a (hyphenated) word: poorly-attended. For positioning itself as edgy, moody, modern (check the ads), MDT gets bupkes. What is the problem? Aren't we edgy, moody, modern? Maybe those of us who are just don't like ballet in sufficient numbers. MDT is partly to blame for failing to make lasting connections with the local scene whose work matches and can assist their aesthetic. MDT's connection with Jeune Lune was great, until Jeune Lune folded; now, they should reach out to Skewed Visions, Vanessa Voskuil, Off-Leash Area, Jelloslave, et al — the dark romantics whose audiences currently don't think they like ballet. In most of the U.S., ballet is nearly hopelessly aligned with conservative values, upholding the dominant paradigm, and warm fuzzies, and MDT, which is neither entirely avant nor entirely staid, has a tough row to hoe.
Enough about that – but, perhaps, not enough about the great MDT quest for identity. I think it's safe to say that people see MDT for the dancers, but as brilliant as they are, the company seems riddled with painful flaws. It's no wonder that the two new works in this concert take group vs. individual as their theme: that tension ripples in every dance. Sometimes you get the feeling these people don't talk to each other offstage. Take, for example, the promising new partnership of Raina Gilliland and Kevin Iverson. Tall, long-limbed, lovely, these two could explode like fire and a forest, but Gilliland doesn't pay much attention to Iverson, and Iverson hasn't figured out how to balance Gilliland's exoticism, which sucks up the audience's attention like a black hole. There could hardly be a more beautiful creature than Gilliland when she's truly in her dance, but her thoughts often seem to drop her into uncertain in-betweens.
Unlike Gilliland, Katie Johnson never looks afraid, and why should she? She can do anything: wicked fast pointe work, split leap with no preparation, check! For the fierce joy of pure execution, no one in town can touch her. But that razor edge proves brittle — Johnson's so fixated on doing she can't risk being. By being, though, I don't mean acting: witness how "ballet face" (furrowed brow, constant inhale) interferes with the pleasure of watching MDT's two new men. Rather, I mean that constant and total animation that keeps Dark Matters worth watching — and which MDT's standouts, Melanie Verna and Sam Feipel, also often achieve. But even with these two, in MDT's fall performances, there are problems. Verna always commands attention, whether she's feeling every inch of a little pivot on pointe or slapping herself apart in a writhing floor solo. But across the concert, she begins to seem only half unpacked: How much more movement is in there, waiting? You can't help wondering. Unlike Verna, Feipel shows ennui — and he seems to need not a greater challenge to his coordination, but greater emotional complexity in his roles. Altogether, MDT is a pleasure to watch, but the pleasure could be less tinged with frustration.
Now the choreography: Enduring Prescience is the name of the concert; "Glory Days" would have worked as well for a lot of it. Three works reveal Loyce Houlton, MDT's founder, as Balanchinian in her love of steps and their inversion and explosions. In her Boccherini Dances, the women puckishly jut their hips and turn in their legs on musical flourishes; the couples put the simple directional flip (fouette) through every permutation, and then swoop into sweet catches that look like first love. A bit of Tudor, along with works by Lise Houlton and Elisa Monte that already look anchored in the past (although some were choreographed as recently as the '90s), complete the retro feeling. In 1969, you could see Loyce Houlton's homage to the moon landing, 293.6, a work of cool exploration and gravitational attraction, with dreamy, sexy partnering. That must have been an exciting time.
Houlton's work looks great on the company and deserves a prominent place in their repertory. Still, you don't want audiences feeling they were born fifty years too late, so MDT offers up two premieres — one from a rising national star, Emery LeCrone, and one from a company member, Justin Leaf. LeCrone's From Here to Here tracks the un- and re-raveling of a Wall Street-dressed, briefcase-toting pack. Sometimes jazzy, sometimes angry, From Here to Here cracks me up with its gleeful "oh no they didn't!"-busting aesthetic. Sample moment: the cast applauds one dancer politely, then monotonously until the clapping feels like a ritual stoning. Applause continues on the sound track; the dancers undress until it stops, redress until it stops, repeat, repeat. From Here to Here has all the attraction of paint tossed by a talented young artist in a fit of pique.
Some Goddess in Another Body, on the other hand, quietly carves out its mood of near-religious questing with rigorous choreographic craft. Lighting design, clever use of stage space, a musical ear, just enough repetition of key shapes — well, it's dull to talk about craft, but it's not dull to see it wielded well. In its repeated gesture of thumb and forefinger coming together (to form an eye?), mirrored in a longing back crescent the dancers arch into from the floor, Some Goddess in Another Body achieves one of dance's aims: to quiet the viewer's inner noise. Bravo, Leaf. It's not a masterwork, and it lacks the loud cool factor of Dark Matters, but it's humane, and it's here, and when you're watching it, you don't feel that anyone is wasting time. We all want to be cutting-edge, but perhaps, when it comes down to it, living fully in the time given will be worth more.
One more note about MDT's concert: live music accompanied two pieces, and it made all the difference. If increase of life is at the heart of dance, live music gets us that much closer.
______________________________________________________
Noted performance details:
Kidd Pivot Frankfurt RM in Dark Matters was on stage at the Walker Art Center October 14-16.
Minnesota Dance Theatre's two-weekend, fall dance festival, Enduring Prescience, took place October 15-24 at the Lab Theatre in Minneapolis.
______________________________________________________
About the author: Originally from Tallahassee, Lightsey Darst is a poet, dance writer, and adjunct instructor at various Twin Cities colleges. Her manuscript Find the Girl has just been published by Coffee House; she has also been awarded a 2007 NEA Fellowship. She hosts the writing salon, "The Works."