Box Populi
Sean Smuda, founder of the Shoebox Gallery in Minneapolis, with an engaging essay on the six storied years of performance, guerilla art and neighborhood roots that have sprung from his unorthodox exhibition space next to Roberts Shoe Store in Mpls.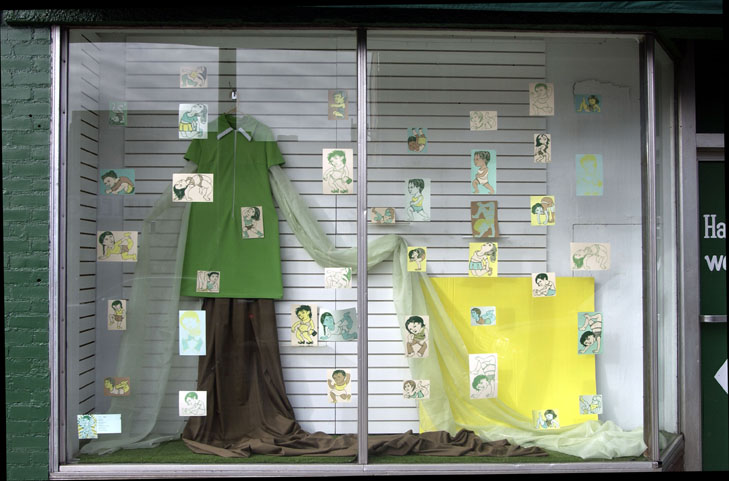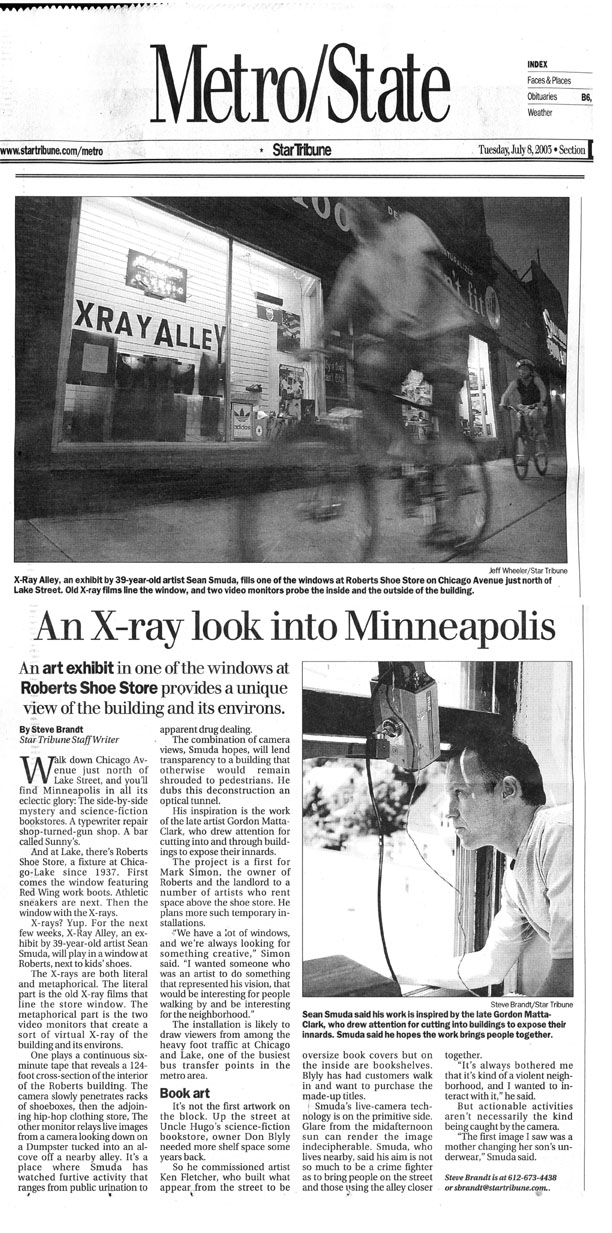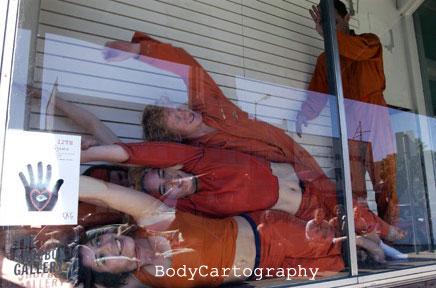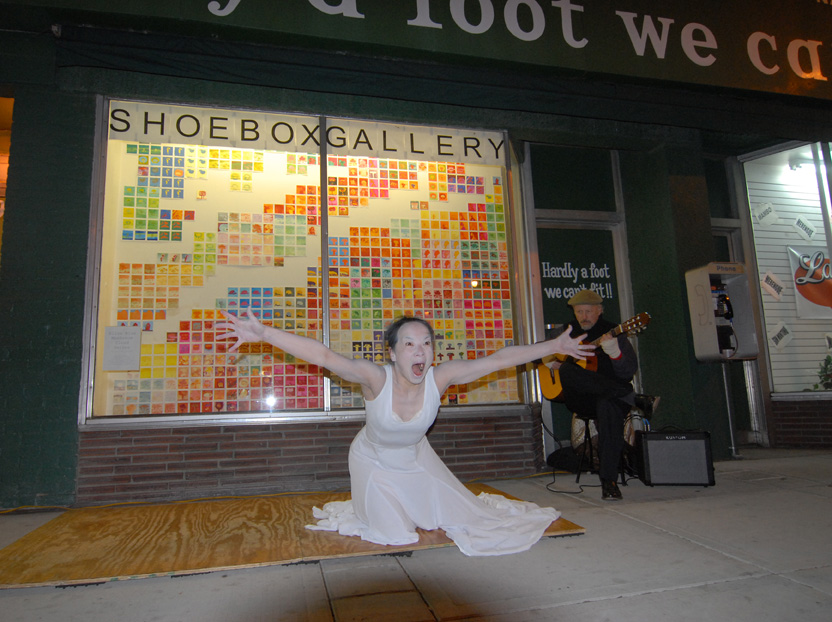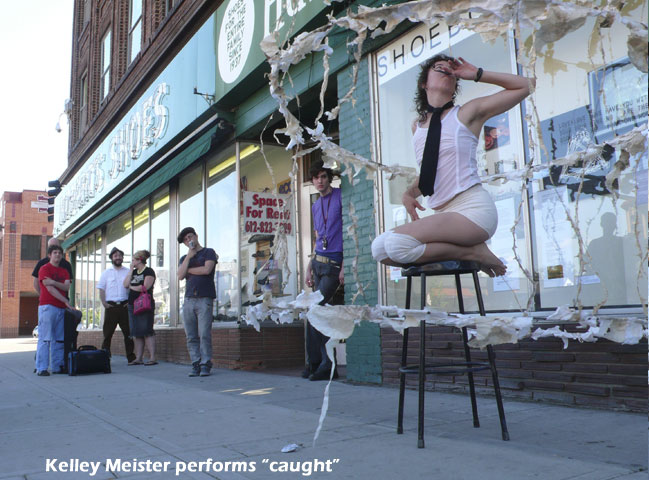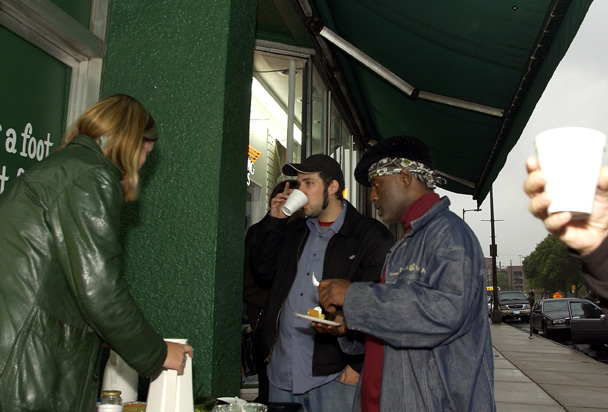 SIX YEARS AGO, MOVING MY STUDIO TO THE CORNER OF CHICAGO AND LAKE did not seem to portend a long running project space, if life! Almost immediately I had to cross police tape to get to my car, while officers searched for bullet casings. Drug dealing and prostitution furrowed around the corner and into the alley. Seeking to render these situations transparent, I cut through the building (inspired by Gordon Matta-Clark) with a video camera and created a loop of this action. Then I fixed another on the alley where deals went down; the camera also monitored the progress of neighboring vines which I trained to come over a small bridge towards the building.
I called it X-Ray Alley and proposed it as an installation in a storefront window of the Roberts Shoes building to owner/landlord Mark Simon. He agreed. And so, I surrounded two video monitors — the one live, the other looped (of the "cut") — with X-rays. Two months later, the dealing had stopped as a probable result, and Mark asked me to consider taking over the window space as a gallery. "Fighting crime with aesthetics — do I really have time?" I hemmed and hawed, but with some just-do-it persuasion from artist Jenny Schmid the Shoebox Gallery was born. Freshly arrived from Detroit, she convinced me of the idea's merit and feasibility, … "after all, look at what Tyree Guyton did for that city", we agreed. And so, with Jenny on board as exhibitor number one, it began.
Around the same time I had been re-introduced to dance by former Minneapolitan and choreographer Colin Rusch, who started curating a series of shows in my upstairs studio. Jenny took this as her cue and block-printed studies of him and dancer Emily Johnson practicing. She combined them with a '50s-style window display that blended well with the Roberts Shoes facade (in fact there had been a window dressing school in the building, I later learned). With Jenny's show, the Shoebox's tradition of the street-side opening was instigated; pie and coffee were served.
The Shoebox Gallery's first (and only) Biennial
Nine months later, having started dancing myself, I joined forces with the BodyCartography Project to create a day-long performance festival in conjunction with the Shoebox's first Biennial. In the wild, pre-Midtown Global Market days, it was easy to throw a couple of couches on Chicago and Lake and cram nine or so performers into the 11x8x2 foot gallery space. Passing squads were content with the explanation of "It's an art project. Under control. I'm in charge." The BC wore their Federal Maximum Security-style orange jumpsuits and danced between green lights in the crosswalks, accompanied by an accordionist. Their dance was followed by bands, poets, and more dancers in and in front of the gallery. KFAI host Leigh Combs read Green Eggs and Ham through a loud speaker like Big Brother gone mad. The security cameras from Sunny's Bar looked on, and its patrons chuckled.
All bets were off. We owned the street.
And then, there was the art. More than twenty-five artists from twenty states submitted — not bad for the first (and so far, only) Biennial of a gallery open only two months. Too much to fit in the Shoebox, the works were distributed throughout every window of the shoe store. At the end of the very long performance day, the gallery proper was hung: a cactus noose from Texas marking then President Bush's death penalty attitudes; a plaster headstone for Charlie Starkweather, representing Nebraska; fake vomit and firecracker pizza for Brooklyn… the raggedy psyche of the nation was in the house! Installation was, of course, followed by an artists' reception, then a performance in front of the future MGM. Colin Rusch danced, and pyro-artist Stephen Rife held a burning branch while the audience watched from in front of the Guns and Ammo store.
Uh, top that, Walker.
The Shoebox artists
That year would boast exhibitions and performances by three soon-to-be Bush fellows including Jenny Schmid, Alexa Horochowski, and Emily Johnson. From this ecstatic beginning, the Shoebox could only plateau. Still, the project space's shows and openings have been memorable, if under-appreciated and lacking wide publicity. Perhaps this is due to its lack of interest in selling work (hi SooVac, Thom Barry, R.I.P. Flanders) and absence of institutional affiliation (hello Midway, Franklin, Chambers, Art of This) — the Box is below non-profit. Here, neighborhood and art-historical dialectic are engaged out-of-pocket (shouts to Occasional Gallery, the ARThouse, etc.).
Some highlights:
For the Beautiful Deleuzers/Guattari Heroes (an international, multi-media show) Kelley Meister gave a Deleuze inspired, long-johned and mustachioed performance in a giant bird cage. Her gaze met those of the audience and the happy hour-eds from Sunny's, while the Minneapolis Fire Department extinguished the furniture store across the street. Segrelicious, another memorable show, was a large-scale project in conjunction with Obsidian Arts (who brought in some sweet Jerome funding) that paired artists across race lines. The collaborations resulted in amazing work and revelations for all involved. (It's a little too much to go into here, but I am available for lectures).
Some shows have been sparsely attended. In front of hundreds of 4×4 inch watercolors of every single A-Bomb test (by Elise Blue of Chicago) dancer Sachiko Nishiuchi, in full Butoh make-up, performed to an audience of two. Then again, last year's celebration of Zen and the Art of Motorcycle Maintenance, which was written in the building, had an overflow crowd of close to one hundred.
As a project space the Box has been almost completely ignored by Mary Abbe et al, despite its 24-7-365 accessibility — but the effort goes on, uninterrupted.
And now, the Shoebox Gallery has come full circle: six years after its inception, Jenny Schmid, the first artist in the Box and now a tenured professor of printmaking at the University of Minnesota, has returned for a new show. Coffee and pie are still sometimes served at openings in front of the gallery; but sometimes we sit instead in Sunny's bar, as we did at Jenny Jenkins' closing. There, watching people look at the gallery through security monitors while sipping cold ones, we chuckle. And I realize that I am now through the looking glass. The recession has brought the corner back a little to its early days: nefarious activity is up again. Still, with friendly couples waving, while biking home with their groceries from the Midtown, the neighborhood mend has been on for a while and it still predominates. The Shoebox's ethos of fighting crime with art has turned to more of simply re-prah-zent-in', in the same way that Thomas Hirschorn's Musée Précaire did in Paris. When I asked how his project had changed the 'hood for him, he replied "Now people know who I am and what I do." Perhaps the Walker will lend me some of his work for a little homage, as long as it fits through the Shoebox's four foot door. How about it Olga?
______________________________________________________
Browse through a special online collection of memorable moments in Shoebox Gallery history, assembled by its founder, Sean Smuda >>
______________________________________________________
Related exhibitions and events:
Vance Gellert lecture at the Smuda studio, Thursday, April 29 at 8 pm: Exploring the divergence and re-convergence of traditional and scientific methods of healing, Vance Gellert's photography examines the conditions under which we believe healing is possible. Dr. Gellert reprises some of his work with shamans and curanderos of South America and juxtaposes it with a newer body done at Abbott Northwest Hospital in Minneapolis and United Hospitals of St. Paul with imagery from MRI assisted brain surgery, MSI magneto-enchephalography and Da Vinci robotic surgery. The images reference the relationships across global healing practices and the belief in high tech Western biomedicine. He claims it's all the same if you draw aside the curtain. The Smuda Studio is located at 2948 Chicago Av South, Minneapolis. Admission is free (but donations are most excellent).
May 2 – July 8, Jenny Schmid, Box Populi, at the Shoebox Gallery: Jenny Schmid, the printmaker who started it all with the Box's first show, is back! The new show opens Sunday May 2, 11 am-12:30 pm with a "Waffle Intervention" in front of the gallery and the raising of the Poho (Powderhorn Park) flag, designed by Erik Brandt, accompanied by a sound poem to commemorate dedication of Poho flag by Elisabeth Workman, award-winning Flarf poet.
______________________________________________________
About the author: Sean Smuda is the recipient of the 2009 MOSAIC Commission in photography. Its twenty, two by three foot portraits are currently on view at the Midtown Global Market and City Center.