Well Beyond Lake Wobegon
Tim White surveys the variety of works and artists currently on view at the newly reopened Tweed Museum in Duluth, noting the subtle, refreshingly surprising questions the mix of shows raises about Northland identity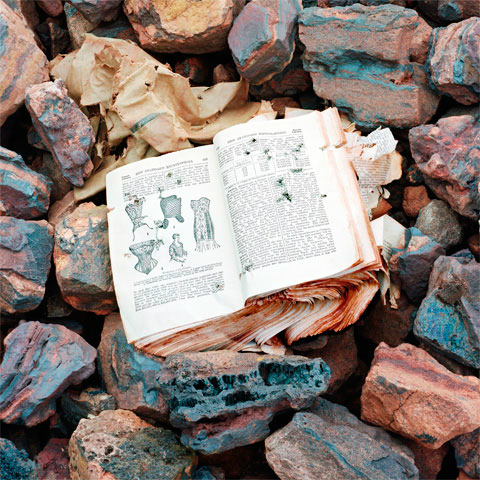 When the Tweed Museum closed its doors to replace an outdated HVAC system nearly six months ago, a wag might have said that the building was not sufficiently cool, or at least not consistently so. Put less flippantly, Duluth had lost what the museum's director, Ken Bloom, once called "the hub of the community's social network." As a University of Minnesota institution that resides "up the hill," the Tweed has long had that prominence by default. In June, it took great step towards more fully realizing that aspiration and reaching the lives of a diverse public.
The three exhibitions the Tweed has chosen to foreground do their best to shake off an impression of the museum as a fusty repository of an affluent great-grandfather's grand tour. Vance Gellert's Iron Range photo series presents a de-centered post-industrial American Midwest. Jeffrey T. Larson's proficient paintings of an idealized Northland elevate the common to a grandeur it seldom has. Sue Coe and Warrington Colescott's heart-rending and sardonic prints scathingly critique atrocities that Larsen's subjects are spared. Together, these exhibitions raise questions regarding what an institution values, and how it speaks with its public.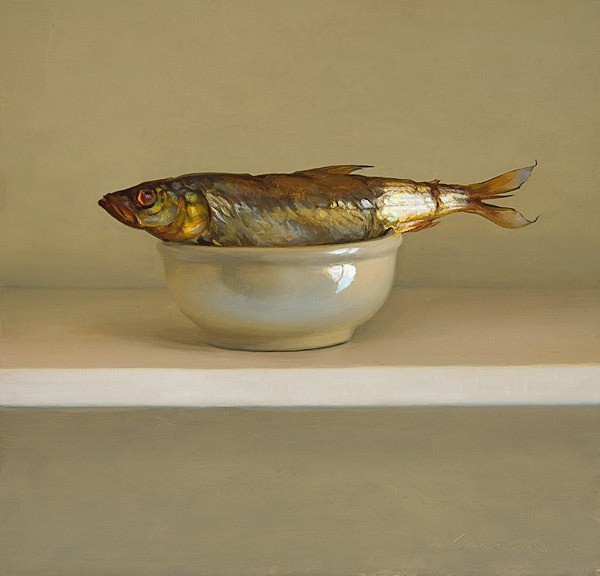 Vance Gellert's body of work, titled Sleeping Giant (from the Ojibwe word "Mesabi"), shows a people struggling with economies of dwindling scale, resource management, and conservationism coming into conflict with entrenched practices. Though he describes his subjects as "indomitable," mythically heroic in their efforts to wrestle a meagre living from rock, his photographs navigate a terrain caught between the brute scale of mining operations and an imperiled middle-class existence — as in a panoramic image of backyard playgrounds perched atop an open ore pit. The men depicted are seldom rugged patriarchs. Most are doughy, permeable even within their Carhartts and protective gear (or without them, as in his portrait of a man, heavy and pale in a salmon-pink towel, in the sauna). It's a realm of bars, butcher shops, and council chambers populated only sparsely by women. The few we see are mainly peripheral, save for several empathetic portraits of elderly matrons, the grave of recently-interred Florence Lucachick, or a handful of vintage studio pin-ups cradled by a disheveled art appraiser. One particularly stark image shows antique illustrations of corseted women, pocked with bullet or arrow-holes, situated atop an iodine-colored pile of hematite. In another image, a young woman looks into the distance, wan beneath her cap while an array of monitors glow behind her. It's a coy take on centuries-old representations of women posed before mirrors, supplanted by the gaze of machines looking on them with an insistent glare. Even while heavily focused on matters concerning industry and extraction, Gellert's attention to ways of life that merit retention — high school hockey, porketta, civic engagement, Finnish heritage — show just how tenuously held such things are.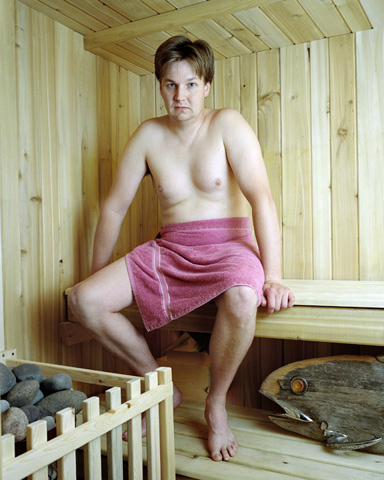 Academic oil painter Jeffrey T. Larson elides the gritty realities that Gellert confronts, yet manages allusions to the region's Nordic heritage with iridescent rutabagas, impossibly blonde children, and, cleverly, a dried herring, board stiff and poised above a plain bowl. There's even a streamlined Depression-era vacuum from the stalwart Swedish company Electrolux. (My own grandfather sold these door-to door as a young man recently arrived in Duluth. Without the stake he made doing so, I might not have arrived here 80 years later.) And still, for all the facility given to smiling portraits of cherubic children and sun-dappled laundresses, together the works persuade little more than superficially. They are like Wobegon without the woe that Garrison Keillor so deftly slips in while you're busy distracted by his deceptively soothing narratives. Larson's Domestic Space, with room after room of perfectly-rendered, angelically-lit subjects in gilded frames, cumulatively struck me as facile, masterfully-made confections.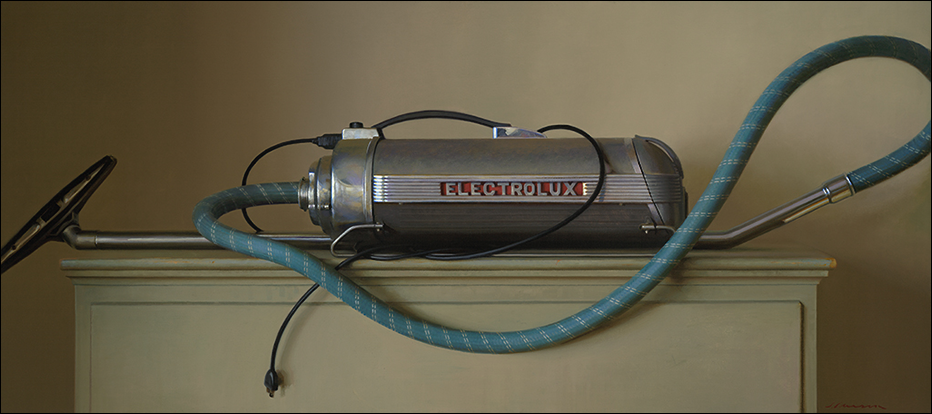 No such pretension or need to pacify exists in Sue Coe and Warrington Colescott's prints of atrocity, corruption, and horrors, titled All This is True by guest curator John Schuerman of Instinct Gallery in Minneapolis. It is wrenching to see, so insistently conveyed, how little our species has progressed from times when Goya inked The Disasters of War. Coe's works have the spare immediacy of Käthe Kollwitz's work along like themes; archetypal innocents, women and children (primarily), enduring implements of death wielded by soulless men. Colescott's work reimagines Otto Dix and George Grosz for new generations of sufferers, preyed upon by lascivious tyrants and their degenerate minions. Casting the powerful as perverse is nearly as tired a trope as when the powerful do likewise to the powerless;still, it's a visceral, deeply-affecting parade of miseries and, as aptly stated by Coe, "easier than its effects on their subjects, and necessary to see."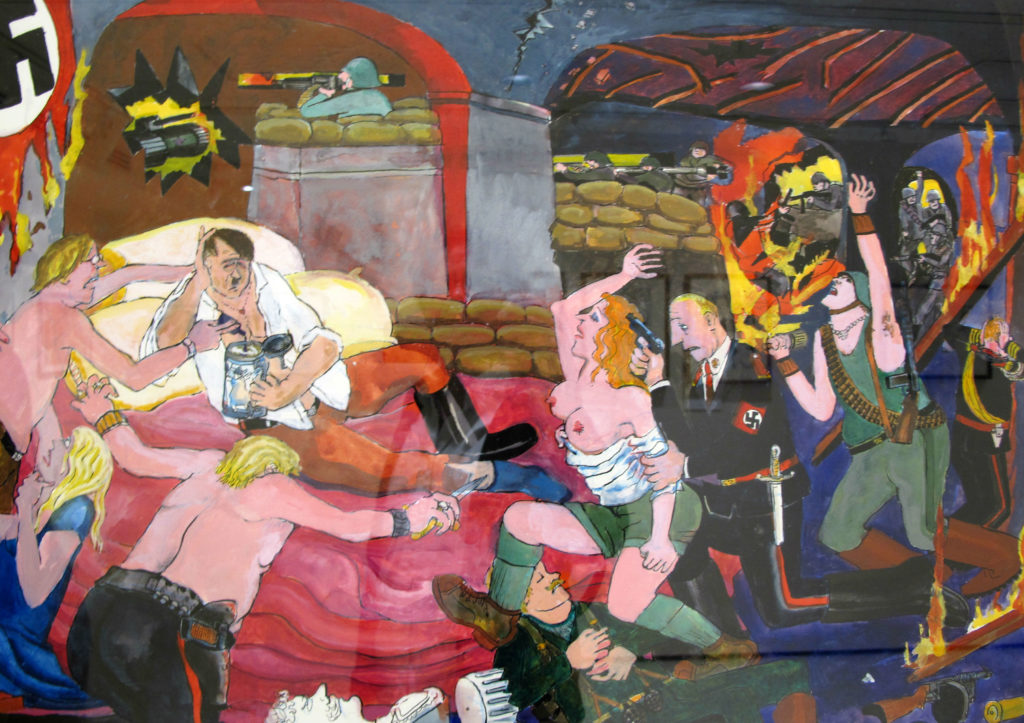 While the above noted three exhibitions are given prominence, without such fanfare the Tweed's less-heralded choices also hold subtly complex surprises. Venerable docent Bill Shipley's curation of Four Painters of the Barbizon School posits a sly critique of the explicit tyranny exposed by Colescott and Coe. 18th-century French artists, like Millet and Rousseau, paved the way for greater social realism, making a refuge of the Forest of Fontainebleau — what had once been the hunting preserve of deposed monarchs. Creating a park of what was once a place of privilege, making space for amours de fou (perhaps Manet's Déjeuner sur l'herbe), makes one wonder what future uses the 99% will make of our present overlords' exclusive playgrounds.
Though not explicitly subversive, the Tweed's growing Native American collections bear witness to traditions mistakenly believed lost, to matters subsumed but still present. They present an interesting rhetorical counterpoint to Gellert's images of what Americans have made of a land taken by force. Expertly crafted objects — quill cases, moccasins, bandoliers, even a poignant array of miniature settler's furniture — underscore what expansion tried to bury in its wake and provide alternative perspectives of what constitutes the essential, ceremonial, and worth valuing. Greater coordination with, and guest curation by faculty from the University's Native Studies department is promised. Given the fluorescence of contemporary work by indigenous peoples, an enhanced dialogue should be expected.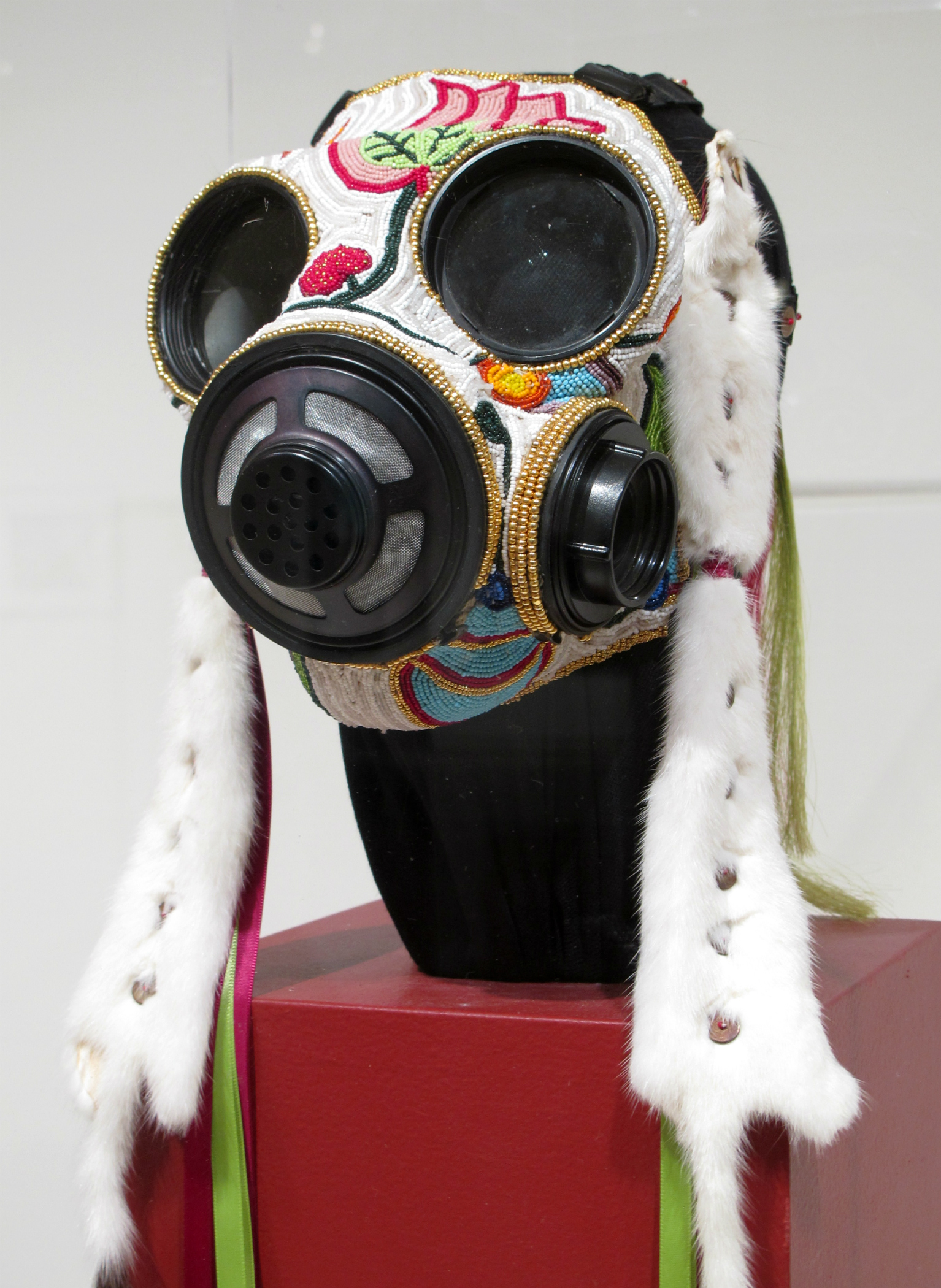 Practically unpublicized yet spanning the Tweed's vast entry is an even more insistent widening of inclusion. Reframing Ophelia, curated by Anneliese Verhoeven and UMD faculty member Jamie Ratliff, features exceptionally gifted artists who are often relegated to the margins by their difference (whether female, indigenous, or otherwise colonized). The works chosen employ aspects of the story of Shakespeare's heroine — a character alternately derogated and romanticized as hysterical, frail, and precariously sane — to assert the ways artists who aren't "Western," white males have been likewise been muted, spoken for, and held to reductive stereotypes of otherness. Carla Stetson's flailing figure in the collage Disarmed, Naomi Bebo's ornately-beaded gas mask, Nadine Blacklock's wildflowers next to a felled birch, and Ori Gersht's exploding floral arrangement, all ask whether our rigid taxonomies of craft, nature photography, or domestic arts are sufficiently ample. The eddies in Barbara Talenaga's Wheel (Halo), Alice Ballard's (really) Large Tulip Bulb, and Liz James's columnar ceramic vessels demand connotations more expansive than merely pretty, useful, or feminine. Are the terms we might apply to a Jackson Pollock the same, or freighted similarly, as those we'd apply to a Georgia O'Keeffe? Is a dead (or at least supine) body as easily viewed as lovely when that body is a boy's, as in Sally Mann's lakeside photograph Ditch?
Consonantly challenging questions are posed by entering the Tweed to first encounter Boyd Christensen's sculptures: tangled geometries of denuded wood that convey a walk on some surreal beach. They foretell that you'll encounter the ordinary used to accomplish uncommon ends, and shifting perspectives. The four nearby panels by Kara Walker (Testimony, 2005) are likewise arresting, especially in a city coming to terms with its own racist past. Duluth's downtown holds a monument to three African American men, lynched on the site on June 15, 1920: Clayton, Jackson, and McGhee. Walker's silhouette cutouts thematize slavery in an anachronistic, folk storytelling tradition that broaden viewer conceptions of oversimplifications like black and white, and of positive vs. negative space.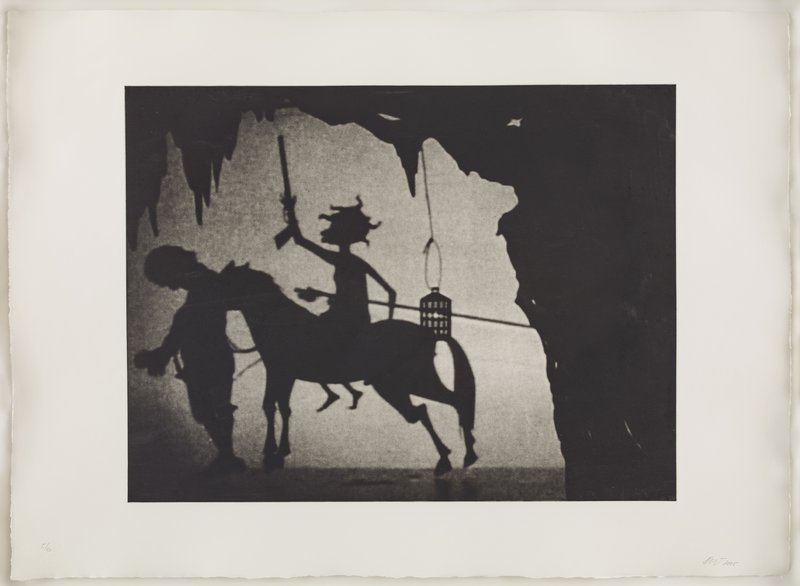 Whether the Tweed Museum can maintain the precarious position it has placed itself in, as both stewards of contested notions of culture and promoters of a wider discourse, remains to be seen. That said, it is off to an engaging new start, and credit is due for its willingness to pose complicated questions. Museums can and should provide more than merely balming experiences. The Tweed's offerings boldly remind us that a more nuanced, larger world exists and that, whether we are encouraged or goaded by what we see there, we are obliged to engage it.
---
Related exhibition information:
Jeffrey T. Larson's Domestic Space is on view from June 9 to September 18, 2016.
Vance Gellert's Iron Country is on view from June 9 to September 4, 2016.
ALL THIS IS TRUE: the art of Sue Coe and Warrington Colescott is on view from June 9 to September 18, 2016; all of the above exhibitions are at the Tweed Museum of Art in Duluth.
For a full calendar of affiliated events and additional exhibition information, visit the Tweed Museum website: http://www.d.umn.edu/tma/exhibitions/exhibitions.html