Walking in Dyani White Hawk's Moccasins
Iterated in a seemingly endless variety of colors and configurations, White Hawk's "moccasin" paintings and prints offer sure-footed entry into the tangle of Native and European histories and traditions that still mark the Midwest.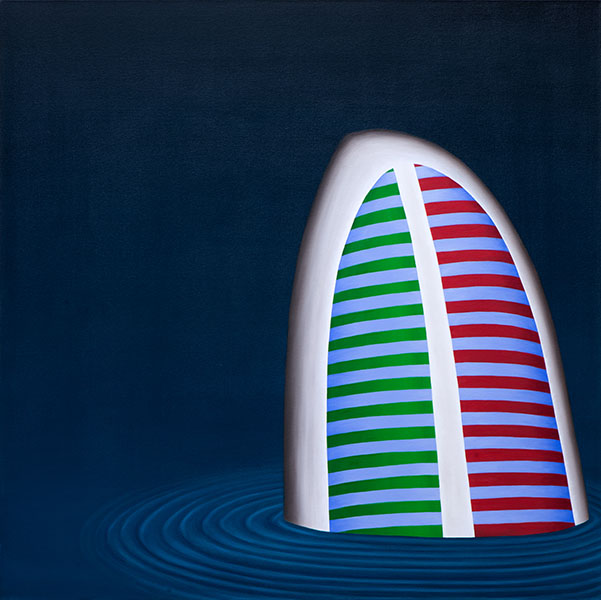 The 16 paintings and prints that make up Bockley Gallery's recent exhibition by Dyani White Hawk, a woman of Lakota and European ancestry, exist within the boundaries of a formal environment whose fluid parameters bleed through tradition and history with a sure-footed articulation. It has the material rootedness and gravity of an ancient place, but is also surprisingly alert in its contemporaneity. Refreshingly void of the pat and pitiful irony that courses through so much of our contemporary art and conversation (like a GMO, engineering our intellect with untold sicknesses and effects), White Hawk treads consciously here, as one who knows well the difference between nourishment and neglect, mental contamination and spiritual direction.
A common motif in many of her works is a large, centrally located shape, anchored at the bottom of the picture, that forms a slight, tapered arch at it's top. It recalls a dorsal fin, or a wing. Taking cues from the artist's titles and past works, the shape's curve seems intended to suggest the toe of a moccasin. Iterated in a seemingly endless variety of colors and configurations, each one unique, White Hawk's "moccasins" provide a common grounding for a journey through the many histories and traditions that collide and coalesce throughout the exhibition.
In the lexicon of dream symbols, shoes can reveal something of the nature of one's standpoint and its relative authenticity. Look closely at the shoe's fit, and you uncover something about the wearer's true size and potential; the wear and tear on its soles bear witness to hard work of finding sure footing in reality. Is this dream shoe hardy enough to offer sufficient protection from the briars, sharp rocks, hot sands, and frigid waters that populate the footpaths and landscapes of one's psychic life?
In her painting, Self Reflection (2011), White Hawk offers a glimpse into this waking dream. Here, the familiar motif is rendered in a modulated white outer border with a central white division down its center. The bifurcated sections contained by the outer modulated white border are both striped––the left area in alternating stripes of green and sky blue, the right in alternating stripes of red and sky blue. The entire arc of the toe of the moccasin appears to be emerging from, or descending into, an infinitely dark pool. Small ripples radiate out from the shoe's base, as if it were stepping into the darkness of uncertainty, suspended like Narcissus in the watery pool if it's own reflection. Enter this image, contemplate its suggestion of mythic drama, and you might find our own face (that shod foot of your soul) there, in the world's display of itself – a reflection which, by extension, includes the likenesses of you and all those others who also dare to come in and look.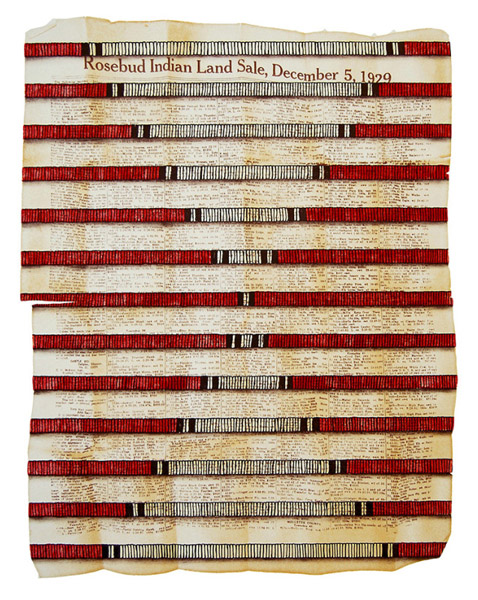 But entry here isn't without risk – look deeply at who you are and where you come from, and you're bound to encounter reminders of histories that are painful to remember. Trust and Loss (2013), for example, is a large lithograph presenting a dual image of precisely what the title promises, trust and loss. A finely rendered image of traditional Lakota quillwork reveals a warping underlayer of words and numbers: a phrase in bold red letters, "Rosebud Indian Land Sale, 1929," bends and collapses its way across the top of the image, exposing the very document to which the phrase lays claim. It is a document laying bare the tangled history of land allotment (for natives) and homesteading (for whites) in the traditional lands of Great Plains peoples, which by 1929 were declared the Rosebud Reservation lands in South Dakota. Spend time with the work, and the poetry of forgotten names slowly surfaces like ghosts through the palimpsest: "2242 – Charles Kills in Water/ 1140 – Poor Dog se. 4, 5-35.30/ 3741 – Nicholas Bull…" White Hawk makes an offering of her engagement with the poetics of the image, in so doing giving voice to the unsung soul of that shared story. The voice she invokes not only addresses the roots of history, but also of self-knowledge and the understanding of one's place in a larger continuum of cultures and place. Her lyricism is suffused with the image of death and, simultaneously, the idea of deathlessness. Walt Whitman's line about the "poet who sings of life because at last he has known death" comes to mind. Instead of succumbing to the depths of grief over those losses, the artist sweeps back to life by clinging to her greatest faith – in her people and her abiding sense of kinship with them.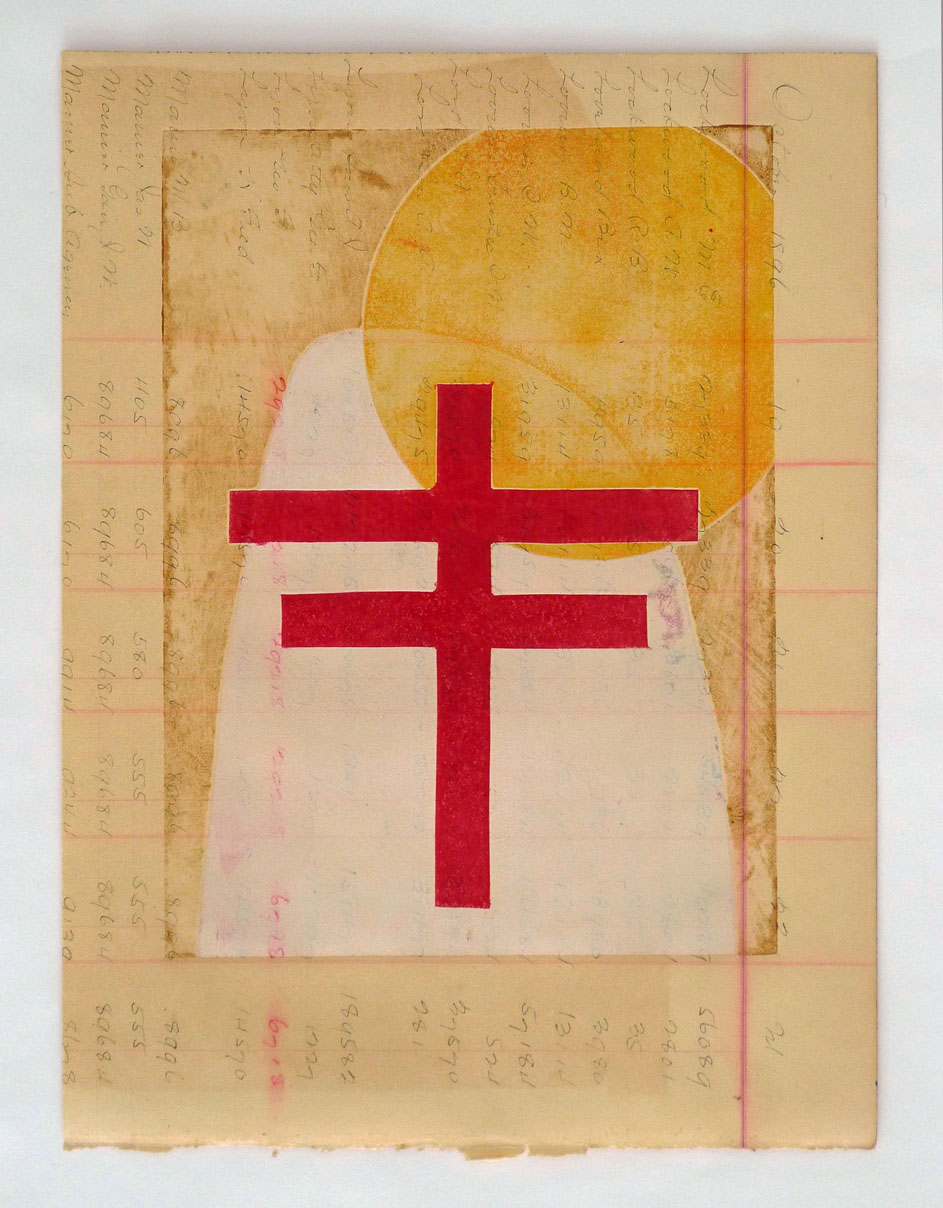 In the back room of the gallery are several small works on paper that burn with an intensity and curiosity lacking in some of the larger oil paintings. These works feel immediate, intimate and necessary, beckoning us to come closer and read their varied surfaces and inscriptions. Dragonfly, Sun, Moccasin (2014) is a monoprint on antique ledger paper: a bold, red Lakota symbol for the dragonfly floats in front of a cacophony of ciphers –– handwritten numbers and scratching, a yellow circle, our familiar moccasin. Images of metamorphosis, transformation and maturation, they combine to signal a reawakening of the mystery of life – its confusions and illusions, its fluttering instability. In these works White Hawk offers an occasion to contemplate these mysteries by way of her rearrangement and reconstruction of traditional Lakota symbols with Western artistic disciplines. Her interest is less in updating or modernizing either tradition than it is a call to action asking us to go back, to look again. She's offering a way to see with new eyes what has been forgotten, to look at the very mechanisms of that forgetting. And through the looking perhaps we gain a renewed respect –– for our shared histories and the complicated cultural threads that bind them.
Related exhibition information:
Into the Light: Paintings and Prints by Dyani White Hawk is on view at Bockley Gallery in Minneapolis from June 20 to August 2.
Craig Olson in an artist and writer living in Minneapolis.