Vertigo at the American Dance Festival
Lightsey Darst reports back from opening night at this summer's American Dance Festival in Durham, NC: a glittering mix of the rich, the arty, the young and a US premiere by Israel's Vertigo Dance Company.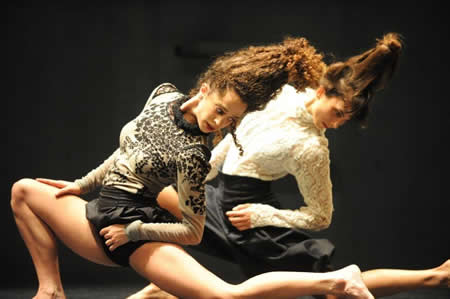 It's opening night at the American Dance Festival, and Durham's shiny new house, the Durham Performing Arts Center, hosts a glittering mix of the rich, the arty, and the young. Boys who fill out their khakis and how; a slender gentleman in a tropical print sportcoat; an older woman in a black shift with jewel-encrusted shoulders, as if she passed too close to the powder room chandelier on her way out of the manse. Teachers at ADF's summer school showing off their thin bony backs in low dresses; blonde dolls in platforms and pasted-on smiles; a fashion plate in crystal beads and silky formal shorts stands next to a man who's been wearing his suit so long its humid pleats have molded to his body. These people don't match, but they mingle.
In fact, they must mingle in the right proportions to ensure the survival of the complex, expensive, ambitious project that is the American Dance Festival. A summer school for aspiring dancers, a commissioning and presenting power, and now a brick and mortar year-round presence in Durham, ADF wants to be a nexus of dance taste, connections, and energy. This multifaceted mission is in the hands of ADF's director, Jodee Nimerichter (now in her third year on the job). With her husky voice and schoolteacher smile, Nimerichter comes on soft, but her record—including a summer season with multiple premieres and debuts, and $2.4 million raised this year towards an overall goal of $3 million—suggests she has nerve, and perhaps more importantly, an ability to please and attract the people she needs to make ADF work. The audience is here for this, here to fulfill their various roles in that larger project: muse, genius, ingénue, patron, aficionado, organizer.
Incidentally, there is some dance to see. Vertigo 20, a US premiere, collects vignettes from twenty years of Vertigo Dance Company, an Israeli group led by choreographer Noa Wertheim. Wertheim earns her opening night spot with a magic mix of accomplished dancers, expressive and legible movement, and the Mood.
You know the mood I mean: energetic cynicism in an emo pressure-cooker, that cake-and-eat-it-too of sexy forms and world-weariness that marks so much world dance of the moment. You can recognize it in a glance at Vertigo's design: lights (the work of Dani Fishof) that glare overhead or paint faces with the eerie sheen of Toulouse-Lautrec's Moulin Rouge; costumes (by Rakefet Levy) of blossomy shorts, plus fours, and high-necked playsuits, in ecru and chocolate, plum brocade and black lace – like Victorian children's wear. Vertigo 20 cuts the stage down to a tight room with perches on the walls (also by Levy) from which dancers watch the primary action or engage in off-color side scenes—fights, seductions, a woman standing between a man's legs, swaying. The music (provided here by Ran Bagno) fits this moody baroque: neo-Glassian arpeggios and tinkly burlesque, the soundtrack to a pomo oratorio, or maybe a cracked circus.
Do I sound unimpressed? On the contrary: Vertigo and Wertheim take the Mood to its height. But I do wonder about the limits of that mode. For example, Wertheim's walk-and-pose choreography had me missing the steps of a classical tradition. What do I mean? Imagine a square dance: everything you do is accounted for in the caller's vocabulary. While the music lasts, you live in an altered world. Then the enchantment ends and you become ordinary. The decision not to use such steps is deliberate and political, I understand, but it is such a frequent decision for contemporary choreographers—almost a default—that I wonder whether choreographers always think through what they lose: the enchantment, yes, but also specificity, mathematical complexity, even (to the extent that this is ever possible in dance) abstraction.
But Wertheim clearly is not interested in abstraction. Instead, she hunts up motions that refer to but build upon ordinary life: a supernaturally low wide-legged plie, the pelvis dragged down to the floor as if dowsing or ovipositing. These plangent pelvises are only the most striking of Wertheim's many movement devices—a sexy Christ shuffle, palms upturned; a loose sauté (a jump on one foot), arms rowing the air. A few such images or moves add up to a dance. A matador strike, an electrocuted jump, a floor roll, a quick scale of the wall like a cresting wave: Wertheim mixes and remixes these elements like colors on a palette. Thus, instead of developing any argument or narrative, her dances arise, climax, and dissolve—a sexual pattern, but also the pattern of any other animal desire. That is Wertheim's focus: the desire and behavior of the human animal, seen with the cold passion of the anthropologist. Her dances give short shrift to our vaunted individuality, to our imagination—too short shrift, I think. But she and her company convince with their picture of homo sapiens in action. A midair collision: we don't treat each other well. Hands over the ears: we don't listen. Groups exiting fail to see a pair entering: we don't talk; a useless embrace, puppetry of one by the other, we love only selfishly.
And yet Wertheim ends with a group dance—a slow tippytoes hora, everyone facing in through a field of glowing balloons. Perhaps, not individually, nor in couples, but collectively, we might be worth something.
And then the performance is over and we're back in this auditorium with all these other people—these people who now rise to their feet to applaud.
______________________________________________________
Related links and information:
American Dance Festival, based in Durham, North Carolina, presents six-and-a-half weeks of performances and residencies by major established companies and emerging artists from around the world from June 12 through July 26, 2014. ADF also offers a six-week professional school for dancers, choreographers and teachers as well as various national and international conferences and workshops and year-round community outreach in the Durham area.
Lightsey Darst is a writer, critic, and teacher based in Durham, NC.