American Dance Festival: What's Love Got to Do With It?
Lightsey Darst continues her dispatches from the 2014 American Dance Festival in Durham, NC, this time on Ishmael Houston-Jones and Emily Wexler's "13 Love Songs: Dot Dot Dot" and Adele Myers' "Einstein's Happiest Thought."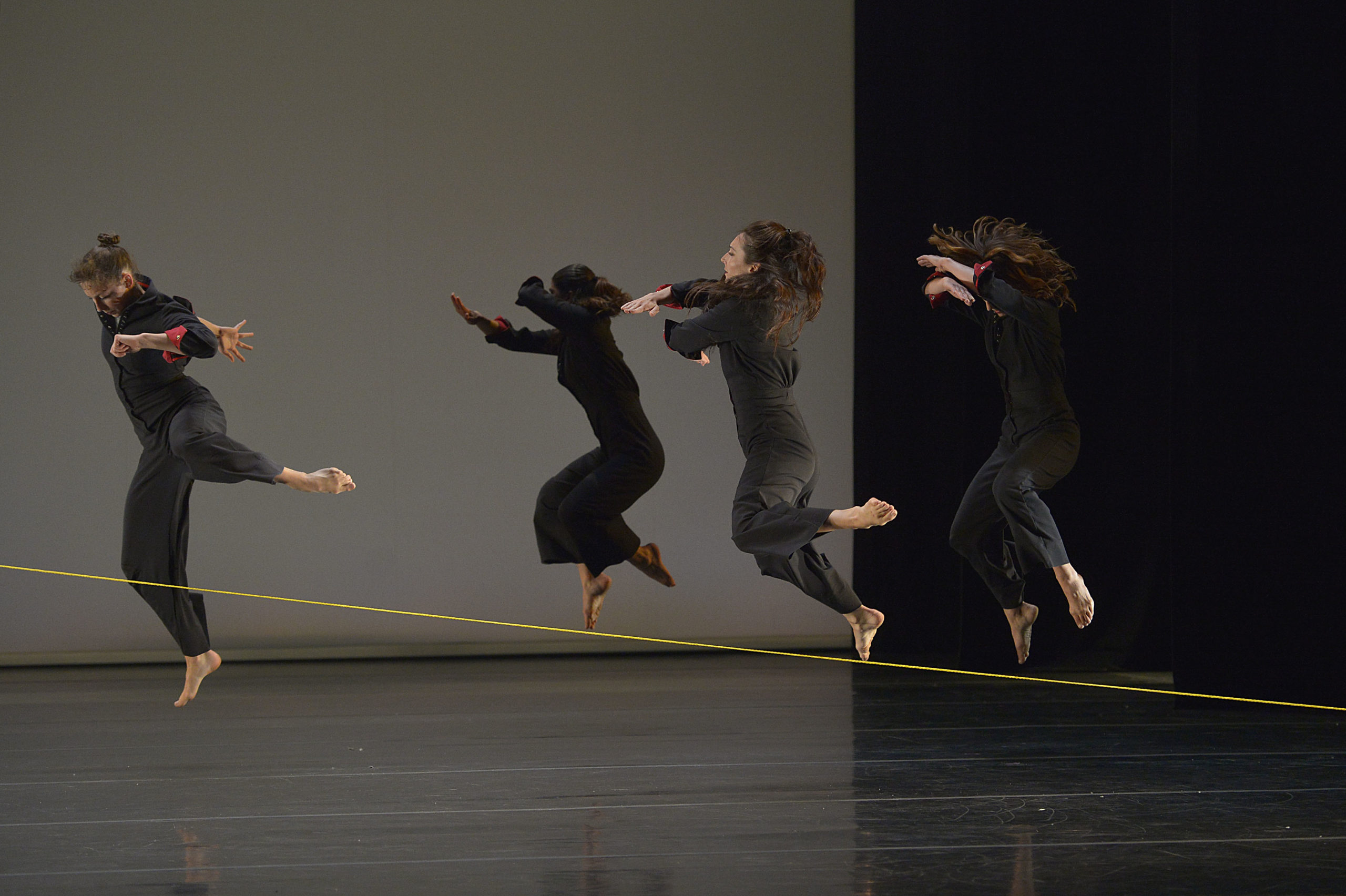 Right before 13 Love Songs: Dot Dot Dot begins at Durham's PSI Theater, Ishmael Houston-Jones (one of the two performer-creators, along with Emily Wexler) circulates with a Whitman's Sampler, offering chocolates to the audience. The Whitman's Sampler! Remember poring over the names of the candies, fingers hesitating above satiny domes of dark and milk crèmes and caramels? We might have better taste now, but trust me, the desire sticks. I choose the cherry cordial, which pops at the first sick-sweet nibble, sending red syrup dribbling down my cleavage. Damn! I should have known better – and you know what? I did.
This turns out to be an apt preview for the show. Crushing, craving, going wrong, but going on wanting, Houston-Jones, Wexler, and their audience tour the highs, but mostly the lows, of desire. They start with the lowest: Wexler bawling along with the Magnetic Fields "You can find it on the Bowery. . . It makes your words more flowery," like the world's worst karaoke. "Come on out," you can imagine her friends saying. "It'll make you feel better." Not a chance! Tonight we're soaking in it: Wexler and Houston-Jones vary the intensity, but they keep coming back to the dramatics of love, how we all just want to be a black hole sometimes. They smear onions on their faces to make themselves cry; they hurl themselves at the floor until they bleed; they run themselves ragged with slumber party dance-offs. None of this is, as I read it, cathartic, because it relieves nothing. Instead, it's a stage version of the rolling, solipsistic freak-out that is so much American consumer and popular culture: I feel more than anyone! Attention on me now! Instant everything!
What does any of this have to do with love? That's the question that comes to mind as Wexler reads through six years of diary entries concerning her mad crush on the aptly-named Dave Dick. Stalkerish, fantastic (it seems likely the relationship was all in her head), sick (did she actually say "I don't know why you're still alive"?), these diary entries suggest that a lot of what we call love is actually some other appetite, or a discipline, even. What am I talking about? Take the moment when Houston-Jones struggles to get a lit cigarette into his mouth with all his other joints (left wrist, both knees) getting in the way, while Nancy Sinatra and Lee Hazlewood woah-woah through their godawful version of "You've Lost that Loving Feeling:" what looks like heartbreak may in fact just be a rule he's made with himself about how broken he must appear to be. We want to want, and we work the wanting muscle. When Wexler wobbles around in a back arch, feet in tippy-toes fourth, the "bit" isn't about whether Wexler can smoothly execute this difficult pose (she can't), but about her effort—that and the mermaid shimmer of her long strawberry-blonde hair.
Genuine heartbreak is its own cold valley, as suggested by my favorite moment in the show, Wexler's semaphore to Cat Power's haunting version of "All I Have to Do Is Dream." Wexler extends her long arms here and there, her face blank, and flaps her hands at each "dream" as if some vibration is struggling from her body. But, for the most part, this show is concerned with the noisy love we're supposed to be hosing down the world with, the passion love songs urge ("You my down-ass bitch," Wexler announces in a professorial voice, quoting Ja Rule; "Baby say yeah," Houston-Jones murmurs impatiently).
For this misdirected need, Wexler and Houston-Jones suggest a cure. They call a cast of volunteers on stage and have them lie down. And then Wexler soothes them through a meditative ritual of falling in love with themselves, every part of themselves, and then falling in love with the next person they can see from where they are lying. Don't crush; love yourself, and cruise instead.
Yet as I watch, I see one woman shift, searching for someone she can make eye contact with; two more connect across an unnoticed third. Another pair of couples cross gazes. Even in paradise, injustice and infidelity bloom. But that makes sense, because this paradise is the theater, home of the crush. We've all got telltale stains on our skin: that's the very point of coming here.
Before Adele Myers's Einstein's Happiest Thought, the curtains of Duke's Reynolds Industries Theater sit open, revealing a tall ladder upstage, crossed high up by a cable that extends off stage in both directions. "I think they're going to dance on that ladder," a woman behind me says to her friend. "And they'll use that rope as a zip line!" This thought turns out to be happier than any Myers intended, for while one dancer does eventually (and very slowly) scale the ladder, no one dances on it, and my notes from the evening include, sadly, "No zip line." This violation of Chekhov's gun principle—for, whether you have a fellow-spectator planting the idea of a zip line in your head or not, you have the skyscraper ladder and the high wire looming throughout the hour-long show—makes the actual dance feel small, preparatory.
Perhaps it would feel that way even without the unfortunate design: Myers's conceit for the show is that one relatively still person's thoughts are made visible by four dancers. This casts the dance inside, a neurotic (or neuronal) fable. For about two minutes, late in the show, I thought the polarities might reverse—focused on the still person inside the dancer instead of the other way around—and maybe they do, but whether that stillness is the inside or the outside, it remains fairly inert. I confess my prejudice for the hot mess (see above), and this is anything but.
But it's hardly fair to blame Myers for what she doesn't do. What does she do? Most notably, she creates a lot of legible dance that her capable company performs with strength, precision, and flashes of brilliance. I can still envision a spin which ended with a flat fourth position, a nervous opener; I can see the low lunge, arms loose, body braced forward. An arabesque that dips lower and lower, with the hands loosely curled and held off the ground, fingers moving as if sifting grain; a sideways struggle from the floor, both legs running in air. All these movements, as I describe them, look to me the way thought often feels: the backward and forward, the hesitation, the search for what might be bravest to come next.
______________________________________________________
Related links and information:
American Dance Festival, based in Durham, North Carolina, presents six-and-a-half weeks of performances and residencies by major established companies and emerging artists from around the world from June 12 through July 26, 2014. ADF also offers a six-week professional school for dancers, choreographers and teachers as well as various national and international conferences and workshops and year-round community outreach in the Durham area.
Lightsey Darst is a writer, critic, and teacher based in Durham, NC.