This Is What Ya'll Don't See On TV: B-Girl Be 2007
Justin Schell wraps up our hiphop series with this report from the 2007 incarnation of B-Girl Be, the international and fabulous convocation of B-Girls from Minnesota and the world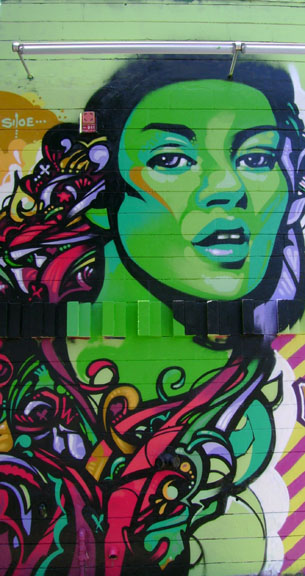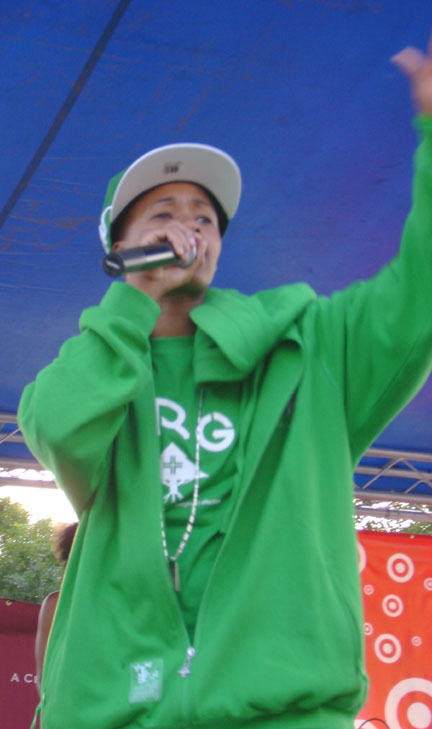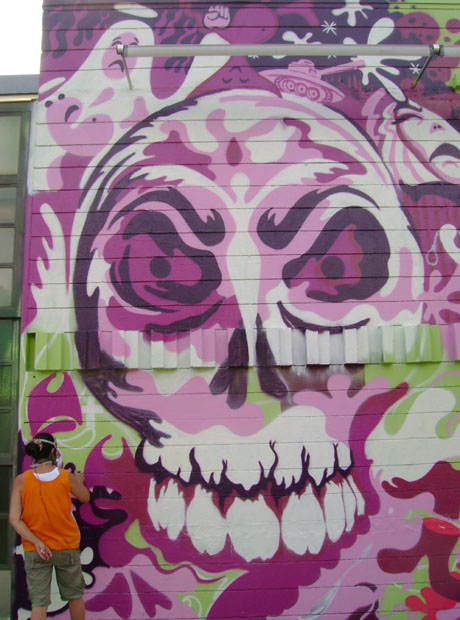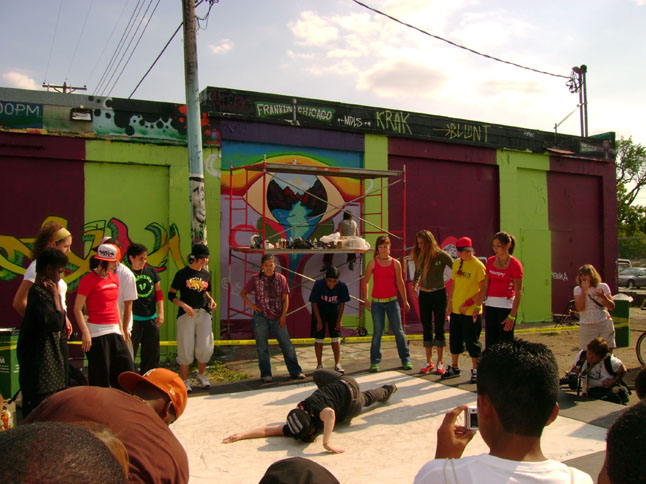 Ciphers, the participatory circles in hip-hop where MCs, b-girls, and b-boys display their lyrical and physical skills, serve as spaces of competition and improvement, as well as act metaphorically for the larger sharing of knowledge and skill at the heart of the hip-hop community. During one of the many impromptu ciphers that took place in the lot of Intermedia Arts this past weekend at the 3rd B-Girl Be summit, St. Paul MC Tish Jones shouted "this is what ya'll don't see on TV," to the approving shouts of the cipher's audience as well as its participants.
Jones's statement deftly captures the spirit of B-Girl Be. Bringing together women from not only the four elements of hip-hop, but also the four corners of the world, the Summit counters the decontextualized shell of hip-hop promoted by mainstream media, that hip-hop is only rap music, and, more pointedly, combats the limited and often degrading representations that mar women in hip-hop. A mix of activism and education, celebration and inspiration, the Summit struck a balance between celebrating women in hip-hop without validating the often patronizing labels such as "female MC." It foregrounded the past and present achievements of women in hip-hop culture as well as understanding and overcoming the obstacles that women face participating in hip-hop.
Desdamona succinctly articulated the necessity of fostering and celebrating women's participation in hip-hop. One of the most accomplished MCs and spoken word artists from the Twin Cities is one of the "Fantastic Five," the five women who serve as the Summit's curators, along with Deanna Cummings, Leah Nelson, Melisa Rivière, and Theresa Sweetland. While she doesn't think that women should be separated in the larger realm of hip-hop, she does believe that "you have to make your community strong before you can go to the larger community. If you're not strong, you don't know what you want, you don't know your identity, you don't know who you are."
Making the community strong took many forms, foregrounding the visibility of women in hip-hop as well as fostering alliances between women (and men) from all over the world. There were, however, lots of smiles, handshakes, kisses, and hugs; B-Girl Be was as much a gathering of old friends as it was a place to meet new ones.
The prime example of women staking their claim for greater visibility was the Summit's many visual art displays. Curated by Melisa Riviére and led by West Coast graffiti artist Siloette, aerosol artists from around the world brought brilliant images to life on Intermedia's outside walls over the weekend, such as the enormous and intricate pink-hued skull of Lady Pink. Inside the gallery, "The Art of T&A: Truth and Activism," curated by Deanna Cummings and open until September, showcases the variety of work by female artists who have been inspired by hip-hop. These ranged from stenciled records and painted shoes to large murals, photographs, an incredible mixed media collage by the artist and MC Spikaboxxx, and, in an ode to aerosol art's graffiti origins, model subway cars painted by the artist TooFly.
Hip-hop scholar and activist Rosa Clemente, who gave the Summit's keynote, vividly articulated the stakes of hip-hop, as well as the leading role women need to take in the project. Situating her fiery talk amidst the Supreme Court's decision declaring race-based selection in schools unconstitutional, as well as the continuing struggle for American immigrants, she touched on a variety of contemporary issues. These included how people around the world use hip-hop for social change better than Americans, the irony of American media talking more to African American men rather than women about Don Imus, as well as attacking whom she calls "elite enemies," people of color like Russell Simmons, whom she famously called out in the Village Voice in 2001, who have gained mainstream success and notoriety but have lost touch with the struggle for equality, both in and beyond hip-hop. Like any good activist, her passion for change sometimes clouded her analysis, but her talk was an inspiring call to arms for anyone who believes in hip-hop's radical potential.
The group Collective 7, made up of some of the most talented B-Girls from across the country and across the world, performed what they called a "B-Girl Ballet." The numerous dance styles skillfully displayed during this performance, as well as the Friday night dance showcases ranged from the West Coast of America to the West Coast of Africa, countering many cultural stereotypes that limit the potential for women's bodies to be used for more than an expression of sexuality. Such a characteristic is only part of femininity, but it is not defined by sexuality.
While there were women from all over the world in Minneapolis this weekend, there was also a heavy emphasis on the community of the Twin Cities. Workshops were held for people of all ages, including those led by b-girl Aiko, spoken word artist Ursula Rucker, and DJ Pam the Funkstress, all of whom performed a number of times during the Summit.
I caught Pam's workshop, held at the Fifth Element record store. After talking about her experiences in the sphere of hip-hop that's been historically the least open to women, as well as her work with the radical Bay Area hip-hop group The Coup, she went on to demonstrate some basic DJ techniques, such as beat matching, juggling, and scratches. She also let everyone try these techniques on her turntables, and the resulting smiles that erupted on participants' faces at the first sound of a scratched record were a highlight of the festival.
While moderating the "B-Girl Sitdown," a panel discussion series organized by New York B-Girl Rokafella, Baby Love said that the best way to imagine the future of women in hip-hop is to "imagine the life you want to live as a b-girl, and live it."
It was the "Ladies Night" outdoor performance on a perfect Saturday night that brought everything together as an awe-inspiring embodiment of her words. After performances by PaviElle, Black Blondie, Chicago's Wonda Woman Project, and Pam the Funkstress, DJ Shortee performed with the B-Girl Power Cipher. After more than 20 women took turns displaying their dancing skills, Shortee turned up the music, the lights came up, and all of the women came together as one in dance. In this electric moment, all of the obstacles that face women in hip-hop seemed to disappear.
How much B-Girl Be means in the larger networks of women and hip-hop was clearly evident. Ansley Jones, a dancer and activist from Savannah, drove up with her father especially for the festival. B-Girl Lady Champ, one of the most famous b-girls from Chicago and who was paralyzed due to a virus that reached her spine early this year, would not miss the Summit, vowing that she would dance better than ever next year.
Walking around the grounds on Sunday, I heard many say how they never wanted to leave, but soon after these dancers and artists would go their separate ways. They did not leave empty-handed, however, their graf books signed by their fellow artists and their phones and notebooks filled with names and addresses old and new. They can look ahead to future alliances and collaborations in their home cities and beyond, buoyed by this weekend in Minneapolis, and eagerly awaiting the next chapter of B-Girl Be.