The Black Experience via the White Gaze
Painter Maiya Lea Hartman, who has created several murals in Minneapolis following the murder of George Floyd and the Minneapolis uprising, speaks to what happens when white voices capture narratives of Black trauma, and the healing that is possible when BIPOC artists claim public space.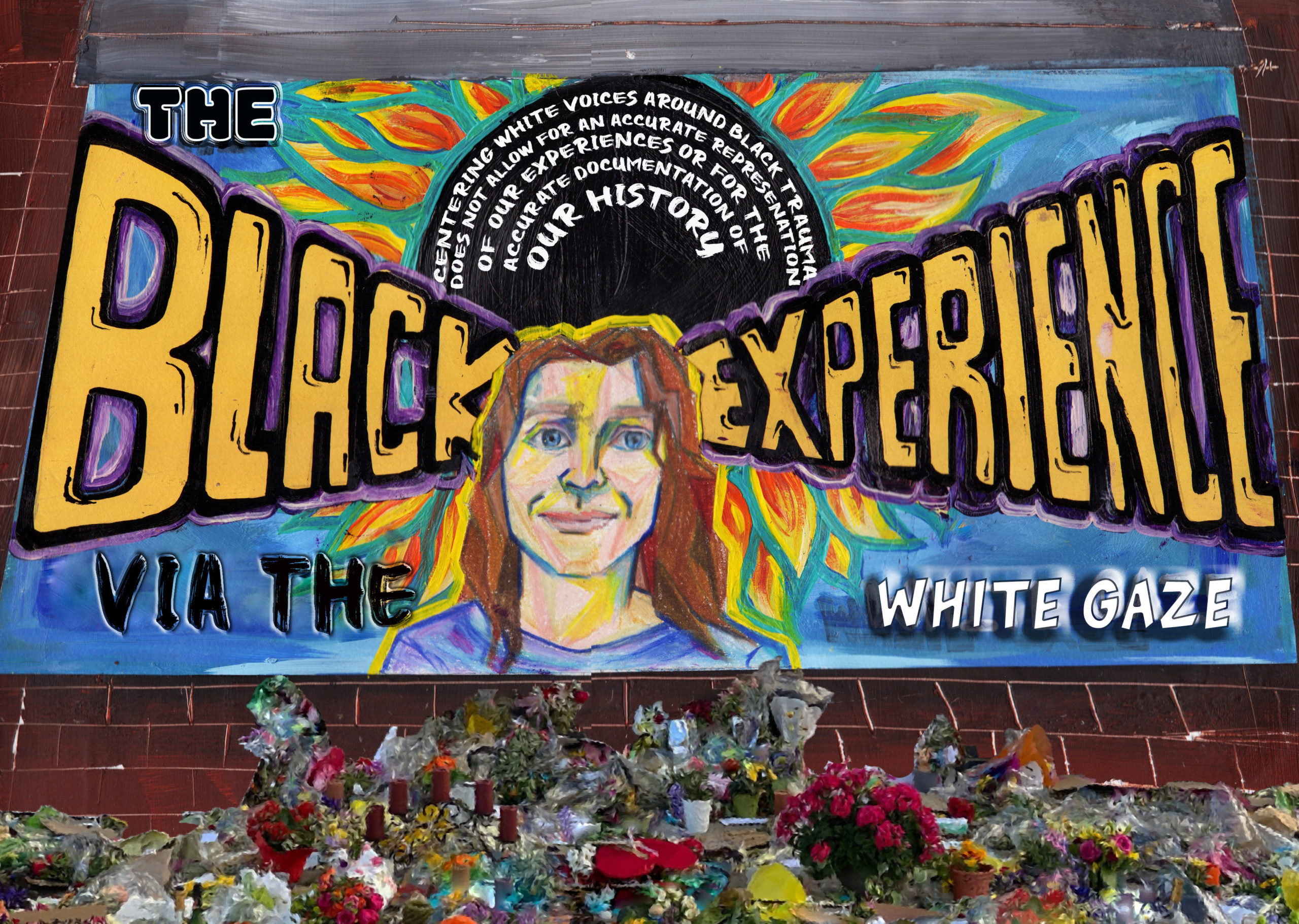 My name is Maiya Lea Hartman, and I am a 24-year-old Black and white, genderqueer painter and mixed-media artist. I was born and raised on the stolen Dakota land known as Minneapolis, Minnesota. I would first like to highlight the interconnectedness of violence against Black and Indigenous bodies. We should not look at the horrific brutality against Black bodies or the silence surrounding Missing and Murdered Indigenous Womxn as disparate. When I talk about the fight for Black liberation and visibility, I am also talking about the overdue reparations for our Indigenous relatives on the stolen land in which we reside. As Black people, the reparations we seek for our stolen bodies and the 400+ years of inconceivable violence must be given alongside reparations and reconciliation for the genocide of our Indigenous relatives.
In response to the murder of George Floyd and the subsequent uprising, I joined Creatives After Curfew, a group of BIPOC artists creating murals around Minneapolis. Their art focuses on solidarity, with a push for police abolition, community-led safety, and imaging a future rooted in justice and liberation. My first mural at the Seward Coop was an experience full of love, light, and healing. I was feeling intense gratitude for the opportunity to create public art, something I have been thinking about for years. To do so, alongside other Black artists from my community, was a real dream. As the mural opportunities have continued over the last few months, I enter each space with immense gratitude to share my art with the community and paint alongside beautiful souls. With each mural, I am reminded why these opportunities came about so suddenly—because police brutality led to the violent murder of yet another Black life. The realization that our opportunities have been plentiful, or present at all, as a result of injustice is one that is met with pain and a drive to continue to take up space as BIPOC artists.
Driving down Hennepin and Lyndale avenue, one cannot miss all of the murals that have gone up on boarded doors and windows or buildings' walls. As I began to see the first works of art going up, I didn't think twice about who was painting them or taking up space during this time. It seemed clear to me that BIPOC artists themselves were creating most of these paintings reading, "I can't breathe." I was able to see some artists in action; I witnessed a shocking number of white artists in the area painting images of our experiences, our traumas. The visual immediately brings my mind to the histories they taught us in grade school: reading about Indigenous experiences and art from white men's voices, or learning about life for Black folx during the Civil Rights movement via the white narrative. That visual brings me to moments of conversation with white people regarding the standard of life for Black and Indigenous bodies in the 21st century, and the derogation of the cruelties we face because they speak on an experience that is not their own.
Learning that the George Floyd Memorial mural was made by three artists, none of whom are Black, was extremely disheartening. This painting has now become an international symbol of the grieving and memorial of George Floyd and the uprising. The lack of communication and transparency is a prime example of how white people so often center their voices when it comes to Black and Indigenous trauma. To recognize how few people are aware of this is to highlight how easily these nuanced means of Black and Indigenous erasure fall through the cracks.
---
This piece is part of the series by guest editor Juleana Enright.