The Process is the Product
Jeremy Walker on the riddle of Duke Ellington's legacy in American culture and what it says about the place of jazz music in the national story and, more generally, the uneasy relationship of art and commerce.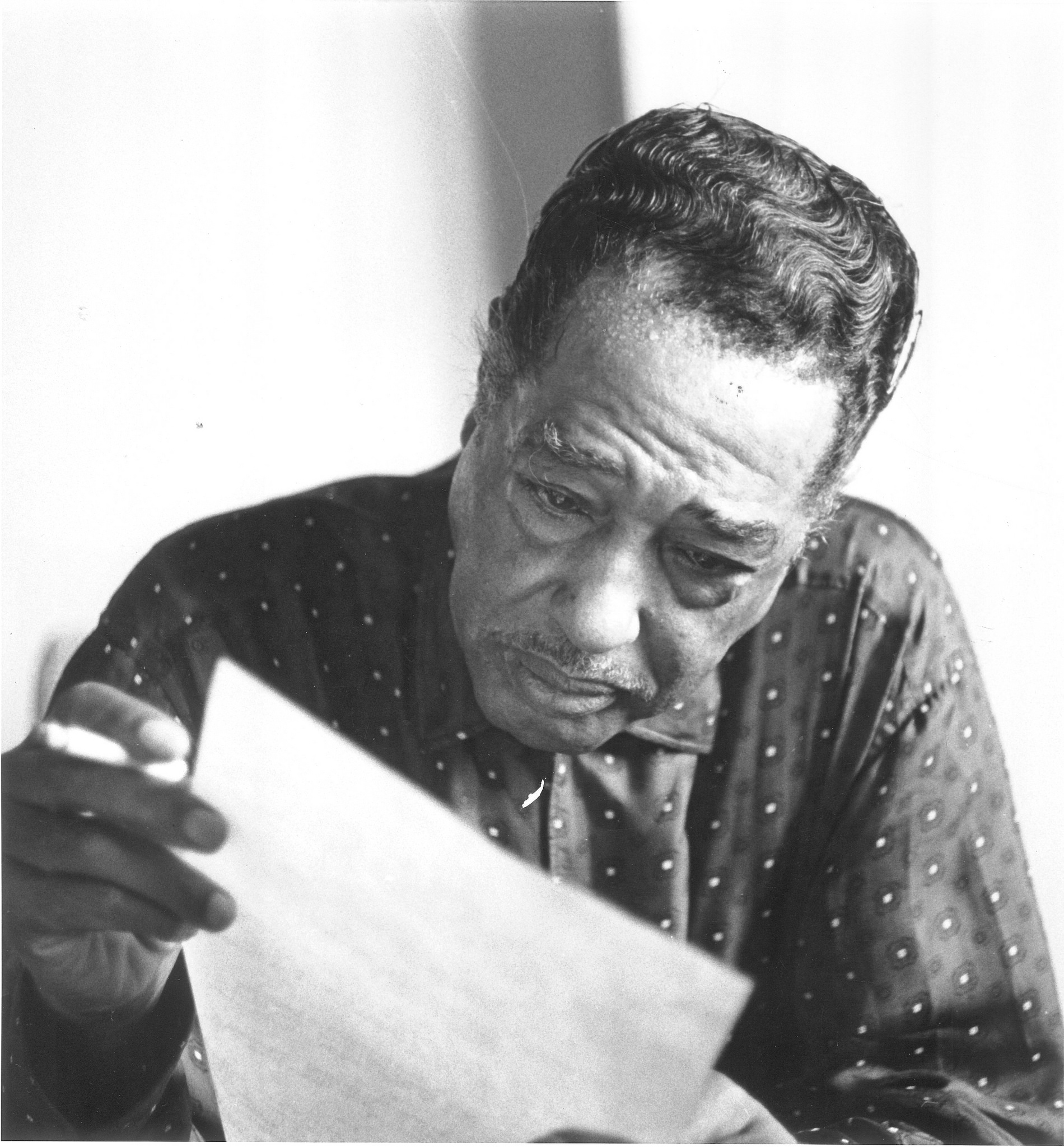 Duke Ellington should have been America's Composer Laureate, and his band should have been our national orchestra, with a hall of its own and a place in the nation's cultural life in perpetuity. Judged on the depth and breadth of his achievements, his music should have been treasured and supported, but in his last years of life, he was out on the road, playing VFWs in North Platte, struggling to keep his band playing at great personal cost. And, I would argue, despite recent reevaluation, his music and career are still misunderstood and undervalued. I think of Terry Teachout's biography: the author venerates Duke Ellington, while at the same time evaluating his music in terms of European classical music, supposing him unable to deal with its complexities. I think of a narrative that is now in vogue, diminishing Duke's role in his sound under the guise of praising Billy Strayhorn's contributions. Strayhorn is alleged to have been the true harmonic and formal master; these narratives reduce Duke to a frontman with a gift for big band swing (at best) or (at worst) cast him as a schemer, exploiting Strayhorn's gifts and stealing from him outright. (The latter is a patently ridiculous view that ignores both the staggering music Duke created before and after Strayhorn's tenure and the fact that Strayhorn's greatest music came after years of absorbing and interpreting the Ellington process.)
Such talk wouldn't likely matter to either musician. The fact is, they'd dismiss it all and just get back to the music. But questions still persist. Why is it so hard to support this music? Why do we hear Copland, Sousa, and Gershwin (all great, by the way) on July 4th, but not Ellington? Why do we cherish and fund and defend composition in the European tradition but only celebrate our music if it can be monetized in the popular culture machine?
I know the answers are far more complicated than I can get to here, but I think part of it is due to the fact that the whole underlying operation of jazz is different. Jazz (or whatever we should call this genre) is by its nature a music in process. It is a music that is worked out, communicated, and discovered in real-time as it's performed. It is personal expression negotiated in public and always becoming. All of which is to say, for jazz, the process is actually the product, and we prefer to buy things presented to us as finished products. This makes good sense in cars and consumer goods. No one wants pay for something unfinished. Buy a car that way and the results could be deadly. But jazz isn't merely unfinished. Its process of improvisation and discovery is, in fact, one of its chief offerings. But that also places it outside (or at least on the fringe) of our preferred commercial terms of engagement.
I suspect it is the well-established greatness of more fixed forms of music, the fact that everything from Mozart to Copland to Stravinsky is only going to change in nuance in each performance — different tempi, dynamics, etc. — that makes them so readily fundable. But jazz changes every night — the process of it is built in; jazz music can't not change. Even Duke's most written pieces, like Reminiscing in Tempo, were composed on the basis of the improvisational nature of the music. That piece, in particular, contains no "solos," but the drums are always improvising; rhythm is the foundational difference of jazz (or Black American Music, BAM, as Nicholas Payton calls it).
Americans love to say the word "change," and we love to talk about self-expression. But the cultural landscape we ensure with our feet and our dollars suggests we don't love those things nearly so much as we say. Maybe that's why we love professional accreditation so much: there is an assumed quality of completeness to degree holders, of fixed accomplishment. For example: I am a composer and, like all composers, part of what I do is look for grants to fund my work. A vast majority of those grants require a degree, just to apply. What does holding a degree have to do with aesthetic achievement? There are jazz departments in just about every major university whose students pore over the work of artists who held nothing but honorary degrees. But degrees offer an assurance of competence and allow easy codification of otherwise slippery art. We codify the music, check the musician's educational bona fides, and then treat it like a guarantee, an assurance of risk-free investment. It's easy to fund a sure thing. But jazz doesn't submit well to codification (actually no innovation, no truly personal expression does). So this music requires patrons who believe in the virtues of its process, who understand that process is the product and that, in the hands of true masters of the form, the two are not only indistinguishable, but thrilling.
Jazz listeners are drawn to the sense of discovery of in-the-moment creation; it is what they're listening for. The fact that the music always changes is precisely makes it compelling. But it's fundamentally harder to classify, quantify and monetize the work of a transitory moment. Maybe that's why there are Olive Gardens everywhere but only one Bachelor Farmer or Heartland. Ingredients of the season and the challenge of a changing menu are exactly why those food experiences are so special — they are the taste of the moment. But surely if we can all get excited about improvisation and invention in food culture, we can get there with music.
Jazz, like locally produced food or beer or spirits, takes what is in the air and in season — the feeling in the room, the connection between people — and puts it into the music, like the smoke from a fire, or the taste of the sea in fresh fish. Jazz is a creative act finely tuned to the fleeting and timeless moments of human life. But without that understanding, it is difficult to support the music, whether through ticket sales or civic patronage.
Of course, there are other undercurrents at play here. I wonder about the role of race in the marginalization of this music. Ethan Iverson, Nicholas Payton, Albert Murray, and Stanley Crouch (and many others) have addressed this, and I won't wade deeply in those waters here. But it's no accident that the commercial potency of the British Invasion had to do with the fact that mop tops and charming tea-time accents made Black American rhythms acceptable to a prejudiced culture.
But if I'm honest, I'm not sure I'd want jazz canonized. I like the defiance of jazz music, its unwillingness to submit to commercial exploitation. I wouldn't want it tamed to be readily palatable to grant panels and big-ticket funders. At its best, jazz is a fantastically incorrigible music; codified and submissive, it becomes boring. Following an orthodoxy, whether from the left or the right — well, there is something not jazz about that.
It's a riddle, and I don't have a ready solution at hand. Here's what I know for sure: it's 2015, and life is expensive. Artists need to be paid. For now, the best answer we have is just to keep on playing, much as Duke did, whether at Carnegie Hall or the VFW — keep playing, writing, and cooking up music out of the air and the soul.
Jeremy Walker (known to many as "Boot") is a prolific composer and pianist who started playing the saxophone at age ten in Minneapolis. In 2005, illness (recently diagnosed as late stages Lyme disease) forced Walker to stop playing the saxophone; he turned to piano and composition earning accolades including a Jerome Foundation Travel/Study grant and collaborations with Alvin Ailey alumni, TU Dance, and Zenon Dance Company. He has performed with Vincent Gardner, Marcus Printup, Ted Nash (all with Jazz at Lincoln Center Orchestra); Wessell "Warmdaddy" Anderson (Wynton Marsalis), Anthony Cox (Stan Getz, Joe Lovano), Ron Miles (Bill Frisell), Matt Wilson (Dewey Redman and Jazz at Lincoln Center) and other notable musicians. After some years living in New York, Walker moved back to Minneapolis in 2012 to be close to his son, Sam. In 2014, Walker released 7 PSALMS, a suite for solo voice, choir, saxophone, piano, bass, and drums, available on cdbaby and iTunes. Walker is currently serving as Curator and Music Director of Jazz at the Target Atrium at Orchestra Hall. Find more information here and at www.boot-music.com