The Play and Power of Women in Hip-hop: B-Girl Be
Lightsey Darst reflects on Intermedia Arts' annual month-long celebration of women in hip-hop -- think you don't like this kind of thing? "Go anyway," Darst says. These b-girls will surprise and delight you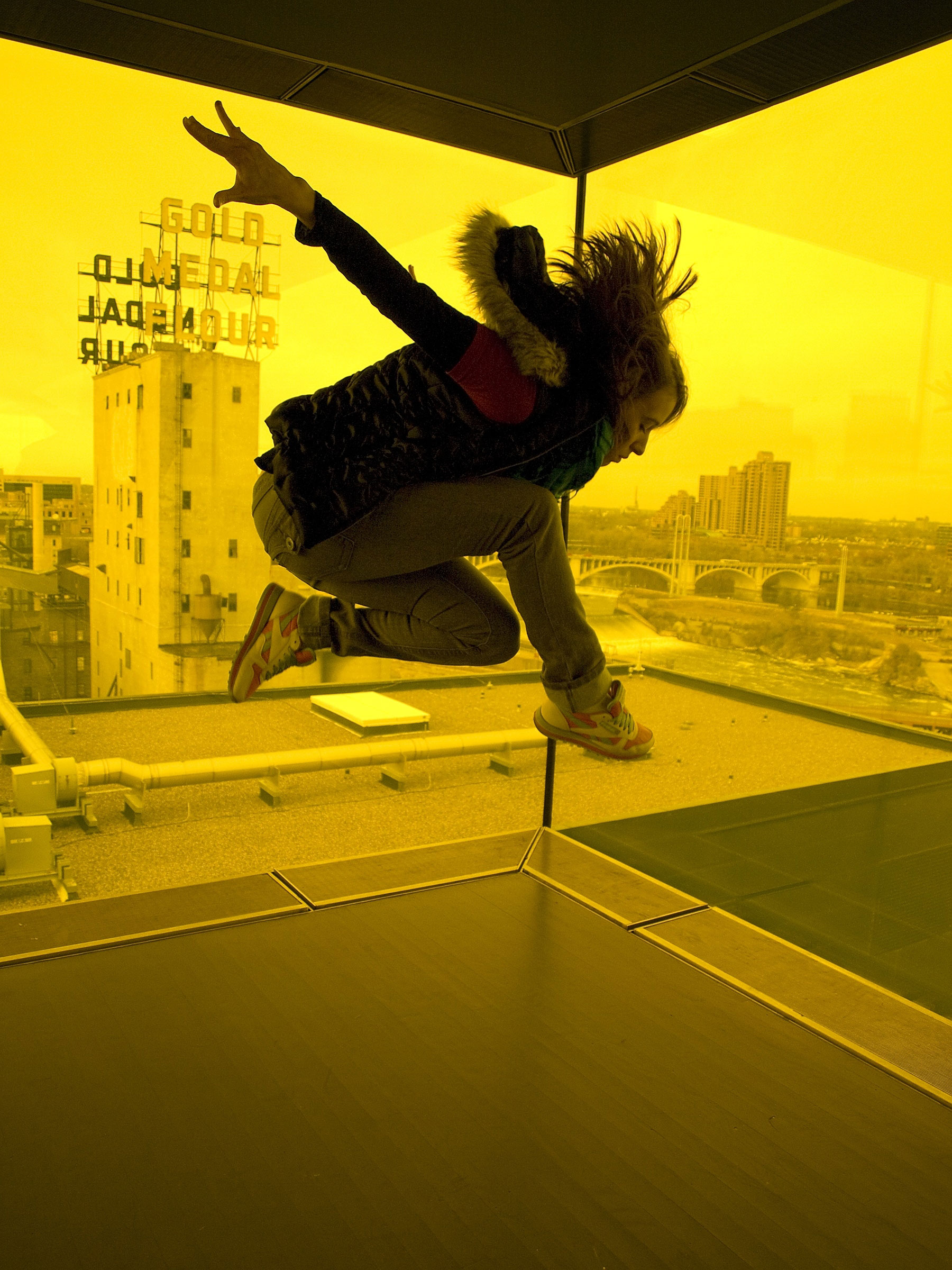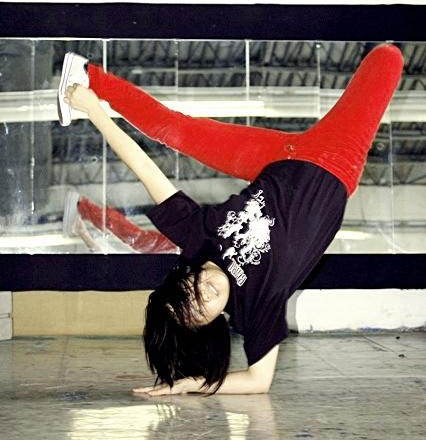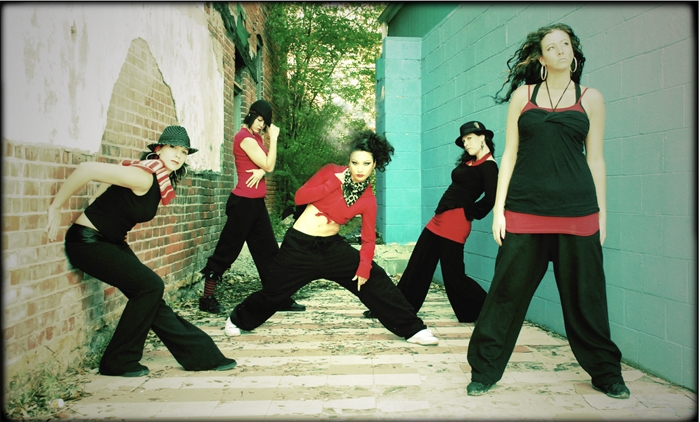 Hip-hop dance is a cool world. Those sounding beats ground an explosive flow of movement, loosing and catching the dancer as she spins or pops or floats or flies. You see a stream of moments, crystal-clear as they pass, but there's no reaching back to understand what just happened: restlessly virtuosic, hip-hop always hides the how. That virtuosity can take the form of unabashed shows of power or fine-tuned coordination, flat heavy feet or super-refined constellations of dislocation. It's joint music, inner space exploration, always making the most of the given, an inch from a mile, a whirlwind from a breath. Play is the form's hallmark: syncopated play with beats, but also visual syncopation. Pattern is not a higher order here (as in ballet, for example), but a means of surprise.
This play extends to the dancers' personae: hip-hop doesn't traffic in dance line's unison. At one rehearsal, I see four dancers do the same steps, at the same time, but from their inflections to their shoes, their presentations are wholly individual. Gaudy ear bangles, tight and sporty clothes, blue old school Nikes, and an irrepressible bounce over here; business-like black and white, with an up-and-down, sudden and heavy as a freight train, over there. So when B-Girl-Be, Intermedia Arts' month-long celebration of women in hip-hop, culminates this weekend in a flurry of dance performances and workshops, don't expect a unified front: what you'll see instead is the diversity of this scene. "That's the great thing about the dance," says Amy Sackett, who's curating this weekend's performances. "Your individual style is valued."
Individual style and individuality: one thing you'll notice right away when you start looking at hip-hop is the lack of racial boundaries. Take Sackett herself. Born and raised in Chicago, she has a corn princess's wide smile but the coloring of Frida Kahlo. Her voice mixes Midwestern twang and Southern slouch, and she looks as elegant in a long gossamer skirt and headscarf as she does in sweat pants and a big white tee. With her chiseled eyebrows and her tuts (dance moves derived from hieroglyphs, a la King Tut), the lasting impression is Egyptian, a latter-day Cleopatra. Sorting out what might be genetic in this mélange is pointless.
Sackett agrees: "Around the world, people that don't fit into clear lines are drawn to hip-hop." It wasn't always this way; once, you couldn't cross over. But now, with the younger hip-hop generation, "I don't see them drawing those racial lines anymore."
My racial paradigms are outdated here, I can tell — and I'm just in my thirties. The old slogan was "It doesn't matter what you are!" The new one? There is no are. A person is a motion, energy on its way from here to — somewhere. The only absolute is the beat.
But this is a hip-hop thing. B-Girl-Be celebrates this, but it really revels in a similar magic that hip-hop works on gender — not blurring the boundaries, quite, but broadening the definition of a woman. Sackett says it best: "What our society has deemed girly, we don't want to be a part of. We don't want to wear booty shorts and be shaking our ass in a video and look like eye candy for all the guys." Be-Girl-Be is "a statement — taking what is in pop culture and saying, screw that, that's not hip-hop. We're hip-hop. We don't have to sell our femininity like that. We can be feminine and strong. We can be feminine in our dancing, but we can also hold it down with any guy." Hip-hop dance can look masculine to the uninitiated — all those heavy hits, muscular floor moves, and macho gestures. "You do have to have this fierceness," Sackett says, "and we as a society tend to categorize that as masculine. To me it's just hip-hop."
It hasn't been easy for women to break into hip-hop. Traditionally, hip-hop is passed along in an apprenticeship system, from master dancer to novice, one-on-one, and women were often excluded from this chain. But now, and especially here, Sackett says, that's not the case. Women may still be in the minority — Sackett tells of entering a popping battle and being one of two girls among nineteen guys — but "if you can dance, you get respect."
Let's pause for a definition. A b-girl is a woman who breakdances — who does hip-hop dance on the floor. Sackett doesn't call herself a b-girl; she's a freestyler, lately more of a popper. For this event, though, "The term b-girl is encompassing all the women in hip-hop," Sackett says.
Still, why would women in hip-hop take the b-girl as their symbol? Talk with a b-girl, and you'll realize breaking is the bottom note, ground zero of the hip-hop world. For all the other dance forms, battling (competition) is an option, but the dance is equally comfortable on stage or in the club. Breaking is battle. It's still the most masculine hip-hop dance form. You can imagine the nerve it takes for a woman to step into that scene –no wonder other hip-hop women look up to the b-girls.
But the b-girl is not who you might think. This b-girl, b-girl Mona Lisa, is a college graduate from St. Paul, Jewish, a cancer survivor. She's boyish in her moves, androgynous in her baggy sweats, but she has a high girlish voice and her purse is Betsy Johnson. At thirty, this b-girl is not even a girl, she's a woman.
Why break? "I always like to challenge the female role," Lisa says. "I have this side of me that I really like" — a side that she can express through breaking. "I really found myself in breaking. I like the aggressiveness, I like the challenges, I like self-motivation." For her, battling is part transformation — "When you battle, you become someone else" — and part soul test — "can you do it under pressure, can you come up with it on the spot, can you freestyle to music you've just heard?" Altogether, it's an experience from which girls are usually shut out.
Lately, Lisa's been practicing with the all-male Warriors crew and hopes to join, but "I don't want to be the token female. I want to be an equal. I want to be good enough to be on your crew." Like Sackett, she's optimistic about the future of women in hip-hop. So she might be the only girl in her crew; she knows and likes the guys, and she's confident that the world is moving her way.
As Lisa's story suggests, right now is a great time to start watching b-girls. They've broken into the form and found they can wear the boys' swagger and (more importantly) do the boys' moves. (Skim through the b-girls on YouTube and you'll see plenty who you can only tell are girls by the long hair streaming out from under their stocking caps.)
But now, b-girls are starting to figure out moves the boys can't do, moves that require greater flexibility or a lower center of weight. Minneapolis's Mimo the Great pops up into a vee handstand from a backbend. Or check out Japan's b-girl Shie Chan for a really distinctive style, a clearly female (but not soft or sexual) swagger. What comes next? You'll have to watch to find out.
Back to the festival. What does B-Girl-Be do for the women in hip-hop? "Man, this is the highlight of our year," Sackett says. With the negative images of hip-hop women so prevalent in mass media (hyper-sexualized, dependent on men), and the overall scarcity of women (still) working in these forms, "It becomes hard for girls to be doing this thing. And when you have this worldwide community that, all of a sudden, you recognize is out there doing this, you feel encouraged to keep going." Hip-hop dance, especially breaking, is still largely a boy's club, and trying those moves on "is like breaking into something — still. So B-Girl-Be offers this place where we get to celebrate that. We get to celebrate all the women making moves in hip-hop."
Education is key. B-Girl-Be is rich with workshops, chances for younger girls and crews to show their skills, and opportunities "to meet these amazing women that are, maybe, the only two or three girls in their community that are breaking." Sackett's hope for girls seeing the shows is "they might be interested in stepping it up and saying hey, I can do that too."
B-Girl-Be also pushes hip-hop dancers, so often primarily club and battle performers, to learn stage skills, and to compose more than just cool moves. "Hip-hop dance can communicate," Sackett says. "That's where the next level is going, and that's the most exciting thing to me."
Finally, B-Girl-Be is about you. Don't think you like hip-hop? Don't think these girls have skills? Don't think this is a scene to watch? Fine — go anyway. For Sackett, getting the message out to the unconverted is the ultimate goal. "Any type of stereotypes you come in with," she promises, "will be completely disassembled by the time you leave."
---
Festival details: B-Girl Be: A Celebration of Women in Hip-Hop runs from September 17 – 20 at Intermedia Arts — a showcase of dance, visual art, film, spoken word, music, and big block party on Saturday, September 19.