The Miracle Tour Confessions, Part I
Debut novelist Geoff Herbach sets off with his buddy and Electric Arc Radio castmate, Sam Osterhout, on a book tour around the country. Over the course of the next few weeks, Geoff and Sam will be sending in a road diary documenting their travels.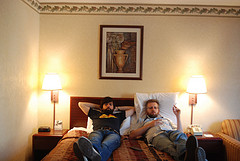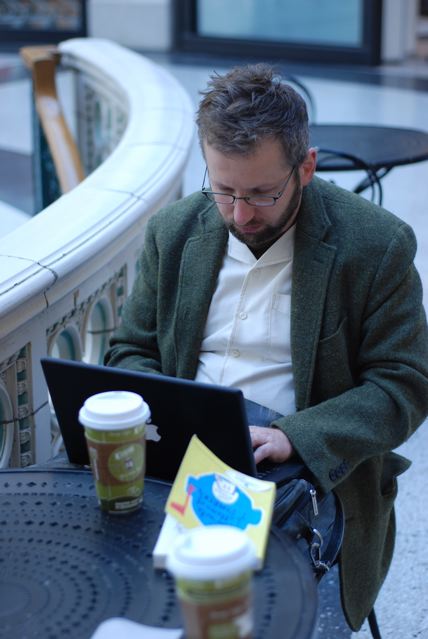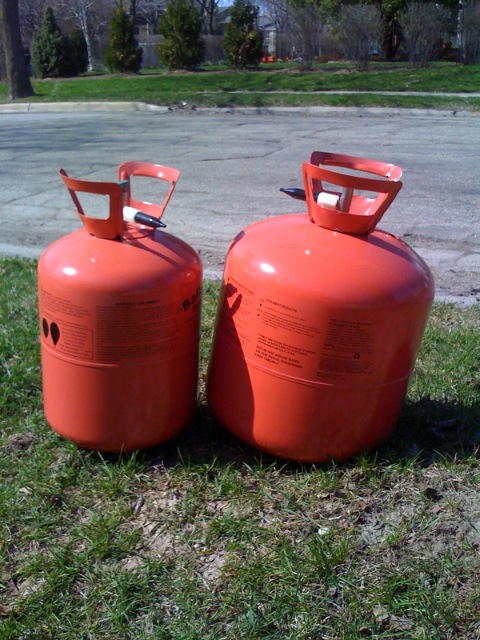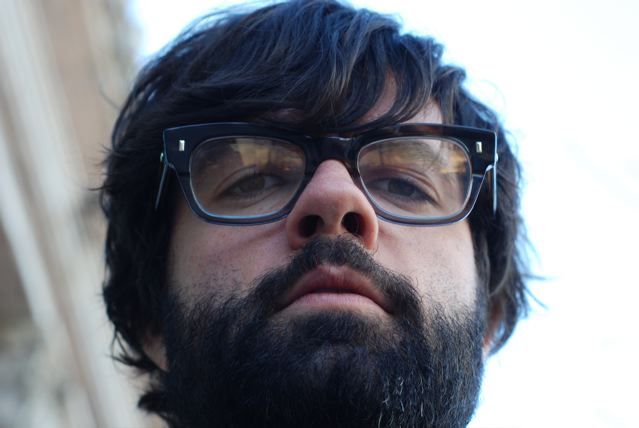 SAM
I stood in the doorway of my apartment in Minneapolis and looked in at all my stuff—the coat hooks, my bookshelves, my kitchen and my beloved kitchen appliances, the little rug in front of the kitchen sink that makes me fall over every afternoon during lunch—and then I backed out the door and let it shut, trying keep the image of all that stuff in my brain. Why is it so sad to leave home?
Herbach pulled up and I heaved my giant princess bag into his hatchback and we got a sandwich and hit the road for Madison, Wisconsin, the first stop on the extended Miracle Tour.
GEOFF
When books come out, the author goes on a book tour. There are authors from all over the place constantly stopping everywhere – bookstores, amphitheaters, etc. – all the time. Right? Apparently, most of them aren't first-time authors. And, apparently, those authors who stop at a bookstore and find crowds there to greet them already have a readership. The crowd knows the author's other works. The crowd is jacked to read more. The crowd wants to meet this fabled writer. I am a first-time author. Don't expect jack for audience. I've been told that over and over. Don't expect jack. Outside of the Twin Cities crowds won't magically appear. That's okay. I think. Actually I'm filled with anxiety. Why am I going on a book tour?
Because I've always wanted to go on a book tour. And it's going to be really great. Sam is my pal. He's agreed to go with me. He's a great writer and reader. He'll make it fun. We drive towards Wisconsin, my home state.
SAM
I haven't lived in my place for so long. Only since last fall. Before that I lived in a two-hundred square foot (so quaint!) apartment in Loring Park. It had a Murphy bed. I'd always wanted a Murphy bed. Before that, I lived in South Minneapolis with my ex-wife. Of course, we weren't yet divorced when we lived there. That would have been awkward. It was awkward enough as it was.
Anyway.
"The Miracle Tour" started with a great rush of depression. To anyone who knows Geoff Herbach and me, this shouldn't come as much of a surprise. Geoff smoked, maybe, a pack of cigarettes in the four hours it took to get to Madison. Smoking so many cigarettes in such a short period normally makes Herbach so happy. Usually he smokes a pack of cigarettes, does a little dance, coughs for several minutes and then jumps around like a tiny bubble in a champagne glass. But there was a sadness, a certain ennui in his smoking in the car that day. He looked like Jeff Daniels in The Squid And The Whale. I cracked a lot of jokes. That's what I do when I'm sad.
Wocka wocka!
I always wanted a Murphy bed because they seem so bachelor-y, so urban and urbane. Just think of all the fornication that could take place on a Murphy bed! With women! Sex? Oh sure! Let me just pull the bed out of the wall. I imagined my male friends calling me Dr. Murphy because of all my extravagant exploits with women in that bed. Alas, there were no exploits and no women—just a tiny apartment with a stupid bed. No one called me Dr. Murphy. Herbach called me Dr. Alfonso Jackson, although I don't know why.
We pulled into Madison and dropped our stuff off at Geoff's mom's apartment on Lake Mendota. She wasn't there—she was in the hospital recovering from hip surgery. We stood on the balcony looking out across the lake. A storm was rolling in over the water. Herbach smoked. He said, "I could live here." I cracked jokes.
GEOFF
I felt pretty great, really, driving on I-90 into my state, Wisconsin. Much of my book is wrapped in Wisconsin lore, which revolves around long bratwurst and beer and football. How does that culture interact with the immigrant experience (should the immigrant be a holocaust survivor)? Interesting. Wisconsin is my home. I smoked and smoked and smoked and thought about the good times.
We stopped overnight in Madison, then drove to Milwaukee the next morning for our first out-of-state events.
In Milwaukee, we were interviewed for Public Radio by Mitch Teich, a 39-year-old male who is semi-semitic (half Jewish) and who has two children, Charlie and Silvie. In my book the semi-semitic protagonist, T. Rimberg, has three children, Charlie, Silvie and Kara. "Whoa," we both said. It was kind of spooky.
Great interview, though. Mitch really understood the book.
I have never smoked so many cigarettes. Perhaps 6,000.
Dr. Alfonso Jackson (Sam) suggested I smoked so much because I was terrified about having a book out, finally. I told him to stuff it. Nobody gonna breaka my stride, you know what I mean?
SAM
In Milwaukee, we stayed with Geoff's friend Colin and his family. They have a beautiful home and two beautiful, funny kids. So much green grass. I took a picture of two empty propane tanks near the street and sent it to my girlfriend – It's us!
You can never guess how you're going to feel about something. When I was married, I thought I'd really missed out by not ever having slept on a Murphy bed.
After the Milwaukee reading we hit the town with Colin and a bunch of Geoff's 'Sconi friends, all of whom are excellent people. We got drunk and passed out Pabst Blue Ribbon accessories to people at the bar and were hailed as champions. Herbach jumped around and pumped his fists in the air. He looked so happy.
We'd only been gone a couple days, but I think we were both homesick. I haven't lived in my place so long, and the truth is that I don't really miss it. I love it—I have some truly excellent kitchen appliances—but that's not what I miss. I don't know what I miss. Something.
GEOFF
In Milwaukee, there were six people at the reading (counting staff). In Minneapolis, at The Loft, there had literally been hundreds. The five non-staff members in the audience were all longtime friends of mine. They are great people and would likely have bought the book without me driving to see them. I do think the staffperson liked Sam and me, and we did get a public radio interview (which aired two days after the reading), so it was probably good to go to Milwaukee. But it didn't help my anxiety. I smoked three cigarettes at once.
Dr. Alfonso Jackson handed out a bunch of PBR gear in Milwaukee. In one bar, a baseball-hat-fellow cried and hugged us, he loved his PBR gear so much. We threw darts and drank beer and made videos of ourselves dancing under the dart board. That was fun. We stayed out until the crack of dawn and then drove back to Madison for a reading at Borders, where I worked as a college student.
Staying out until dawn? Going back to visit the bookstore where I worked in college? The book tour, I began to feel, was an excuse to road trip. Road trips are for young people on Spring Break. My book, The Miracle Letters of T. Rimberg, delves a lot into the unhealthy waters of nostalgia; I thought I learned my lesson from having written it. I felt, for the first couple of days, very sad to be on the road. That's the real truth, the real reason I smoked so much. I wasn't sad about leaving home as much as I was sad that life keeps slipping by, and you really can't relive the past. There it is.
"You can never go home." – Smoky McSmokesalot
I've always wanted to publish a book, but it doesn't feel like I thought it would when I daydreamed.
SAM
After Madison, a big crowd, we drove on to Chicago and further east. The jokes have gotten progressively dirtier, and I think I'm developing an addiction to secondhand smoke. (Nothing beats sitting next to Herbach after a satisfying meal.) The Wisconsin leg of the trip was excellent. It was like Thelma and Louise if Woody Allen had written it, and if Geena Davis and Susan Sarandon were two schlumpy Midwestern champions who cried a lot and for no good reason. We were two men in a car looking for a cliff. Go Badgers!
>>Stay tuned for part II of this adventure, when things get dirty. <<
About Geoff: Geoff Herbach is co-founder of the Lit 6 Project, a group that runs beer-fueled literary events around the Midwest. He is also a founding member of The Electric Arc Radio Show, a literary-musical tragi-comedy, which has aired on Minnesota Public Radio, starring four sad writers who live in a decrepit house and spend time fighting over the television remote and stealing appliances from local stores rather than writing.
His debut novel, The Miracle Letters of T. Rimberg, was just released this April from Three Rivers Press. Tish Cohen, author of Town House, called the book, "…a darkly comic, extraordinary peek into the delicate mind of a suicidal no-hoper." Herbach has hope and an MFA in creative writing from Hamline University.
About Sam: Sam Osterhout is co-founder of the Lit 6 Project and The Electric Arc Radio Show (see above). His short stories can be heard on Minnesota Public Radio and in bars and bookstores across the country.