"Selfie" and "Complicated": Two Poems
Two poems by abolitionist-activist-academic-artist June Kuoch seek to navigate the corporality of the trans Asiatic body, love, and justice, asking: What does it mean for an object to object? Do we regain our own humanity?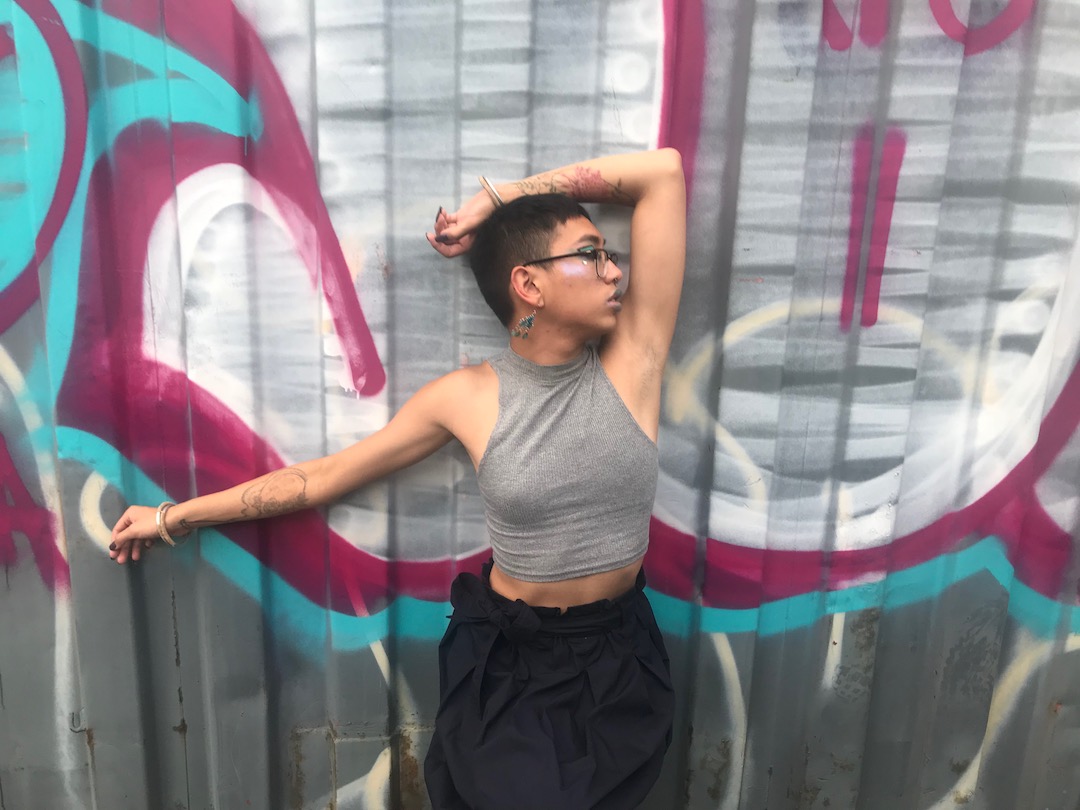 "Human beings are magical. Bios and Logos. Words made flesh, muscle and bone animated by hope and desire, belief materialized in deeds, deeds which crystallize our actualities"

– Sylvia Wynter in "The Pope Must Have Been Drunk, The King of Castile a Madman: Culture as Actuality, and the Caribbean Rethinking Modernity"
Poetry, for me, allows me not only to not reclaim my personhood, but also reconnect forgone ancestors. សិល្ប (silapak), the Khmer word meaning art, or in literal translation, magic, allows us to reconnect to our past. As classical Khmer dance master Prumsodun Ok says, "The artist, the silapakar, or the silapakarinam, then, is nothing short of a magician." It is through storytelling that we as forgotten people in the United States can reassert our intimacies with home and justice. My activism, my family, and my mentors are what allow me to begin to perform this magic.
"Dare we say it? Ornament becomes—is—flesh for Asian American female personhood."

– Anne Anlin Cheng in "Ornamentalism: A Feminist Theory for the Yellow Woman"
When I was asked to be a part of this series by Saymoukda, I was in shock, but I knew I wanted to partake. I would stare at my blank word document. What to write? Where do I begin? I felt like I was pounding my head into a firewall of cyberspace. This would go on for weeks.
One day while I was trying to work, a small 4×3 inch leather-bound journal fell out of my bag. It was a gift. I got the journal last year from Saymoukda while she was Marie Kondo-ing her office. The answer was in front of me the whole time. Past June had already written a story, but I was so caught up on something else, I forgot what already existed. Saymoukda gave me this journal telling me to write more! She probs does not remember this, but I do! When I touched the soft, coffee brown leather, the memory flashed back to me.
"Asian American poets disrupt the circular knowledge of the other, break the silence of the other, and force literary criticism to confront the tendency of socially detached postmodern poetics and poststructuralist discourses to continue the repression of the other by replacing the autonomy of the Cartesian subject with the autonomy of the text."

– Xiaojing Zhou in "The Ethics and Poetics of Alterity in Asian American Poetry"
It's through the mentorship of women of color that I write.
Below are two poems I happened to rediscover in that special journal. The poems below are like what my friend Tori Hong calls "love letters from your past self." Each was written while I was a trans person of color—was facing different forms of precarity. Queer people like to be campy! It's okay if you laugh, but if you don't, maybe the joke isn't for you.
What does it mean for an object to object? Do we regain our own humanity? These poems seek to navigate the corporality of the trans Asiatic body, love, and justice.
Note: Poetry contains mature language and content, unapologetically.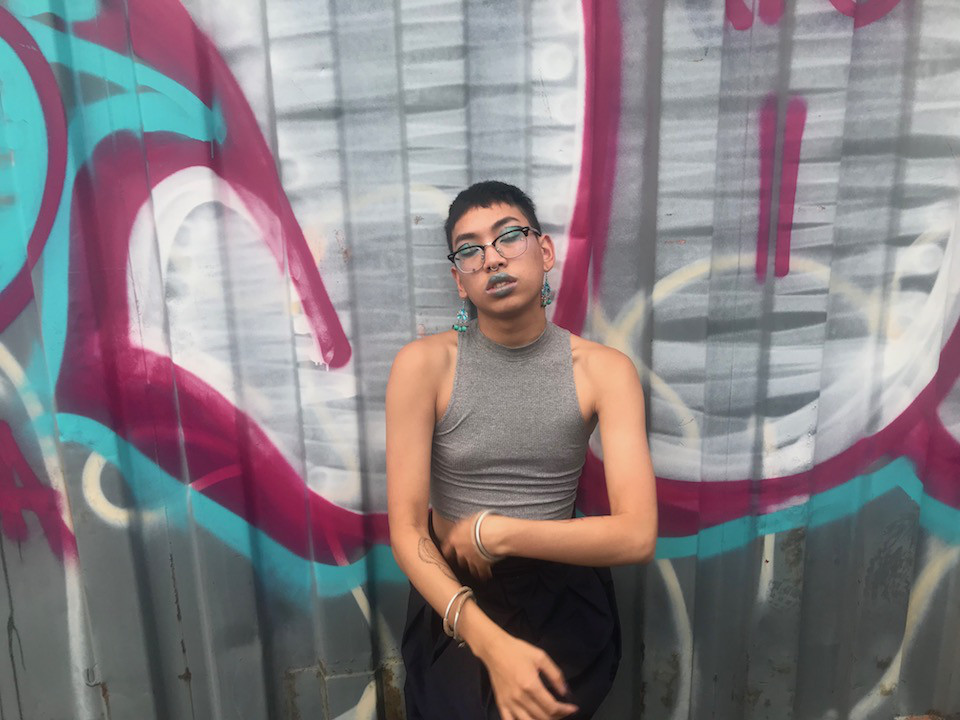 Selfie
'A selfie a day keeps white supremacy at bay'

-

Narcissism is my catharsis,

While you attempt to gas yourself up

Everyone else is trying to bring you down,

-

no fats. no fems. no asians.

-

So, if I die young,

Bury me in a THOT fit

So, I can get some ghost dick

-

And, of course, I dress well.

I didn't spend all that time in the closet for nothing. `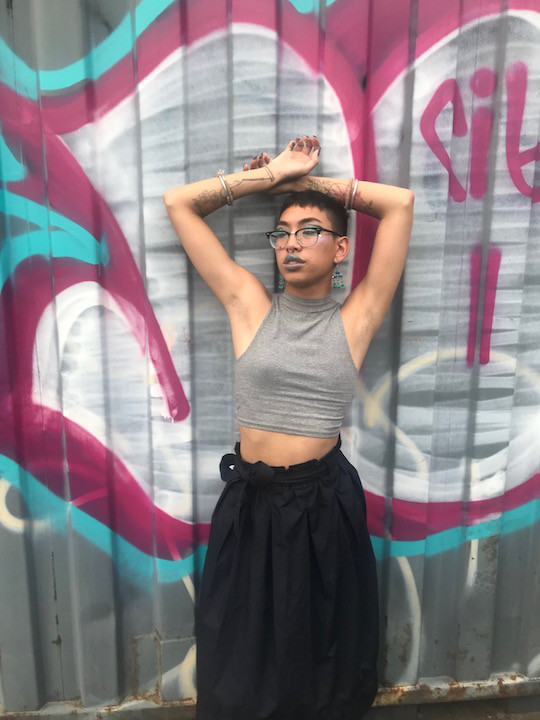 Complicated
You made me feel sick,

really messing with my head.

We never really made it to bed,

//but, I always felt like//

I was giving you head,

choking on a dick too tiny to see.

You got me gagged;

I couldn't breathe.

I told my friends it's complicated…

You made me feel small like,

I was your little China doll.

Only wanted to fuck

BOIIIII!

That wasn't my jush

You never got to see my bush. 

I told my psychiatrist it's complicated…

I said I was drunk,

that was a lie.

The reality is all I did was cry

I wanted to hide,

my feelings inside.

You took comfort in me,

But it's as if we're at war.

I was your emotional labor,

Whore.

I told my family it's complicated…

A house isn't a home 

If the foundation is cracked.

I wanted to build something that wasn't real. 

This flip was really a flop. 

Instead of you giving me a hand–  

I got screwed 

Driving in dysphoria, 

like a stepping in a rusty nail 

This was my "lovers jail."

I told my therapist it's complicated…

Toxicity is a two-sided street

only met with dead ends. 

If love is a bug,

its bite should give us all a fright, 

cause man it can give you the shits 

I got the runs.

Running nonstop two feet never on the ground.

Running for refuge.

Predator vs. Alien,

Which one were we?

I told my co workers it's complicated.

Your head is in the clouds 

A storm is brewing 

And, we aren't in Kansas anymore 

And this isn't Oz 

My ruby slippers don't sparkle like they should 

I click my heels three times I don't see home 

They say home is where the heart is 

But, I feel like I've begun to tin. 

You made me into the Wicked Witch of the West,

Elphaba is just misunderstood

I was ready to melt.

I told the guy, who bought me a drink at the bar, it's complicated.

Did you know gas is originally scentless?

Humans added the smell of rotten eggs to be a warning sign.

A sign that your life is endangered. 

Death is eminent;

Turn off your stove or spark that flame. 

In relationships there are no rotten eggs.

When the gas begins to creep into your lungs,

the light fades,

and the red flags become harder to see.

I am an asthmatic,

so, it's always hard to breathe,

trauma works that way. 

I always keep my inhaler close

next to my pack of 100 reds. 

I kept my cigarettes closer.

As Mitski says,

//I don't smoke unless I am with you//

Nicotine is hard to kick –

these cancer sticks aren't metaphors. 

Every time you text me,

I would need to get a match.

I need a spark,

A bomb ready to explode.

A like land mine back home,

and, you were my trigger.

I prayed to my ancestors and asked is it really complicated?

In the homeland,

Cambodia

devils are too old to be tried.

Kang Kek Iew/Comrade Duch/Leader of S-21

35 years for his crimes against humanity

But, where is the humanity for those who are long gone?

Ghost are only allotted to 23 hours to haunt.

Less than a day to find solace in their death.

Truth and reconciliation feel like a utopian façade:

in South Africa where was the accountability?

These white men just get to walk free by telling their stories

hate crimes. 

Televised retelling of

lynching and rape

all in the name of the white supremacist state. 

I'm not one for punishment when can we restore what is lost?

How do we transform this justice?

The revolution does start at home.

It's complicated.

Complicated as confusing.

Complication as in emotional are:

irrational,

illogical,

intense.

Complicated as in your friends say

"He seems nice, but maybe think twice."

Complicated as in he is charming,

but the panic attacks don't go away.

Complicated as in

        "I am bi,

        bi as only men and women."

        then what do you see in me?

        I am neither a he "or" she.

Please, stop mis-gendering me.

        They is for them.

        Them too can be pretty.

        Is their space for love?

Complicated as in

"I don't think I am sexually attracted to you,

but when I am drunk,

when I'm drunk I want to fuck you.

You already got me

fucked

up

Complicated is sometimes just a misnomer for abuse.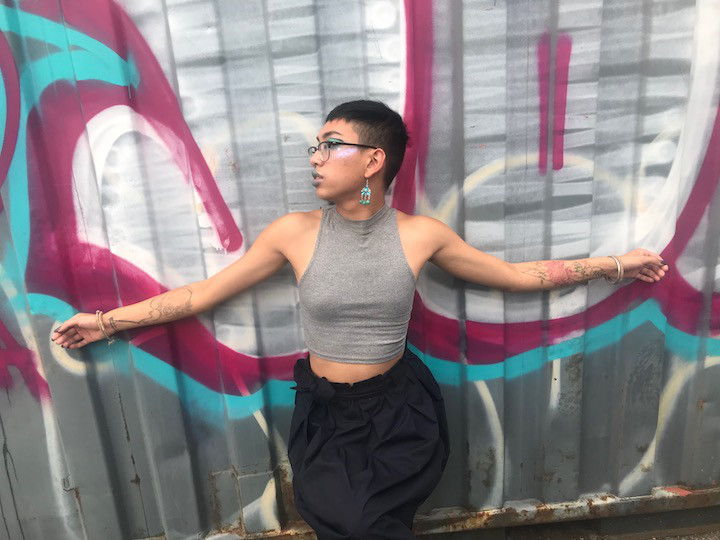 ---
This piece was commissioned and developed as part of a series by guest editor Saymoukda Duangphouxay Vongsay.