Seeing Paganistan
Stephanie Fox profiles some of the Pagan artists collaborating to show the art and living practice of this increasingly visible, influential Twin Cities religious community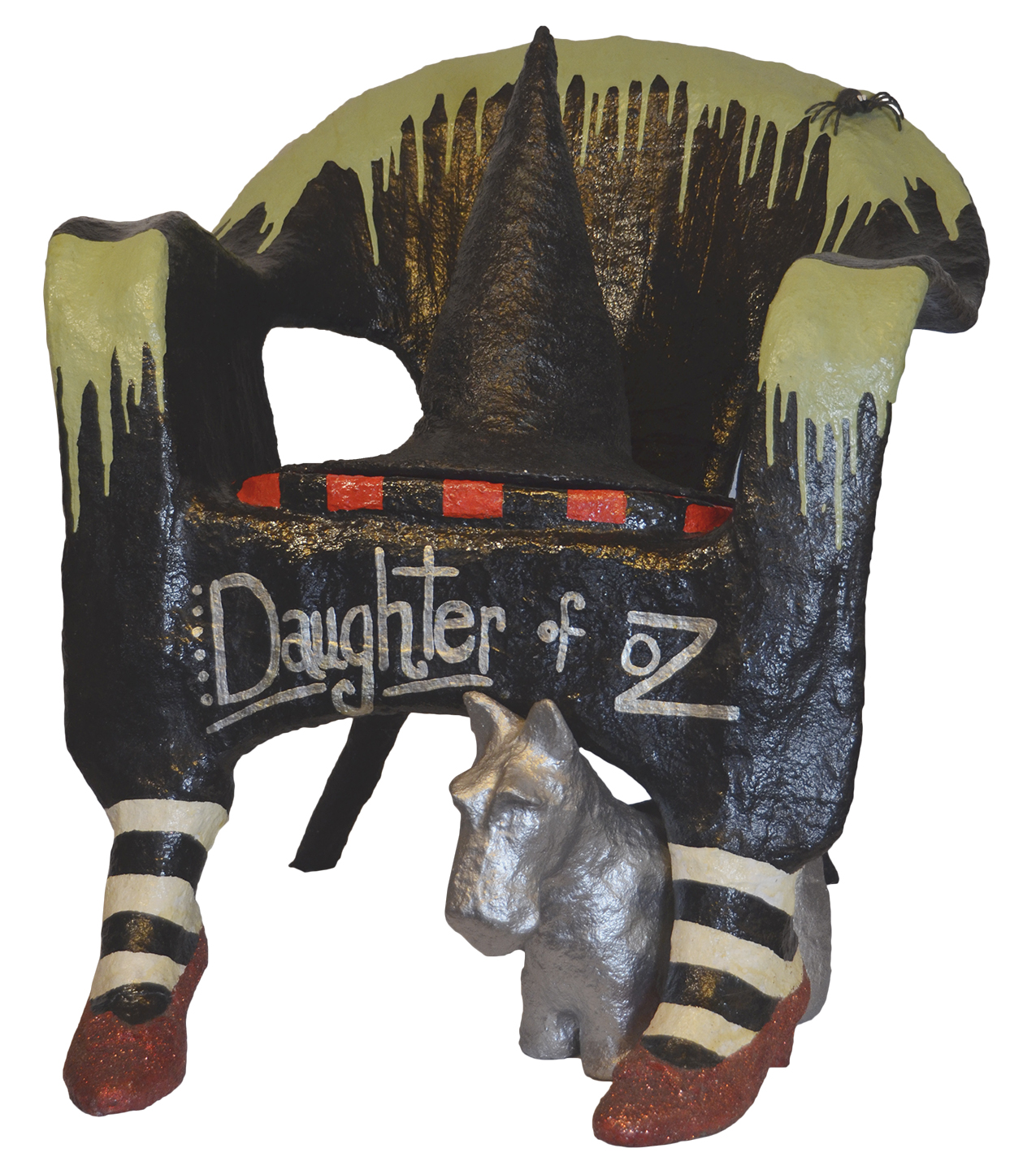 For the uninitiated, the opening night of Modern Pagans/Ancient Realms at the Vine Arts Center in South Minneapolis might have looked like any other gallery event. Supporters of the arts, many of them middle-aged and dressed in casual summer clothes, sipped wine and nibbled on appetizers, wandering from painting to sculpture, engaging in commentary. But for the nine local Pagan artists whose work was on display, this show was much more. According to the organizers at the Minneapolis Collective of Pagan Artists, this marks the beginning of a new era, one that will not only help change how the mainstream arts community sees Paganism, but how Pagans themselves view Pagan artists and Pagan visual arts.
Paganism is an umbrella term for a number of spiritual traditions based loosely on the pre-Christian religions of Europe. The modern version of the religion focuses on ancient deities signifying elements of nature and of the cycle of the moon and the seasons. Two of the most important deities are a Great Mother goddess and a horned god of fertility. There is no set theology or belief system, except that nature is sacred. The religion in practice is highly individualized. People choose which deities to venerate and what form their worship takes. Some consider the gods to be literal, while others view them as metaphors—it's all okay. Pagans still get together to celebrate four solar and four agricultural holidays with personal traditions and group rituals.
Paganism is a new religion and, for much of its 70-or-so-year history, has been highly marginalized. But the Twin Cities (called Paganistan by locals) has possibly the largest Pagan community in the country, due to the area's live-and-let-live liberal attitude. Even so, they have encountered civil liberties problems: outdoor Pagan events might bring a visit from the police; Pagans have feared they'd be fired if their employers find out. Media coverage has tended to focus on particularities and peculiarities of their traditions. The result is that the nuances of Pagan culture, vibrant but often hidden, have been ignored.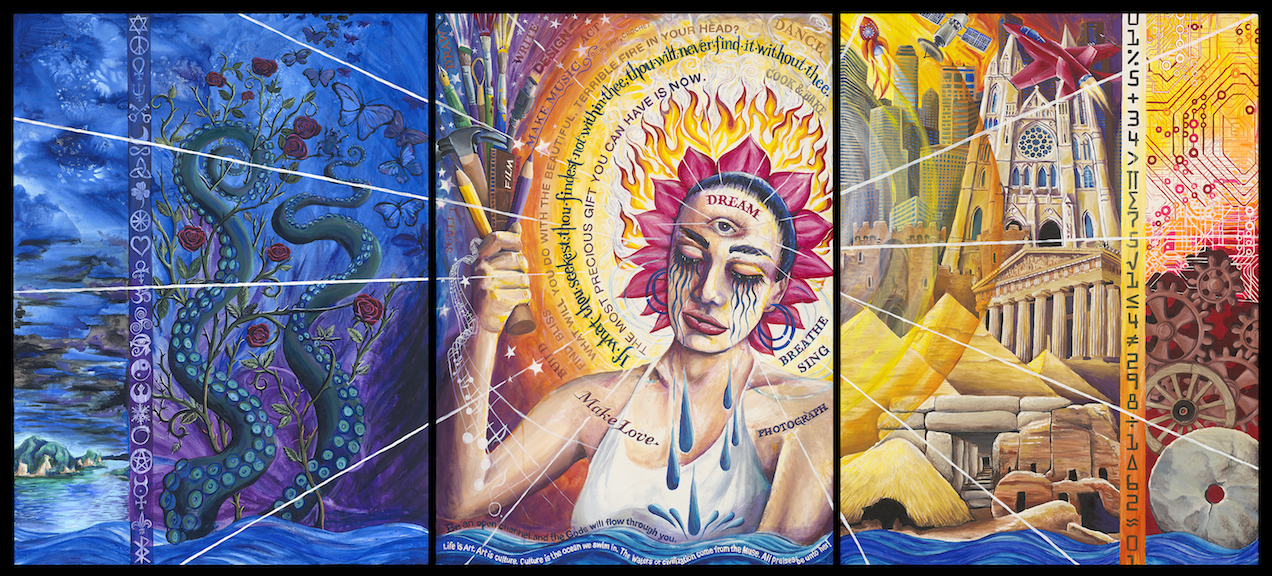 Helga Hedgewalker, one of the Collective's four founding organizers, said that even within Paganism the visual arts are mostly ignored, and the greater arts community treats Pagan artists as a marginalized community. "At Pagan events and conferences, the featured speakers are always authors, as if only writers have anything important to say," she says. "We'd be relegated to the dealer's room, as if visual arts weren't culturally meaningful. It was disappointing and hurtful." But, she says, the visual arts are the oldest form of religious expression. "You can go back to prehistory, to ancient cave paintings or ancient pottery. Up until the modern era, all art was religious art, and spirituality and art went hand in hand."
The Collective's plans are ambitious. "Pagan artists are working to become relevant in the gallery scene. Other cultures are doing it," she says. "The GLBT movement is getting major gallery status. Native Americans are getting attention for their art. And we thought that, for Pagans, it has to start somewhere. Why not Minneapolis?"
Hedgewalker's Triptych of the Muse; The Beautiful, Terrible Fire in the Head is dense, leading the observer to new elements and details with each new viewing. This piece reflects the conscious and unconscious, religion and the secular, showing bold colors and text hinting at Hedgewalker's background in design. The Goddess/Muse figure in the center panel sits between the left section, showing world spirituality, and the right, depicting technology and science. These juxtaposed and contrasting images create a third and larger meaning. The piece, partially inspired by Greek iconography, is for Hedgewalker, an answer to the Muse's call. "She came to me during a ritual, channeled through the priestess," she says. "After the ritual was over, we talked. I'd have to do research. There are a lot of muses. I had a snippet of a hunch, but that's how the art comes through. There are bursts of inspiration where the deities say to me, 'Now it's my turn, it's my turn. Paint me now.'"
For Paul B. Rucker, the expression of deity comes as a tall, three-dimensional figure, hinting the crucifixion but showing instead the antlered stag-headed god of fertility; a skeleton is beneath its feet; his body reflecting the sky and earth and, at the center, a large and erect golden phallus. "This is not a god expressed without form with no connection to the earth," Rucker says. "Nor is this a view of Nature as merely the theatre of human ambitions. The god's human body shape symbolically points to sex, death, and rebirth. It affirms that humans are part of Nature and the cycle of biological life."
Rucker believes that the Pagan revival offers many rich choices for a connection to Nature for the sake of the Earth. "The Earth is our only home," he says, "and that is one reason that even those who don't know of Paganism can have strong emotional connections to much of Pagan art."
"As Pagan artists, we put ourselves out to our very limit to stage the most professional shows we can, because every detail makes a difference. I don't think that there is anything [else] like this group, our Collective, out there. We're learning as we go along, but we are an experiment. The longer our track record as a group continues, the more solid our presence is as an institution," Rucker says.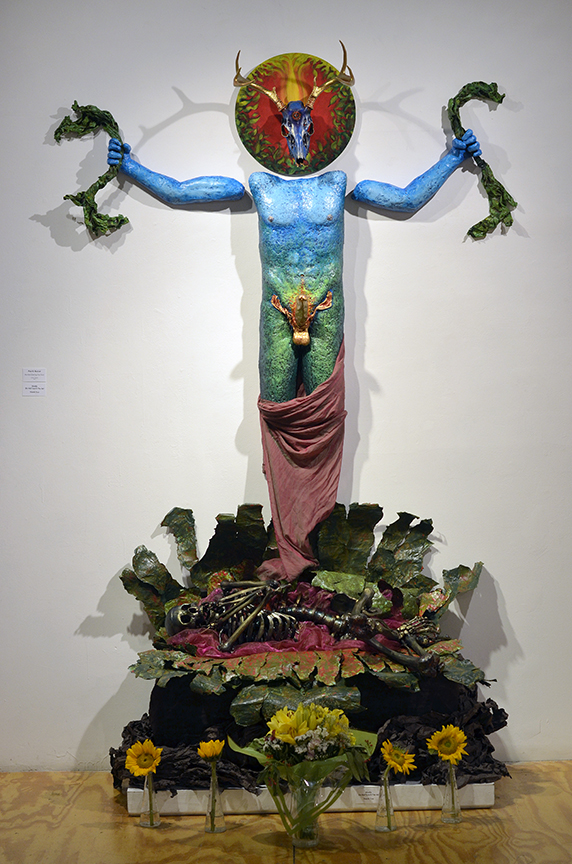 Bonita Blumenauer's pieces feature two ravens and a cauldron—bird figures, named Hugin and Munin, that she says represent memory and thought. In Norse mythology, they are sent out in the morning and, at the end of the day, return to sit on the shoulder of Odin "to tell him the news of everything they have seen and everything they have heard," she says. "When we step into a [ritual] circle, we create sacred space to worship the Gods. We each may have different relationships with the Gods, but we still step into the circle together. In the gallery, we also create sacred space, a way that Pagan artists can be identified." Blumenauer thinks that it's time for the visual arts to become a way to communicate spiritual ideas with those within the Pagan community, as well as those without a background or understanding of modern Pagan practices or mythologies.
"Perhaps this is why every one of us, and every one of our stories, is vital to the well-being of us all," she says. The ravens are the original storytellers, she explains. "Between thought and memory, the world is renewed every day. To miss even one is to weaken the weaving that holds us all together. When we share these with each other, we create ourselves and all that we may know."
For artist Rmay Rivard, the installation of eight ancestor chairs, arranged in a circle at the center of the gallery, is part of a 10-years-long spiritual journey. "I invoked the spirit of eight different female ancestors from my Eastern European lineage. I did it as a reminder that we are always in contact with them. Our ancestors walk with us, they sit with us on the bus. They are like the guardian angels of Christianity, or power spirits of Native Americans." Rivard says that the project is ongoing. "They are not finished pieces. Things shift and change within the dynamic of the circle." A week after the show's opening, Rivard's mother, Olga "Ollie" Rivard, passed away, changing the dynamic again. "I am now the sole living component of this seven-generational chain. The next loop includes my daughter." Rivard gives workshops, encouraging groups of women to interact with her pieces. "Women pull up chairs and join the circle," she says. "They'll offer their insights and, by sitting, they have an opportunity to sit with their own female lineage."
The Collective is already preparing their next exhibit, scheduled for late next year. For their next show, their plan is to expand, recruiting artists not just locally, but from the Midwest and beyond.
---
Related exhibition information: Modern Pagans/Ancient Realms is on view through July 29 at the Vine Arts Center in Minneapolis.Gallery hours during the show are Monday and Thursday from 5:50 to 6:45 and on Saturdays from 11 am until 5 pm.
The public is invited to the July 29 closing event, an 8:00 pm participatory ritual performance with dance and drums, lasting about 45 minutes. The ritual celebrates Lugnasad (also called Lammas,) an agricultural holiday honoring the first harvest and first fruits and the conscious understanding that sustenance comes from Mother Nature. (Organizers ask that you arrive early.)