Not Quite Divine: Jaime Carrera's "Godless"
Performance critic Lightsey Darst took in Jaime Carrera's much buzzed-about new show "Godless," but she found the production couldn't quite bear up under the weight of its lofty ambitions.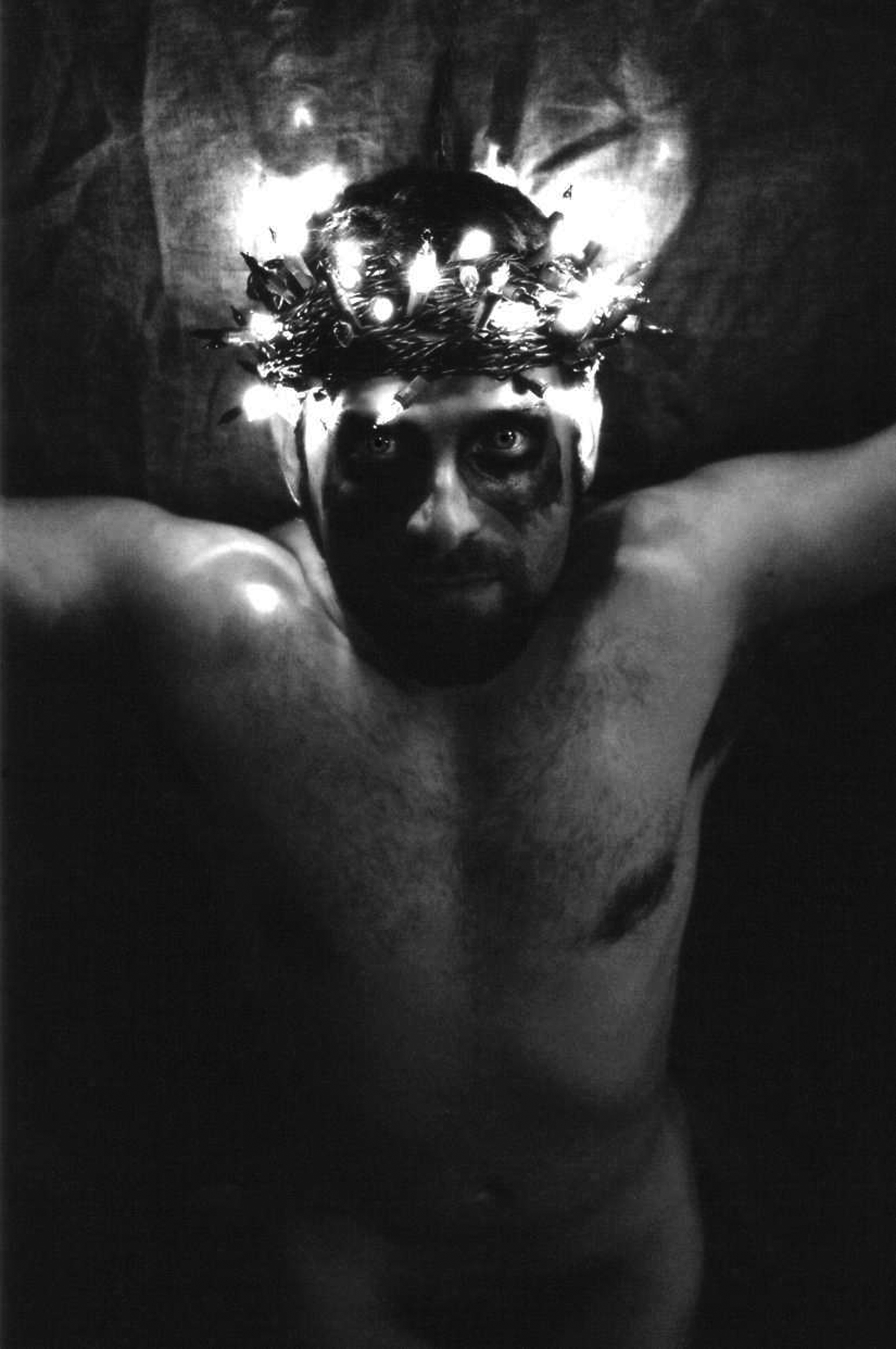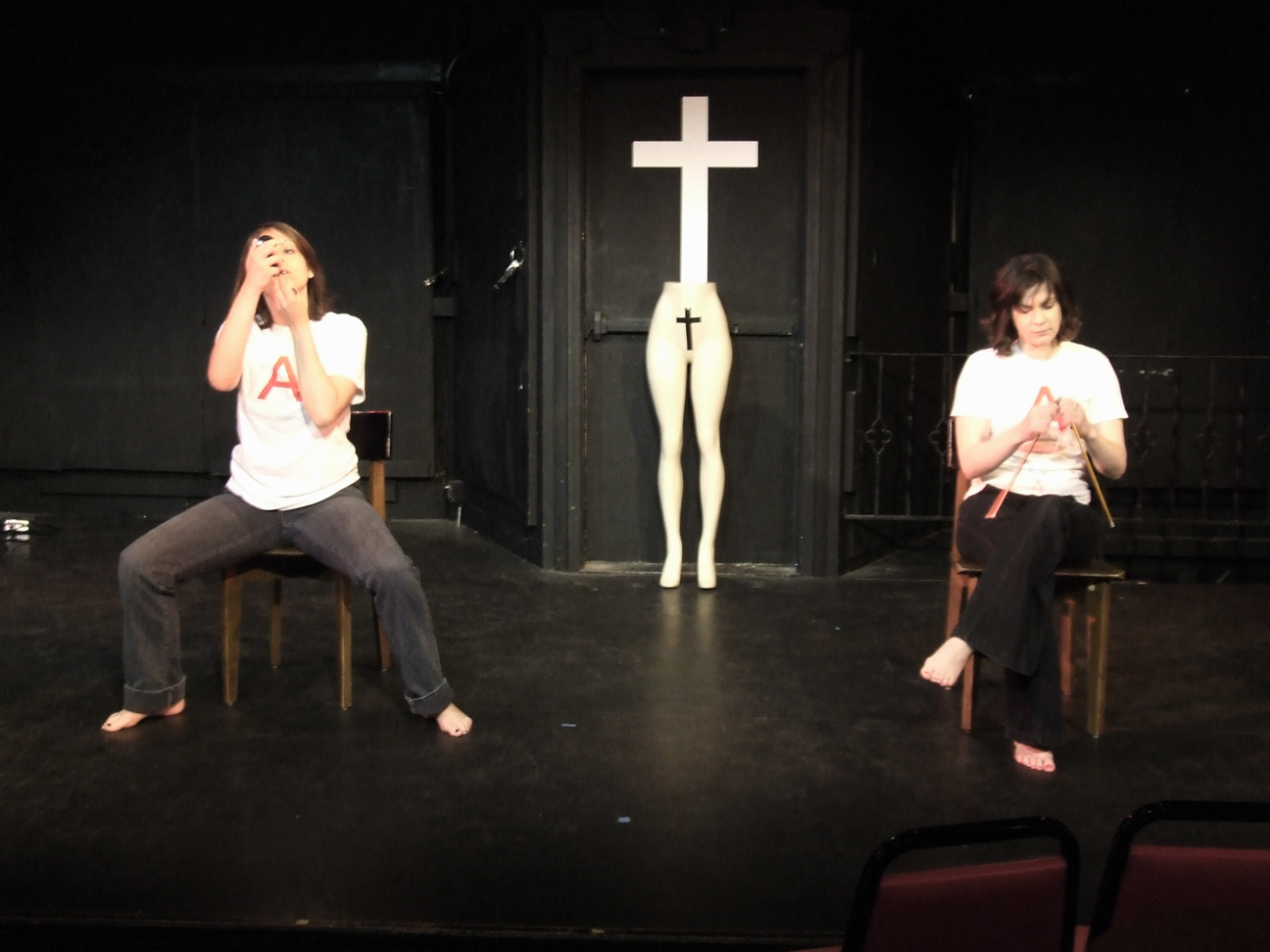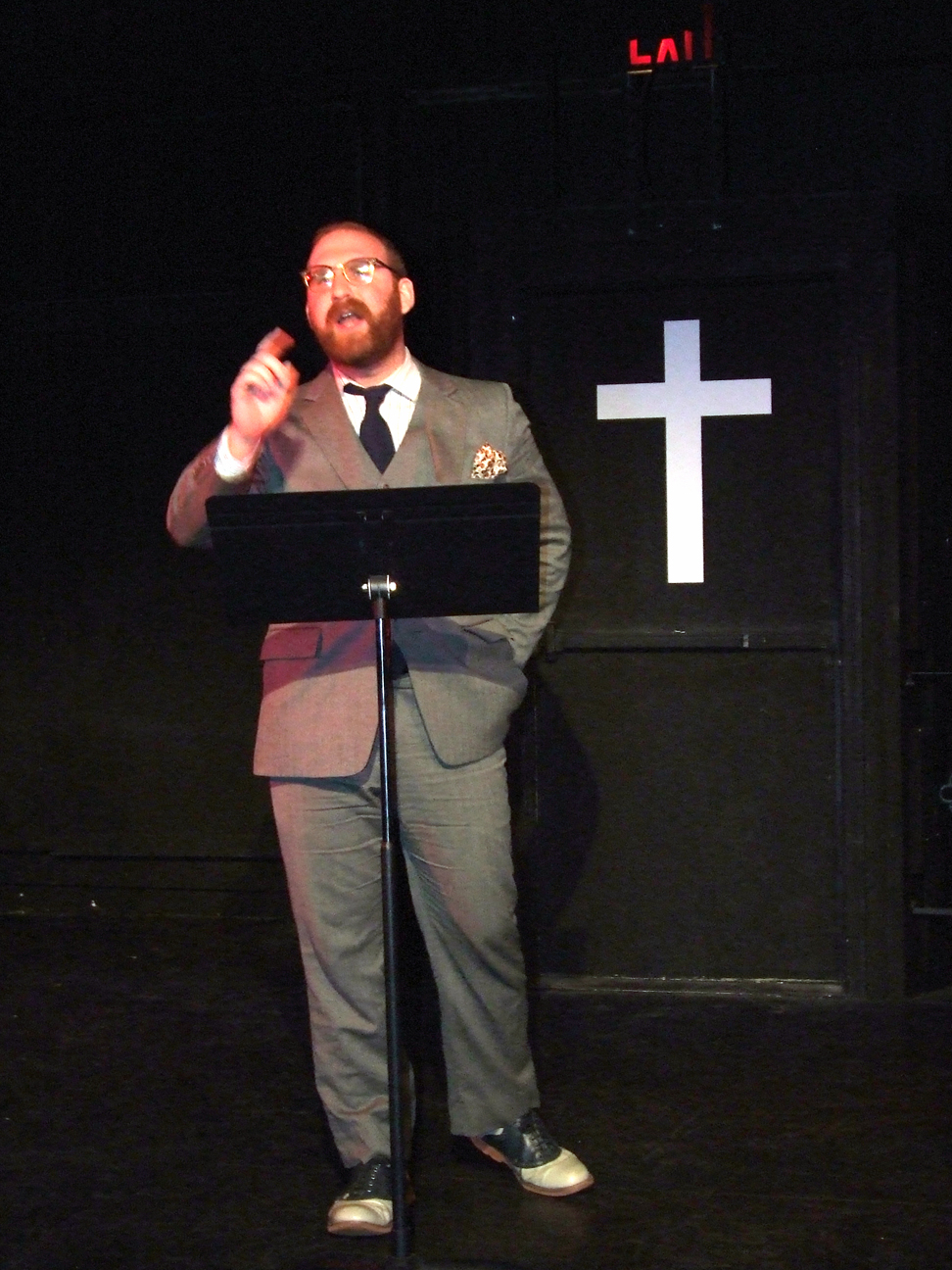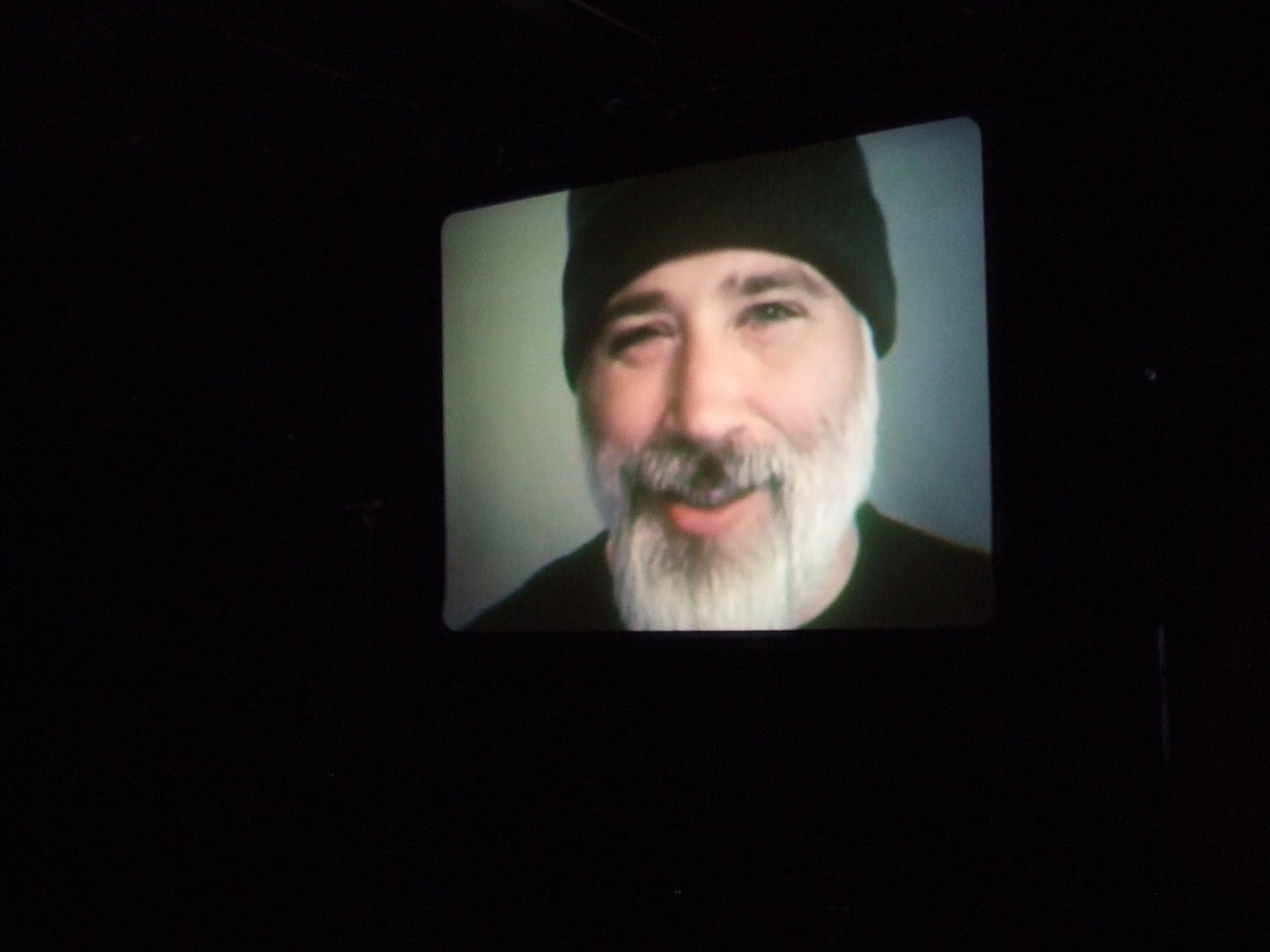 JAKE THE ATHEIST WANTS YOU TO KICK THE CHRISTIAN HABIT. In order to convince you that Christianity is a big pile of nonsense, he disposes of various Christian concepts—"what the hell is up with Satan?"—in short video segments (viewable on the internet). At least, he tries to dispose of Satan in five minutes. But, since he doesn't acknowledge the wide variety of Christian ideas on Satan (he excludes the fairly common view, even among believers, that there's no such thing—that "Satan" is just a personification of the possibility of evil), all Jake the Atheist actually reveals is his own irritation with Christianity—not, as he seems to think, the hollow heart of the religion. His failure is no surprise: the modes of belief included under the umbrella "Christianity" are far too diverse to be treated like a false answer on a geometry test. The idea that it can be disposed of in this way ignores both the many Christian intellectuals who don't fit his handy reductionist model and the basic fact (sorry) that you just can't create any logical argument to convince someone who's taken god as a first premise otherwise. And Jake the Atheist's tack ignores the emotional draw of belief. "Religion is the opiate of the people" is clever and all, but unless stone-cold sobriety appeals to you, how is this a convincing counterargument to the succor offered by faith? Everybody, it seems, needs a little opiate.
There's no arguing religion in the aggregate. This is a subject on which only first-person narratives count—individual human tales of what religion has done (good or bad) to the speaker. Jaime Carrera's new show Godless contains such a personal narrative, but it's buried under layers of generalization (including those in Jake the Atheist's cameo appearances) that blunt its force. Carrera reveals more in his witty, pithy bio than in the entire hour of Godless: (excerpt) "Jaime Carrera was found fully-formed underneath a moist stone in Mexico several years ago. When he was a little boy, he wanted to grow up to be a priest. He is an angry, aging, bitter fag who enjoys burning bridges [figuratively, not literally]." Instead, Godless enacts stock truisms about Christianity. A priest blindfolds believers; lulled to childishness, they suck their thumbs. An evangelical preacher explains to his chorus of stupid hillbillies why he and they are better than unbelievers. All this seethes with the rage of the apostate (and probably appeals to atheists who like to be reminded that they were right all along). But it won't sway any believers—and, really, it's not that interesting.
The vagueness at the heart of Godless infects its form and performance. Godless is made of short segments mostly dependent on popular songs—music videos or karaoke. The instant appeal of this form doesn't conceal its weakness: turning George Michael's "Faith" into a song about religious faith is clever, but so long as you're stuck with George Michael's words, no deeper development will happen. Also, the performers often wander through scenes, unable to put much into their heavily symbolic actions. Two women, playing a Madonna-whore duo, look profoundly uncomfortable; when they kiss, they might as well be cardboard. (And why on earth is the egg they crush between their palms boiled?)
At times Godless does rise to an eerie power of its own. Carrera is a magnetic performer, and he takes a Madonna-like approach to religious roles, putting a little sexual slouch into his white-garbed televangelist, a little pout into his priest. In his other work that I've seen, Carrera's gone further in this direction, creating vignettes that disturb even as they pull you in with a visceral force—but that evocation of religious compulsion is nearly missing here. There are also a few good ideas that don't rise to the surface. The program explains that one choir robe is made of Carrera's sheets, "rich with the texture of a considerable amount of "sinful" homosexual experiences." That's great, but how can the audience feel this layering of experience, this mixing of real and theatrical life? The born-again's speech is an actual sermon, written by the kooky Johnny the Baptist ("The Sermonator"), who seems to be an actual born-again. But the sermon itself is so insane that it sounds like a caricature. How can the audience know otherwise?
Like Carrera, like a lot of people in the arts, I'm a former believer, and like most former believers, I find myself with a fair amount of anger towards my former religion. But there's more to the apostate experience than anger and denunciation. Carrera knows this. I just wish I could see more of the complexity of having and then of losing a god in his Godless.
About the writer: Lightsey Darst writes on dance for Mpls/St Paul magazine and is also a poet and editor of mnartists.org's What Light: This Week's Poem publication project.
What: Godless by Jaime Carrera
Where: Bryant Lake Bowl Theater, Minneapolis, MN
When: Performances on May 22 and May 29
Tickets: $15