Movement Architecture: Verve and Cringe
Lightsey Darst saw Deborah Jinza Thayer's amazing "Movement Architecture" at the Southern Theater last week. There were problems, but great visual spectacle.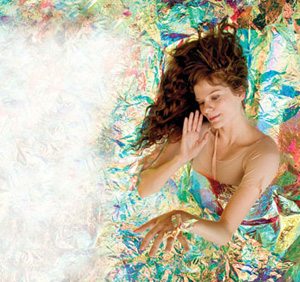 With Deborah Jinza Thayer, you know you're going to get a spectacle. Women romping in shreds of glitter wrap, women bouncing around in a forest of plastic baby limbs, women squawking in imitation of politicians while wearing a sort of spinning hula hoop hive contraption that you would just have to see to understand—always women, and always a situation of equal parts verve and cringe, attraction and repulsion. Thayer has an original vision, certainly; she's one of those artists compelled to lift up the edges of things, and what she uncovers is worth looking at.
I am sorry to report, though, that the four pieces making up this concert all feel about half again as long as they need to be. It's an unfortunate failing, as the tedium I felt myself falling into muddied Thayer's many strengths (about which more later). Why do the pieces feel too long? First, Thayer prefers to work with commissioned scores. Wonderful! But she seems to favor music and sound of the popping and clicking variety. This fits her movement style, but gives her nothing in the way of large-scale structure. I kept wanting a melody—something sustained, a greater dramatic sweep.
The one exception is Tom Scott''s driving, propulsive music for "All That Glitters" (played and improvised live—another bonus); sure enough, "All That Glitters" has more structure, more for the audience to hang onto and anticipate. Second, Thayer has a strong background in dance improvisation. The improviser feels and treasures each movement, each pause, each slow unwinding, more closely attuned than any mere spectator can be. Another way to put it: Thayer does not appear to have taken that cruel but helpful editing advice, "Kill your darlings." This show's riddled with darlings, and they hinder Thayer''s strengths.
Her dancers deserve to be mentioned first among those strengths. Thayer somehow draws together the most surprising assemblage of talent: veterans of established companies (Penny Freeh, Christine Maginnis), darlings of the indy scene (Kimberly Richardson, Joanna Furnans), and dancers we don't see nearly often enough (Sarah Jacobs, Ariel Linnerson, Debra McGee). Modern, ballet, post-modern, they all move, stare, squeak, and twitch with energy and skill.
Thayer's supporting designers deserve attention too. Lisa Axell''s bizarre yet perfect Ace-Bandage body suits, Brian Axell's incredible revolving hives, Michelle Kinney''s live cello, Rosy Simas''s elegant yet vaguely dirty split-skirt dress, with its white pantalets—these creations support Thayer''s imagination.
Not that Thayer''s deficient in that area. For "Bizarre Mating Ritual," she makes her two performers, doll-like in their mop wigs and false eyelashes, bounce and twitch in response to each other, amid the aforementioned plastic-baby-part forest. Boxed in by the grid of the trees and by their own angular movements, they look like laboratory subjects; we in the audience are scientists, perhaps ornithologists, observing their strange dance.
Thayer''s gifted at inventing movement as well as the stage vision to set it in: her twin creatures have a repertoire of side-jerking and head-snapping moves that are distinctly different from any other dance.
Thayer employs gesture and sound well too, particularly in the political satire of "Meet the Nation": the various candidates gesture fiercely and surreally while making all sorts of noise, from explosions to a rapid "hot-cha-cha". In this piece, as in all the rest, Thayer grasps a strange angle of something we all know (the political process— elsewhere, she skewers the mating ritual and shopping) and makes the viewer see what she sees. If she could do this more concisely, her vision would not lose its razor edge.