mnLIT presents: Colleen Coyne
Read "The Kitchen Ghost" by Colleen Coyne, a 2010 finalist in mnartists.org's mnLIT/What Light Poetry Project competition; her poem was selected for this year's cycle by writer Sandi Wisenberg.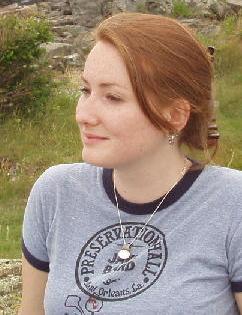 The Kitchen Ghost

Forgive me, I'm no good at this: the milk is nearly spoiled, the recipe's page curls and flakes, brittle as ash. Handwriting fades. The smoke detector shrieks.

Don't you have someone else to shadow, someone else's hair to curl between your fingers? Ghost of you, not-you, you-who-no-more-is, you-who-only-was.

Haze of baking bread and burning hair, sweet yeasty rot. It's not your fault, lonely in your apron, lost in the kitchen you used to cook in, raised children in. The sweet breeze of evening in your bob, your strong hands scrubbing plates before the stained-glass window, gazing into the deer-trampled yard below.

How to kill a ghost? How to trap you (spider in a plastic cup), release you into soft dirt of the flowerbed hanging on the sill, webbing the pane. Sift the flies from the flower, drown them in the water pitcher. Forgive me. I don't know how to keep you, or how to let you go, so I send you back to the kitchen to rise in the steam above soup bowls. To waft as smoke from the oven. To bubble amidst the sink's dirty dishes. To hover behind my chair, a rainbow prism glinting in my polished silverware.

*The first line is from the poem "All She Wrote" by Harryette Mullen, from Sleeping with the Dictionary.
______________________________________________________
Sandi Wisenberg, the What Light juror who selected Coyne's poem for this cycle of mnLIT writes: "The Kitchen Ghost moves quickly from mood to mood, the way a breeze might play, starting with death imagery and moving by the end into the light, the speaker no longer afraid of the ghost, finding there is enough room in the kitchen for life and death. Phrases like 'sweet yeasty rot' encompass life and death and show acceptance of both. By acknowledging that the apronless ghost used to have 'strong hands scrubbing plates,' and could see out the window, the narrator (I think) is also accepting that s/he will someday be replaced by another pair of hands in the full-of-life kitchen. The speaker knows that deer have trampled the yard because there are still traces of that trampling. So too, we all leave traces of having been, inside and outside."
______________________________________________________
About the poet: Colleen Coyne lives in Minneapolis, where she is an MFA candidate and instructor at the University of Minnesota. Her work has appeared in Drunken Boat, Pebble Lake Review, qarrtsiluni, and elsewhere; this past year, she served as the Editor-in-Chief of dislocate literary journal. She is the recipient of numerous awards and honors, including an Upper Midwest Human Rights Fellowship, the Marcella DeBourg Fellowship, and the Gesell Summer Writing Fellowship for an artist residency at the Anderson Center in Red Wing. Raised in New Jersey, she has been steadily making her way west, with stops in Baltimore and Chicago; she enjoys the thriving literary community in Minnesota and works to bring creative writing opportunities to underserved youth in the Twin Cities metro area.
______________________________________________________
mnartists.org is a joint project of the Walker Art Center and the McKnight Foundation
Membership on mnartists.org is FREE. Find step-by-step instructions for how to join and how to use the free resources available on the site. If you need assistance, contact Jehra Patrick at info@mnartists.org. Any Minnesota resident is eligible to participate in mnartists.org's mnLIT competitions for poetry and fiction; there are no entry fees, and writers at all levels of skill and experience are welcome to enter work for consideration by a revolving panel of established authors and publishing professionals in mnLIT's blind adjudication process.
______________________________________________________