Launch Celebration Participants: Patrick Scully
Patrick Scully, impresario of Patrick's Cabaret and artist, talks to Ann Klefstad about art, the Web, mnartists, and presence. Patrick will MC the launch celebration on Thursday, December 5, from 7:30-11 PM in Gallery 8 at the Walker Art Center.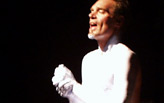 AK: What's the most interesting potential that mnartists.org presents to you?
PS: It's that anyone can have access to the work that I create.
AK: You mean an international audience as well as a local one?
PS: Yes, although I have to acknowledge that having access to the internet is not universal. But in terms of potential . . . it has great potential.
AK: What's the most significant thing about the Web for your medium–performance?
PS: That's tricky, because what's important for my work is people being in the same space and time together. If I have something on the web, a video clip or something, that gives people an idea, but . . . It's like the difference between holding a rose in your hand, and looking at a picture of a rose. A thorn won't prick your hand, you won't bleed, you're not gonna smell the rose . . . you'll be able to see a picture of it. But this is a new medium. There's a lot of learning to do, to learn to use this new medium.
My art, as a human being, is about connecting, and my Web presence is about connecting, to ultimately be in the same room together.
AK: The downside to the medium–is that what you were just discussing?
PS: It goes a step further–there are many elements in contemporary society that serve to isolate us from each other. We drive cars rather than riding trains together, buses together. And computers can do that too–and can fit into some of the negative forces that I see my work as trying to undo.
AK: So this sort of thing can be dangerous!?
PS: Which is why I wanted to have this conversation on the phone, rather than by email, so I can hear you laugh . . .
Also, a presence on the Web costs money. It's another one of those things . . . I don't fix cars, I don't build websites. I have to pay for this to be done, and that cost keeps some people out.
AK: What are some of your current projects?
PS: Well, the best way to tell you about them is to send you to www.patrickscully.org!
AK: Do you think that Minnesota can be an art center? Is it one already?
PS: The assumptions underlying the question are problematic . . . I don't believe art exists in "centers." We need art like we need air to breathe, water to drink–art should be a part of everybody's life. Where you have more people, of course, you have more art, like you have more air being breathed . . .
One of the problems of the last century was, because of mass media, people relinquished their responsibility for their cultural life. You could just turn on the box and it would take care of you. But every gathering of people should be a center for art. Not "New York is the center, Minneapolis is the center," those are market-driven ideas. My work and interest is in where and how we support the existence of art that isn't market driven. I don't want the market to be the only realm in which art gets to exist.
AK: What's Minnesota's most distinctive contribution to American or world arts?
PS: Minnesota, in relation to other places in the US, does a good job of continuing to assume responsibility for its own cultural life. I've seen that diminish in the last 15 years, especially in relation to corporate support, which seems now less philanthropic than concerned with gains. But we have a healthy local arts community. One of our challenges is how we retain that.
AK: Anything in conclusion?
PS: I hope people come to the Walker Thursday night so people can see why I choose to do what I do as an artist.