Is This the Future of Ballet?
Lightsey Darst reviews new and repertory work by Cedar Lake Contemporary Ballet, recently on stage at the 2014 American Dance Festival.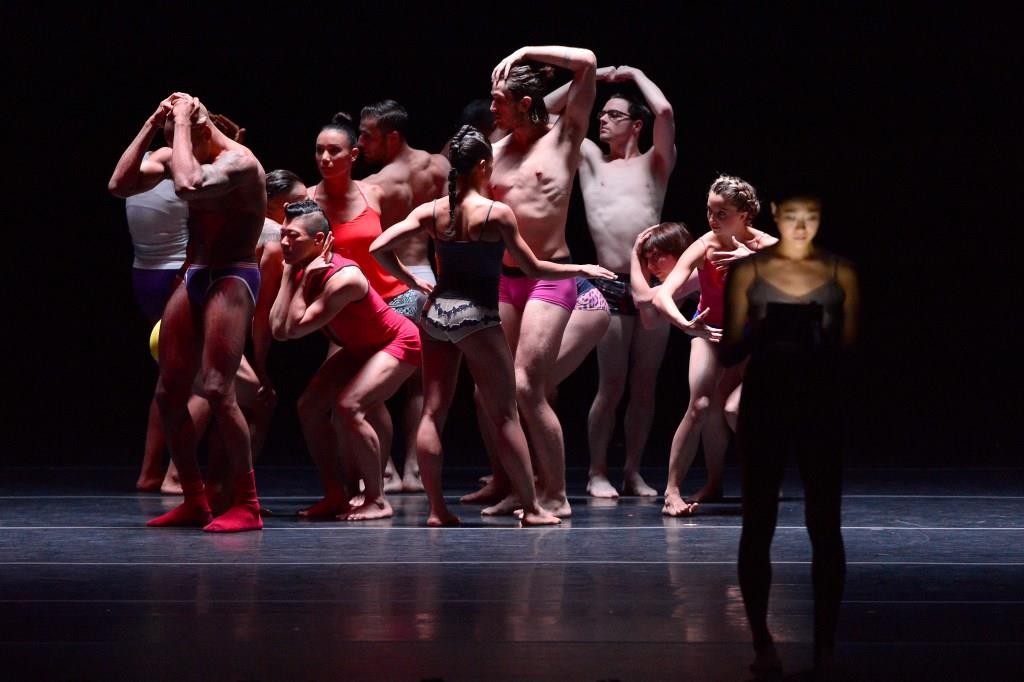 Cedar Lake Contemporary Ballet rolled into American Dance Festival for a weekend show July 5-6, bringing three works by hot young international choreographers—Hofesh Shechter (Israeli-born, now based in England), Crystal Pite (a Canadian veteran of William Forsythe's Ballett Frankfurt and her own Kidd Pivot), and Emanuel Gat (like Shechter, a product of Israel's charged dance scene). Everyone I knew was there, and the message was clear: this is dance you need to see.
Shechter's Violet Kid snaps the audience into alertness with its superlative cool: fog floating in harsh overhead lights, an industrial rumble of sound, and calligraphic motion. Now oceanic, now rippling into a wailing shake, the dance comes from an electrical charge in the chest, like krump but lacking krump's release. The dancers coil like smoke, then emerge from their atmosphere in sick little jigs: holding two fingers up, they hop around, hunched and golem-like. One man runs with his hands spread as if trying to gather children before a storm; two women drag themselves along the floor, hands scuttling between their legs, hermit crabs out of their shells; a man shakes as if riddled with gunshots. Wanderers, they suffer separately—until they're united in a military purpose in which there is no companionship but a thrilling mass energy that surges across the stage and through the house. Here, the audience sits forward. Remember pounding the bleachers at a pep rally, age twelve, all your personal fear channeled into mob aggression? That's the feeling Shechter creates—terrifying, irresistible. But as Violet Kid goes on, it loses cohesion. Blackouts take the place of building; gender divisions appear without examination; Shechter's voice-overs, announcing inconsistencies for the sake of inconsistency, don't so much answer critique as suggest his sensitivity to it.
Violet Kid clip (1min 40sec) from Dave Rogge on Vimeo.
I've seen and not been wowed by Pite's work before. In fact, I saw this very piece, Ten Duets on a Theme of Rescue, on video and felt I could take it or leave it. In person, though, this sweet and unassuming study moves by its inventive simplicity. The duets, performed one after the other by a revolving cast of five, build or unravel, intimating rather than exhausting the range of contemporary partnering. A man and woman glide back and forth in unison, the woman behind the man, until she reaches out to still him with her hand. Two women duet in gesture, cycling through the crucial ballet dichotomy of open and closed (effacé and croisé) as if in conversation, saying yes, no, this way?, maybe. A woman floats and spins around a man while he supports (not manipulates) her; the constant evolution of her extension brings a happy ooh from the audience. I love that Pite's duets don't try to be metaphors for relationships. Because they are partnered dances, they are relationships—transient, but urgent in their moment—and this is enough.
More than enough rolls off the evening's one premiere, Gat's Ida ?, a plotless feast of invention for the full company. While one dancer walks up to mic to play classical piano off an iPad, the rest rove around stage in little schools or flocks, alternately showing and watching steps. A lurid red glow diffuses from a couple of objects downstage left (I was never sure of their nature); otherwise, light concentrates in a band extending along mid-stage, which gives the strange impression that the front of the performance is somewhere inside. The dancers consult each other, looking to each other—never out to the audience—as they perform karate kicks, falls and dives, or little knock-kneed fragments of Charleston. They are marking, apparently—which is what dancers call it when they go through choreography together, trying to catch what happens where and how it all works. This simple scenario gives Gat plenty to play with. Notice, for example, how the dancers watch other unmoved. Whatever the recoil or yearning, they witness it calmly, sometimes walking into the dark at the back of the stage to see better. They switch readily between watcher and doer; they never complain or compel. There's something edenic about Ida ?.
But paradise, notoriously, is a boring place where nothing happens, and Ida ? unfortunately is the same. I was charmed for about 15 minutes. Then I was ready for something to happen, but it was already too late for that. I can't think of a choreographer who's more inventive from moment to moment than Gat—spinning out one minute felicity after another, constantly rewarding the eye—and yet here, he shows no sense for composition on the large scale, no sense for the arc of an audience's attention. Somewhere in the last third of the piece, I tried to start over in my mind, and so long as I willfully sustained the sense that the curtain had just gone up, I was delighted again. I noticed, for example, Gat's astonishing sense of balance, how his crowd scenes resemble history paintings (think Raphael's The School of Athens); I noticed his dancerly sense of humor, his replays. But I could not find a path through Gat's thicket.
Constant in all three pieces is the company, which is rightly acclaimed as a diverse yet cohesive ensemble. They bring strength and physical intelligence, the purposeful grace of big cats; they bring a variety of physical histories and approaches. (I particularly appreciate that Cedar Lake's female dancers are not reed-thin.) If this company is the future of ballet, the future looks bright—but it needs choreography that combines movement and concept.
______________________________________________________
Related links and information:
American Dance Festival, based in Durham, North Carolina, presents six-and-a-half weeks of performances and residencies by major established companies and emerging artists from around the world from June 12 through July 26, 2014. ADF also offers a six-week professional school for dancers, choreographers and teachers as well as various national and international conferences and workshops and year-round community outreach in the Durham area.
Lightsey Darst is a writer, critic, and teacher based in Durham, NC.