Humbugs: The Sturdy Ephemeral
Sally McGraw follows the Humbugs and sees their trajectory as nothing but up.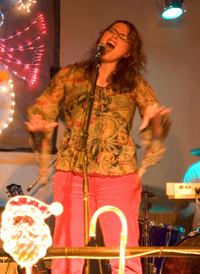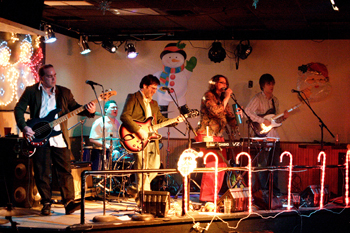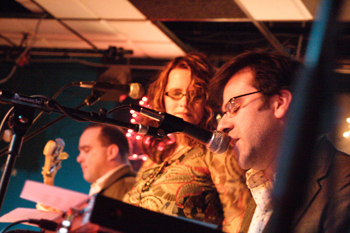 Quality Pop is an ephemeral thing. One clichéd lyric or self-indulgent riff can send a group packing – back to join the ranks of plain, old, run-of-the-mill pop. Folkster Dan Bern explains the ideal best in his song "New American Language" when he says, "I have a dream of a new pop music that tells the truth with a good beat and some nice harmonies." It's that simple, and yet so many groups miss the mark.


The Humbugs count many of Quality Pop's heavy-hitters among their heroes: Neil Finn, Elvis Costello, Bruce Springsteen, Aimee Mann. And although you'd be hard-pressed to pinpoint these artists' direct influence in the local group's songs, the Humbugs' infectious hooks and exuberant energy place them firmly in the same category as their musical idols.


The five-piece band invaded the smallish, Christmas light-bedecked stage at the Hexagon Bar with an arsenal of enviable gear. Songwriter and guitarist Adam Marshall hauled on a shiny black Rickenbacker and a 335-style Guild hollow-body; beneath her keyboard, singer Kristin Marshall set out a cabasa, a tambourine, a rattler, and a set of maracas; lead guitarist Mike Senkovich brought up a Gibson hollow-body and a Telecaster. Once drummer Matt Baccoli and bassist Tim Formanek were ready, the group unleashed their first tune on the subdued bar audience.
Kristin's low mezzo and dazzling stage presence quickly eclipsed the bar's pockmarked walls and watery drinks, drawing listeners into her story. Her curly reddish hair, cat-eye glasses, and gauzy patterned blouse lent her a hip-but-approachable look that only added to her overall presentation. So many singers would choose to phone it in for a sleepy, frostbitten audience of 30, but this girl knew better. During the opening number, "She's Not Sad," she swung her hips and threw her head back with happy abandon. Her ripe, unabashed vocals were complemented by strident backing vocals from Adam and Tim. Although some of the nuances of three-part harmony were lost in the crappy bar-PA mix, the bits that came through were pure musical joy.


Sporting a mop of stiff black hair, dark-rimmed glasses, jeans, and a tweed sportcoat, Adam was the quintessential endearing pop geek – even indulging occasionally in showy dips and flourishes with his gorgeous Guild. He took the mic for about half the tunes, and despite an equally energetic and impassioned stage presence, his straightforward, unadorned baritone left something to be desired after his wife's vocal pyrotechnics. He lost control of his notes a few times – recovering quickly, but giving an impression of unpolished vocal chops.
The Humbugs must be gearing up for a new album, as their set consisted entirely of as-yet unrecorded songs, including the moderate, flowing "Selective Memory" and the bright, rollicking "Calico Eyes." Other highlights included the slower, Stevie-Wonder-like groove "Tearing Me Up," and the plaintive, Latin-influenced ballad "She Goes Home Alone." Adam joked about how the band's name prompted many people to ask if they played Christmas music – then indulged this misinterpretation by performing the Kinks' "Father Christmas" with a barely-harnessed frenetic energy the audience could practically taste.


Every song in their 10-song set had a full, rich pop sound born of high-quality musicianship and palpable passion. Each melody fit perfectly with the next, but each also had a character and life of its own. Every band member contributed to the overall quality of the performance: Matt's drumming was skillful and varied without being showy or invasive. Mike added texture and depth to the more complex pieces. He soloed infrequently but with fluid grace, and added a fourth harmony to a few songs. Tim occasionally he made musical choices that seemed incongruous within the structure of otherwise orderly songs, but overall, his basslines were strong and solid. Add Kristin's powerful vocals and Adam's ardent delivery to the mix, and you've got yourself a killer pop outfit. Few groups of musicians communicate so well, or mesh so completely.


It's gratifying to know that Quality Pop is alive and well here in the Twin Cities. The Humbugs are an underrated and practically undiscovered local gem. Catch them now while they're still playing free festivals and no-cover bar gigs – they're not likely to stay minor leagues for long. Ten bucks says they open for Aimee Mann within the next 5 years. Any takers?


Photos by Michael McGraw; as always, click on images to enlarge.