How Comedy Unmasked My Inner Queen
Community organizer May Esperanza Losloso details the lead-up to her comedy debut, considering how everyday humor and a space without censorship brought her to remove some of her masks and claim her place as a Filipinx Humorist/Miss Universe Impersonator.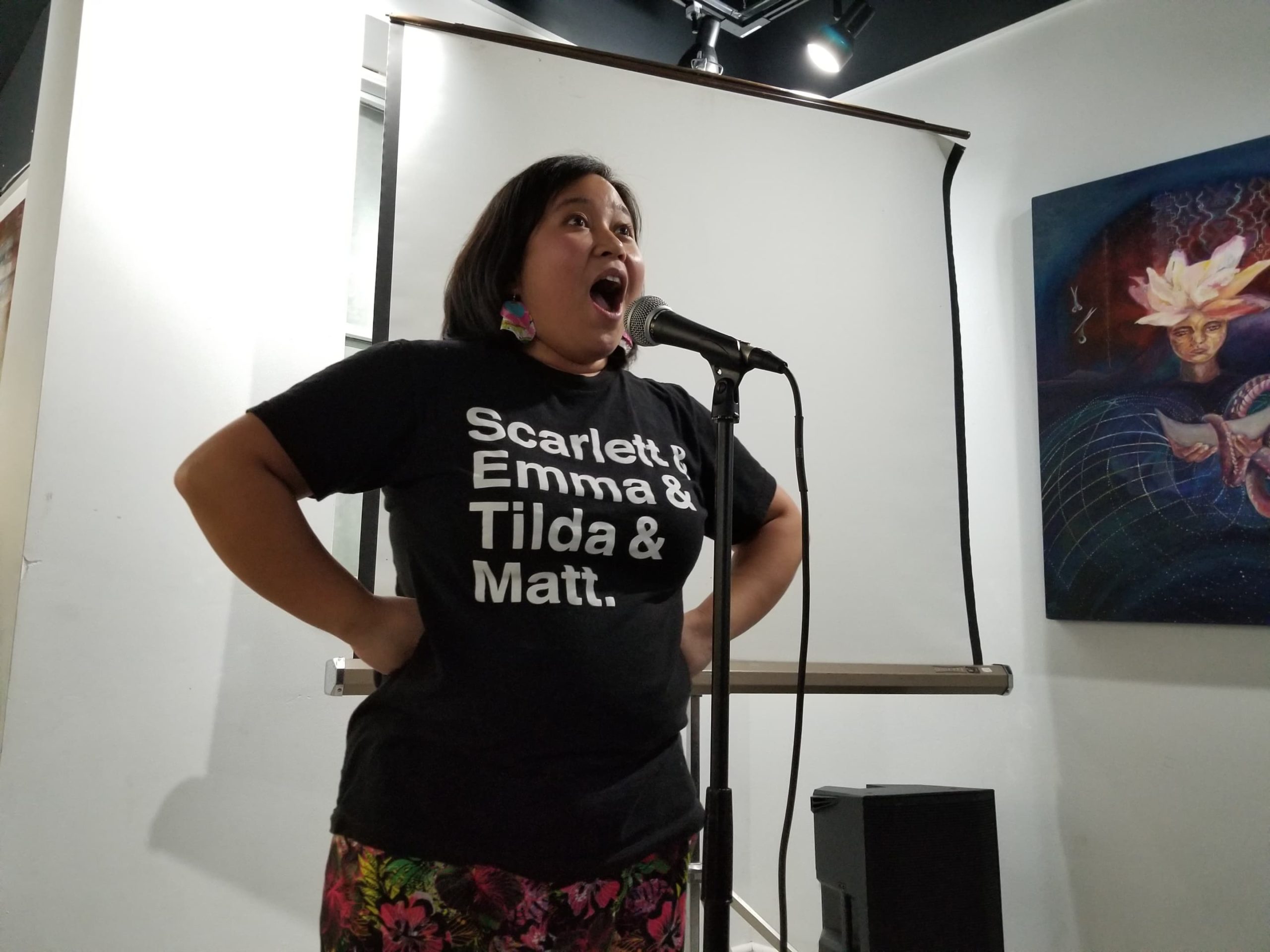 I wear many masks throughout my day, depending on the space.
As a community organizer, I am constantly nearing burnout. I don't claim a specific art form, creative field, or trade, but I do know that I am a storyteller and that I'm funny (in person). The powerful thing about organizing is that stories connect communities, and humor makes everything easier to swallow. It is fulfilling for me to be able to shape, change, and shift movements, ideas, beliefs, policies—using stories. I also really enjoy building authentic relationships and connecting people to each other.
After three years of organizing with a collective called RadAzns, I was searching for the next space where I could be in community with other Asians, a space where I didn't have to be responsible with administrative work or be in a facilitator role. A lot of hats. A lot of masks. Not a lot of free time. My capacity level was low—and here was a space that was already created and it offered something different. I went in with no expectations.
I heard about the Funny Asian Women Kollective (FAWK) Microaggression Clapback workshops in early 2018 and thought, I gotta check that out. (Note: Saymoukda Duangphouxay Vongsay, the guest editor of this series, is a co-founder of FAWK.) It wasn't until June that I was able to attend my first workshop. I knew some of these ladies, and trusted that I would be in a safer space to remove my masks and claim my place as a Filipinx Humorist/Miss Universe Impersonator.
---
Was I wearing a mask here too? Yeah, but it was a different kind of mask. It felt like a more accurate representation of what was inside. FAWK stressed that we weren't going to be censored in this space. Something about that stuck with me. When I'm in my different masks, I'm editing and navigating how I speak and what I say. It was refreshing to be told that I could say whatever I wanted in this space.
I have brought pieces of this mentality into other spaces. I work really hard on bringing all parts of myself to different spaces. I'm sick of the masks and managing them. FAWK has nurtured this spark in me to be as much of myself as I can in every space I occupy. I am working on being less apologetic and taking up space both physically and verbally.
One of the scenarios I acted out in a workshop was receiving a proposal at the Eiffel Tower. I just went with my feeling and natural fear of heights. In the end, my character was so scared of commitment, heights, and felt constipated. All feelings I have felt before—but being able to throw them all into one scenario felt exhilarating.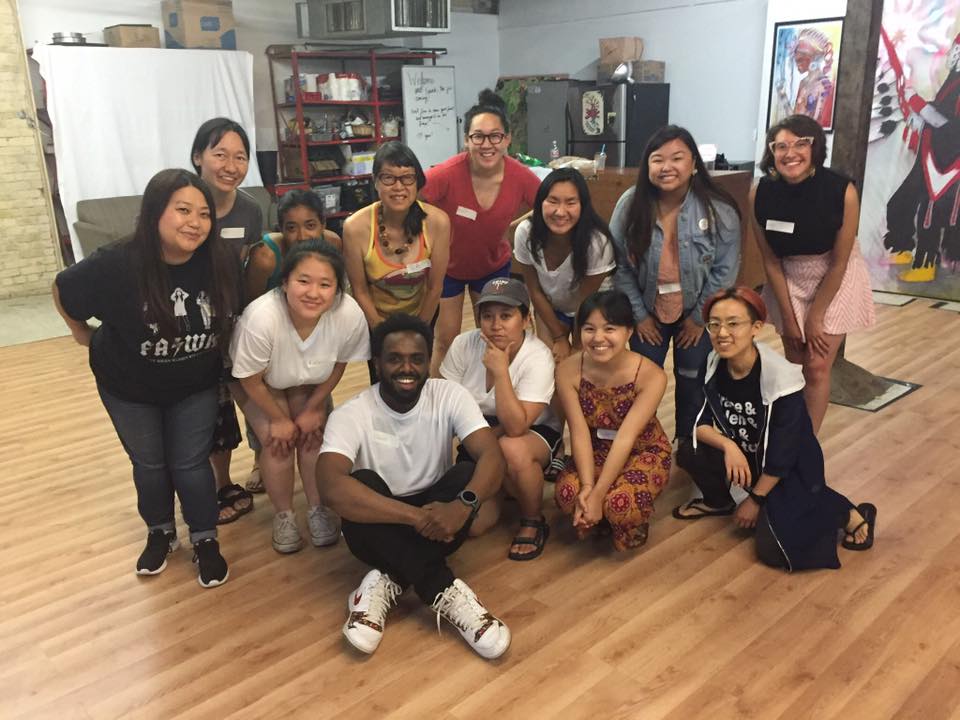 I also got to explore my inner clown. We had to come up with a scene that showed large movements and emotions. Of course, the first thing I thought of was to be Eva Peron, greeting my subjects from a balcony. But not just in the Madonna musical fashion. In my head, I added a crown, a long train, and a scepter. I was a queen and everyone would listen, even if they didn't want to.
---
I often walk around imagining that I am in some sort of musical or telenovela. Yes, I thought this before Jane the Virgin or Crazy Ex-Girlfriend became popular. I think being an only child helped me create worlds in my own imagination. I often played alone with my dolls and I would dream up storylines for them. Barbie was being cheated on by Ken with Amanda. Then Barbie got pregnant and had to figure out how to raise this kid because she didn't want that player around.
I told everyone that if you know me at all, you have already seen pieces of my stand up. This is just how I naturally move in the world. I use humor to cope and to diffuse situations. I also attribute my humor to my dad and my Filipinx background. I love puns and cheesy humor. I was recently at the Pentagon as part of a policy fellowship and our group was talking with a staff member from the Office of the Secretary of Defense. This is how I introduced myself: "I'm May Losloso and I work for the Children's Defense Fund-Minnesota—a different kind of defense."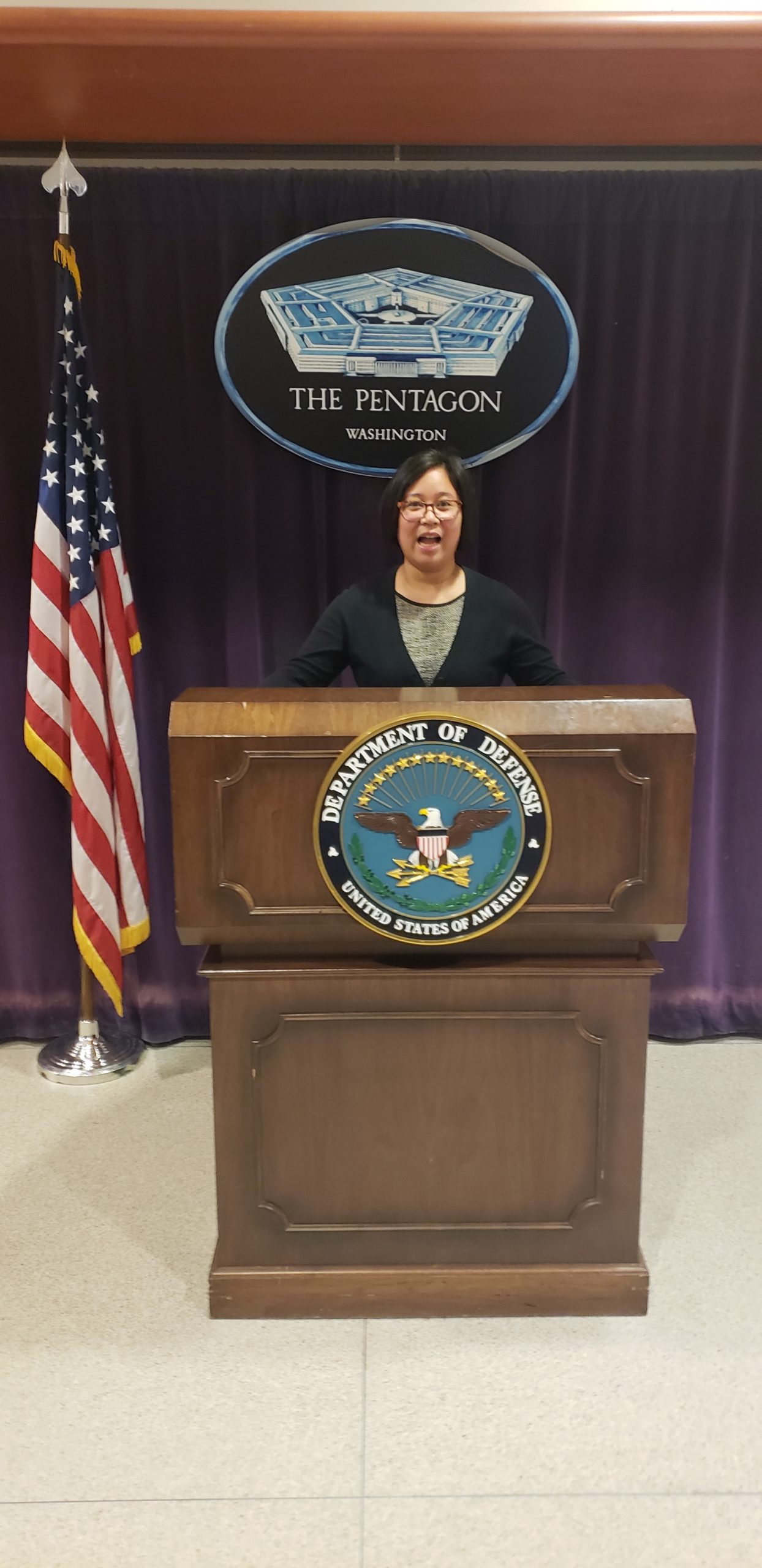 It is a known fact that puns cause smiles. I won't deny people that. I also thought it was time for a smile during the conversation at the Pentagon, because people can get real serious talking about the military. I also really like seeing other people laughing, and bringing joy to them.
---
When the opportunity arose for FAWK workshop participants to transition to performers, I knew I had to do it. There was already too much material that I wanted to convey through comedy and performance. There were stories that needed to be expelled. There were masks that needed to fall off. There were puns, passed down from my Filipinx ancestors, that needed to live on. Most importantly, I learned from FAWK that I deserve an audience.
I was brainstorming different approaches for my set. My thoughts were too literal at first. I was thinking of stories of me clapping back during different situations, but it was challenging to thread it all together into one theme. I bounced ideas off friends and my partner. Talking it through with two FAWK artists really helped me narrow down my options. In the end I went with the theme of "Miss Universe."
The pageant aired on December 17, 2018 and gave me exactly 12 days to craft my comedy debut.
I was still on a high after seeing Miss Philippines, formerly known as Catriona Gray, take the crown. Of course this meant that I, May Esperanza Losloso, won too. In the aftermath and afterlife of my historic win, in any meetings with majority-white ladies that I walked into, I held my head high, majestically and channeled my inner Miss Universe, balancing my imagined crown. Don't these Beckys and Karens know that they're in the presence of an icon?
---
Clock strikes and a brown-skinned beauty queen walks up to the mic.
I reveal how important Miss Universe is to me and my people, no matter where we are in the world. #diaspora
I talk shit about Steve Harvey. No masks here. Everyone should be wary of Steve Harvey.
Miss Vietnam is my role model so of course I give her props. #jungleazns
Next, my analysis of the pros and cons of Miss Philippines.
Why do we only see light-skinned Filipinxs as beautiful?
Oh right, colonization, colorism—those things are real.
My mom ruins the winner of the pageant by calling me minutes before the end of the show and telling me Miss Philippines won because she saw it on Facebook.
Cue song: "Lose My Breath" by Destiny's Child.
Cue props: Red visor, fan, and partially eaten banh mi sandwich.
Begin: Catwalk Extravaganza, Eleganza, Esperanza.
End: Banh mi licking and dropping it low.
Scene.
---
This piece was commissioned and developed as part of a series by guest editor Saymoukda Duangphouxay Vongsay.